If you are fond of watching a movie with surround sound or simply enjoy loud music at home and do not believe much in listening to music in headphones then speakers in an affordable range can solve your problem as there are lots of speakers available in the market under Rs10000 but you have to decide which one suits your need as some have good sound quality while some lacks wireless connectivity so, it completely depends on the features and sound quality what makes any speaker best in this range.
This is a decent price range in which you could even get a smart 5 channel speaker set or just one speaker with a good treble and bass sound output.
Here, we have shortlisted top 5 speakers under Rs10000 which have stylish looks and immersive sound quality.
Philips in-SPA 9060B/94 Tower Speakers 
Reconnect Electra Wireless Party Speaker
Bose SoundLink Color II
Jabra Solemate
iBall Cinebar 200DD
Philips in-SPA 9060B/94 Tower Speakers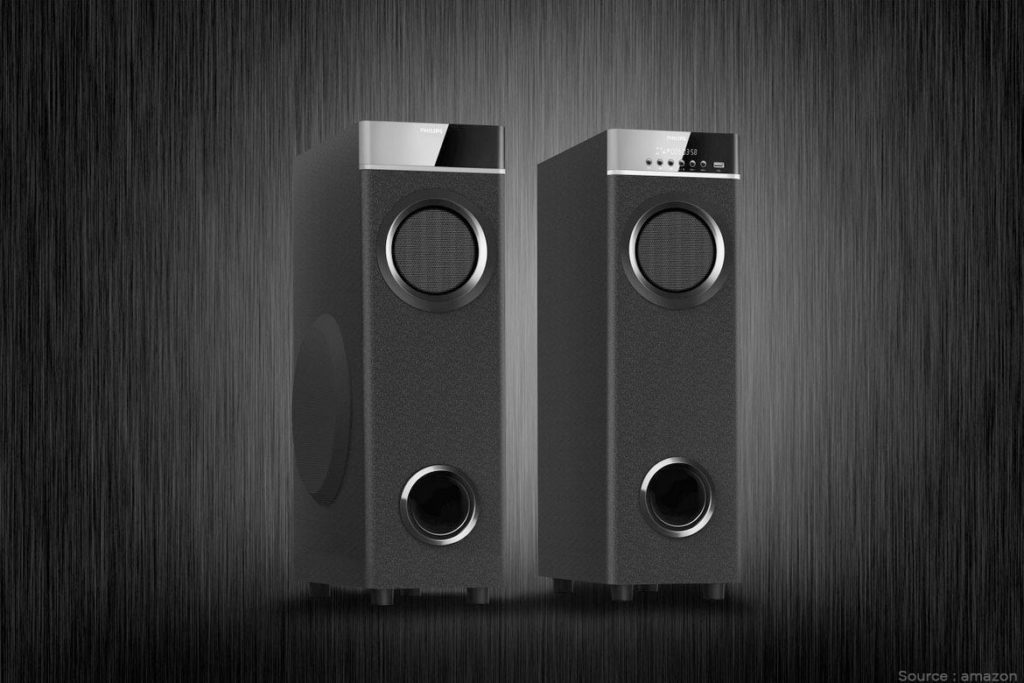 This is an excellent soundbar speaker system that comes with excellent sound quality output and multiple connectivity options which are hard to find in other speakers under Rs10000. Its woofer with high sound output is perfect for large rooms and you can even throw a party at home with this speaker set of two that eliminates the need of DJ for small parties.
You can connect multiple Bluetooth devices with it and not just Bluetooth wireless connectivity you can also use aux cable to play music or directly use the USB pen drive for uninterrupted music play. It produces a crisp and clear sound of 60 Watts and comes along with an inbuilt FM tuner for radio listening.
Also Read: What are the Best Speakers for Music at Home?
Easy to set up and effortless pairing with any Bluetooth devices like Android smartphone, iPhone, Windows PC, laptop, iMac, smart TV, tablets and much more! Its simple and stylish design but powerful bass with real life-like sound output keeps it ahead of many soundbars and costly speakers. Its magnificent sound is backed with 40 Hz- 20 Hz frequency with a 60dB noise ratio and 10% THD.
It does not even consume much power and an energy-efficient speaker that has two 30Watt speakers with 35dB channel separation and an input sensitivity of 600 mV. The other additional feature is that it has an inbuilt microphone socket that lets you connect a mic and host the party.
You can buy this speaker for Rs8190 on Amazon with a year warranty.
Reconnect Electra Wireless Party Speaker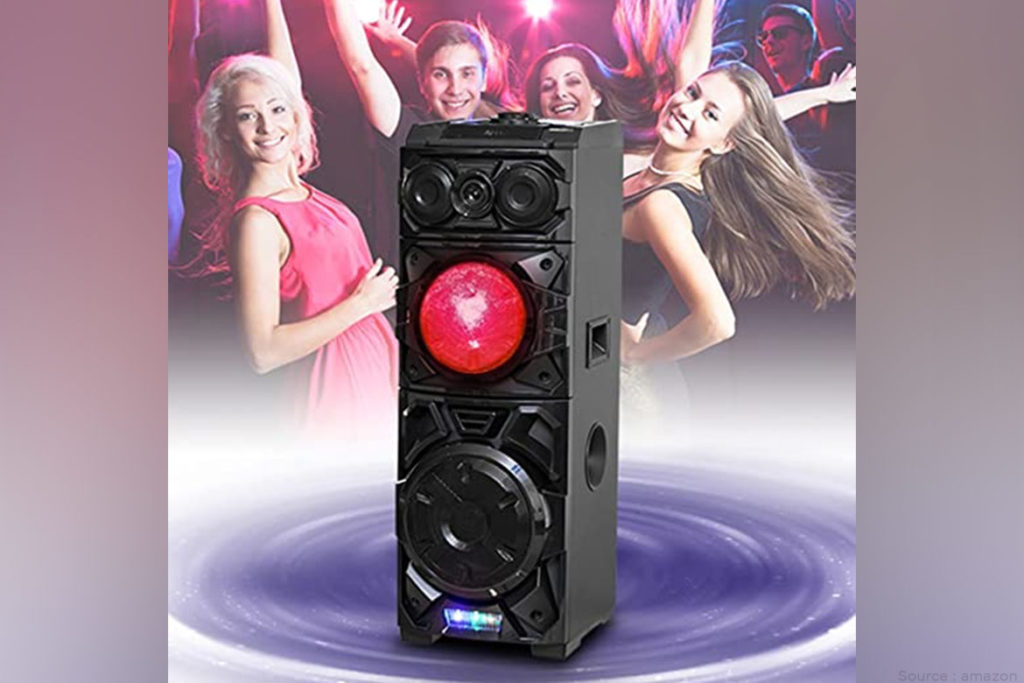 This is another incredible tower speaker that is perfect for small parties and comes with multi-connectivity options. Its unmatched surround sound and with wireless connectivity gives it an edge over other speakers available in its price range. The fantastic wooden with metal grill and changing LED lights with instant bass boost function makes it one of the bestselling speakers in the market.
You can connect it easily with any guitar, Bluetooth devices like a smartphone, PC or tablet, etc., it also has a wireless microphone with Karaoke support. Additionally, it comes with inbuilt Radio FM with USB port, SD card port which lets you directly pen drive to play music.
With this speaker, you can control the sound output according to your choice as it allows you to adjust the treble, bass, and echo. The rugged design and trolley wheels make it easy to take it anywhere without any hassle. The Aux cable connectivity further ensures that there is no quality loss and its different modes easily boost up the bass volume and make it the perfect gadget for any party.
The maximum sound output is 160 Watts with powerful bass and you can easily pair it with any device and setup without any hassle. It is easy to carry anywhere as it weighs only 22.2 kilograms and measures 104.4 x 50.8 x 36.8 cm.
If you wish to buy this amazing speaker then it is available on Amazon for Rs 9999 and comes with a year warranty along with remote control, microphone, audio input cable, FM antenna, and a user manual.
Bose SoundLink Color II
Bose is a brand name that has been consistently making incredible sound speakers for a long time and is a premium brand. This speaker by Bose has exceptional sound quality that is rarely found in other speakers in this price range.
This speaker is specially made for those who enjoy trekking and other sports activities. It could be a perfect companion for you as the water-resistant body along with the tough and durable design is perfect for outside activities. 
The compact design with great sound and dedicated voice lets you easily pair with Bluetooth within seconds. Its Bluetooth connectivity lets you enjoy the connection for up to 30 feet. With rechargeable battery backup, you can listen to music for up to 8 hours without worrying about charging it again and again unlike other chargeable speakers available in this price range.
The inbuilt microphone lets you make and receive calls with one touch and the soft rugged water-resistant design further makes it a stylish speaker.
When we talk about the connectivity options then it comes with Bluetooth connectivity, micro USB port, and Auxiliary cable to play music from multiple devices like Android mobile, iPhone, Windows or Apple laptop, etc.
If you like it can also be integrated with the Bose App on your smartphone for profile creation and this app would give you lots of options and complete control. The silicon body cover makes it more durable and lets you use it even in a swimming pool without any trouble.
It is portable and compact allows it to carry anywhere. Thanks to its lightweight nature as it weighs only 544 grams and measures 5.59 x 12.7 x 13.21 cm.
You can get this awesome speaker by Bose for Rs 8400 along with a one year warranty on any eCommerce website.
Jabra Solemate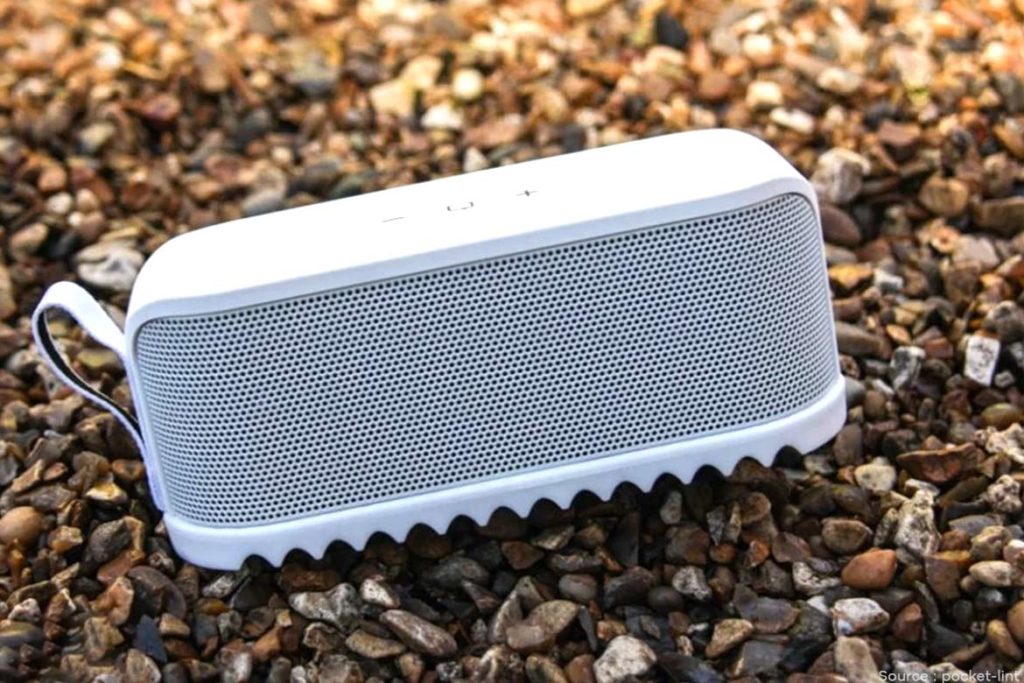 It is a portable speaker type that you can carry anywhere with ease but the massive sound quality cannot be compared with other speakers that are available in the market under Rs2000. 
It is designed in such a way so that you can use it in a park, gym or anywhere outside.
The wireless connectivity allows you to easily pair it with other devices that have Bluetooth in them which means that it can be used with any modern devices and operating systems including iPhone, iMac, Android smartphone, Windows, Linux, or Apple laptop, etc.
When we talk about connectivity options available in this smart Bluetooth portable speaker then you can play music by connecting Bluetooth 3.0, Auxiliary cable, micro USB. All these connectivity options are available together on the body of this incredible speaker for ease of access.
It also comes with an inbuilt microphone that helps you give voice commands, make and receive calls without moving yourself. Not just this it is designed in such a way that knocks, splashes and dust cannot do anything to it and it keeps playing the music anywhere.
Equipped with a powerful woofer that provides immersive deep bass along with dual speakers and Dolby digital technology further gives you perfect listening experience. To take the sound experience to the next level this speaker also supports Advanced Audio Distribution Profile that enables high-quality audio streaming with Bluetooth. The NFC connectivity lets you connect two devices at the same time which means two people can operate it with different devices.
The Jabra Company has also developed a dedicated app to create your profile and even lets you stream YouTube content with your playlists. You can download the app from the Google Play Store or the Apple Store.
The Lithium-ion battery backup gives a talk time of up to 10 hours, a standby time of up to 960 hours, and music playtime of up to 8 hours and you can charge it with a USB cable.
It is easy to carry and handle as it weighs only and measures. If you are interested to buy this exceptional sound quality speaker then it is available for Rs 7000 and comes with a year warranty and a rubber 3.5mm USB charging cable along with a protective bag.
Also Read:What are the best 3 smart home devices available on amazon?
iBall Cinebar 200DD
This could be a perfect speaker for your bedroom or living room as this sound bar-style speaker with a sleek look and stylish design can be placed anywhere in the house or office. The clear sound and powerful bass notch up the clear sound level and you can feel the pump and thrill the moment you connect it to your smart TV or any other devices. It has multiple connectivity options for transferring high definition sound without any distortion.
The sound quality is exceptional and you can hear low notes to deep bass easily. The impressive audio with ambient noise control gives theatre-like experience with different modes like Music, Movies, News, and others it soothes your nerves. Supported by 120 Watt Dolby digital technology and a sub-woofer create magical immersive surround sound.
Unlike other speakers, you can connect it easily with almost all types of smart devices like android smartphone, TV, laptop, tablet, etc. with HDMI port, Bluetooth, Auxiliary cable, and optical input connectivity. It is easy to set up and a lightweight soundbar speaker. It weighs only 6.1 kilograms and measures 8.3 x 96 x 7.9 cm.
This incredibly designed iBall speaker is available for Rs7990 on Amazon with remote control, audio cable, user manual, subwoofer, bar speaker, and one year warranty.