Anand Gopalan Mahindra, the chairman of Mahindra Group is a big name in the business industry throughout the world. Anand Mahindra is the grandson of Jagdish Chandra Mahindra, co-founder of Mahindra & Mahindra.
Mahindra group is one of the worlds famous business house founded by Anand Mahindra's grandfather as a steel trading company but today Mahindra and Mahindra operates in the aerospace, agribusiness, aftermarket, automotive, components, construction equipment, defence, energy, farm equipment, finance and insurance, industrial equipment, information technology, leisure and hospitality, logistics, real estate and retail.
Also Read: Masaru Ibuka- The Person Who Revolutionized The Japanese Electronics Industry
This article brings you some aspects of the life of Anand Mahindra.
BACKGROUND – BIRTH, EARLY EDUCATION AND CARRIER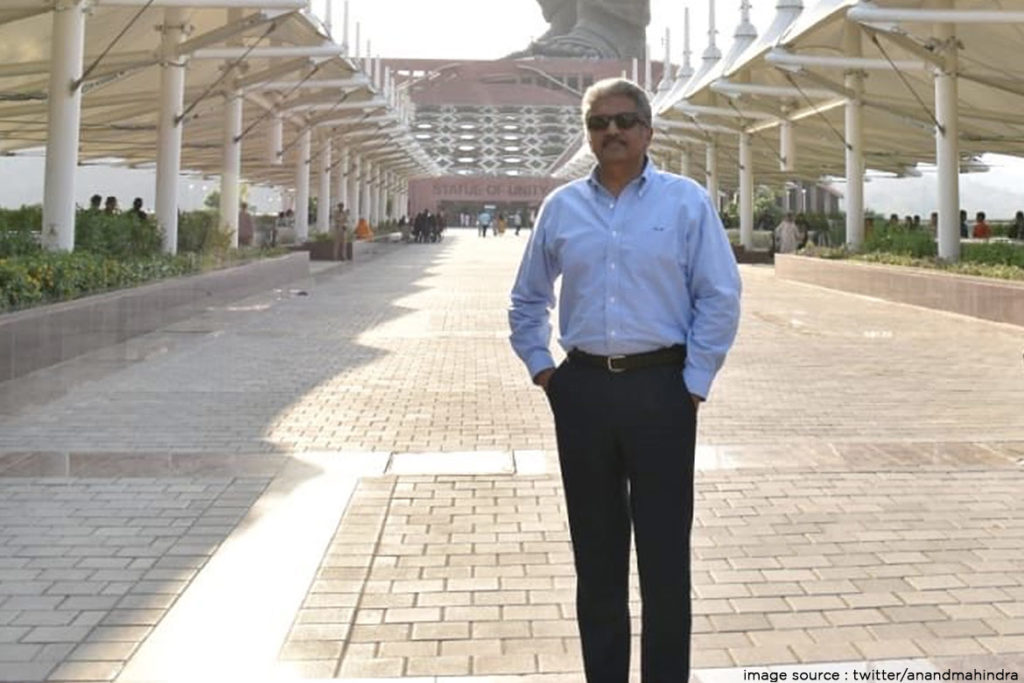 Anand Mahindra was born on 1 May 1955 in Bombay, India to the late industrialist Harish Mahindra and Indira Mahindra. Anand Mahindra did his schooling at Lawrence School, Lovedale in Ooty, Tamil Nadu. After the schooling, he went on Harvard university for graduation and received the graduation degree in film making and architecture in 1977. He further went on to acquire an MBA degree from the Harvard Business School, Boston, Massachusetts in 1981.
On returning back to India in 1981 he joined hin family business Mahindra Ugine Steel Company Ltd (MUSCO) as an Executive Assistant to the Finance Director. Due to his talent and hard work he climbed up to the post of the President and Deputy Managing Director in 1989, and diversified the company into new business areas of real estate development and hospitality.
LEADERSHIP ROLE IN MAHINDRA AND MAHINDRA
In the early 90's Mahindra and Mahindra was a producer of off-road vehicles and agricultural tractors in India. Anand Mahindra took the leadership role as Deputy Managing Director of Mahindra and Mahindra pvt. ltd. in 1991. Anand was appointed as the Managing Director of the company in 1997 and then in 2001 as the Vice Chairman of Mahindra & Mahindra Ltd. In August 2012, he assumed the role of Chairman of the board and Managing Director of the Mahindra Group taking place of his uncle, Keshub Mahindra.
The company appointed Anand as Executive Chairman of Mahindra & Mahindra Ltd and he is continuing as the Chairman of Mahindra Group till today. Mahindra and Mahindra's biggest success the 'Scorpio' was introduced to the market under Anand's leadership.
Other than this Anand Mahindra laid the foundation of Kotak Mahindra Finance Ltd, which was converted into a bank in 2003 which is a very successful private bank.
Today because of successful leadership and dedicated employees Mahindra and Mahindra is one of the top ten business houses in India with a total net worth of more than $ 20 billion. And the company has its presence in more than 90 nations of the world.
Also Read: Apple – From a Garage To The Worlds Most Prestigious Electronics Brand
AWARDS AND HONOURS OF ANAND MAHINDRA
Due to his entrepreneurial and business contribution Anand Mahindra has been decorated with various awards and honours worldwide. He was awarded with Rajiv Gandhi Award for outstanding contribution in the business field in 2004.
French government decorated hi, with Knight of the Order of Merit' by the President of the French Republic 2004, Leadership Award – American India Foundation in 2005, Business Leader Award for the year award by CNBC Asia in 2006. Anand Mahindra was honoured with Harvard Business School Alumni Achievement Award in 2008. Some other awards and honours
Ernst & Young Entrepreneur of the Year India award – 2009 
Business India Businessman of the Year award – 2007 
Business Leader of the Year – The Asian Awards – 2011 
Global Leadership Award – US-India Business Council – 2012 
Best Transformational Leader Award – Asian Centre For Corporate Governance & Sustainability – 2012 
Entrepreneur for the Year – Forbes India Leadership Awards – 2013 
Sustainable Development Leadership Award – The Energy and Resources Institute (TERI) – 2014 
Business Today CEO of the Year – 2014
Social Media Person of the Year' by the Internet and Mobile Association of India – 2016
Harvard Medal – Harvard Alumni Association – 2014 
Chevalier de l'Ordre national la Légion d'Honneur – French Republic – 2016
Top 30 CEOs worldwide – Barron's List – 2016
LIFE BEYOND COMPANY – FAMILY, CHARITY, HOBBIES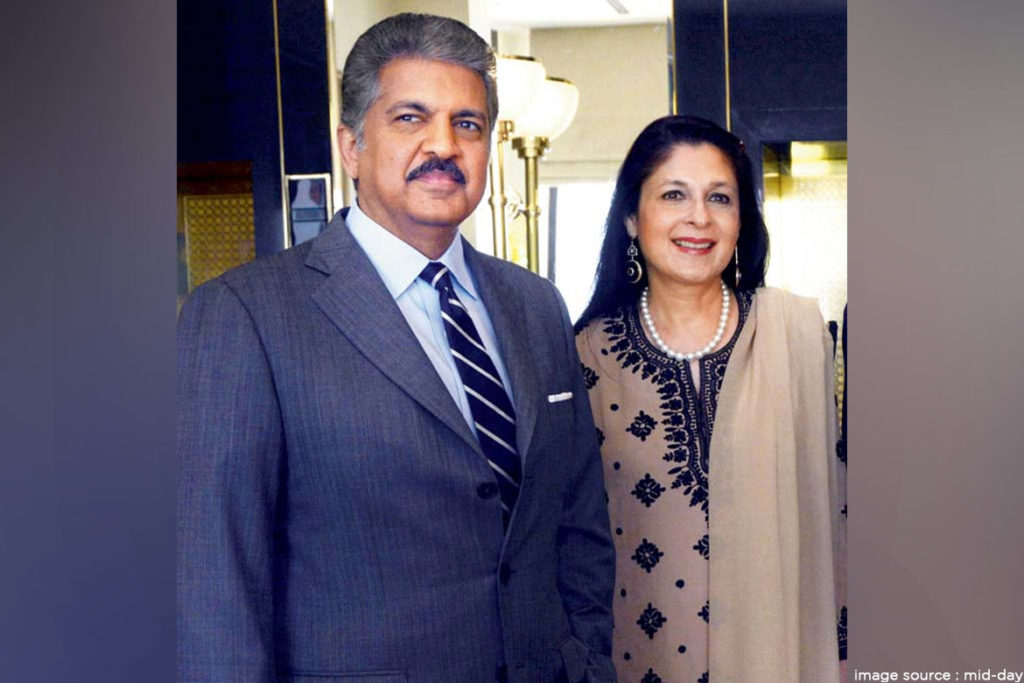 Anand Mahindra was married to Anuradha, a journalist by profession and founder of the magazine, Verve. She is currently the editor of magazines Verve and Man's World. The duo has two daughters Divya and Aalika.
He is one of the biggest philanthropists in the country. He is the founder of the project Nanhi Kali which aims to provide primary education to underprivileged girls in India. As of September 2017, the project has supported 130,000 underprivileged girls with their educational attainment.
Anand Mahindra is also the chairman-for-life and one of the board of directors of Naandi Foundation which works for the socio-economic upliftment of the poorest of the poor in India. He also donated $ 10 million to support the Harvard Humanities Center which was his education center. In recognition of this donation and to commemorate the help, the center was renamed to Mahindra Humanities Center at Harvard.
If we talk about his interest and hobbies then on the top slot comes tennis. Other than tennis Anand is a brilliant photographer. Movies, books, and sailing are other areas of his interest. He has helped to set up an annual Mahindra Blues Festival in Mumbai, 2011.
He is also very active on social media and frequently shares his business ideas and views, through writing in some of India's leading business magazines and through social media platforms. He is ranked among the top 30 CEOs on Social Media, he has around 8 million followers on Twitter. He is the president of ARAI (Automotive Research Association of India) which works in the research and development of environmentally safe mobility.
Today Anand Mahindra has a net worth of $ 1.7 billion and he features in Forbes India's richest businessmen list at 88th spot.
Also Read: Intel – Everything You Need To Know About The Worlds Largest Microprocessor…