Speakers are essential components of PC as listening to music not only lifts up your mood but also enhances work performance especially when you are tired of working for long hours or simply looking for the best speaker for PC to play games, watch movies, watch videos.
Especially when you watch online content with entertainment streaming websites and apps then good speakers become essential to elevate the user experience. Similarly surround sound output can take gaming to the next level.
Whether you want to buy an affordable PC speaker or an expensive one, we have shortlisted the best 10 speakers here with detailed specs, so that you know everything about them before making up your mind.
There are tons of options available in the online and offline market and you have to make the choice according to your budget and features that you specifically require.
Hence, the definition of a good speaker keeps changing with the budget and features like, sound output, connectivity, design, body, etc. Here we have shortlisted the best 10 speakers for PC strictly on the basis of their features and specs.
1.   Audioengine A2+
2.   Logitech Z906 5.1
3.   Harman Kardon Aura Studio 2 Bluetooth Speaker System
4.   Creative Pebble Plus 2.1
5.   KlipschProMedia 2.1 THX
6.   AudioEngine HD3 Wireless Speakers
7.   Edifier Luna E
8.   Logitech G560
9.   Razer Nommo Pro
10.Edifier M3200 2.1 Multimedia Audio Speaker System
Audioengine A2+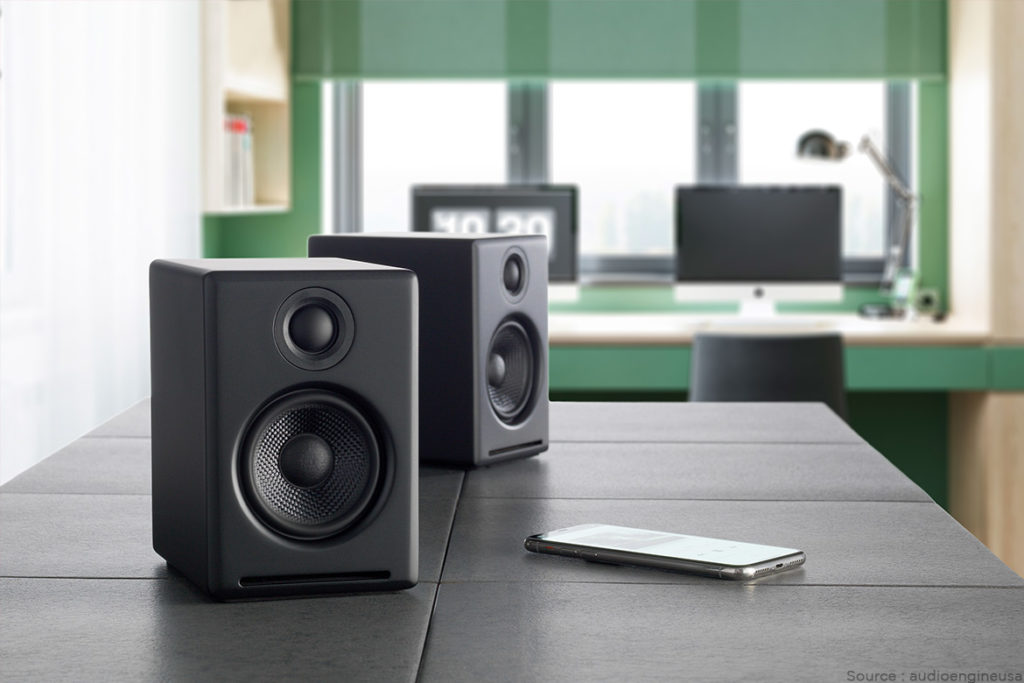 It is a premium wireless Bluetooth speaker set of two with high fidelity stereo sound and premium design. The box design gives it a unique look and you can place it easily anywhere like an office or home as it perfectly suits all types of environments. However, if you want to have the best sound experience then it is suitable for a normal size room or smaller spaces.
These are also referred to as mini PC speakers but this does mean that these produce lesser sound because these are the perfect pc speakers suitable for a small room and produce a clear and powerful sound that you do not get in other pc speakers that are available in its price range.
With inbuilt Audioengine components including aramid fiber woofers, inbuilt power amps, silk tweeters, and High-end Bluetooth aptX-HD with handcrafted box cabinets produce immersive and powerful sound.
These are easy to set up and do not require any receiver, network, or passwords which means that you can use them straightway without trying to find out the complex setup of push-button and input options.
It is designed in such a way so that you can do the setup without any hassle and even use your headphones by connecting with a 3.5 m audio jack.
Pros:
It is specifically designed to work with PC and laptop with many connectivity options such as USB (16-bit up to 48 kHz), audio jack Bluetooth.
These speakers can also be connected with apps and other devices like an Android smartphone, Apple iPhone, tablet, phablet, MP3 players, DVD players, turntable with inbuilt preamp, CD players, game consoles with the help of a 1/8-inch mini-jack and RCA output.
It automatically goes to power saving mode when it remains idle for some time.
Works well with all latest devices
Sound:
With dual inbuilt analog power class A/B monolithic amplifiers these speakers produce 60 Watts peak sound with 15W RMS and 30W per channel, AES. Regarding the drivers, these have 2.75-inch aramid fiber woofers and 3-4 inch dome tweeters. There is no software or program required to be installed to use these speakers
Another positive of these speakers is that you get to listen to the best surround sound and when you connect the headphones then it automatically bypasses the computer and mobile to produce the lively sound.
If you wish to buy Audioengine A2+ then these are available on Amazon and other eCommerce websites. With these Bluetooth PC speakers, you also get a 2m speaker wire, a power supply cord, one USB cable, 1.5 mm audio jack cable, bags made of microfiber, set up guide, and 3 years transferable warranty.
Logitech Z906 5.1 Channel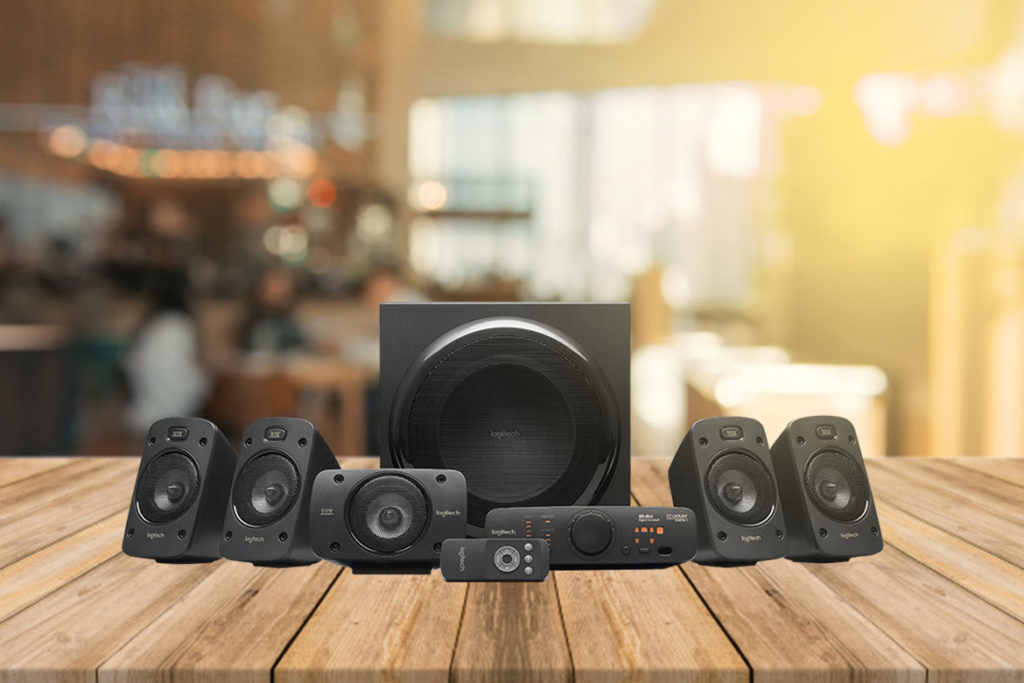 This is an amazing PC speaker with multi-connectivity options including Aux, Bluetooth, and Wire with perfect surround sound. Whether you want to connect them with your office PC or at home these produce exceptional sound even in a large room without any distortion.
The Surround Sound Experience like a cinema hall because it is equipped with 5.1 Dolby digital and DTS encoding technology gives you the best sound letting you hear minute details of the music. Another positive of this PC speaker system is that it is THX certified and produces 1000 W peak  sound/500 W RMS which is enough to throw a party at home or office. It also makes it suitable for large halls and rooms supported by five satellite speakers along with a center channel that has the woofer in it to give thumping and vibration.
When we talk about connectivity then it can connect up to 6 audio sources so that you can enjoy music, videos and game sound. One can easily connect a computer, PC, game console, music player, CD player, MP3 player with Bluetooth and cable connectivity. It supports multiple connectivity options like RCA cable, coaxial 3.5mm cable, 3.5 mm audio cable to provide the best in class surround sound.
The stylish design and strong body material let it easily accommodate in any corner whether it's a bookshelf or on a table. Along with the PC it can also be connected to a smart TV. Its compact design further enhances its looks as it measures 38.4 x 43.1 x 43.8 cm and weighs 16.6 kilograms.
The controls button are conveniently placed so that you can easily like on/off and change volume. If you like to listen to the music without bothering other than simply insert the audio jack and enjoy the music privately.
In this PC speaker set, you get a woofer, subwoofer, control console, Infrared remote that lets you control the sound from your comfort with a few presses of buttons. It comes with a 2-year warranty at a price of Rs 25,300.
To provide a premium sound experience it can decode Dolby Digital and DTS encoded music files to give you a theatre-like experience.
Pros:
5.1 Channel gives extreme Dolby digital surround sound experience
THX certification assures that strict standards were adhered to maintain the quality standard
1000 Watt crystal clear 3D surround sound
Support Digital and Analog input sources which mean you can use PC of any OS such as Windows, iMac, Linux, Ubuntu, MP3 player, CD player, smartphone, Blu-ray and DVD players, Game consoles, and other audio devices.
Harman Kardon Aura Studio 2 Bluetooth Speaker System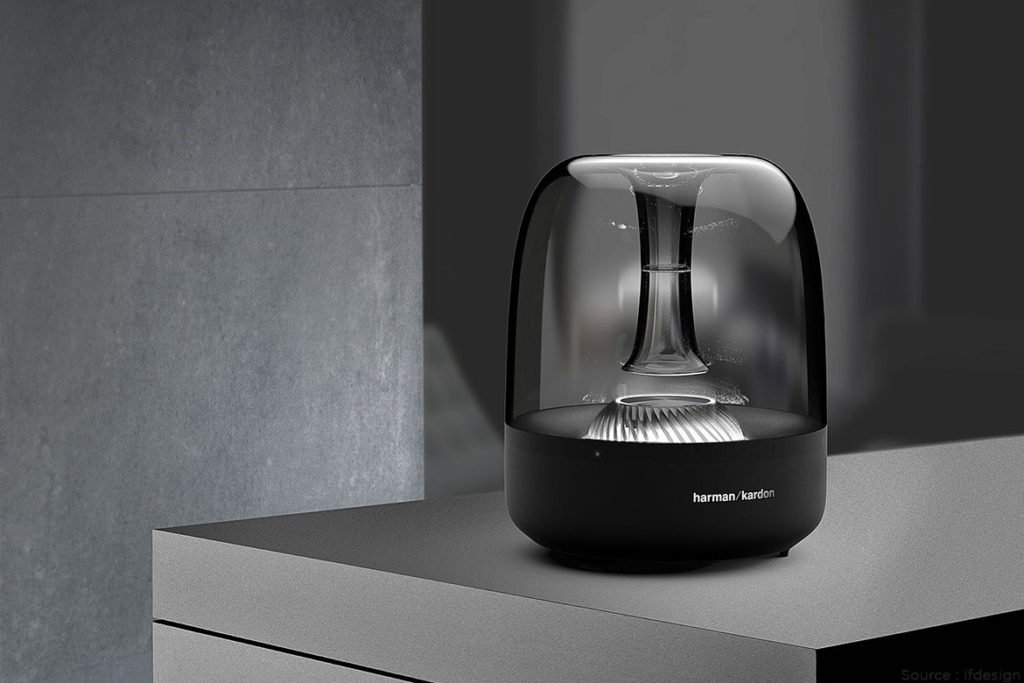 It is another wireless PC speaker with a unique design and extraordinary sound clarity that keeps it ahead of many brands and wireless speakers that are available in its price range.
It works well not only with Windows PC but you can connect it easily with multiple Bluetooth devices like iMac, iPhone, Android smartphone, MP3 players, Blu ray players, a gaming console with Bluetooth connection, and also use the Aux cable to play the music.
This has a transparent body with a turbine shape inside it that emits white light and creates an animated center ring with the help of LED lights.
With the use of DSP technology, it perfectly delivers the stereo widening sound and the sound sticks increase the music listening levels. Easy to set up and perfect for a medium-size room, you can connect it with your computer with the help of a Bluetooth connection.
Features:
Regarding the sound output, it produces a peak output of 60 W powerful sound with 0.5 W eco- standby modes from 4.5-inch transducers for the woofer and of 40 mm for the tweeter. With an inbuilt amplifier of 30 W and 15 W for the tweeter, it produces a frequency of 50Hz – 20 kHz.
To maintain the clarity it also has a signal to noise ratio of 80 dB @30 W for woofer and 89 dB for tweeter
When we talk about the Bluetooth connectivity then its frequency range is 2.402 – 2.480GHz and you can stay connected up to 33 feet.
It weighs only 5.4 lb and measures 9.8 inches x 14.2 inches x 9.8 inches (H x W x D).
It is available on Amazon along with one power adapter, 4 regional power cables, a user manual and 1-year warranty.
Pros:
Extraordinary surround sound and design makes it perfect for your office or home as it perfectly blends with the interiors.
LED light with premium body design
360 degree surround sound
Creative Pebble Plus 2.1
If you are looking for a PC speaker with incredible sound and a stylish notch design then these speakers would be perfect for you as these the 45 degrees elevated driver angle with a powerful woofer would be perfect.
It produces clear bass and crisp sound even at high levels without any distortions and you can listen to heavenly music without any hassle.
Creative is a Chinese company and these speakers were awarded as the best computer speakers in 2018.
This speaker set has dual full-range drivers of 2-inch which are set at 45 degrees supported by a subwoofer that gives an amazing thumping sound.
Easy setup allows it to connect it with any PC or laptop with any configuration by using a USB 2.0 cable and aux 3.5 mm cable that gives hassle-free connectivity.
Easy placement of control buttons lets you operate it smoothly!
It measures 4.5 x 4.8 x 4.5 inches and weighs 5.45 pounds.
With inbuilt USB – C switch, it can be connected to almost all the latest devices. If you like then you can also use the manual switch for USB A devices. To enhance the power level from 5V to 8V that reaches the peak power of 16 W you can use the adapter instead of a USB cable. It can easily achieve the maximum 8 W RMS power with a 5V adaptor that is not included in the package and you will have to arrange for the same separately.
Pros:
Premium looks and amazing design
Great sound clarity with powerful woofer
USB-C port makes it convenient to use multiple devices
Also Read: Top Five Computer Speakers Of 2020 Available In Market
The KlipschProMedia 2.1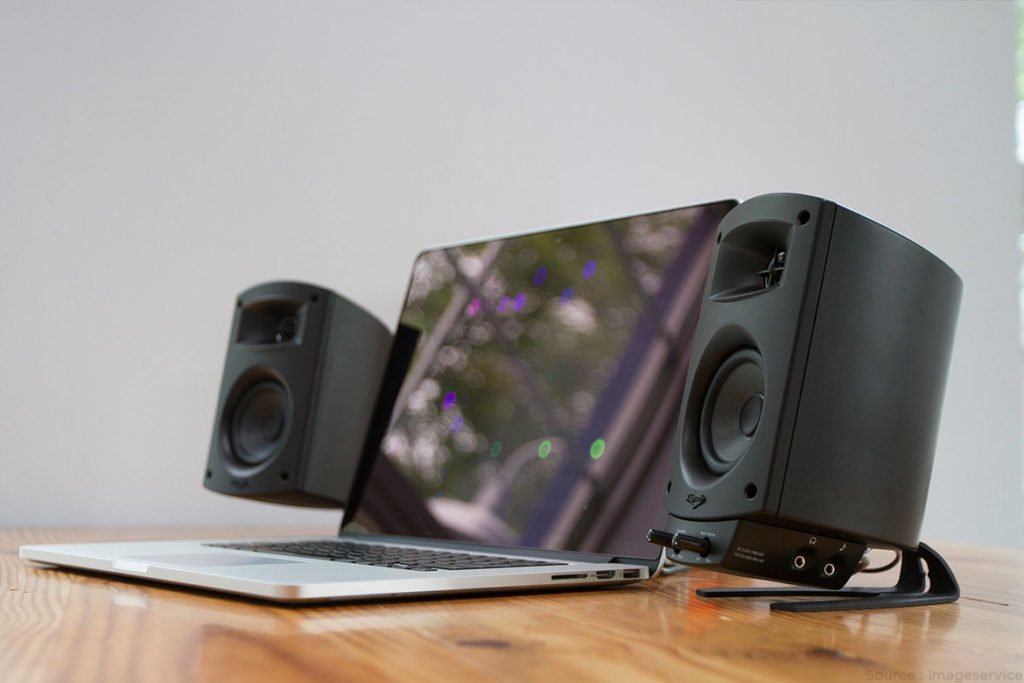 This could be the best option to upgrade your old PC speakers as it has the latest features along with incredible sound and beautiful design. Its sound quality is exceptional and hard to find in other PC speakers that are available in its price range.
With Bluetooth connectivity, you can easily pair it with your PC or laptop without facing any problem. It has dual satellite speakers along with a powerful subwoofer that delivers a nice thumping and clear sound of movies, gaming consoles, music, and movies.
Equipped with a 200 watt digital hybrid amplifier it produces 31 Hz to 20 kHz frequency response range.
If you do not wish to disturb other than you can use the 3.55mm aux port to connect headphones and listen to the next level music with unmatched sound quality.
It does not take much time for its setup and within a couple of minutes, you can install it and start using it. The control buttons of adjusting the volume level, woofer volume are well placed in the front of the satellite speaker for listening to the optimal music level.
Suitable for a middle size room or office cabin it perfectly blends with the surroundings and looks stylish whether you place it in the bookshelf or on the computer table.
These speakers also have inbuilt poly compression tweeters of 3-inch placed in a cone shaped composite.
This multi-channel PC speaker supports all types of PCs, laptops, smartphones and other latest devices that can make a Bluetooth and Aux connection.
If you wish to buy this stylish PC speaker set then it is available for Rs 4994 on Croma
Pros:
Unmatched sound of 1000W gives ultimate music listening experience
Stylish design with grill looks awesome
Bluetooth 2.0 connectivity support along with Aux port option
Inbuilt Radio and Amplifier
AudioEngine HD3 Wireless Speakers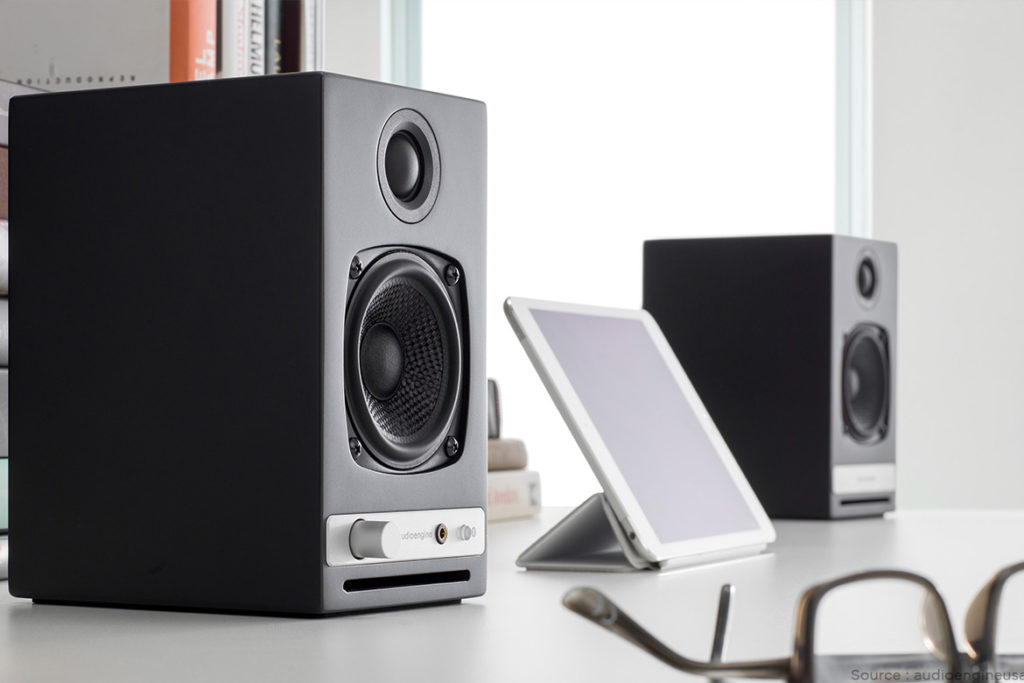 This is a wireless PC speaker with a stylish design and exceptional sound quality. Easy to set up on your table or a bookshelf and it blends perfectly with the surrounding. This multi-connectivity speaker set of two can be easily be connected with a Bluetooth, USB cable, and aux cable for listening to the music or sound in private without bothering others.
With inbuilt amplified sound output and dedicated headphone amp, you get to hear crystal clear sound without any distortions.
Easy to place and simple design makes it convenient to place it anywhere in the room. It weighs only 3.3 Kilograms and measures 30.23 x 22.61 x 29.72 cm.
It will not be wrong to call it a bookshelf speaker that is available in black and Cherry colors that gives the unmatched sound output of 65W with wired or wireless connectivity.
You get a headphone jack, volume control buttons along with a Bluetooth connection button in the front panel for easy access and the other connectivity options on the backside of the left speaker including antenna, a Bluetooth receptor, RCS stereo input and output options, audio jack of 3.5 mm for connecting headphones with a dedicated amp.
It has two tweeters of 0.75-inch in both speakers along with 2.75-inch woofers that produce 15W thumping sound.
Pros:
Bookshelf design and lightweight nature
Multiple connectivity options
Dedicated headphone inbuilt amplifier along with a speaker amplifier
Edifier Luna E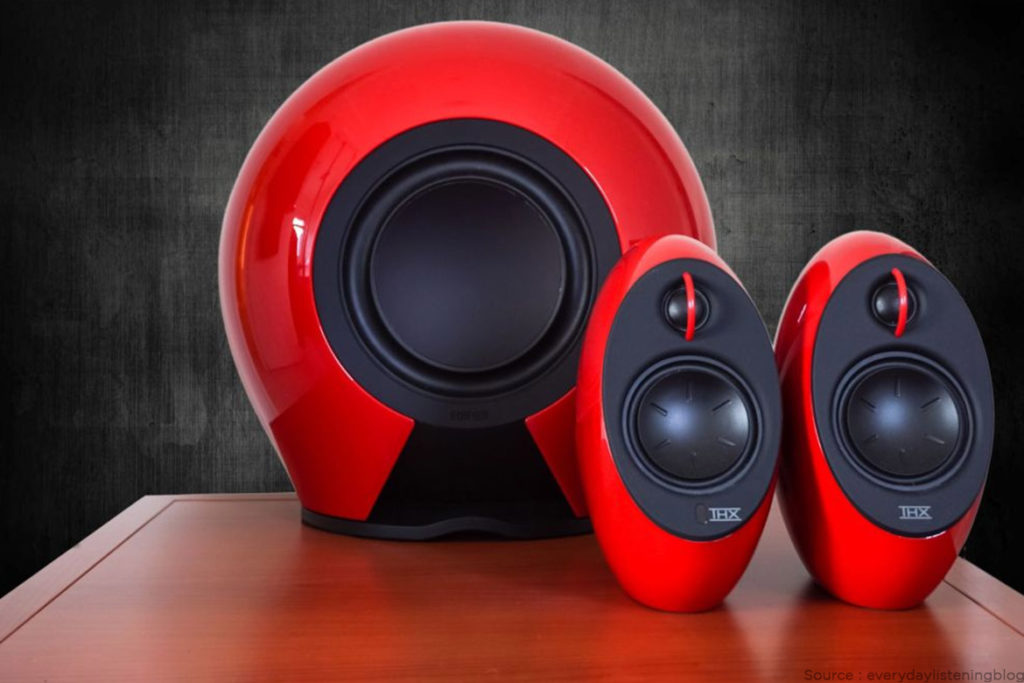 It is a wireless Bluetooth PC speaker with exceptional design and unmatched sound quality that is hard to match. The impressive subwoofer gives ultimate thumping that elevates the gaming and movie-watching experience and you feel like you are watching the movie in a theatre.
The design is compact but that does not mean that it has low sound output. In fact, you get to hear the best sound with this 2.1 channel PC speaker set that is THX certified for providing the best sound output with Bluetooth aptX technology.
One can easily connect any PC with any operating system such as Windows, MacOS, laptop, Smartphone, gaming console including Sony PlayStation, Xbox, etc. as it easily transfers the best sound.
This set of speakers includes a 5.8GHz subwoofer along with two 8-inch satellite oval shape speakers that produce 100W RMS power. These 38 W satellite speakers are also loaded with dome tweeters along with passive radiators. You also get a sleek remote to control with multiple advanced options.
It weighs only 15 Kilograms and measures 23.2 x 38.4 x 37.9 cm.
The maximum sound output you get from this speaker set is 175Watts.
Available in Black and Red colors you can buy them for Rs on Amazon and other e-commerce websites.
Its Bluetooth 4.0 connectivity lets you operate it from a distance of up to 30 feet without facing any sound distortion.
Pros:
Wireless Bluetooth 4.0 connectivity
Inbuilt digital signal processing
Automatic 3D sound processing with dynamic range control
Logitech G560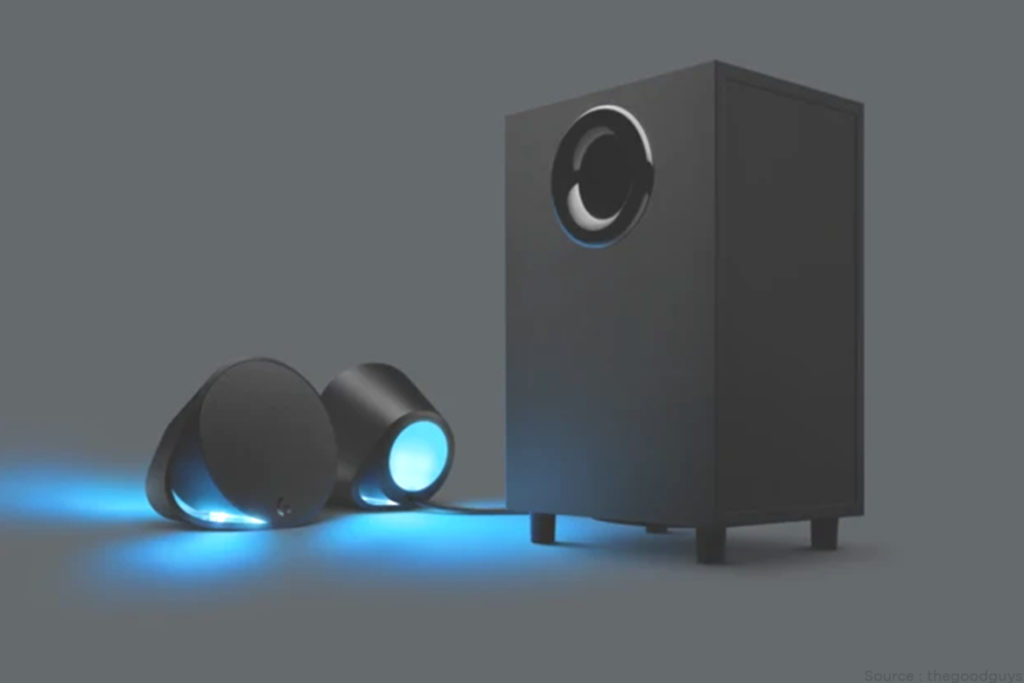 Logitech is a popular brand that has made exceptional computer accessories and this time with this wireless computer speaker you can feel the difference.
This is again a THX certified wireless computer speaker set that effortlessly produces an exceptional sound of 240 Watts at peak. Multiple device connectivity options keep it ahead of others because when you connect it with PC, game console or simply to a smartphone the inbuilt advanced amplifier automatically enhances the sound quality.
You can connect up to three devices with the help of Bluetooth, USB, RCA input, 3.5mm audio jack and get the immersive sound while watching a movie, listening to music or playing games.
It is a set of three speakers including a subwoofer and two satellite speakers with metallic design.
G560 satellite speakers are illuminated and blend perfectly with all types of environments, in fact, they enhance the look. With the use of advanced technology, they can sync with your desktop screen and provide response accordingly with different lighting effects.
You can choose any color of the screen to allow it to change the colors accordingly. With an audio visualizer, you can also use them as party speakers and play your favorite music with lighting effects.
It weighs only 5.49 kilograms and measures 25.4 x 20.57 x 40.39 cm.
With inbuilt amplifiers and DTS technology it perfectly produces 3D sounds and it will not be wrong to call it a gaming speaker that gives ultimate sound and lighting experience with real time audio playing.
Pros:
Best in class sound clarity
Stylish design with multiple connectivity options
Best light effects that change according to the desktop screen
Razer Nommo Pro
This is a wireless Bluetooth speaker set of three which includes a subwoofer and two satellite speakers. The unique telescope design gives it a different look and keeps it ahead of the traditional bookshelf type speakers.
THX certified and DOLBY virtual digital sound output elevates the sound listening levels with exceptional surround sound and multiple connectivity options you can pair it with any device like a PC, computer, laptop, smartphone, tablet of Windows, iOS, Android, iOS, etc. without any hassle.
The cylindrical telescope design has been first attempted by any speaker making company but it looks perfect and you can get exceptional sound quality along with cinematic immersive sound effects.
The subwoofer produces powerful thumping and the fingertip controls illuminated with LED light give you easy access to adjust volume, bass, mute and switch it off smoothly. It measures 27.03 x 27.03 x 39.04 cm and 12.5 Kilograms.
Its connectivity options include USB, Bluetooth and optical 3.5mm audio jack.
Pros:
Unique design and easy controls
Best in class sound output supported by Dolby digital
Edifier M3200 2.1 Multimedia Audio Speaker System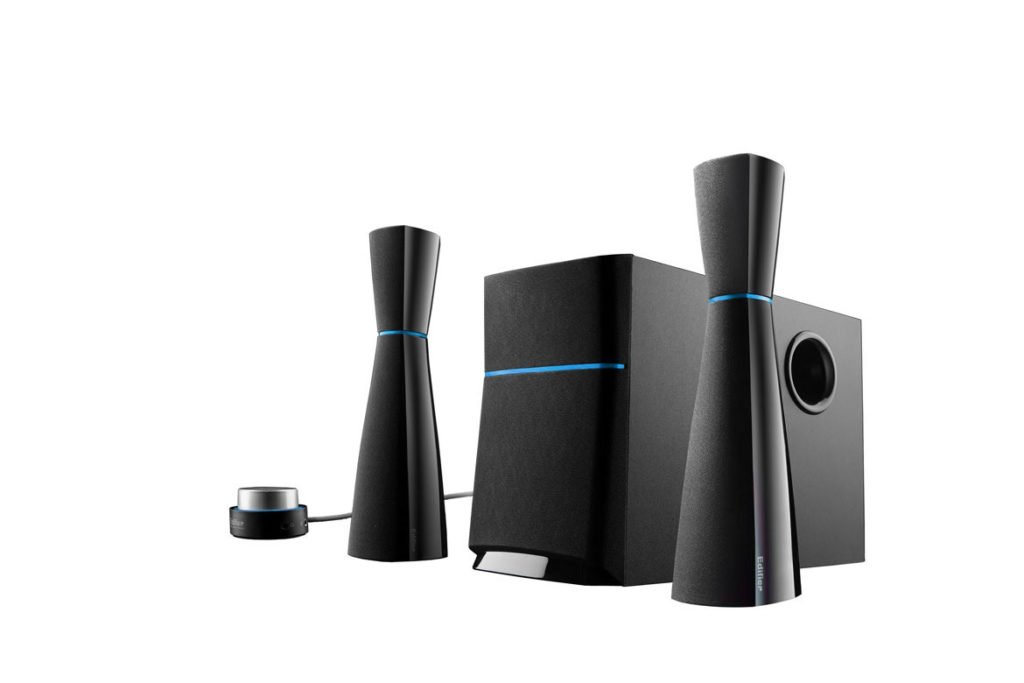 This is a wireless Bluetooth PC speaker with elegant design and superb sound quality with great clarity. The unique design lets you fall in love with it as it looks stylish and adds charm to the interiors.
This is a 2.1 channel speaker set that includes a subwoofer and two satellite speakers with awesome looks. Regarding the connectivity options, it can be connected to PC, laptop, gaming console, smartphone of any brand and operating system with the help of Bluetooth, USB, and 3.5mm audio jack easily.
The wooden closed cabinet is designed in such a way that you do not have to worry about the magnetic shield. It also has a wired rotary master with light effects that let you control volume, bass, connect a headphone, pair with a Bluetooth device seamlessly.
Equipped with a subwoofer of 5.5-inch with satellite speakers that have magnetic shields produces an enigmatic sound output of 34Watts.
It measures 40.79 x 21.49 x 29.01 cm and 5.3 Kilograms. This is easy to set up. The 2.1 channel speaker provides rich bass and brilliant distortion-free sound clarity that is hardly found in other PC speakers that are available in its price range.
Also Read: Top 10 Highest Selling Smartphones In The World
Pros:
Ultimate sound clarity and output
Multiple device connectivity options
Incredible and unique design
If you wish to buy this multimedia speaker then it is available on Amazon for Rs 22,393.