Drones are not a toy and if you have come to this page then it means that you are serious about knowing more about these quad-copters which would add value to your videos and vlog.
Drones have become an essential part of movie-making because these made the top angle accessible to the shooter without facing any problems. Now, you do not require cranes, and tall camera devices to shoot from above in fact drones can cover large areas with more clarity that too with only a few clicks.
These are not merely flying cameras but are much more than that as the latest drones are even protected by an advanced sensor which saves them from a collision.
There are numerous options available in the market but very few are up to the mark and can justify their value. These tech toys loaded with superb cameras can let you capture stunning videos but it is also important to find out the best drone which could come in your budget.
Here we have listed the best Drones of 2020 which you can consider to buy.
DJI Mavic Air 2 – Drone Quadcopter
Parrot PF728000 Anafi Drone
DJI Phantom 4 Pro V2.0 – Drone 
Syma X20 Mini Drone
DJI Inspire 2
DJI Mavic Air 2 – Drone Quadcopter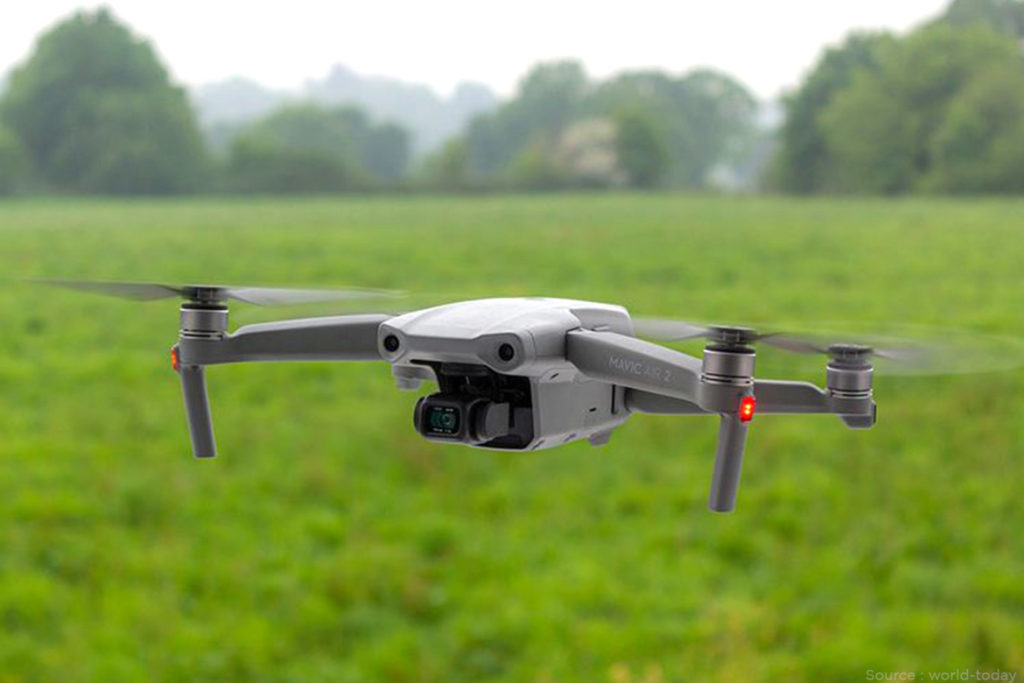 This is one of the bestselling drones available in the market with exceptional camera quality with intelligent shooting modes that give you amazing results. The impressive design and powerful motors let it reach the heights without any hassle and you can shoot anything from the height without any lag.
Its magnificent 48MP camera with a half-inch CMOS sensor with 3 axis gimbal captures 4K HD videos at 60fps. The quad Bayer image sensor lets it shoot amazing videos. It can easily do video transmission up to 10 km with 1080 FHD resolution live streaming directly from the drone camera.
The flight mode is impressive as it can easily fly in the air for up to 34 minutes with and click shots and videos at fast speed with inbuilt obstacle sensors that make it more convenient for newbies to handle it with safety.
It also smart enough to automatically change shooting modes for best aerial photography experience by keeping the subject locked for ease with spotlight 2.0 feature lets the camera locked on the subject while you fly it in any direction. ActiveTrack 3.0 keeps the focus on the center of the subject while POI 3.9 technology features smoothly track the moving subjects like cars, people, etc.
Universal accessibility It is compatible with almost all modern devices like Android smartphone, iPhone, iPad, tablet with a display. You can also view the live status of the battery in real-time and the exceptional propellers consume less power to provide 34 minutes flight with a good range.
When you buy this drone you get a remote controller, flight battery, three low noise propellers, RC cables including USB Type-C, micro USB and lightning, control stick, Gimbal protector, battery charger, AC power cable, USB Type-C cable and manuals to operate it.
Also Read: LG New Electronic Mask Will Bring The Revolution In The Technology
Parrot PF728000 Anafi Drone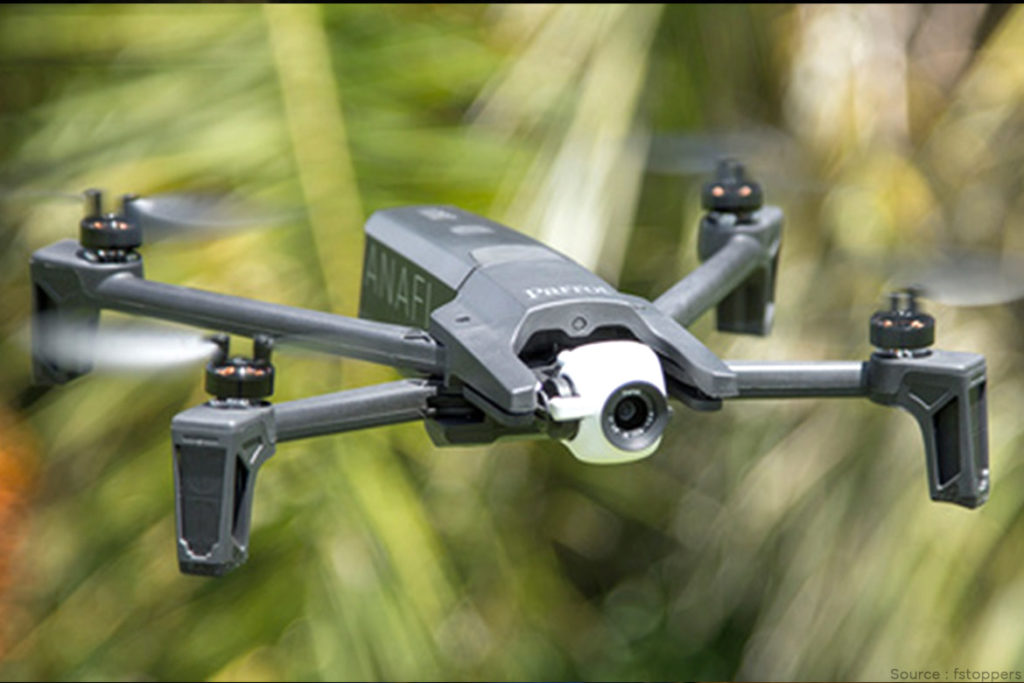 This one of the best budget drones that captures HD videos without any hassle and the powerful flight mode lets you shoot amazing videos with a focus on the still subject or moving subject. It is loaded with an exquisite camera that rotates up to 180 degrees and captures photos with an f/2.4 wide-angle ASPH lens. Its camera can also zoom up to 2.8 times along with the shooting of 4K videos and full HD videos in the resolution of 2740 x 1520 pixels. The 21MP camera lens clicks crisp and clear shots and comes with a timer, burst mode that could click up to 10 photos per second with a professional setting wizard.
You can fly it easily for up to 25 minutes in the air. Thanks to its powerful Li-poly battery that even charges 60% faster with a USB type –C cable charger. It can be operated at -10 degrees to 40-degree temperature. Its ultra-compact design makes it easy to carry anywhere and a lightweight carbon frame additionally increases its air time. It weighs only 320 grams and measures 9.4 x 6.9 x 2.6 inches.
It can travel with a speed of up to 55 km/h which is great speed and you can assemble it within seconds. Moreover, it comes with location features which lets you find it easily as the smartphone vibrator starts vibrating when immediate attention is required. 
This reliable drone software can be upgraded and you can change the existing feature and further increase the performance according to your need.
One more incredible feature of this drone is that its advanced artificial intelligence system lets it capture photos and videos with automatic framing which means that it focuses on the subject from any direction and all you have to do is just fly this amazing drone in the air.
It is a Sky controller is a foldable remote control system with a range of up to 4 km and works easily for up to 2 hours then it needs to be recharged again.
It is compatible with all the latest smartphones whether it's Android or Apple smartphone you can use the Freeflight app to operate this drone.
DJI Phantom 4 Pro V2.0 – Drone 
This one is an incredible quadcopter loaded with a 20MP camera with a 1-inch MP CMOS sensor with a mechanical shutter that lets you capture stunning 4k shots and HD videos at 14 fps. With this advanced sensor, the drone camera clicks minute details about the subject with fast image processing.
Its body is made of durable Magnesium alloy with a rigid airframe that further makes it stronger and keeps it lightweight that is good for higher flying and power saving. Not just this it is also equipped with dual rear sensors along with infrared sensors that help it in staying away from the obstacles so, in case you are immediately not able to save it from the obstacles it will do the job on its own with its own obstacle avoidance system.
The different flight mode conveniently switches to provide more control to the operator and you can smoothly make it fly at the maximum speed of 75 kph without any hassle and capture tough shots easily.
Its propellers do not even make much noise and silently perform the operation so hardly anyone would notice its takeoff and landing as the noise levels are reduced to great levels.
If you run out of battery then nothing to worry as it only takes 58 minutes to get completely charged up with an intelligent flight battery option.
The standard remote controller lets you use any smartphone including iPhone and Android. All you have to do is install DJI GO 4 App from Apple Store or Google Play store to fly this excellent drone in the air for aerial photography. It can transmit images from up to 8 km with 1080 pixel resolution by using the advanced automatic frequency technique.
You also get different flight Modes like ActiveTrack, TapFly, Draw mode, Gesture mode, and much more that helps you to fly it effortlessly.
You can buy it on all major eCommerce platforms along with a charger, power cable, 4 propellers, micro SD card of 32GB, a micro USB cable, carrying case, and Gimbal clamp. 
Also Read: Kitchen Appliances: What's the 5 Best Salad Shredder?
Syma X20 Mini Drone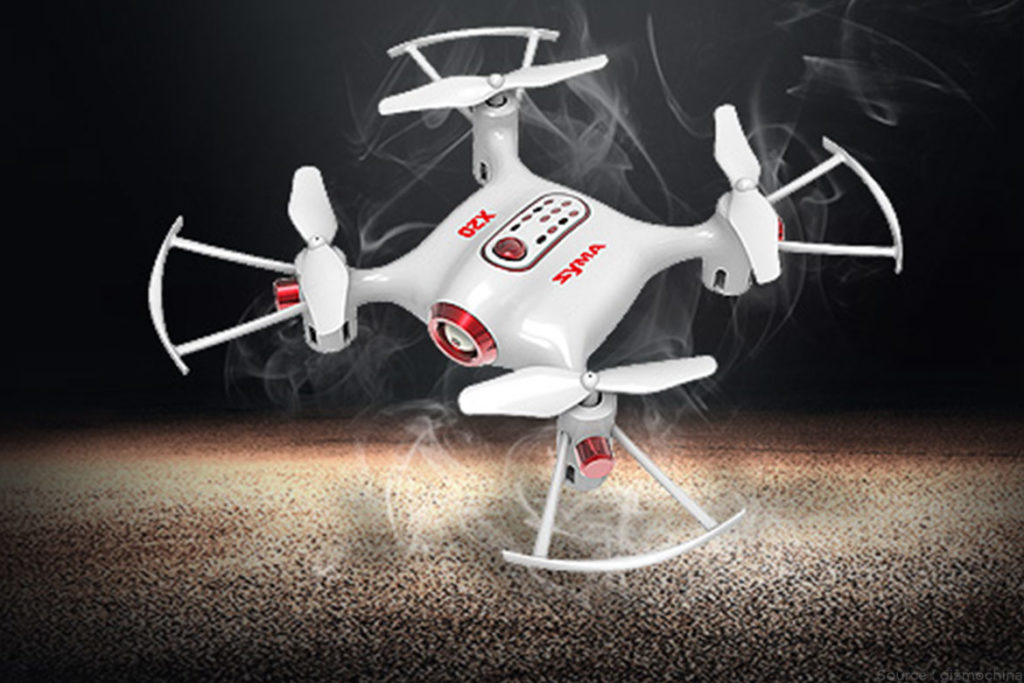 This is the latest and upgraded version drone that can easily capture videos and photos from different angles and much more stable than many other drones which are available in the market in its price range This is a budget drone that is perfect for newbie or kids who love creating videos from top. This headless type drone is very light and easily takes off and lands automatically with the press of one button and even comes to the same position from where it took off.
So, if the battery is low or if you are unable to see it then use this one button push and it will come back to its place. It is also capable of performing 360-degree rollout stunts and continuous roll for perfect action and wonderful performance. It even allows you to set the maximum height, beyond which it will not go and even set the position by using altitude or headless mode.
For easier control, it is made for stability and even wind resistance and its LED light enables you to fly it even in the night It can take a 360-degree roll with ease and gives a fantastic performance with two-speed mode. Its flight time is 5 minutes and takes approximately 50 minutes to get completely charged up for the next flight. Loaded with a powerful 180 mAh 
Li-Poly battery and can be controlled for up to 66 feet or 20 meters with the help of a remote controller.
Syma X20 is a lightweight drone as it weighs only 0.11 ounces and measures 4.13 x 4.13 x 0.98 inches.
DJI Inspire 2
This is a high-end drone that has 360-degree rotation compatibility which can capture 4K HD videos that are transmitted on a real-time basis on your smartphone with a simple to use App. 
It is a fast speed drone that reaches up to 80 kph within 5 seconds with 58kph. To keep it longer in the air it is powered by a dual battery system that allows you to fly this drone in the air up to 27 minutes. It also has self-healing technology that makes it easily fly even in low temperatures,
Loaded with dual direction obstacle avoidance mode, it keeps itself safe during the flight. The multiple flight modes smoothly click complex shots.
The upgraded version of transmission with dual signal frequency and dual channel support stream HD videos which are FPV cameras along with the main camera at the same time. You can operate it easily from the range of up to 16.4 feet and it works perfectly from -4 degree to 40-degree temperature. 
Lightweight design and powerful propellers keep it ahead of many drones. It weighs only 515 grams and measures 18 x 12 x 21 inches. Powerful 4280 mAh Li-Poly battery backup makes it easily fly for 27 minutes in the air.
You can use it on any Android or Apple smartphone to record 6K videos with a controllable range of 7 km.