If you want to know about the best portable  Bluetooth speaker in 2020 then you are at the right place where we will explain to you about the best speaker which is not just compact and easy to handle but also has powerful bass with clear and crystal sound.
There are few qualities that the best portable Bluetooth speaker must have like a stylish design with noise cancellation support, water and splash proof is an added advantage, great sound and multiple connectivity options and other important features which are essential for the best Bluetooth portable speaker.
Anyways there are thousands of portable speakers that have flooded the market and it makes it really hard to choose the right speaker that could satisfy your requirement.
Bose SoundLink Revolve+ is one of the best portable Bluetooth speakers that have been liked by the customers for its great sound and multiple connectivity options with a massive battery backup. Bose is a renowned name in the market trusted by millions. It has been making the best in class speakers in different categories but when we talk about portable Bluetooth speakers then you would definitely like the sound and design of Bose SoundLink Revolve+.
Let's checkout excellent features of the best portable Bluetooth speaker list along with incredible specs.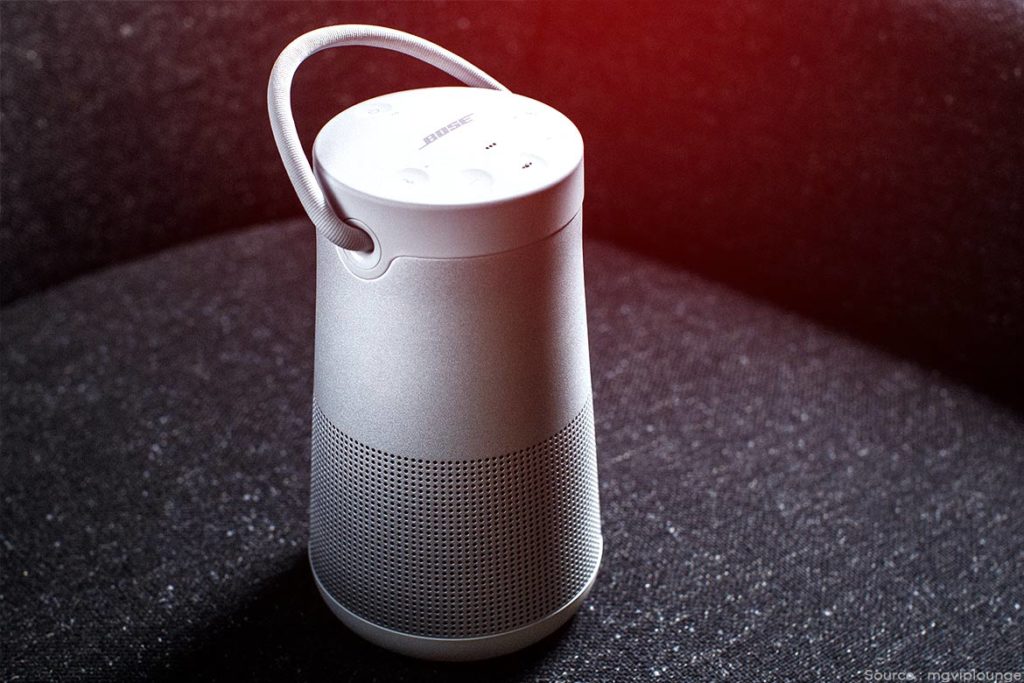 It has a durable seamless aluminum body with a jaw-dropping design that is made in such a way so that the sound is equally spread in 360 degrees. If it is placed near to the wall then its sound would radiate and reflect in the entire room with the immersive sound effect that you usually get during the concerts. So, it perfectly produces deep and immersive sound with high audio levels.
It is designed in such a way that you can take it anywhere without worrying about the weather as it is also water-resistant which means you can take it even to the swimming pool. Not just this it is also bump proof so if it falls down or if you knock it over then there is no need to be afraid as this splashproof portable speaker would perfectly work without any issues.
Also Read: Best 5 JBL speakers that you can buy under 5,000
The exceptional sound is incomparable with other portable speakers that are available in the market in any price range as you can hear all the beats. Thanks to its single extrusion process that makes it possible to let you hear low-level sound with clarity and never miss any beat.
All parts of this speaker make it durable and with perfect placement of soft and smooth buttons that provide smooth operation and enhances the listening experience.
Any portable Bluetooth speaker that has good sound should also have a long-lasting battery and this is true in this case because this power-packed speaker has a massive Lithium-ion rechargeable battery that easily gives a music play of 16 hours. There are many speakers that could play the music for longer hours but the sound quality is compromised which is not the case with this amazing speaker as you get the same powerful bass continuously for 16 hours.
The latest voice prompt feature keeps it ahead of many other portable speakers. One can pair it with any Bluetooth device in a few seconds as it hardly takes any time to connect and next time automatically reconnects without the need of pairing it again as it is smart enough to remember the last 8 Bluetooth devices which were connected with it. It can be paired with almost all the latest devices and operating systems like Android smartphone, Apple iPhone, iPad, iPod, Tablet, Music Player, Fablet, Windows PC, laptop, iMac, Linux or any other device that supports Bluetooth connection and plays music or sound.
Its powerful speakerphone also lets you make and receive calls with great clarity and you will not struggle anymore to hear the sound of the other person even if you are somewhere outside in the crowded place. You can also use it in your office to make conference calls as the clarity with noise cancellation support would make it a perfect choice for your office needs.
This incredible speaker also has inbuilt Siri and Google Assistant that makes it possible to access the online world and lets you search online or play music with one simple voice command without even lifting your finger. If you like then you can pair with other smart devices in your office or home like a smart AC, Smart light, smart doorbell, smart fan, etc. It is IPX4 rated that makes it water-resistant and due to this you can carry it anywhere without any worries.
It also comes with a universal mount which means that you can attach it on any tripod and enjoy the music. It is also a lightweight portable speaker which means you can carry it easily to all the places. It weighs only 2lbs and measures 7.25 H x 4.13 W x 4.13 inches D.
If you wish to buy this portable Bluetooth speaker then it is available for Rs24500 on all major eCommerce websites with a year warranty, 3.5 mm auxiliary input, and Micro-B USB port, USB power supply, USB cable, and AC power adapters.
When we talk about various connectivity options then along with its Bluetooth connectivity that could let you connect up to 30 ft. it also has NFC connectivity for easy pairing. You can also pair two speakers together along with dual pairing that can easily be swapped to allow who controls the music playing.
Also Read: 5 best speakers under 10,000 available in the market
This speaker was launched to throw a small poolside party or even a rain party as its clear, loud, and immersive sound is hard to find in other portable speakers that are available in its price range. Its sound is further enhanced by its dual opposing radiators with an efficient ultra-transducer that creates real lifelike sound. Overall it's a powerful speaker that is available in a mid-price range with all the latest connectivity options, great battery backup with superb design with durable Aluminium that makes it possible to use it anywhere without thinking about splashes and bumps.