The smartwatch market has grown significantly in recent years. If you intend to use it for outdoor activities, you should get a tough smartwatch. While Casio and Garmin used to dominate this market, we now have some exciting options from Amazfit, Fire-Boltt, and even Apple. These smartwatches are made to last and include a variety of fitness-tracking features. If you are looking for such a smartwatch, here are some of the best rugged smartwatches available in India at various price points. Here we are listing 6 budget rugged smartwatches ranging from 2500 to 20000.
What can we expect from tough smartwatches?
Build quality
Because you're looking for a tough'smartwatch,' build quality is even more important because of the chipsets and other technological elements in the wearable. Furthermore, the design and casing of a smartwatch are important factors in determining its durability. Materials such as stainless steel, titanium, or synthetic polymers are used in their construction because of their resistance to wear and tear, impact, and moisture. So keep an eye out for that.
Finally, water resistance standards must be considered. IP ratings of 67 and 68 are typically the norm in rugged smartwatches, and ATM resistance can be used to check for durability if you are a heavy user during swims, rainy season, and surfing. Some of the most premium rugged smartwatches are water resistant up to 10ATM or 100 metres.
Health monitoring
Rugged smartwatches are designed for outdoor activities. And adventures require a lot of physical effort. In this case, purchasing a smartwatch with all of the necessary health-tracking capabilities is a must. This refers to the device's ability to track and collect data on metrics like heart rate, steps taken, sleep patterns, and activity levels. This data can be used to track and monitor personal health and wellness, and it can even be used to detect and alert users to potential health issues in some cases. Several of the smartwatches on the list provide feedback, insights, and tips to users in order to help them improve their health and fitness.
Features
Aside from the features you require in your next rugged smartwatch, there are a few that you will appreciate. Notification alerts, Bluetooth calling, built-in microphones and loudspeakers, music playback controls, taking photos remotely, GPS navigation, and other features are common to most smartwatches. If you are looking for something to wear on a regular basis, we recommend that you look for these features as well.
6 rugged smartwatches between 3000 and 20000
NoiseFit Force
If you prefer a rugged design, the NoiseFit Force is a great, low-cost option. The casing, made of zinc alloy and a polycarbonate blend, is impact-resistant and will last for your adventures. The smartwatch also has a 1.32-inch colour display, a heart rate monitor, GPS, water resistance, and a battery life of up to 14 days. It can track your fitness, control your music, and receive smartphone notifications. Bluetooth calling is a handy feature that helps you organise your life even more. The smartwatch is powered by a custom operating system and is compatible with both Android and iOS smartphones. You can get this smartwatch for  Rs. 3500 and even lower during a sale.
Fire-Boltt Cobra
The Cobra, according to Fire-Boltt, is made for all of your land and water adventures. Indeed, it is the most affordable rugged smartwatch on the market, having passed several military-grade durability tests such as extreme heat, cold, humidity, and more. You really can't go wrong with this one on your next outdoor hike with features like GPS, heart rate monitoring, activity tracking, and water resistance. Other features include smartphone notifications, music controls, and a variety of sports modes that keep you glued to the smartwatch for all the information you require. The three-layer body with physical buttons is lightweight but strong. Finally, the CAMO colours are the icing on the cake for all military fans. You can buy a Fire-Boltt Cobra for Rs. 3699 or lower with offers.
Pebble Cosmos Endure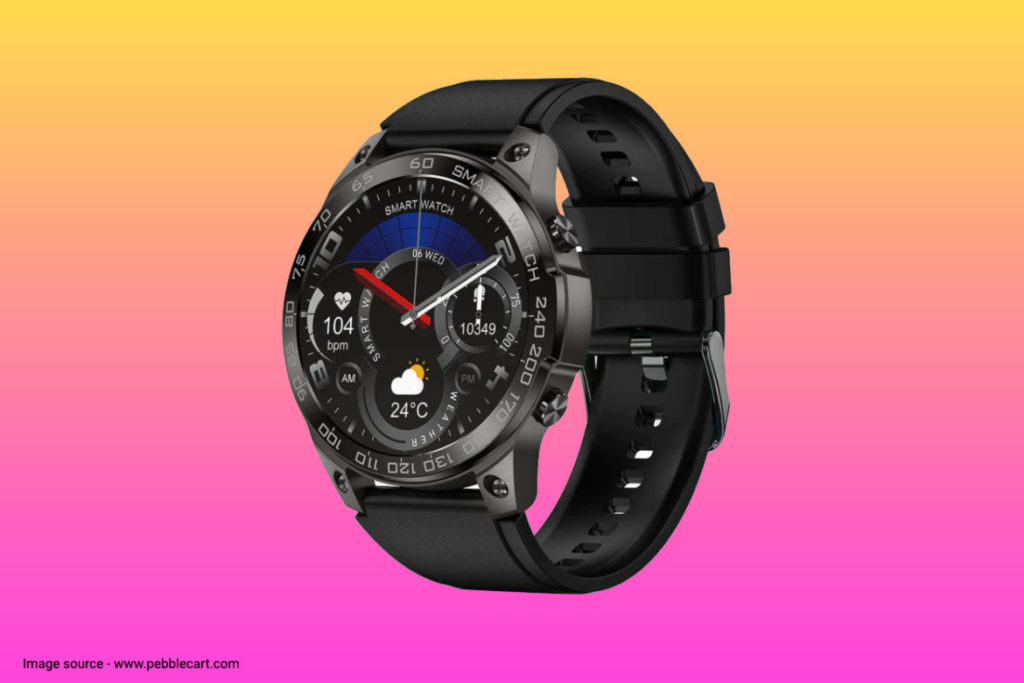 Pebble Cosmos Endure is a smartwatch created by Pebble, a company known for its cutting-edge smartwatches. It is a tough and durable watch designed to withstand harsh conditions. The Cosmos Endure is water-resistant to IP68 and has a long battery life, making it ideal for sports and outdoor activities. The shock-proof metal alloy case, with dual chamfered crown and durable glass, contributes significantly to the durability required for outdoor activities such as hiking, rafting, paragliding, and more. It also has a 600 nit colour display and various fitness tracking features, allowing users to monitor their physical activity and health. Pebble Cosmos Endure costs you Rs. 4999.
Casio G-Shock G-Squad Athleisure GBD-100
The GBD-100, which is part of the G-Squad Athleisure series, has a rugged, shock-resistant design, water resistance, and various fitness tracking capabilities such as step counting, heart rate monitoring, and GPS connectivity. The smartwatch's "Athleisure" design, which includes a fine resin back cover, curved shape, and soft urethane band, is its standout feature. These features combine to make it an excellent lifestyle watch that can be used for both workouts and everyday use. This watch will cost you under Rs. 13000.
Amazfit T Rex-2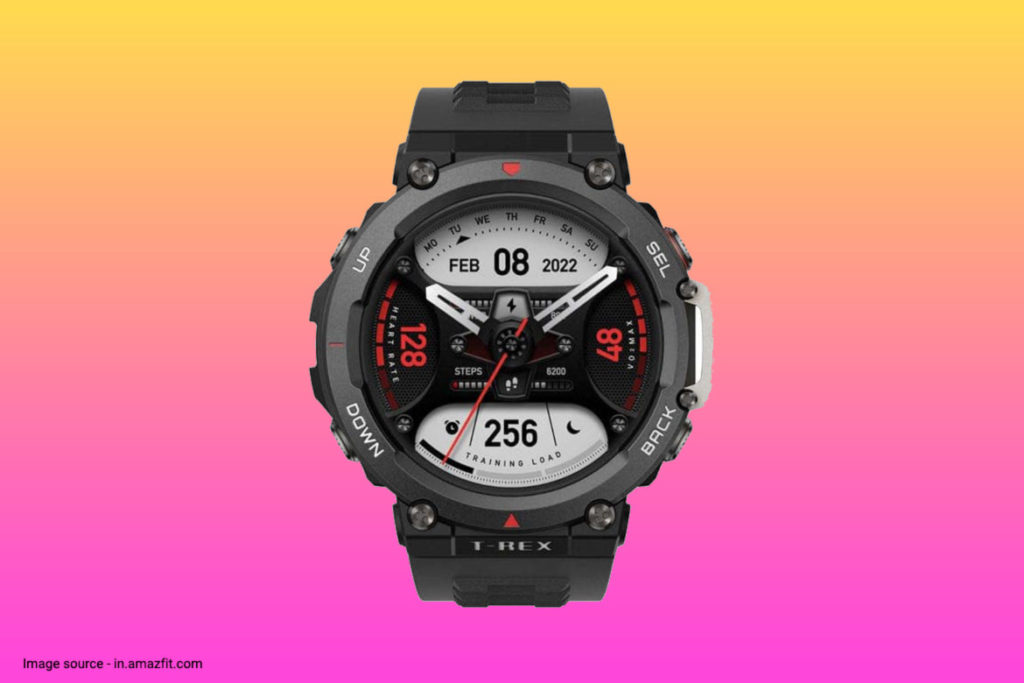 The T Rex-2, one of Amazfit's most ambitious wearables, is designed for your next adventure outing. According to the brand, it was sent to space and survived extremely low air pressure and temperatures, which, combined with military-grade toughness, makes it one of the best picks on the best-rugged smartwatches list. This tough smartwatch has a 1.3-inch AMOLED display, GPS + GLONASS positioning for tracking your hikes accurately, 5 ATM water resistance for the rainy season, and an Alexa voice assistant. It has a 14-day battery life and provides comprehensive fitness tracking with 20 sports modes. The watch also has music control and storage capabilities, making it a complete package. You can buy a Amazfit T Rex-2 for Rs. 15,999.
Garmin Instinct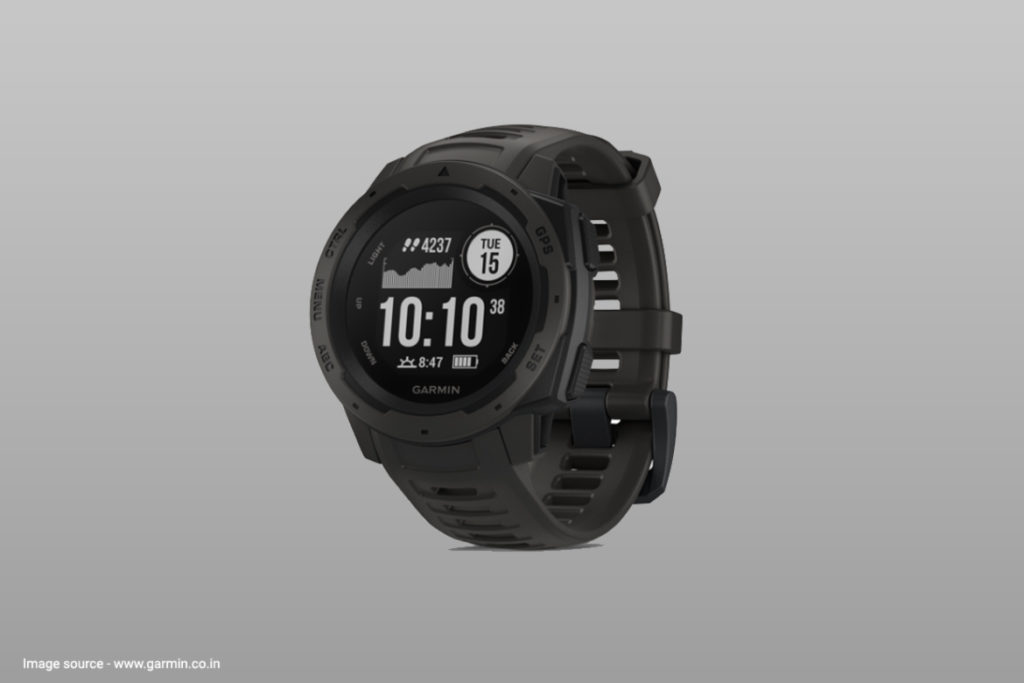 Read more: 4 best smartwatches from 2022 that you can buy under 5000
When it comes to adventure watches, the Garmin Instinct smartwatch is the holy grail. This tough outdoor watch is made for activities like hiking, swimming, and running. It features GPS and GLONASS satellite navigation, a 3-axis compass, a barometric altimeter, and multiple sport and fitness tracking modes, and is built to US military standard 810G for thermal, shock, and water resistance (up to 100 metres). The watch's battery life in smartwatch mode is up to 14 days and up to 16 hours in GPS mode. It also has some fantastic customizable watch faces, smartphone notifications, and music controls, making it a fantastic lifestyle watch that you can wear to college or work. For getting Garmin Instinct you will have to pay Rs. 19,999.