Given how quickly new gadgets are flooding the market, trying to discover the best smartwatch under Rs. 5,000 is indeed challenging. There are a staggering number of excellent smartwatches in this price range. If you're looking for a guide to assist you in selecting the best value-for-money smartwatch for you. Here is a list of the top 4 smartwatches that are now available for less than 5000 rupees.
Realme Watch 3 Pro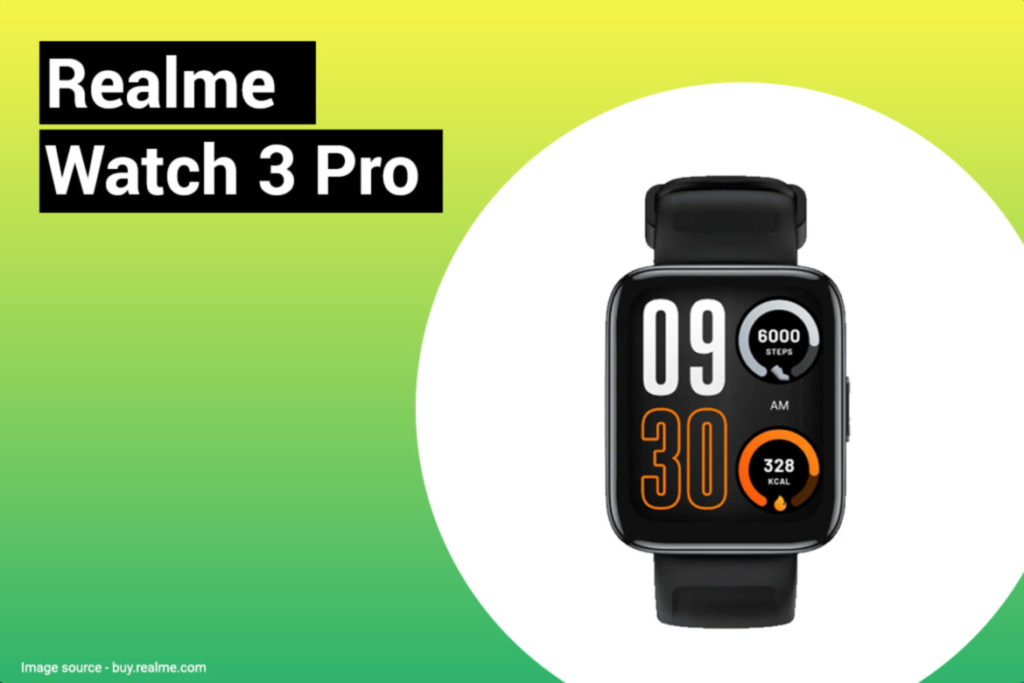 The Watch 2 Pro from a year ago has been replaced by the Realme Watch 3 Pro. The Watch 3 Pro's built-in GPS, Bluetooth Calling, and sizable 1.78-inch AMOLED touchscreen are its key selling factors.
With a square form and thinner bezels around the display, the watch has a very fashionable and high-end appearance. The watch's decent construction quality justifies its price. The smartwatch is also water resistant to IP68 standards.
The Realme Watch 3 Pro has a 1.78-inch big screen with a resolution of 368 x 448 pixels and a brightness of 500 nits. The display has a 50–60 high refresh rate, is crisp, and produces colours well. This time, the watch also includes dynamic watch faces and an always-on display option.
Another best thing about this Realme smartwatch is its battery. With typical use, the 345 mAh battery can keep the watch running for up to 10 days. Yes, a rapid charge is supported as well. It supports the highly optimised Realme Link app (Android and iOS), which includes a reach app. Aside from this, all fitness aspects function flawlessly, and accuracy is likewise respectable.
Overall, if you want a smartwatch with the greatest functionality for Rs. 4,999, the realme Watch 3 Pro is a fantastic option.
Oneplus Nord Watch
Read more: 9 best Power banks with fast charging support available in India
Without a question, OnePlus is a leading manufacturer of smartphones and has now entered the market for wearables. OnePlus Nord watch is perfect for individuals looking for a dependable smartwatch for less than 5000 rupees.
This smartwatch has a 60Hz refresh rate. It has a stunning square form and gives off a luxury feel right away. The watch sports a 1.78-inch AMOLED screen with a resolution of 368 x 448 and a brightness of 500 nits.
The OnePlus Nord watch provides health monitoring features including heart rate, SpO2 blood oxygen, sleep tracking, stress tracking, menstrual cycle tracking, etc., like most smartwatches do. This watch has 105 different sports modes so that you can personalise it however you like.
On both Android and iOS smartphones, you may use the N health app to see your tracking information from this watch. It features a standby time of up to 30 days and an improved battery life of 10 days.
This watch's construction is good and strong enough to survive various circumstances. Additionally, because the watch has an IP68 classification, you don't have to worry about perspiration or water splashes ruining it.
AmazFit Bip 3
Without a doubt, the AmazFit brand is the most well-known in the mid-range price bracket among smartwatches. The primary factor driving the demand for AmazFit smartwatches is their abundance of precise fitness-related functions at a very reasonable cost. And the Amazfit Bip 3 smartwatch is no exception. This smartwatch is the most accurate available in this price range.
The thorough information about daily fitness tracking and respectable accuracy are the major incentives to purchase this wristwatch. Similar to other inexpensive smartwatches, the Bip 3 tracks daily activity, SPo2, stress, and sleep. The difference is that you also have helpful customising choices, extensive reports, and reasonably reliable data. Other standard features of the watch include a breathing control feature, weather report, alarm, music control, stopwatch, and women's menstrual tracking. Overall, you get all you could ask for in a smartwatch for under 5000 rupees. For just an additional Rs. 1000, you can purchase the watch's pro version, which includes an integrated GPS.
Due to the smartwatch's light weight and small size, it will be comfortable for wearers of any age and suitable for those who spend 24 hours a day at their desks. Additionally, it has a 5 ATM water resistance rating, so worry-free outside use is assured.
DIZO Watch R Talk
The Dizo Watch R Talk is the next device on our list of the best smartwatches under 5000 rupees. In case you're wondering what Dizo is, it is a partner brand of Realme that is a part of the "Techlife" ecosystem. With an AMOLED display and Bluetooth Calling, this watch costs about INR 3999.
The watch's thin metal case and simple design give it a quality, well-made appearance. The 2.5D curved display is elegantly shown in the well-constructed aluminium housing. Even the strap is constructed of premium silicone, which is both flexible and comfy. It does not irritate your skin even when worn for extended periods of time, a very common issue with watches in this price range.
One of the main selling aspects of the smartwatch is its 1.3-inch AMOLED display, which is provided by Dizo. With a maximum brightness of 500 nits and a resolution of 360 x 360, it is clearly visible even in strong sunshine. The watch has always-on display mode.
The Dizo Watch R talk performs admirably when it comes to tracking your health, and it has all the essential features you would require in daily life. It collects information about your sleep, steps taken, heart rate, and even your SPO2 levels during the day. It contains more than 110 sports monitoring options, which are more than you will likely be able to use.
The watch's user interface is also rather attractive; it functions flawlessly with no apparent lags or stutters. The two buttons are useful for navigating the interface quickly. You won't experience any trouble navigating the interface because the touch screen reacts well.
The watch has single chip Bluetooth calling which offers great call connectivity. The speaker of the watch delivers a decent sound. The watch also includes voice assistant feature.
To get your data synchronised with your smartphone, you must instal the Dizo app as we are talking about the interface. The accompanying app functions well and connects to your smartwatch through Bluetooth. It quickly and simply synchronises with your watch and presents all the readings in a practical manner. The software allows you to customise your watch face, set alarms, create reminders, and configure call and app notifications.