Selecting the right type of printer is not an easy task. You have to first decide the reasons for which you want to buy the best printer and type of functionalities required.  Also, you have to choose from various available features and the latest options.  
But when you want to buy a printer for large offices and to use a large volume of printing work then before you select a printer, you have to find out various useful features and additional information. The printers are categorized into three different categories – 
1. Small-scale printers – used in offices and at homes
2. Medium-sized printers – used for all types of business requirements
3. Large-scale printers – used for large printing requirements
Most of the large scale printers are Inkjet printers which are large in scale and can be used for photo printing. The printers can be used to produce all types of outputs.
Brother MFC-J6935DW (Best Printers)
The Inkjet printer that works faster and offers better quality outputs than the expensive laser printers. The high-speed printer offers better services and allows your business to expand. The printer can print on both sides of paper quickly and saves time, paper, and power. 
The printer is mainly recommended for all types of business houses and it can handle large volumes of printing by offering consistent high-quality. There various models available that can easily provide all types of printing solutions. Printers support advanced techniques and are available at affordable prices.
Also Read: What are the best 3 smart home devices available on amazon?
Canon Pixma G6020 MegaTank All-in-One Printer   
The printer with low-cost pricing has become part of the market and remained one of the most preferred printers. The printer is ideal for large offices as it can print 18,000 to 20,000 pages. The auto-duplexing print engine works effectively and offers excellent quality black ink which makes the printer very special and best printer.
The bulk-in-all printing remains of superior quality and works for a longer time. It not only prints the pages continuously but it also prints text and images with higher clarity. The printer is ideal for high-volume printing requirements. It controls power-consumption while printing and saves your money.
Also Read: Top 5 Best Laser Printer Available In Market
Epson EcoTank ET-4760 All-In-One Printer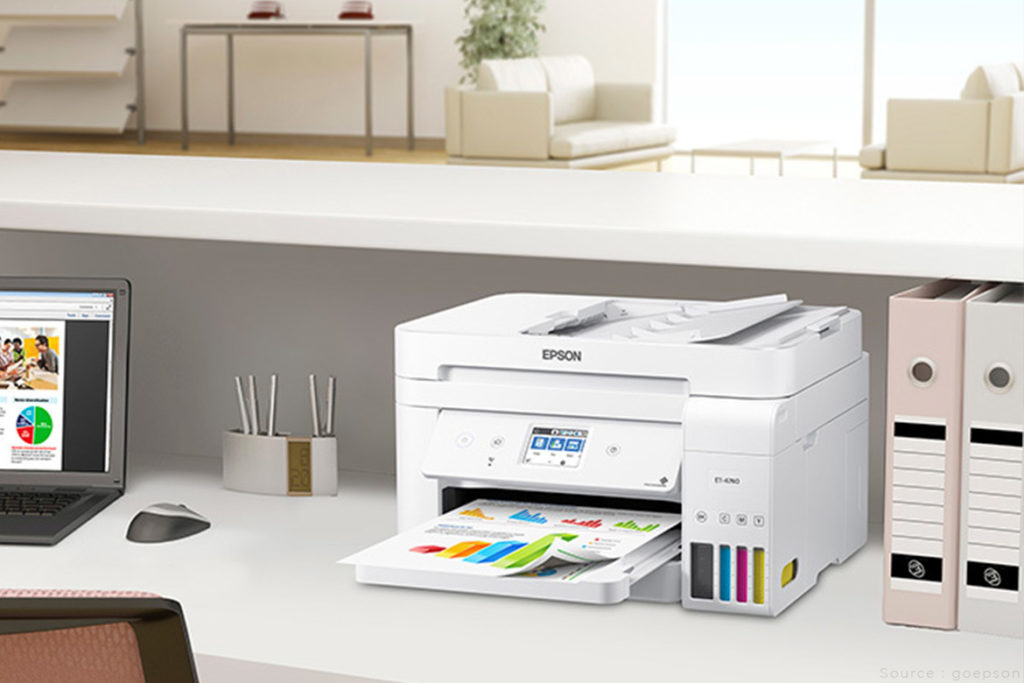 The printer is of excellent quality and offers superior quality output. The lightweight printers are available in colors and designs.  The printer supports the ADF technique and allows auto-duplexing while printers. The printer also has advanced mobile connectivity.  You can easily handle the printer using WIFi connectivity and get the printing done using mobile phones.
The multifunctional printer can be useful for all types of business and work areas. The color printing, scanning, and copying options are useful and offer high-quality outputs.  The images can be printed without borders and display suitable colors and shades. The printer can be booked online and can be delivered within a few hours on your doorsteps at a very reasonable cost.
Also Read: The Best 3D Printer for 3D Printing 2020
Bottom Line:
The printers for large offices are similar to the printers which are smaller in size and works for a limited time. But the printers for large offices are designed to work for longer works. The printers work on a higher speed for large volumes of printing.  It has powerful WiFi connectivity and can be easily controlled using a laptop or mobile. Some of the printers are multifunctional and can print text and images clearly in the shiny black ink. The cost of the printer for large offices varies from low cost to high cost and depends on need, requirement, and budget.