Apart from health workers, higher institutions of science and technology in the country are also working together to fight against Corona. The Indian government launched a Corona tracking app like Arogya Setu, on the other hand, institutions like the Indian Institute of Science (IISc) and the Indian Institute of Technology (IIT) have combined apps like 'Go Corona Go' and 'Sampark-O-Meter' have prepared to help people to escape from Corona.
Go corona go app
The Go Corona Go app has been developed by IISC, which detects whether a user has traveled or crossed paths with Corona infected or suspects. The app uses the smartphone's GPS and Bluetooth in addition to the previous conversion. Tarun Rambha, a faculty member of IISc, said that the app uses temperature network analytics in the backend to understand the possibility of being infected for remote contacts.
Contact-O-Meter App
Rambha told AB of IIT Ropar Tech students have built a contact-o-meter. The app provides information through the map where the corona is most likely to be infected. This app alerts the user to take precautionary measures by issuing risk scores based on several parameters, including self-isolates and consulting a doctor.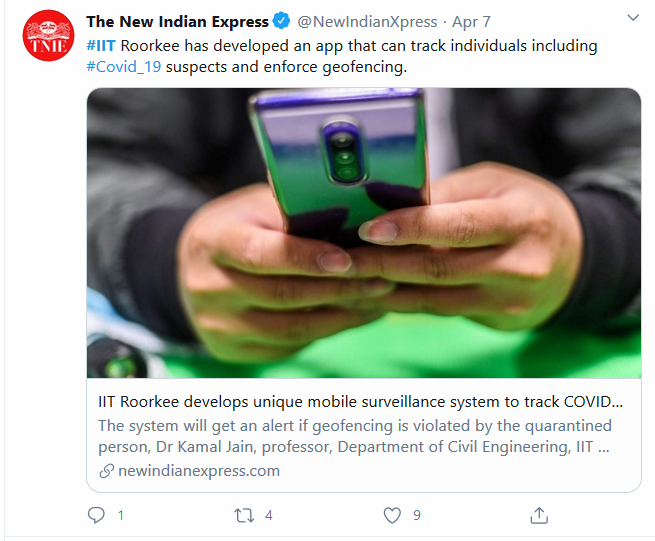 CORONTINE App
The students of IIT Mumbai have also designed the Corontine app together. The app will help track down the suspect when leaving the Quarantine Zone, which can infect many people. This app will be installed by the authorized agency in the suspect's phone. From time to time, the app will keep the user's GPS location information on the server of the supervising agency. As soon as the suspect leaves the quarantine zone facing Jio, it will auto-detect him immediately.
Students of IIT Delhi have also designed such an app, which will help in tracking such people who have come in contact with Kovid-19 positive. It works with the help of Bluetooth. The app will alert users who have gone close to the infected in the past.
IIT Roorkee has also designed such an app. This allows the suspects to be monitored as well as geo-facing around them. As soon as the quarantined person will break this live facing, the app will immediately alert the system. In the event of GPS not working, it alerts via SMS.
Also Read:https://www.techmobi.in/samsung-discontinues-galaxy-m10-galaxy-m10s/