TATA group is India's one of the most influential and humungous business house. Jehangir Ratanji Dadabhoy Tata was a well-known aviator, industrialist and entrepreneur chairman of Tata Group. He was instrumental in the founding of various ventures of TATA group including  Tata Consultancy Services, Tata Motors, Titan Industries, Tata Salt, Voltas and Air India. J R D Tata was one the very first aviator of India and due to his interest in flying, he played a vital role in setting up of India's first airline services Air India.
This article brings a brief insight into the life of J R D Tata.
J R D TATA – EARLY LIFE AND EDUCATION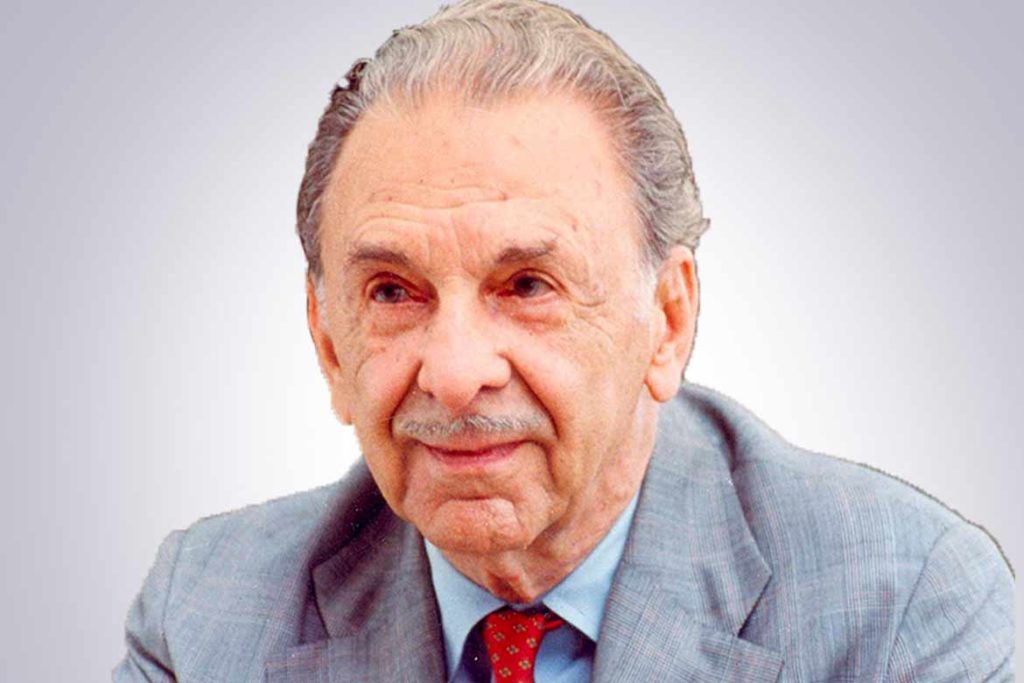 Jehangir Ratanji Dadabhoy Tata waa born on 29 July 1904 into a Parsi family of industrialist and businessman Ratanji Dadabhoy Tata and his French wife, Suzanne Briere. Being born to a french lady Jehangir spent his early childhood in France. He was a French citizen from 1904 to 1928 after which he came to India and acquired Indian citizenship.
For hos early schooling Jehangir went to Janson De Sailly School in Paris. Jahangir received his education in many cities like  London, Tokyo, Paris and Bombay. After the death of his mother  Suzanne Briere at a very young age of 43 his family shifted to Bombay. J R D was enrolled in a Grammar school, London for his education. Being a French citizen for first 24 years of his life Jehangir has to serve compulsory army services of France, where he was posted into regiment called Spahis and later he served as secretary in the office of squadron Colone.
Also Read: TECH MAHINDRA – INDIAN TECH AND BPO COMPANY
J.R.D. TATA's LOVE FOR FLYING
 After serving for one year in army Jehangir wanted to go to Cambridge for an engineering degree but his father insisted him to join his family business so he returned to Bombay in 1928 and acquired Indian citizenship. J R D had a deep interest in flying aircraft. He was very influenced by his father's friend  Louis Blériot, who was the first man to fly across the English Channel. Out of his interest in flying, J R D obtained a flying licence and became India's first pilot in 1929. He became a backbone of founding India's first airline named as TATA Airline in 1932 ( renamed as Air Indian in 1946 ).
The first flight in the history of Indian aviation took off from Drigh Road in Karachi with J R D at the controls of a Puss Moth. J R D served leadership roles in airline until 1952 after which it was nationalised by the government of that time.
J.R.D. TATA's CARRIER IN BUSINESS IN INDIA
J R D joined  Tata Sons, his family business as an unpaid apprentice in 1925. Working for Tata sons he was promoted to the post of chairman of the group in 1938 when he was at a very young age of 34. He served the company very efficiently, under his chairmanship Tata group grew from US$100 million to over US$5 billion. When he was made chairman Tata group had 14 enterprises under their business, J R D took this number to a conglomerate of 95 enterprises under Tata sons at the time of his retirement in 1988.
J R D Tata was instrumental in the founding of various ventures of Tata group including  Tata Consultancy Services, Tata Motors, Titan Industries, Tata Salt, Voltas and Air India. He founded Tata Motors in 1945 which today is India's leading heavy commercial vehicle manufacturer.  India's first international airline, Air India International was launched by J R D Tata in 1948. In 1953 after the nationalisation of Air India, the Indian Government appointed Tata as Chairman of Air India and a director on the Board of Indian Airlines, a position he retained for the next 25 years.
J R D Tata was a founding figure in the establishment of  NCAER ( the National Council of Applied Economic Research ) in New Delhi, which was India's first independent economic policy research institute established in 1956.  Tata Consultancy Services, one the top most Indian company in IT BPO services was established by J R D Tata in the year 1965 as Tata System Computers.  In 1987, he founded Titan Industries, The Indian premium watch manufacturers.
PHILANTHROPIC ACTIVITIES BY J R D TATA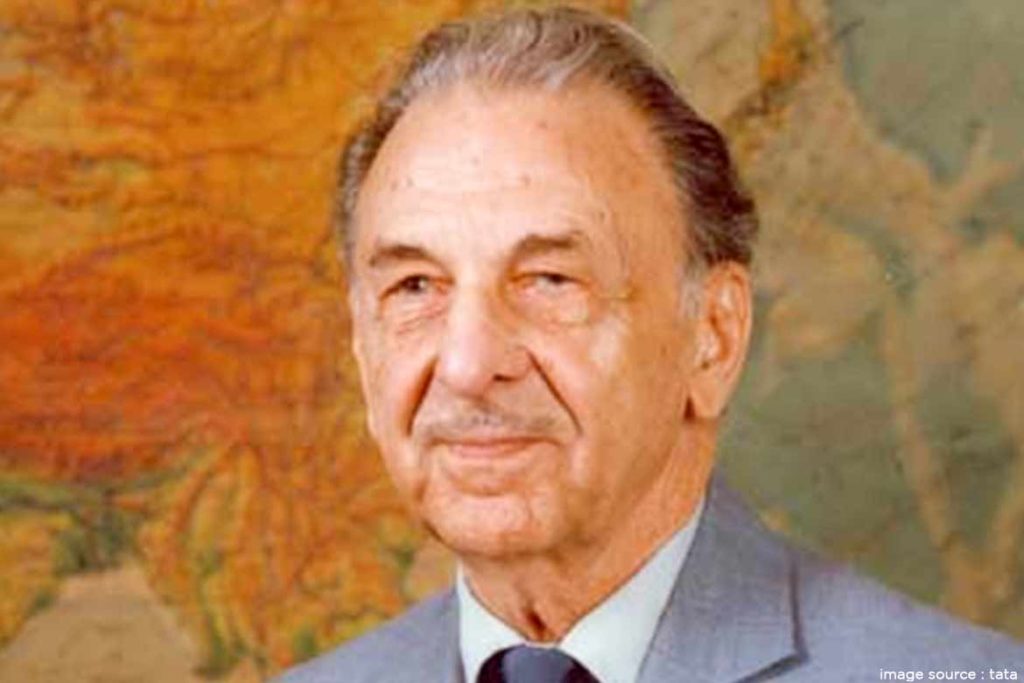 J R D Tata was instrumental in the founding of Sir Dorabji Tata Trust in 1932 and served as its trustee of next 50 years. Sir Dorabji Tata Trust under his guidance set up Tata Memorial Centre for Cancer, Research and Treatment, in Bombay in 1941 which was  Asia's first cancer hospital. J R D was instrumental in the founding of institutes like Tata Institute of Social Sciences ( TISS ) in 1936,  Tata Institute of Fundamental Research ( TIFR ) in 1945 and National Center for Performing Arts.
AWARDS AND HONOURS OF J R D TATA
 J R D Tata had contributed highly in the industrial development of India and for his remarkable contribution, he has been awarded by many honours.
Fir his contribution in the development of aviation industry on India, Indian Air Force conferred him the honorary rank of group captain in 1948 which was promoted to the rank of Air Commodore (equivalent to Brigadier in the army) in 1966 and was further his rank was promoted to that Air Vice Marshal in 1974. For his role in aviation industry several international awards were conferred to him including the Tony Jannus Award in March 1979, the Gold Air Medal of the Federation Aeronautique International in 1985, the Edward Warner Award of the International Civil Aviation Organisation, Canada in 1986 and the Daniel Guggenheim Medal in 1988.
Also Read: Know Everything About Indian IT Giant TCS
The Indian government honoured J R D Tata with prestigious Padma Vibushan award in 1955. French government's highest civilian award The Legion of Honour was bestowed on him in 1983. In 1993 for his remarkable contribution to Indian industry and society as a whole Indian government honoured him with India's highest civilian award the Bharat Ratna in 1992.
The Indian government issued a postal stamp in his name in 1994. For his endeavours towards initiating and successfully implementing the family planning movement in India, Tata was awarded by United Nations Population Award.