Are you looking for the best salad shredder or vegetable Shredder?  The useful vegetable shredder should be added to your list of kitchen appliances.  You know how important are vegetables in your daily diet and either you make various recipes of your favorite veggies or use it in the salad. But it is always a difficult task to slice and shred the veggies which are of different shapes and sizes. 
The best way to deal with veggies is to make use of a standard salad shredder which is of high quality, lightweight and compact in size.  The salad shredders are available in various brands, qualities, sizes and prices and you can choose the most suitable for your requirement.
The shredders with long and comfortable handles are easy to use and shred and slice the vegetables and fruits within few minutes. Every housewife and a chef always enjoy cooking when well-suited kitchen appliances are handy to use while cooking.
Here is the list of five best salad/vegetable shredders that are available in the market and offer high-quality services to the customer for a longer duration. Let us discuss in detail about these appliances that helps us to cook healthy food.
5 Best Salad Shredder
Presto 02910 Salad Electric Slicer/Shredder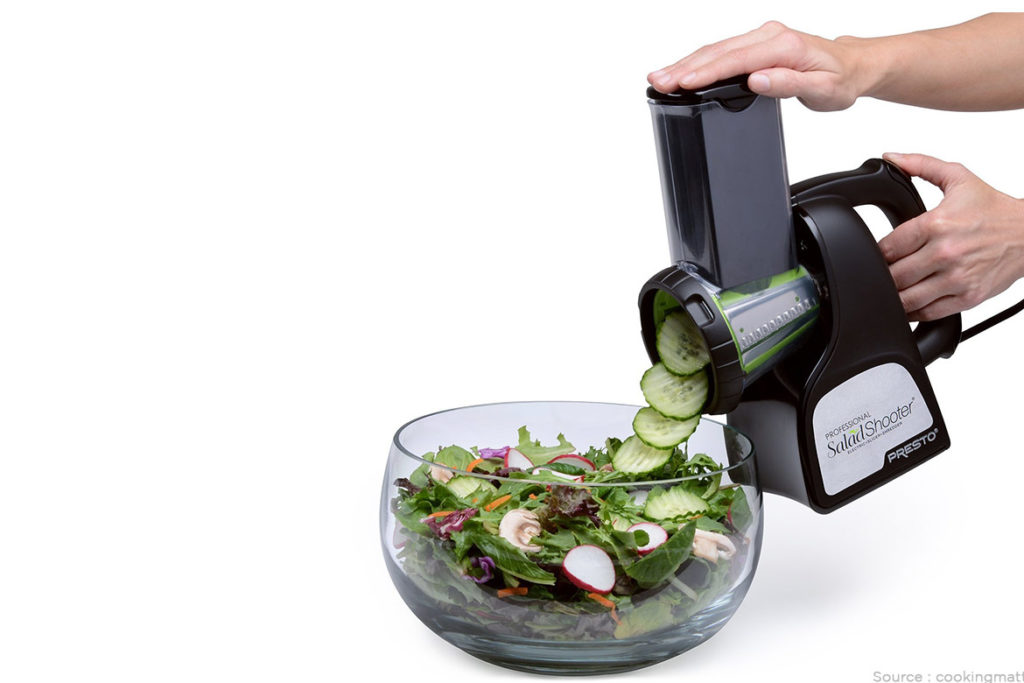 Presto offers the vegetable shredder that can be easily handled and allows you to slice the vegetables within a short span. It can be used to clean, slice and shred the vegetables easily.  You can grip the handles well and use it with complete safety. 
You cut and slice vegetables and the pieces of the vegetables will fall right into the bowl while working non-stop on vegetables.  It not only slices the vegetables but fruits, butter, cheese and even the sandwiches. It helps you in preparing many dishes and recipes. It is easy to use and clean with minimum efforts and using limited water.
Also Read: Which is the Best Kitchen Appliance and Why?
Pros
Easy to plug and play
Slice fruits, shred veggies and grate cheese
Doesn't waste vegetables
Clean it with quick wash
Cons
Makes noise
No guaranty or warranty
Mueller 4-Blade Slicer & Shredder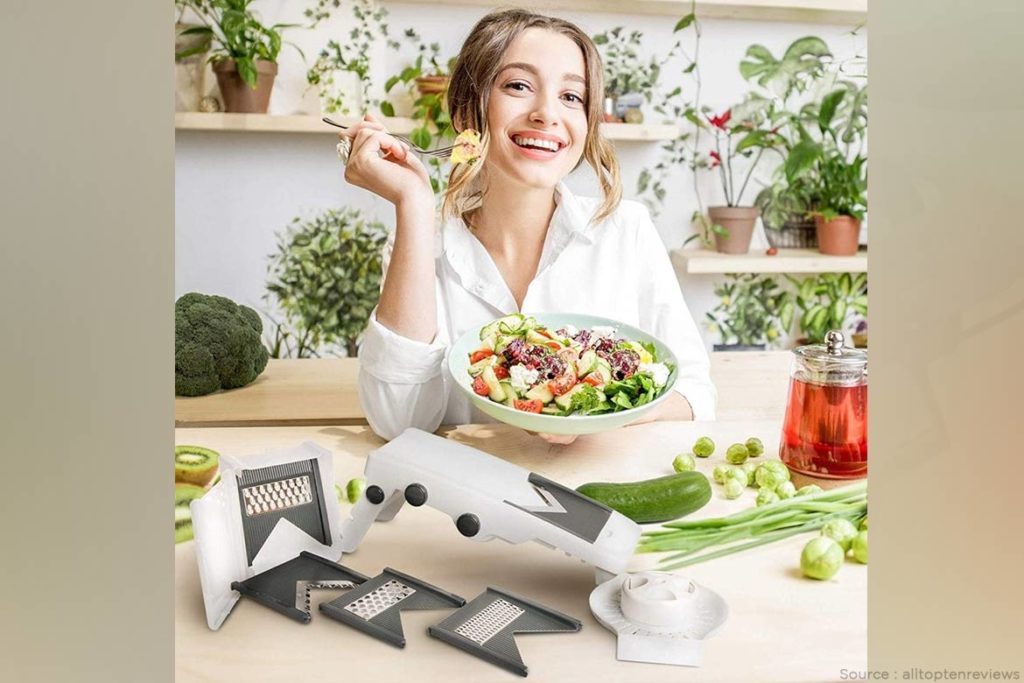 Muller offers multiple blades shredder that is sleek and compact in size. You can easily plug it and start using it on fruits, vegetables or various items such as pieces of butter, cheese, cloves, pepper etc. which can be micro-cut while preparing food. 
The slicing and shredding of the veggies and fruit can be done effectively, quickly and without wasting the items. The handle is easy to hold while working on the items to cut or slice. Sliced parts are collected properly without any wastage. The ultra shaped blades can be used to slice the items in various shapes like spiral, chips, ribbons and noodle-shaped. 
Pros
Slice various shapes
Easy to use & clean
Ultra shaped blades last longer
Cons
No warranty or guaranty 
No manual of instructions
Spiralizer 5-Blade Vegetable Shredder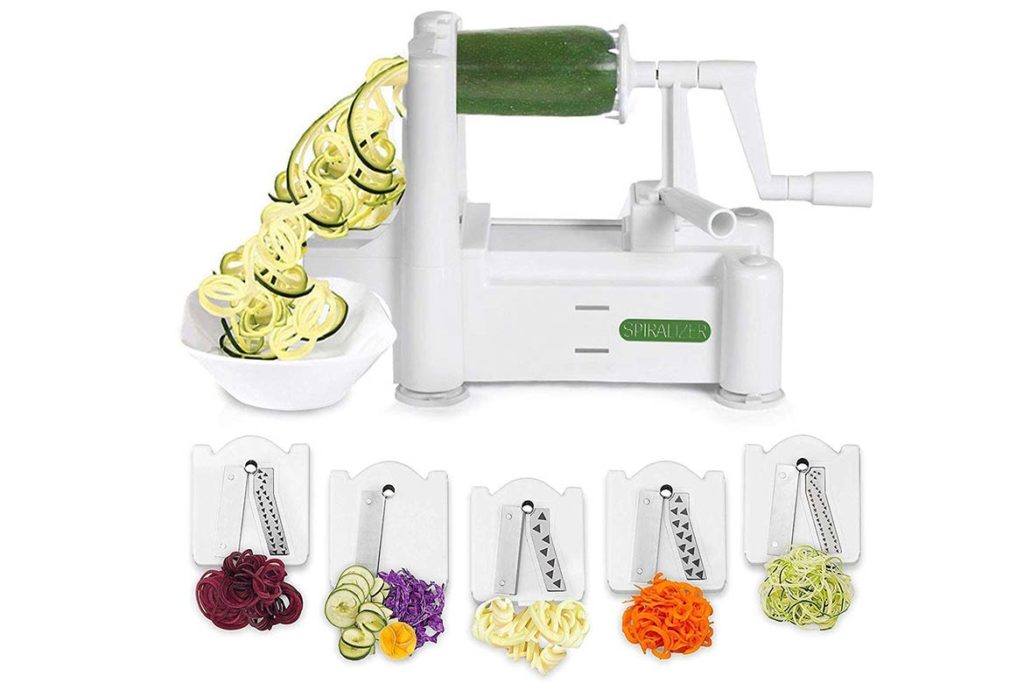 The Spiralizer 5 Shredder is high-quality appliance is stronger and remains useful for longer duration.  It has sleek and compact look and the handle is made of sturdy material. You can easily slice the rough and hard surface of vegetables easily without wasting your energy.
The blades are made of 420 high-carbon cutlery grade which are useful in slicing and shredding variety of fruits, vegetables and food items cleanly into equal-sized pieces. The nicely shaped shredders are useful in kitchen and every housewife and cook love to use it during cooking.
Pros
Super design and durable quality
Easily cut hard and rough items 
Available in different sizes
Cons
No extra blades available
Need to clean and maintain 
Veggiespize B10 5 Blade Shredder Slicer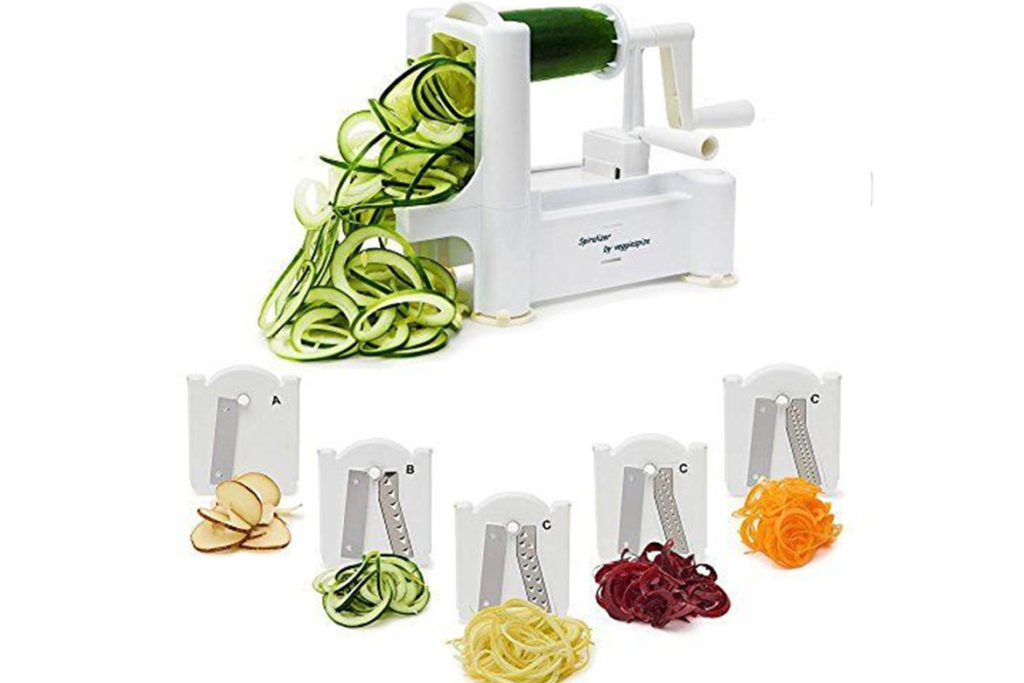 Veggiespize is an outstanding brand which offers small-sized slicer or shredder. It looks polished & shiny, works perfectly well and slices the fruits, veggies, nuts, chocolates and other items in proper sizes.  The appliance is useful in doing experiments while cooking.
The slicer includes interchangeable sharp cones that can be used for having variety of cuts and shreds. The tool is made of stainless steel and it is easy to remove the parts and clean whenever required. The electric shredders are easy to operate and help in doing the task quickly.
Also Read: What Are The 7 Best Smart Home Devices In India?
Pros
Small & compact sized.
Parts can be separated while cleaning
It remains fixed due to suction base
Cons
The slicing of pieces sometime gets uneven
Availability of product is limited
No replacement for blades
Homodox Professional Salad Maker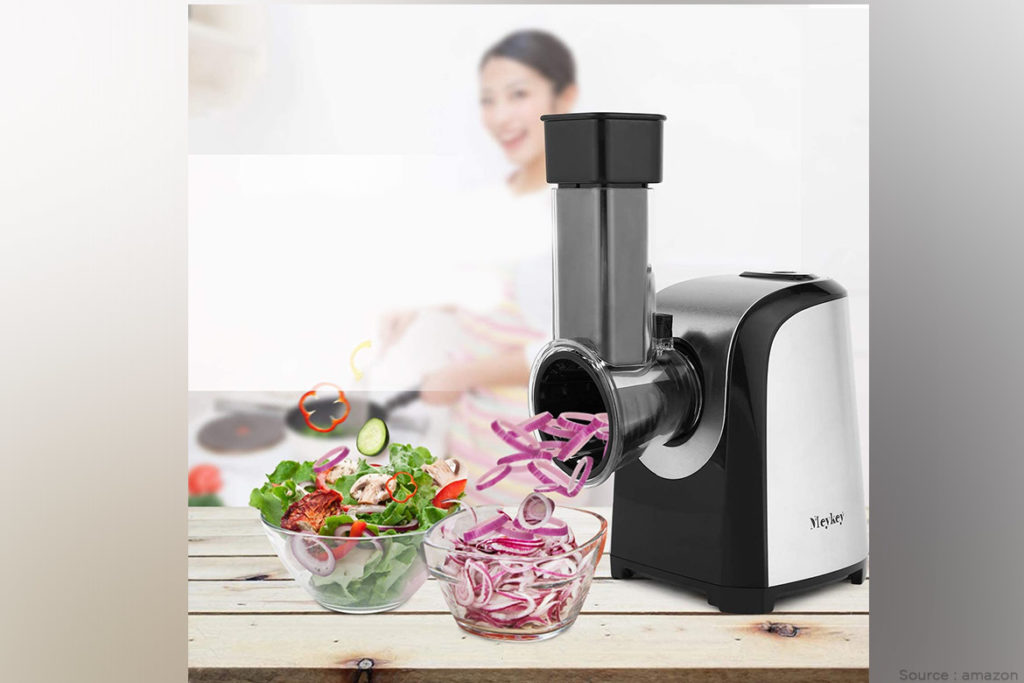 The electric salad maker offers superior quality slicing, shredding and grating techniques. The entire unit is made of stainless steel with 4 rubber suction bases. It can hold the place tightly, while using it. The versatile tool with unique features of slicing and shredding offers perfectly grinded pieces of veggies and fruits. 
The sharp-edged cones can be interchangeable and it can be used in thick or thin grating and slicing bigger or smaller pieces. You can easily control the action by pressing the button without getting any stress. The salad maker offers timely help and makes sure that the cooking is done on time. Most cooks prefer it as a part of kitchenware.
Pros:
Useful interchangeable cones
Single-button operation
Powerful motor offers high speed slicing
Cons:
It needs some practice to use it
No warranty on the product
Bottom Line:
Vegetables have become part of cooking. But to make use of the veggies, one need to spend more time while using it in the cooking. The variety of dishes can be cooked with the help of carrots, onions, cucumbers, potatoes, radishes, ladies-fingers and many others. Either you make a particular dish or salad; you need to slice the vegetables, fruits and other cooking materials. Make use of high-quality slicer or shredder which works efficiently.