To enjoy lag-free streaming, gaming or surfing experience one needs to have the best router that provides the high-speed connection. Generally, internet providers suggest or provide Wi-Fi routers yet they are not the best ones and might give network problems sometime. Only the user who faces network issues and awful streaming experience understand the real problem of the bad router. So, it is always better to change your existing router or upgrade it to get a smooth and lag-free internet connection.
Also Read: Top 5 Best Laser Printer Available In Market
Why upgrade or change routers?
It is recommended to use the best router because it saves time and energy by boosting the connectivity of your home or office networking.
There are lots of benefits of using best routers, including extraordinary speed for different gadgets, lag-free experience, no dead network spots, enhanced downloading and streaming speed, better App functioning and much more.
Here, we have listed 5 routers which are one of the best in their price range in 2020
Whether you are upgrading your router for streaming or simply playing online games, these 5 best routers would prove to be the best.
Google Wi-Fi
Google Nest Wi-Fi
Asus RT-AC88U
NETGEAR Nighthawk R7000
D-Link DIR 890L
Google Wi-Fi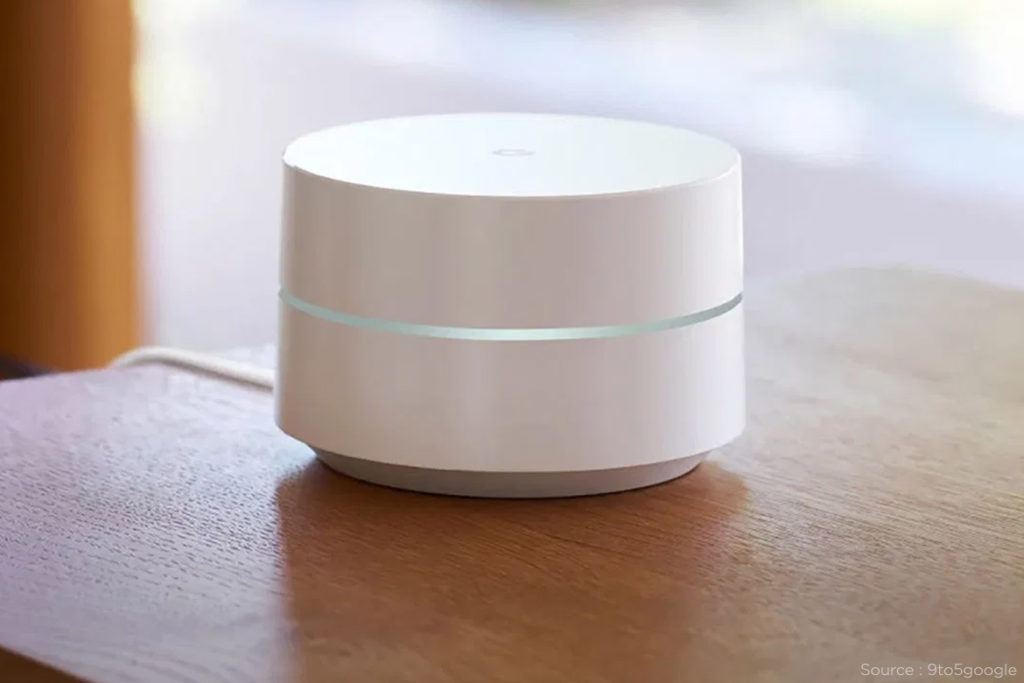 Google is a reputed brand that is known for providing one of the best services and this is also true in case of its top-notch Google Wi-Fi which is easy to install and helps in eliminating the network dead zones in home and office with a wide coverage area. It is not like the traditional Wi-Fi routers because it has made networking simple.
The design is unique and white color perfectly suits any modern office or home environment.
All you have to do is after installing it at any place just scan the scan QR code and get connected instantly. It is a wireless mesh router which was also one of the bestselling Wi-Fi routers in 2019.
It easily provides coverage up to 1500 square feet and if you buy it on Amazon then it comes with a set of three identical units that easily covers 4500 square feet.
This is smart enough to automatically connect with the fastest band of the devices to keep the connection fast.
It also comes with an App that allows the user to instantly see all information about the connected devices including the number of connected devices, pause kid's device Wi-Fi, prioritize devices.
Google Wi-Fi Specs and Features
It weighs only 336 grams and measures 10.6 x 10.6 x 6.9 cm
It has dual-band Wi-Fi 2.4GHz / 5GHz that easily supports IEEE 802.11a/b/g/n/ac
This Google Wi-Fi router ensure excellent network coverage as it has 710 MHz quad-core processor with 512 MB of RAM
The antenna less design gives it a unique look which is hard to find in other Wi-Fi routers
Equipped with high-speed Ethernet ports which can be used as a WAN and LAN in the main unit, whereas the other two units only support LAN functionality
Another positive of Google Wi-Fi is that you can control this router with the help of Google Home voice commands and Alexa.
It is very easy to set up Google Wi-Fi anywhere as the hardware design is simple and can be installed for the first time with the help of free Android or iOS App and scanning of the QR code given on the hardware unit.
You can buy this impressive Google Wi-Fi on Amazon at a reasonable price of Rs 18000.
Also Read: What Are 5 Cheapest Smart TV Available In The Market?
Google Nest Wi-Fi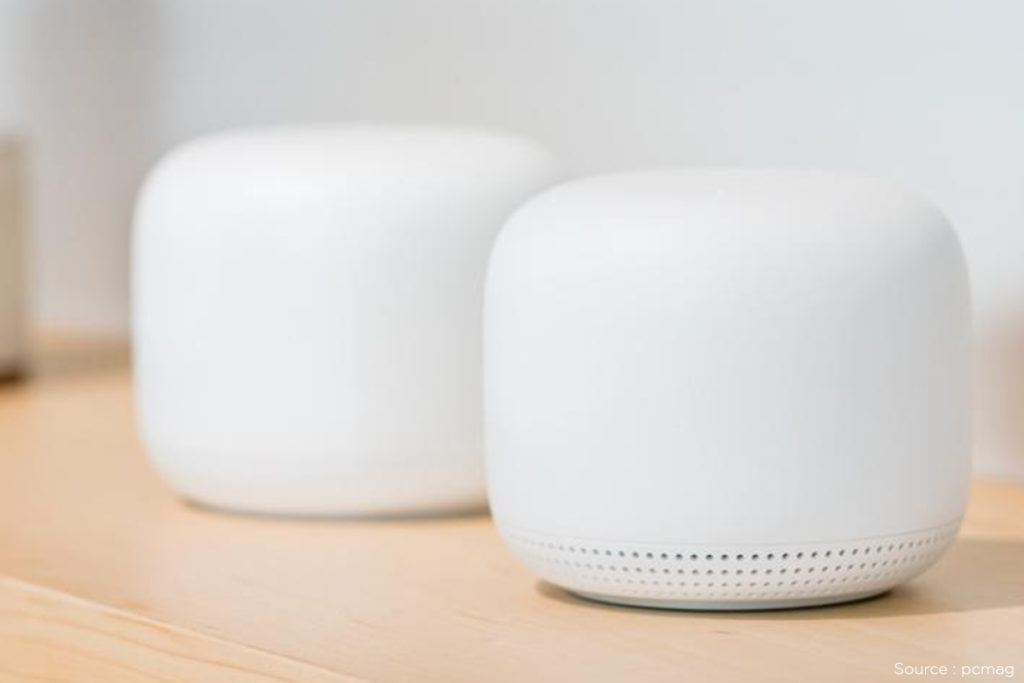 Google Nest Wi-Fi is one of the bestselling routers which comes in a set of two to cover a large area of home or office. You can completely rely on this model as it helps you to cover around 4500 square feet easily with one of the best networking speeds.
It has a stylish design and brilliant body which gives it a premium look. It is very easy to set up as it requires minimum technical skills and anyone can install it for the first time. All you need is an App and working internet connection to start using this latest feature loaded Wi-Fi.
Each unit of this brilliant Wi-Fi router covers up to 2200 square feet, but the networking speed also depends on the thickness of walls so, try to place it at the best spot in your home or office.
Still, it is an intelligent Wi-Fi that tries to provide the internet speed and gives you interrupted video streaming, and game playing.
It also has special features for kids, it allows you to pause the internet for kid's devices to limit the time spent on the internet and not just this it also lets you check and manage the number of connected devices by setting priority.
Google Nest Wi-Fi smoothly supports Alexa and Google Home assistant App when connected to the smart speaker.
You can expect a good looking design with a strong network connection with this router that can be easily placed in any corner of home or office.
Another positive of this wifi is that it automatically gets updated for security. It weighs 99.8 grams and measures 11 x 11 x 9 cm.
Google Nest Wi-Fi Specs and Features
It comes with four internal antennas to boost up the internet speed with 5GHz Transmission speed for the connected devices
Wi-Fi standard includes 802.11ac/dual-band mesh kit with speaker extension
This brilliant router has Qualcomm QCS 400 – Quad-core 1.4GHz with an internal memory of 1GB which can also be expanded up to 768MB
One can easily add 32 extensions in Nest Wi-Fi to cover a large area.
It also has pre installed bluetooth sensor of 802.15.4 to connect Alexa or Google Home Command App
The Google Nest Wi-Fi could be the best router if you are looking to upgrade your old networking router. This can also be used as the old type of routers along with the other latest routers to effectively increase the internet speed and area.
If you are interested in buying Google Nest Wi-Fi then it is available in Flipkart for Rs 8999
Asus RT-AC88U
Asus is another reputed brand which has been successfully making Wi-Fi routers along with laptops and other computer accessories. Asus RT- AC88U is a sleek and stylish router that boosts up the internet speed especially for those who are frustrated with the lag while surfing or streaming videos despite having a high-speed connection.
Its stylish design with red and black color combination gives it a unique look which adds up the style to your home or office. Asus RT-AC88U is a dual-band Wi-Fi router that comes with 8 Gigabit LAN ports to deliver the fast internet without any trouble as it works on 5GHz bands.
The installation for this impressive Wi-Fi is very simple and even a novice can set up this router without facing any hassle. It is because when you connect the internet and PC for the first time, it automatically configures itself with the latest settings once you power up the router. The wizard will save most of the settings by itself, all you have to do is set up the password to avoid unauthorized use of the internet connection.
This is one of the best gaming routers because it facilitates multi-client MU-MIMO data streaming with dual-band working that is 2.4 GHz and 5 GHz.
Asus RT- AC88U Specs and Features
It eliminates the network dead zone by covering larger areas.
One can connect up to 8 Ethernet compatible devices at the same time in this router. Also comes with a USB 3.0 port
Asus RT- AC88U uses super-efficient 1. 4 GHz dual-core processor with faster USB data transfer speed of up to 100MB/s
The stunning body and brilliant design gives it a premium look
It automatically connects with the best band to provide enhanced internet speed
 A compact design with great looks makes it adjust to any environment with a measurement of 11. 8 x 7. 4 x 3. 3
It supports Wi-Fi Standard of 802.11ac
You can buy Asus RT- AC88U for Rs 18000 on Amazon
NETGEAR Nighthawk R7000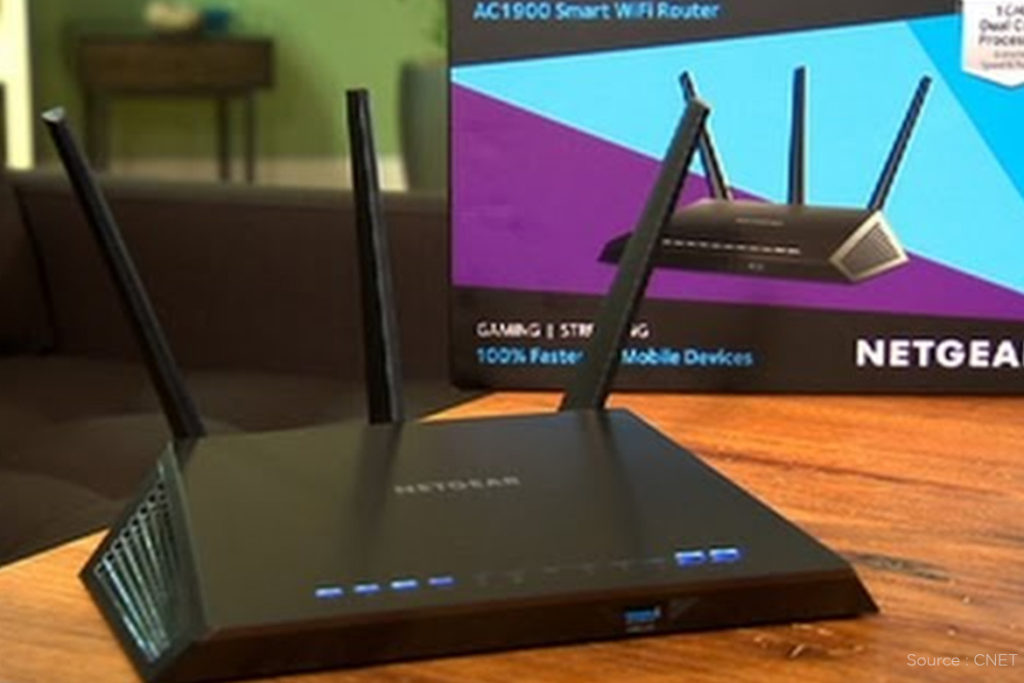 This another brilliant Wi-Fi dual-band router that is made by a popular brand that has been making computer peripherals for a long time. Its wireless routers are liked by people all over the world and getting more popular as it has been using the most advanced and attest technologies in the hardware.
It looks amazing with a fighter plane like the design made in all black color with detachable antennas. If you are looking for the best router to get lag-free online streaming then this model might be useful for you. Its enhanced performance is supported by 5GHz and 2GHz dual-band.
This router is best suited for the online game player who always looks for ultimate speed which is easily delivered by this router.
NETGEAR Nighthawk R7000 Specs and Features
It is an 11AC type wireless router which has super-efficient 1GHz dual-core processor and dynamic QoS that provides smooth support to Xbox and Sony Playstation
It weighs 748 grams and measures 28.5 x 18.4 x 5 cm with additional feature including USB connectivity
This router support 802.11a/b/g/n/ac, 600+1300 Mbps speeds
Powerful RAM of 256MB with 256MB internal memory
Automatic prioritization of bandwidth for devices including video and audio streaming
Easy installation and quick setup allows anyone to instantly make it work
Beamforming + feature increases the network range with enhanced performance
Netgear genie App lets you connect devices instantly and surf HD videos and game playing with speed up to 1900 Mbps
Parental control is available which allows the parents to pause the internet after setting limits
This also supports VPN feature that helps in securing the connection
It is available at an affordable price of Rs 11000 on Amazon
D-Link DIR 890L WIFI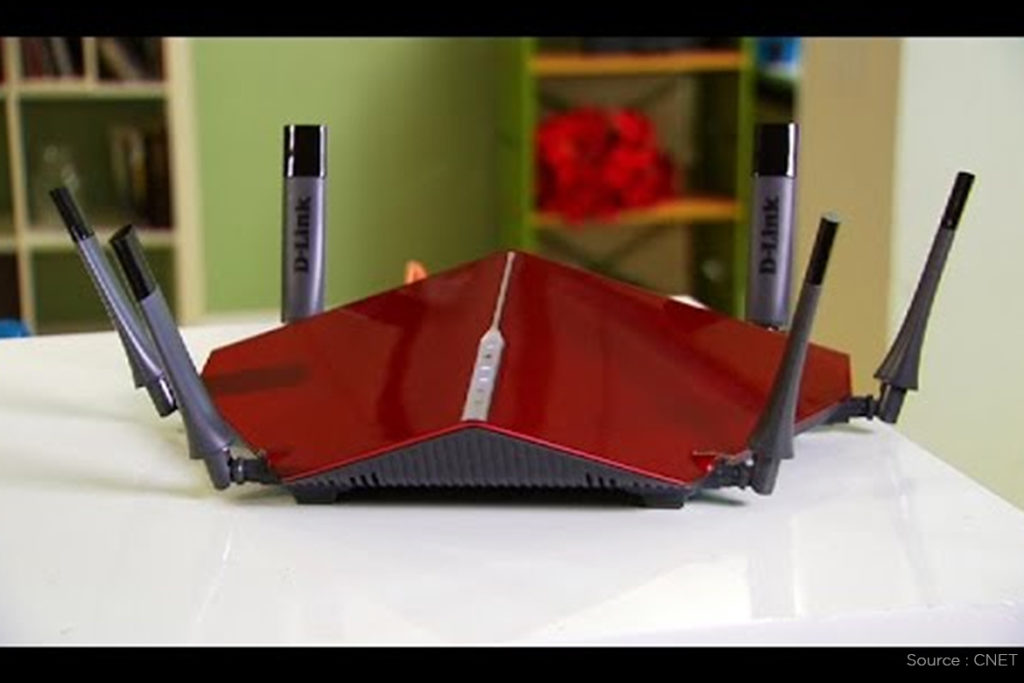 D-link is one of the most popular brands known for making impeccable wireless routers and D-Link DIR 890L is the latest addition in its product range.
This is a stylish Wi-Fi router that is easy to set up and use. Its design gives it a nice look and the black color body with a red color scheme looks awesome.
This stunning router is made to provide exceptional internet speed as it is equipped with three antennas which increases the area of the network. Not just this it also has the latest tri-band technology which further makes it the best router.
If you like online gaming or internet binging without buffering or lag, then this router can be the best choice for you. It is an affordable wireless router that can connect multiple devices without any hiccups.
It allows prioritization of internet connection which means that you can smoothly play on Xbox or Sony Playstation despite multiple connected devices.
When we talk about the coverage area then it uses a special beam technology that improves the coverage area and provides equal speed even if you are moving with the device in the network area.
This router is intelligent enough to automatically set the priority of the Wi-Fi connection for all the connected devices. There are no external antennas in this router. 6 internal antennas give stronger signals to all the devices which are connected with this router.
The parental controls are available with this router that allows the parents to block the unwanted or adult websites which are not suitable for the kids.
D-Link DIR 890L Specs and Features
Super-efficient 1GHz Dual Core Processor provides better gaming experience to the user
One can easily place this router anywhere in the home or office as it is lightweight. It weighs only 1.13 kg and measures 10.2 x 38.1 cm
It supports 802.11a/b/g/n/ac standard Wi-Fi connection
With wireless connectivity, it also has one USB connectivity port and 5 Ethernet ports
Best known for providing incredible speed with decent network range and perfect for a home use
Easy to install, it automatically set up itself ones you connect it with a pc and internet
It has a 2.4GHz wireless band which provides 600 Mbps speed with 5GHz dual bands that boost up the speed up to 1300 Mbps.
Powerful 256MB of RAM with 128 flash memory with 1GHz chipset boost up the performance