Walkie-Talkie is still in demand as in this age of 4G and 5G networks you still need them. Thus, there are many reasons for using walkie talkies like you may use them for fun or while travelling to some place in a car alone or in a group.
If you are fond of travelling then you must be aware that sometimes the GPS signals and along with mobile networks are hard to get. Therefore, it becomes confusing whether you are on the right way or not. In case you are travelling in a group, then you can communicate with others. You all can remain in touch without losing the contact.
There are lots of walkie- talkie sets which come with emergency weather alerts. You can use them anywhere in any weather because of the durable material.
Still, these are must buy devices which you may require sooner or later. This is specially in case of a road trip for easy coordination with other members of a group. When travelling in a group you sometimes get ahead of others or other people are separated. Using a walkie- talkie in this case is the best option to ensure that all of you travel together.
Hence, using a walkie-talkie on a road trip is advisable as it ensures that you are always connected. A good walkie-talkie device acts as a good backup communication device in areas where the network issue is common.
Here, we will discuss the best walkie talkies. These have passed the requisite tests and received good reviews from the users during their road trips and other places.
However, it's also necessary to know what a walkie-talkie is and how it works before checking the features.
What are Walkie Talkies?
A Walkie talkie was earlier called handheld transceiver. A two way radio transceiver that initially came into being during the Second World War by Donald Hings. Later the size of the Walkie talkie became compact and it was being used in other scenarios.
It's a device that looks like a mobile phone but does not use the network. Instead, it works on a radio frequency. Thus, it's a half-duplex communication device that uses one way radio channel to transmit. This means that at a time only one walkie talkie can transmit and any number of walkie talkies can listen. This is in the case of the same radio frequency.
Basically, walkie-talkie is a portable communication handheld device that has a mounted radio antenna, microphone and speaker to communicate.
However, before buying a walkie talkie there are certain features that must be present in the device. Or better yet, you must ensure that they are in there.
Features to look for in Walkie Talkies
Below is the list of six important specs and features that you should look for before buying a Walkie-Talkie handset.
Range
Weather stations and alerts
Channels and privacy codes
Design
Charging
Usability
Range
It's one of the most important features that plays a big role when it comes to buying a good walkie-talkie set. As mentioned above, if you get separated, a good range can keep you connected with other drivers on a trip. If the range is low then you might feel frustrated as the handheld device will be of not much use.
So, a good radio range is an essential feature of any walkie-talkie. Hence, there should be a radio range of 2 miles which can be considered as a decent range. If you can buy a handheld device with more range then do not overlook that product and simply buy it.
Weather stations and alerts
Getting weather alerts in advance could save you from many troubles on a road trip. Anyways, weather conditions tend to change very fast from one area to another. Thus, a reliable walkie–talkie that provides weather updates is extremely important. This way, you plan your road trip accordingly and avoid the bad weather conditions.
Channels and privacy codes
If a walkie-talkie has at-least 22 primary channels on dual band that is FRS/GMRS and single band then it's a good handheld handset. At least that's what popular sentiment says.
Still, if there are privacy codes available then it's possible that you could get thousands of secondary channels and combinations.
The requirement of more radio channels is suitable for communicating easily on your desired radio frequency. Thus, with a privacy code you can communicate on a fixed frequency. This makes it hard for the stranger to check and listen to your communication.
Design
Design is another perspective that's important. If the build quality and design is not good then it makes it less durable. So, a good body material or use of good quality plastic is an advantage. These allow the handset to withstand the accidental drops and road bumps. Also, you would be able to use them for a longer period of time.
When we talk about the material then, it's important to consider design. Things like lightweight and size matters, especially when you have to pick it up repeatedly for communicating. Hence, a good grip, lightweight and sturdy material keeps the walkie-talkie handy and easy to use.
The other features related to the design are dust and water resistant.
Charging
Since you would be travelling in a car, there are less chances that you get charging points in the way. Hence, it becomes very necessary to use a portable handset. Additionally, a walkie-talkie handset must have a charging option to charge from a cigarette lighter port.
Usability
Easy setup with good design and simple steps to use makes any walkie-talkie easy to use. Basically, it takes the usability to another level. You would not like to mess with radio frequencies on the way, so it is better that you decide and connect with others at a fixed radio frequency.
1. BaoFeng UV-82C Walkie Talkies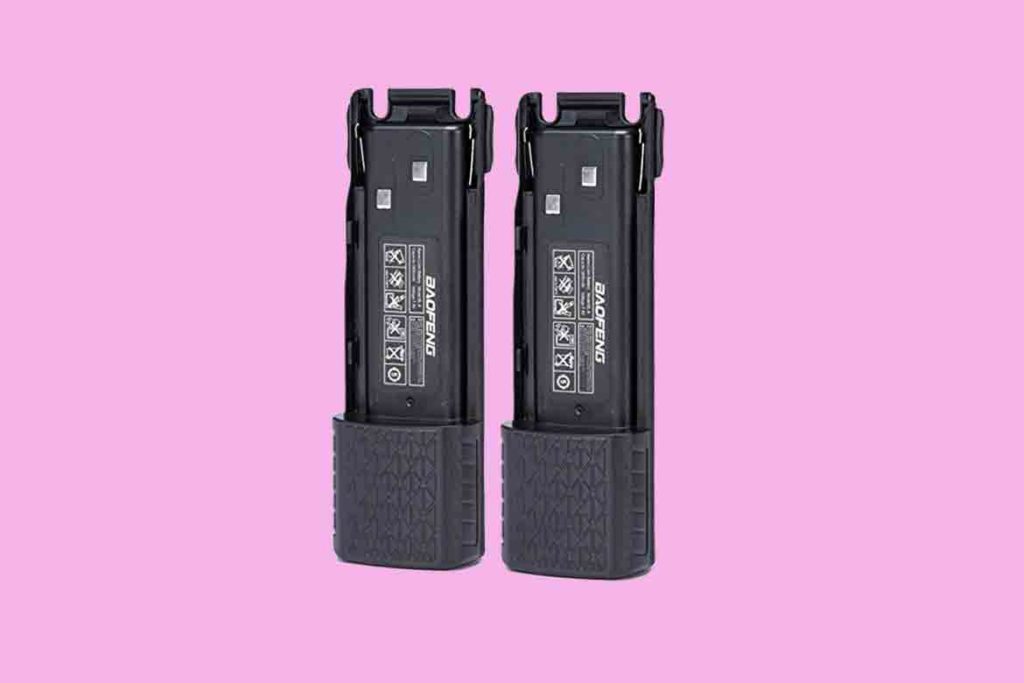 The BaoFeng UV- 82C is one of the best walkie-talkies that have all the features and specs that are required on a long road trip. You do not even have to shell out a large chunk of money as this pair is available at an affordable price.
Hardware
It is a two way radio handset with a better speaker and the durable body along with large buttons and solid case. The inside chipset is the upgraded one and better than the earlier models. The PCB board further enhances the crisp and clear sound output.
The other unmatched feature includes an earpiece that you can use while making loud conversations. Additionally, it has a belt clip so that you can easily attach it in your belt and use it anywhere with ease. You'd also find LED lights attached on the top of each that look superb at night.
The simple to use power adapter requires AC 110V, 50-60Hz input, and DC 10V and 500mA output to get fully charged up.
Software
Additionally, it also has FM radio along with 128 channels and the special push to talk feature is selectable, but to use it you need to buy the software and cable separately.
This magnificent walkie-talkie works well on a frequency range of 65 MHz to 108 MHz, 136 to 174 MHz, and 400 MHz to 520 MHz. With this, you also get access to private communications with the help of private frequency codes.
Furthermore, this walkie-talkie set consists of enhanced VOX features that basically reduces the level of interference during the communication. Its radio antenna is also of a good receiver and captures clear signals. When we talk about the battery backup then it has an 1800 mAh Li-ion AAA batteries that gives enough power to let you make clear communication.
So, it's a good buy option if you are looking to buy an affordable walkie-talkie handset to use in a car with a good frequency range and a durable body.
2. Motorola T200TP Walkie Talkies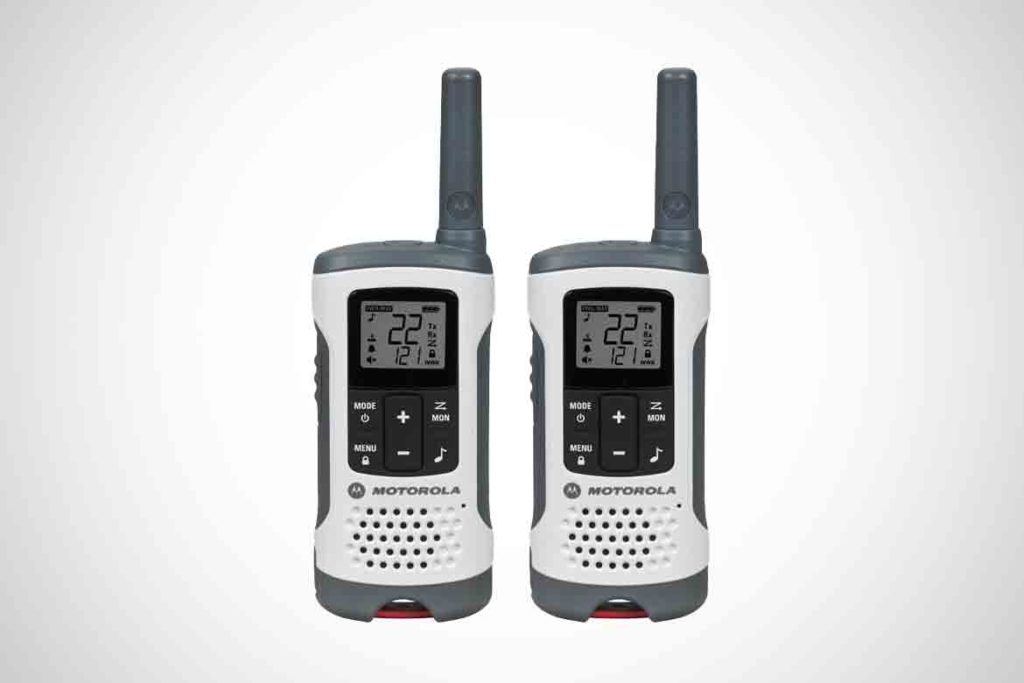 This model is the most popular and best walkie-talkies because its features are hard to match. It comes with a rechargeable battery and the body is made of durable material. The battery is so powerful that it works all day long once fully charged.
It is perfect for all sorts of outdoor activities as well as car use. The range is also good as it can cover up to 20 miles. So, if you are going on a road trip with others then it is a must buy. It comes with 22 channels and each of these channels have privacy codes so that you can communicate privately without the fear of letting any stranger listen to your conversation.
Additionally, it comes with a double battery option. Moreover, you can charge the NiMH battery with a USB cable which means that you can even use a cigarette lighter port to charge the battery while on the way. This NiMH battery works for up to 12 hours. Moreover, you also get 2 AAA batteries with the pair which can keep it running for up to 29 hours.
Connectivity
Another positive about this Motorola Walkie-Talkie is that you can pair it with other two way radios of different brands and models that work with FRS.GMRS two way radio and same channel/code. You can also find customised call tones that give you alerts when someone tries to connect with your device.
The scanning feature lets you find a free channel whereas the low battery feature notifies you when the device will switch off.
It comes with: –
one year warranty
user manual
charging adaptor
belt clips so that you can attach it to the belt and drive or work freely.
With great AAA batteries, the Motorola walkie- talkie is an excellent pick for all outdoor activities like picnics and hiking. It also comes with belt clips, charging adapter, and user manual.
This is a good buy due to its affordable price, long range, great battery life, private channel locator, and high quality sound.
3. DEWALT Walkie Talkies
Dewalt is famous for innovating products and the people consider this brand for durable and best walkie-talkies. It is perfect for long trips because the wearable design makes it a lot easier to use especially when you are driving.
This pair Dewalt walkie-talkie comes with 22 channels and easily connects with other brand walkie-talkies which use the FRS platform. These are compatible with communicating up to 100,000 square feet range with ease and the reception can be further enhanced with the use of UHF/FM which provides better reception.
The long-lasting Li-Polymer battery works well for up to 10 hours when used continuously. You can charge it up again if required.
The micro USB port connectivity allows you to charge up the device even with the cigarette lighter port. Furthermore, these are shock resistant and easily resist an accidental fall of 2 meter of height.
The voice prompt support lets you easily operate them whether it is selecting a channel or simply turning it on/off.
Anti Slip Design
Its anti-slip design is exceptional and does not let it fall easily whether you use them for outdoor activities like running, walking or driving. You also hear a roger tone when someone tries to connect with your device. With a good speaker and nice microphone you can communicate clearly with others. There is also an option of earpiece that can be used. Furthermore, it is also water and dust resistant because it is IPX4 rated.
So, the anti-slip grip along with IPX4 rating makes it perfect to use in all weather conditions. Additionally you also get a belt clip so that you can easily attach it and work freely.
4. Craftsman Walkie Talkies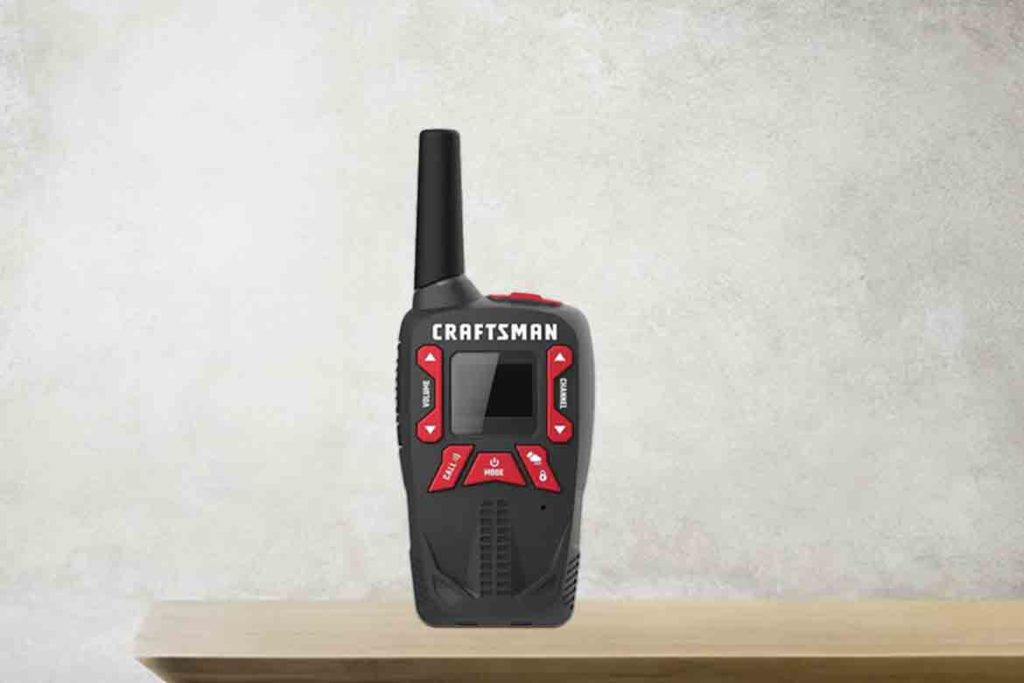 If you are looking for an affordable walkie-talkie set then this is a perfect branded option that you can rely on. Craftsman is known for making one of the best walkie-talkies.
So, craftsman walkie-talkie is a must for those who like to go on long road trips in a group as these have durable bodies and are suitable for all weather conditions. These two way radio communication devices are available in black and red colors too with a clear coverage of 22 miles.
You also need not worry about the battery because it comes with 6 AA batteries along and a USB charging cable that can be used in a car to charge while you are travelling. It also allows you to place three AA alkaline batteries in it but these need to be used separately.
Unique Features
It comes with 22 channels with privacy codes including 121 CTCSS and DCS. So, these additional privacy codes take the list of channels up to 2662 which can be easily be used with the help of the advanced scanning feature and find the free frequency on which you can communicate.
Another positive is the key lock feature that locks the channel frequency on which you communicate and stops the accidental switching of channels.
You also get pre-installed Noa weather alerts channels that keep you updated with the weather conditions in your area. Hence, whenever there is a weather update, it will start producing a tone and you can change the channel to listen to the weather updates.
This is all weather walkie-talkie because it is weather resistant and it is very hard for the moisture to enter it.
5. LXT600VP3 Two Way Radio Walkie Talkies
These walkie-talkies are of exceptional quality and have all the features that you desire in a good walkie-talkie set. This two way communication device has 36 family radio service channels along with channel scanning features. The dual power option is commendable including 3 AAA batteries.
The range is also superb because it can cover up to 30 miles with little or no obstruction. Additionally, there are 121 CTSS privacy codes that increase the channel options up to 2662 and even block the other conversations.
The silent feature can turn off all types of tones. Furthermore, the NOAA weather scan and alert keeps you updated with any kind of extreme weather conditions prevailing in your area. It can automatically scan ten available weather update channels and provide you the best results. NOAA weather alerts even activate the alarm system for severe weather conditions.
Hardware
It is made of durable body along with water resistant capability you can use it in all weather conditions without facing issues or problems. There are HI/LO power settings and a headphone jack to use your headphones along with rechargeable battery packs.
If you want to buy this magnificent piece of walkie-talkie then it comes with a one year warranty, 2 belt clips, desktop chargers, AC adapter, owner's manual.
6. COBRA ACXT645 Walkie Talkies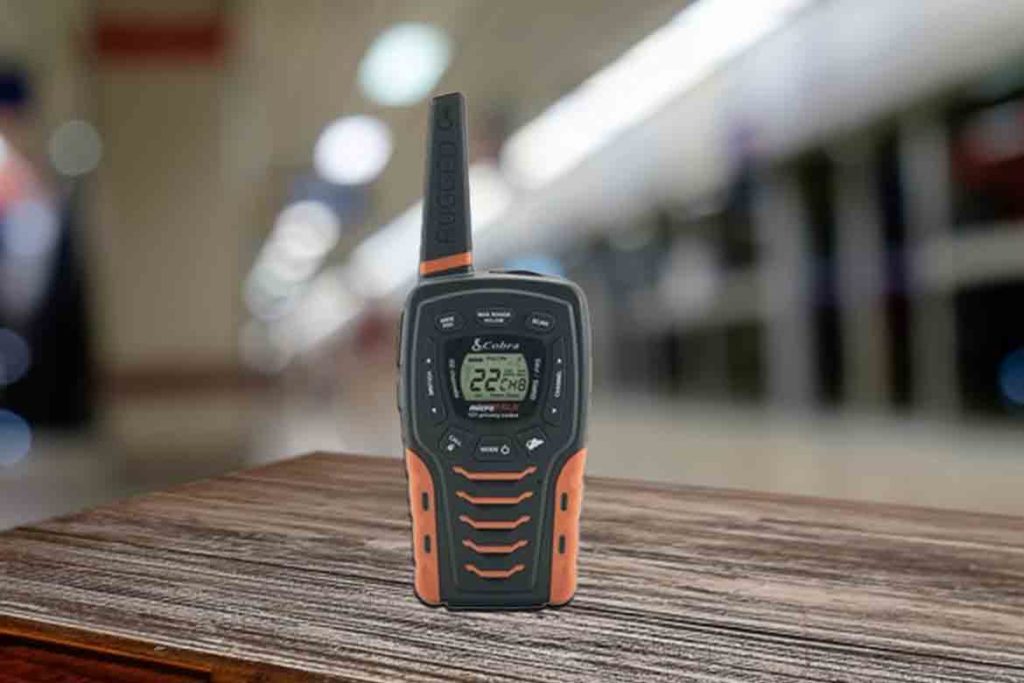 This rugged walkie-talkie with water and dust resistant capacity would be a perfect partner for you while you are travelling with others. The radio connectivity is quite high as you communicate for up to 35 miles with others.
Hardware
The inbuilt NOAA weather radio receiver further makes it useful for those who like to check the weather condition before hitting the road. This weather update feature lets you know in advance about the weather severities such as storm, rain or any other emergency situation.
Equipped with LED flash and rubberized grips is an additional feature that is not found easily in other walkie-talkies.
It also has NiMH batteries and two port charging dock which quickly charge up the walkie-talkies.
One can also use AA Alkaline batteries if short of charge or forgot to charge them.
Another positive is the lightweight nature and unique design that makes it easy to use with one hand. It measures Height: 6.74″ x Width: 2.54″ x Depth: 1.74″ (44.31 mm) and weighs only 143.5 grams.
Software
You can get vibration alerts when someone tries to make contact with you and the IPX4/JIS4 rating further makes it useful in all weather conditions. The voice activated transmission is an advantage that provides a hands free experience. There are about 2622 channels which can be accessed with 121 privacy security codes along with 22 channels.
There are 10 NOAA channels that provides accurate and quick information to the user.
If you are interested to buy this stunning handheld device then it comes with one year warranty, micro USB cable and two port charging dock along with rechargeable batteries
7. Midland GXT-1000-VP4 Walkie Talkies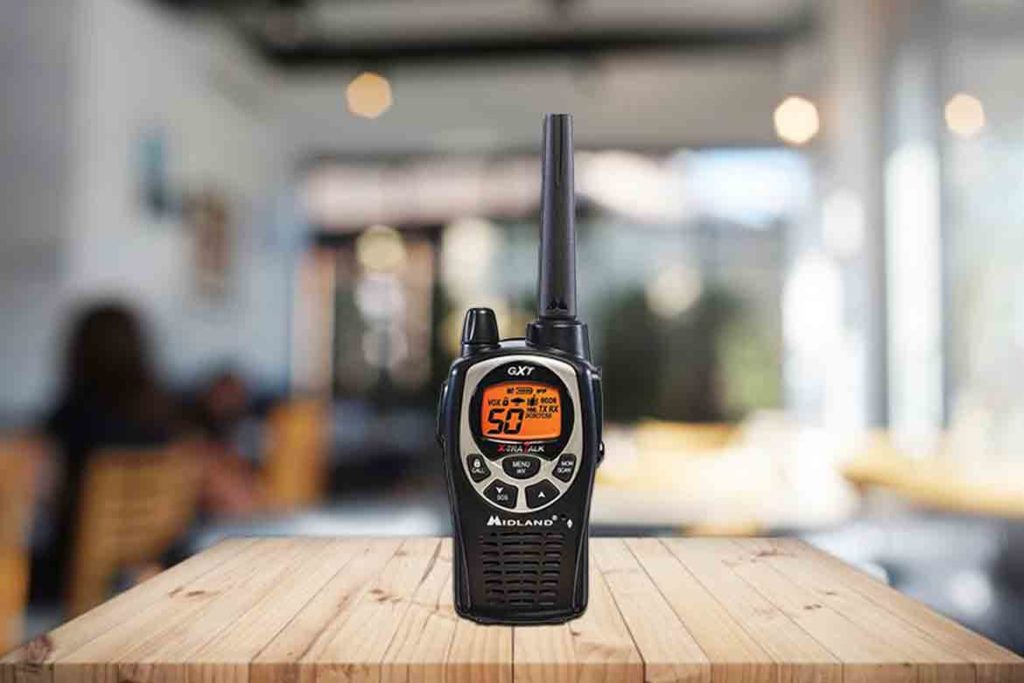 This is a superb walkie-talkie suitable for travelers because it's a high range device that can be used without any license. It can let you connect and communicate up to 36 miles with other drivers even in extreme weather conditions. There might be a difference of 2 miles in urban areas but otherwise this range is too good.
It has all the features and specs that you could get in a walkie-talkie like a rechargeable battery, long range, good sound with nice speakers and microphone along with AC wall charger and DC charger for charging it in the car so you never run off the battery.
It supports about 50 channels along with 22 standard GMRS channels and 28 extra channels where each channel supports 142 privacy codes so that you can communicate with the other person without worrying that anyone else is listening to your talks.
Unique Features
It will not be wrong to call it all time weather walkie-talkie as it is water and dust resistant. Additionally it has inbuilt NOAA weather channels that automatically scan the best channel and keeps you updated with weather conditions and even send alerts in case of severe weather conditions so that you can plan your trip accordingly.
It is easy to use as there are nine sensitivity levels along with a hands-free feature that makes it much easier for you to drive and communicate simultaneously. The various alerts include vibrating alerts, dual channel watch with selectable high, medium and low power mode. Moreover, it also comes with a channel scan option that automatically selects the channel for you.
It is also capable of sending ten types of alerts including call alerts, vibrate alerts and SOS siren. The strong body and JIS4 rating ensures that it can be used in any condition and works for a longer time. It is also safe to use as it is lead free certified.
If you are interested in buying this pair of walkie-talkie then it comes with a 3 year warranty along with two pocket desktop charger, 2 rechargeable batteries, 2 belt clips to attach them with the belt and give hands free experience, wall charger and vehicle charging adapter.