Eggs have become staple food that can be found in most of the kitchen but boiling them or cooking them becomes boring. So, if you are also bored of the tiresome process of boiling, poaching, or making fluffy omelet then not to worry as we will tell you about the best handy devices.
These egg cooking devices are not just affordable but also save time for making egg dishes.
Getko with device multifunction 2 in 1 Electric Egg Boiler Steamer Omelette Frying Pan
Handy Egg Opener
ANIKART Egg Cutter, Egg Slicer
Getko with device multifunction 2 in 1 Electric Egg Boiler Steamer Omelette Frying Pan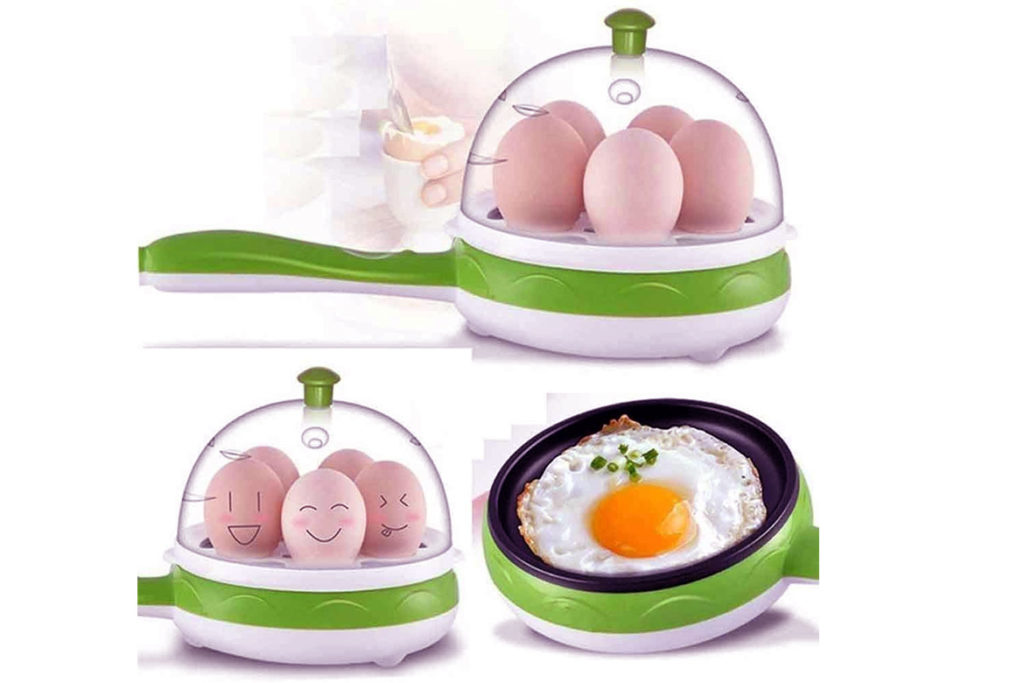 Made of a durable plastic body and equipped with a heating plate that provides even heating with high thermal efficiency.
It has a single-layer steam rack that can steam up to 7 eggs at one time and if you like egg dry then it comes with one egg frying pan.
So, this is a multifunctional electric egg cooking device that can be used for frying eggs, steam boiling, waffles, dumplings, omelet, steak fry, and much more.
This takes 200 Watt power to cook seven eggs at a time and not just this it also has a measuring cup to check the water levels.
The process of using this device is simple as first of all you need to add some water by using the measuring cup then pour the water on the heating plate and after that, you can place the steam rack and eggs or other food items. After these steps are done, you simply have to turn on the power.
It measures 33.6 x 21.9 x 10.1 cm and weighs only 570 Grams.
Also Read: Why Is There Such A Demand For Smart Home Devices?
Handy Egg Opener
This is one of the best and simple egg crackers or openers that takes very little time to crack the eggs perfectly without spoiling them. Its compact design and sharp blades perfectly cut the outer side of the egg.
The best part is that your hands always remain clean and never get dirty. It can be carried anywhere easily like picnics and outings.
All you have to do is put an egg inside it and keep it over the bowl then crack the egg into the bowl. It also keeps the egg yolk separated from the white part as the yolk will in it that you can use separately.
The price of this efficient egg separator is also affordable as it costs only Rs 200 and you can buy it on Amazon.
Also Read: What Are The New Smart Home Devices Used In India?
 ANIKART Egg Cutter, Egg Slicer
After the egg is boiled it needs to be sliced or cut and getting them a perfect cut is sometimes not possible because mostly the eggs are too much boiled and become soft.
It would be better if you use an Egg cutter as it will slice them in evenly shapes so that you can them directly or use them in a salad or maybe some other dishes.
This is a handy device with a simple foldable design which makes it a perfect egg slicer as you can carry it anywhere because it easily fits into a small bag.
The design is also stylish and sleek which further enhances its look and apart from this, it is made of high-quality material which means that it is completely safe to use. The cutting wires in it are made of stainless steel that the rest of the part is zinc plated.
Furthermore, it can also be used for cutting vegetables and fruits but if you are only interested in slicing eggs then all you have to do is put the eggs on the top surface and pull down the handle and it will precisely cut the eggs evenly.
It is completely a handheld device and does require any kind of electric power and works fine for a long period.