Cooking is an art and if you want to excel in this field then you could use smart kitchen devices. These will indeed, further enhance the skill. Moreover, if cooking is your hobby or you just wish to upgrade your cooking lifestyle, you're at the right place. That's because here we will tell you about 5 best smart kitchen appliances.
These smart kitchen appliances will make your life a lot easier because these appliances can cook food instantly. Additionally, these come with multiple connectivity options like Bluetooth and Wi-Fi. Most of these devices are also compatible with Alexa. This means it's not necessary that you should be present in the kitchen. You can operate them and let them prepare food for you even if you are somewhere else.
There are lots of kitchen appliances which are multipurpose but this does not mean that these are always smart. In fact we will discuss some of the best devices which would be the part of the smart cooking process. These are appliances that will update the progress on your smartphone.
Do not worry as you don't have to replace your old Kitchen appliances. You can use the latest devices that can upgrade them or make them useful and smart.
So basically, there are two types of kitchen appliances that are used in any Kitchen. The first category is of large appliances and the second consists of small appliances.
The large appliances are like Microwave oven, fridge, etc. and the smaller one consist of toasters, fryers, etc.
1. Meater Plus
Meater Plus is an advanced way of cooking meat. Hence, if you have been cooking meat for a long time and still not sure when the meat cooked completely, then this smart kitchen appliance is for you.
This appliance has a wireless range of 165 feet. Additionally, it's one of the best meat thermometers that tells you correctly when the meat is cooked. So, it basically saves your time and efforts. You do not have to keep standing at the grill, smoker or in the kitchen.
It is not just a meat thermometer but also a handy appliance that's equipped with a Bluetooth repeater. Said repeater has a range of 165 feet and it is completely free of wires. There are 2 sensors and 1 probe inside this device along with two temperature sensors. These efficiently monitor the meat temperature and let you know whether the meat is evenly cooked from inside or not.
With this smart kitchen device, you never get overcooked or undercooked meat. Thus, it assures only the consistent results. So, it does not matter whether you are a professional cook or not. This appliance would definitely help in cooking the best meat.
How does it ensure a Smart Kitchen?
Moreover, it is loaded with advanced estimator algorithms which basically check for how long the food should be cooked. Moreover, it also checks that for how long it should rest.
You can also monitor your cooking food with the help of your smartphone or tablet while sitting somewhere else. This is possible with the help of Bluetooth. Additionally, you can even extend the wireless range by using Meater Link Wi-Fi and the Meater cloud.
Hence, if you are connected with the Internet then you can use the Meater cloud and cook from anywhere. Furthermore, you can also use Alexa which tracks your cooking item and update you on realtime basis. It does so on the Windows as well as Apple Mac browser.
It also allows you to cook multiple meals and monitor their temperatures simultaneously. Additionally, it keeps you updated with the notifications with the Internet connectivity. The role of the double sensors is to check the internal & external temperature of the meat within – /-1°F range.
Furthermore, it is made of heat resistant ceramic and stainless steel which makes it durable. Additionally, there's a charging dock that comes with it. Moreover, you also get a magnetic backing so that it can be attached to a metallic surface with ease.
2. Anova Precision Cooker- Sous Vide
Sous Vide is a popular and new cooking technique that is being appreciated by lots of people around the World. There are lots of Sous Vide kitchen appliances and devices that can be connected and used to cook perfect food.
In Sous Vide cooking the food is generally vacuumed food that is kept in the water at appropriate temperature. The vacuum sealing process very minutely ensures that the food doesn't lose its moisture. The water temperature ensures that the food doesn't overcook and you get the perfectly tendered food.
Here, you can use an Anova precision cooker that comes with improved connectivity, faster heating technology and has more power. The heat evenly circulates in a water pot with precise temperature according to the food that is vacuumed.
In case of a steak cooking, just a change of 3 degrees can make a lot of difference. So, it's better to use this product as it's simple and easy to use and does not require much effort. All you get is perfectly cooked food.
With this precision cooker there is no need to have a stove, flame or any other equipment. This kitchen appliance also allows you to set the time and temperature by using Anova App. You can also do this by using the Precision controls and you will get the desired results exactly as you want.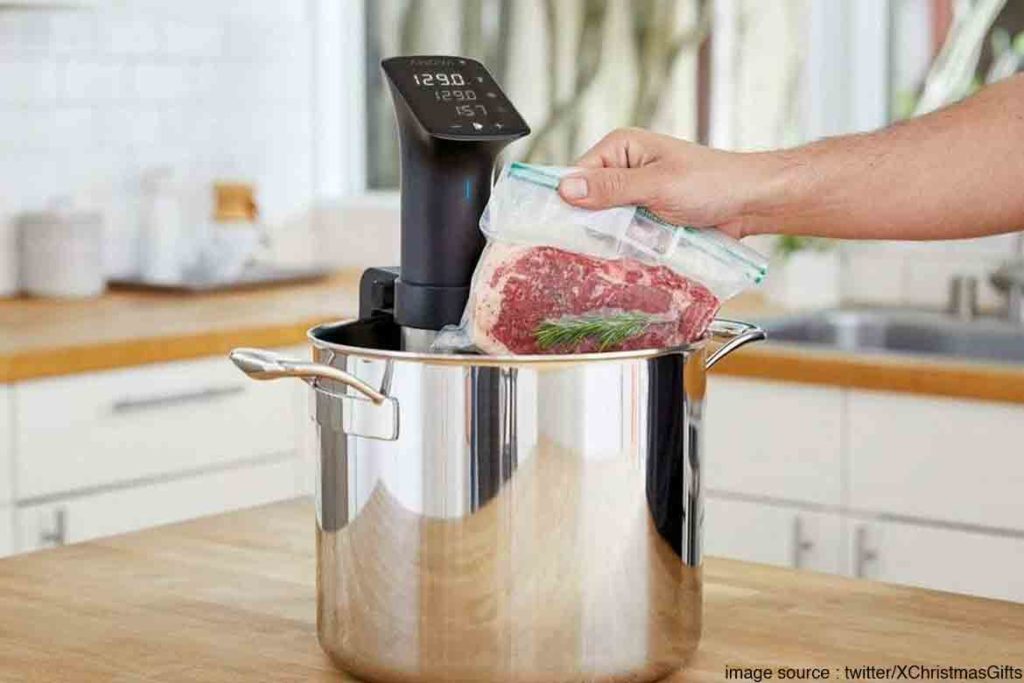 How does it ensure a Smart Kitchen?
Every time you cook food with this appliance you will notice that you get only a tasty food that is neither over cooked or undercooked. This is because the perfect circulation of water and precise temperature setting ensures that you can cook almost anything. There are thousands of sous vide recipes that you can try and even use Anova App where you can get them for free from anywhere by using your smartphone..
One can get the perfect level of doneness for almost all kinds of foods such as lamb, eggs, pork, vegetables, fish, chicken and much more. It maintains the flavors during the whole cooking process and they taste exactly you want them to be.
Another positive of this Sous Vide cooker is that it has Wi-Fi connectivity along with a durable body that is designed in such a way so that you can use it with multiple sized containers as it has adjustable clamp. Furthermore, it is water resistant and comes with many inbuilt controls.
It measures 3.1 x 5.3 x 12.8 inches and weighs 2.79 pounds. It can continuously cook for about 3,000 hours with ease with the flow rate five liters per minute by using 110- 120 voltage.
3. Instant Pot Smart
This is another smart kitchen appliance that will do most kitchen work with ease and smoothly. It is a multipurpose smart cooker that has multiple connectivity options that allow you to cook food from outside the kitchen.
It won't be wrong to call it the countertop appliance which is very useful when it comes to cooking multiple meals as this instantly cooks meals. This one is easy to use and offers multiple functions like programmable features and controls available on a large screen.
One can connect this pot with your smartphone or tablet and monitor the cooking progress. Made of stainless steel with a large screen to operate easily lets you cook meat fast but you will also notice that it will not let the meat lose its tenderness which is very much necessary for the best taste.
Not just meat you can cook almost anything in it such as lentils, beans without the need of presoaking. It can cook lentils, chickpeas and kidney beans within 30 minutes too without the need of stirring them as you would require doing in a normal pot. All you have to do is monitor the progress of the meal from your smartphone.
Regarding the size capacity, the quart size instant pot can cook food for up to 6 people which makes it suitable for a big family and for small families as well as food can be cooked in batches. The inner part is made of stainless steel along with 3 ply bottoms which further strengthen it and makes it dishwasher safe and healthy.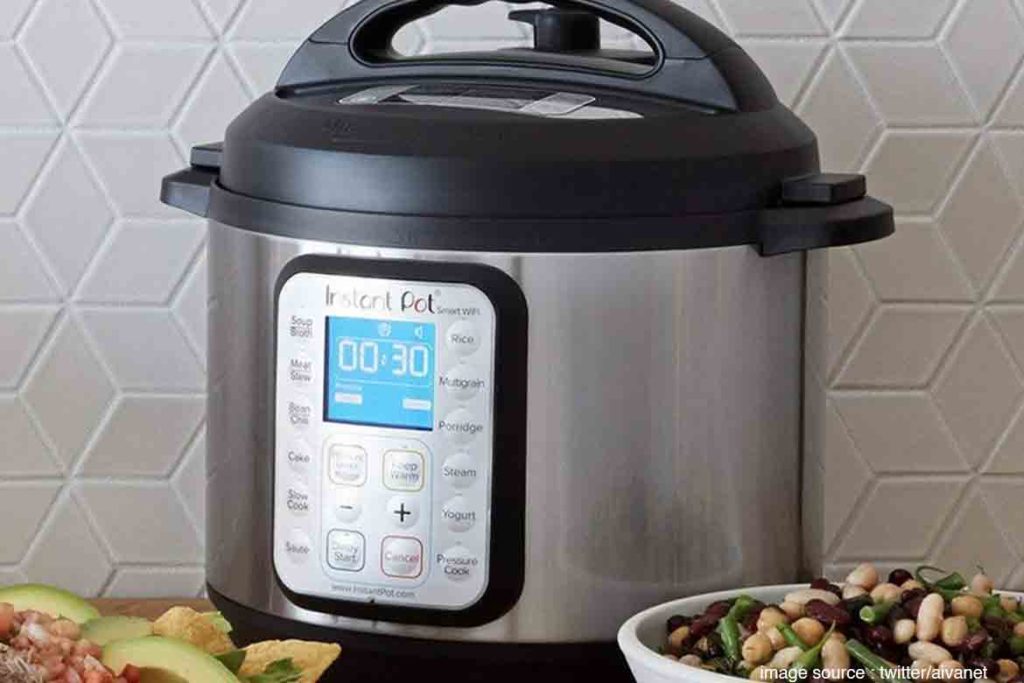 How does it ensure a Smart Kitchen?
It supports Android 5.0 and above operating system and iOS 9.0 and later. Furthermore, this instant smart pot requires 2.4 GHz frequency to work with an App.
You can use it for slow cooking, rice cooking, steaming, pressure cooking, warming, sauteing, yogurt making and much more. The multiple touch smart programs lets you cook beans, rice, poultry, ribs, desserts, yogurt and other dishes with autopilot mode.
When we talk about the connectivity, then it is compatible with Alexa and has inbuilt Wi-Fi connectivity that lets you cook food without lifting your finger and with a simple voice command. The best part is that it can be connected with other smart devices that you already have in your home.
Additionally, it has more than one thousand pre-installed recipes that are already verified and the best part is that you can share the pot access with your family members or receive notifications on your smartphone.
It requires 120V to 160Hz power supply to work and comes with lots of accessories including a stainless steel rack along with handles, soup spoon, Rice paddle, measuring cup and condensation collector.
With advanced safety protection, you need not worry about the security as it is completely safe to use because it has ten plus inbuilt safety features including overheat protection, safety lock and other important features to ensure that you cook safely.
You also get lots of recipes with the free Instant pop App for both Android and iOS mobiles. Moreover, there are millions of users that share their experiences that you can consider to make the tastiest food.
4. Smart Air Fryer Cosori
This smart Cosori smart air fryer is one of the best kitchen appliances that is a healthy way to cook your food and remain in healthy shape and strictly maintain diet.
With practical design and a durable body it works for a long time with ease and the ergonomic display gives a nice view to operate on it and give commands without bending. It easily fits anywhere in the kitchen and does not require much space as it can set over your countertop.
You can give it to anyone who wants to go for a healthy life because it can fry food by using 85% less oil but maintains the crispiness, texture and taste of the food. Another positive of this sir fryer is that it cooks food fast and takes much less time over the traditional way of deep frying foods.
You can also get Accessories with air fryers by searching online.
Furthermore, it comes with a 5.8 qt square basket that can accommodate about 6lb rotisserie chicken or easily cook food for about three to five people. Even the basket is removable and nonstick. It is also dishwasher safe because it is made of PFOA free and BPA free basket materials.
Safety is also taken care and it is ETL listed, automatic cutoff and overheat protection features are also available. Handles are designed with a special material that keeps them cool to prevent accidental burning and touching hot surfaces.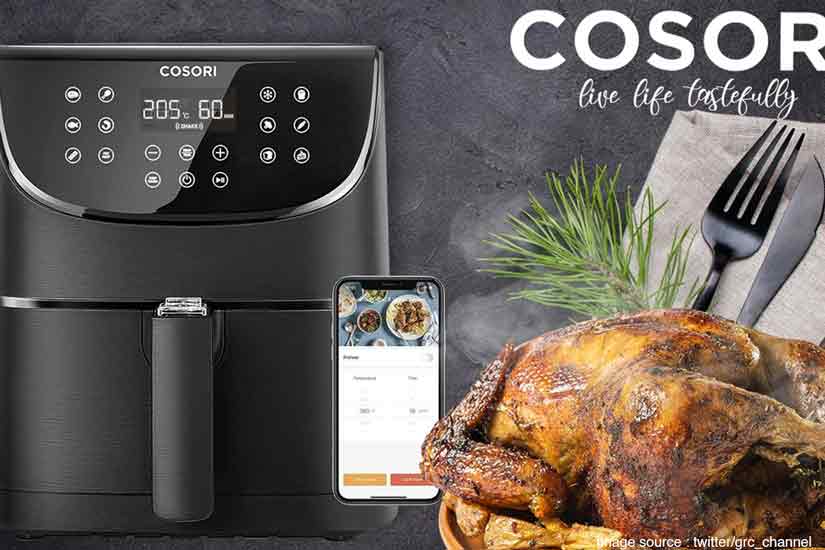 How does it ensure a Smart Kitchen?
It is smart because you can connect it with a smartphone or tablet with the help of Wi-Fi connectivity. It is easy and convenient to use because it takes the cooking to the next level. Moreover, it is compatible with Alexa and Google Assistant along with VeSync App. You can control it from anywhere and even monitor the cooking progress without being in the kitchen or even in the home.
There are about 100 recipes that are pre-programmed in the VeSync App. These new recipes are weekly additions so that you never get bored of cooking the food in old ways.
It comes with Wi-Fi connectivity and the can and requires 2.4 GHz to connect with smartphone and needs AC 120V, 60 GHz voltage.
It measures 9 x 9 x 3.75 inches. Hence, you can put it anywhere in the kitchen and cook your favorite food with inbuilt one touch presets like seafood, poultry, steak, shrimp, bacon, frozen foods, vegetable, root vegetable, desserts, bread by using the preheat options. If you want then you can use the preset manually and even pick a recipe by using the App that comes with many settings which will automatically adjust.
It measures 14.3 x 11.8 x 12.6 inches and weighs 16.96 pounds.
5. Smart Coffee Maker- Hamilton Beach
Coffee is the first thing that you require in the morning to start your day and what could be better than a smart coffee maker.
It measures 7.95 x 13.25 x 13.9 inches and weighs only 4.59 lbs. The material used in this coffee maker is plastic, glass and stainless steel.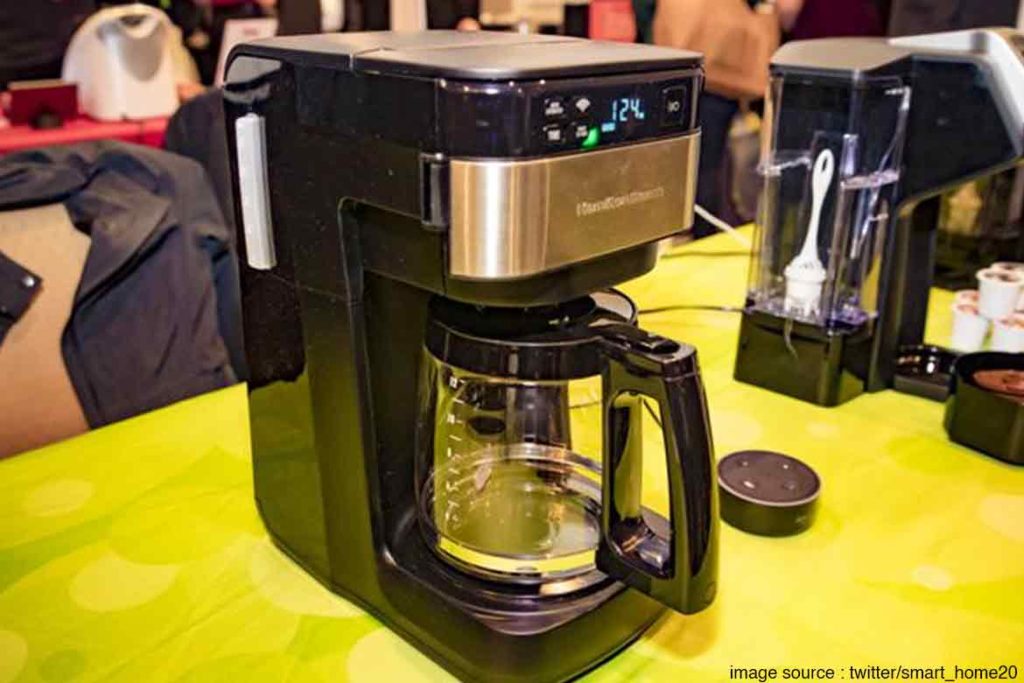 How does it ensure a Smart Kitchen?
This smart coffee maker is easy to use and smart enough to prepare coffee according to your taste and choice by using the smart features. It is compatible with Alexa which means you can prepare coffee with a simple voice command and without lifting your finger.
When connected with Alexa speaker and App , it starts brewing or stops as per your command. However, you can also set a timer to turn it off and on automatically. Whereas, you can also connect it wirelessly with your smartphone or tablet and sync your routine and it prepares coffee accordingly. Furthermore, you can check the Alexa App to learn about the new commands
It is certified for human use which means that the non-experts can also easily operate on this by using Alexa App. You can rely on this smart coffee maker to get the perfect coffee. One can also use an echo device to use it without downloading any additional App to control it wirelessly.
All it requires you to add coffee and water from the front side where the reservoir is attached in which you can easily pour water without the need of moving the coffee maker from the countertop of the cabinet. The brew basket is of standard size and uses a standard coffee filter which swings out of the front filling.
In case you forget to turn it off then you can simply give the turn off command to Alexa and it will switch off. Still, it gets power off after 2 hours when not in use.
So, this is a must buy for the kitchen if you want a smooth coffee making experience without spilling and dripping coffee all over the kitchen.
Get More Content on Smart Devices