There would be hardly any gadget lover in this world who might have not used any sony product at least once. If we wanna talk about any company that brought a revolution in the electronic gadget world than sony will stand at a top spot. Sony corporation is one of the biggest players in consumer electronics and ranks second worldwide in electronics just next to Matsushita Electric Corporation.
The company started its business as a tape recorder and transistor radio manufacturer but today the company operates as one of the world's largest manufacturers of consumer and professional electronic products, the largest video game console company, the second-largest video game publisher, the second-largest record company and one of the largest business house of Japan.
EARLY HISTORY AND FOUNDER OF THE COMPANY
The company traces its beginning to the second world war era. Akio Morita and a defense contractor named Masaru Ibuka a defense researcher started the company named as the Tokyo Tsushin Kogyo Kabushiki Kaisha (Tokyo Telecommunications Engineering Corporation, or TTK) in 1946 and with a capital of ¥ 190,000 and a total of just eight employees.
Japan's first tape recorder, called the 'Type – G' was manufactured by Tokyo Telecommunications Engineering Corporation and after a huge success of transistor radios and tape recorders, the company was renamed as "SONY" in 1958.
Also Read: Can A Sony TV Be Connected To A Bluetooth Device Through Bluetooth?
THE EARLY SUCCESS OF SONY
In mid-1950s company tried its fortunes in the American market.  The era of mid-1950 was the era of portable transistor radios which were immensely popular among the teens and young brigade of America. To boost up their market sony launched its most famous 'TR-63 radio'.  This radio turned up tables for the company and helped to fix its legs in the international market as a big brand in the radio market.
The following year Sony announced that it had developed a transistorized television, which was introduced in the year 1960. That same year, after a business dispute with Delmonico International, the company Morita had appointed to handle international sales, Sony established a trade office in New York City and another in Switzerland called the Sony Overseas.
A subsidiary called Sony Chemicals was created in 1962 to produce adhesives and plastics to reduce the company's dependence on outside suppliers and to boost up the business to new heights. In 1965 a joint venture with Tektronix was established to produce oscilloscopes in Japan. Also in 1968, Sony Overseas established a trading office in England and entered into a joint venture with CBS Inc. to produce phonograph records.
THE FLIGHT TO THE WORLDS LEADING TECH GIANT
By 1970 sony had its presence in almost all the important markets of the world. Looking at the market another very popular gadget launched in 1971 was the U – Matic three-quarter-inch videocassette recorder (VCR). Sony developed its first VCR for the consumer market, the Betamax, in 1975.
1980 saw the trend of walkman and sony has a good presence in this market also.
After 1980 sony had checked its list in many new emerging gadgets like CD Player, Video Cameras, CBS Records. It came into agreement with many other tech companies like Philips, Apple, Mitsubishi for manufacturing and marketing its products in different markets. The most remarkable by sony in the 1990s was the video gaming devices. Sony has in real terms revolutionized the gaming industry by launching its play station. Sony also had a good presence in the entertainment market and has produced many blockbuster films like spiderman.
Also Read: HUAWEI – FROM MOBILE SWITCHES TO A GLOBAL ICT GIANT
PRESENT MARKET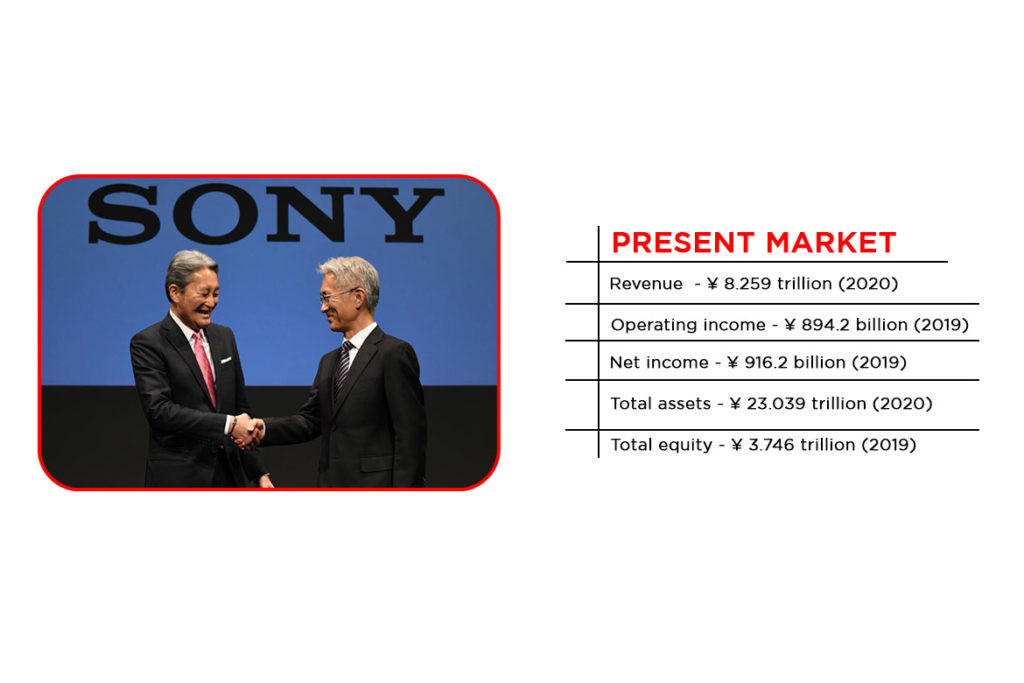 Today no doubt Sony is a leading name in the electronics manufacturing industry. It is also one of the top earners in terms of profits and revenue which is very clear from these data-
Revenue  – ¥ 8.259 trillion (2020)
Operating income – ¥ 894.2 billion (2019)
Net income – ¥ 916.2 billion (2019)
Total assets – ¥ 23.039 trillion (2020)
Total equity – ¥ 3.746 trillion (2019)
Today weather you may talk about T.V. or A.C. you will find a sony product in the market. The huge success of sony ows to a large extent to the quality and reliability of its product. Today the company has its roots in all the major countries of the world and is a leading tech giant of the world.