Twitter has released its most tweeted categories and hashtags for the year 2020. In this, Virat Kohli about Anushka Sharma's pregnancy tweet has got the most likes in India this year. The selfie taken with the fans of Tamil actor Vijay has been retweeted the most.
The # COVID19 hashtag has been tweeted the most in the Current Affairs topic. The #Meeting of People movement was the most tweeted of #StudentLivesMatter. Apart from this, the most frequently used emoji of the year 2020 has been the 'laughing' emoji. The #DilBechara has been the most frequently tweeted in film categories.
Twitter said that this year more than 7,000 tweets have been made per minute about TV and movies globally.
# IPL2020 and #DilBechara have received the highest number of hashtags in sports and film, while #Binod has become the most tweeted name of the year 2020.
Twitter says that #Ramayan, #Pokiri and #Mahabharat made a comeback this year as an old conversation. In the reality show, Bigg Boss has got the most tweets this year.
Biggest Tweet Trends in India 2020
Also Read: Find out how many satellites India has Launched till now?
Tamil actor Vijay's selfie taken with fans has become the most retweeted selfie of the year 2020has  received over 1,49,000 retweets.
The tweet by Prime Minister of India Narendra Modi fighting covid-19 and burning for frontline workers has been the most retweeted in politics.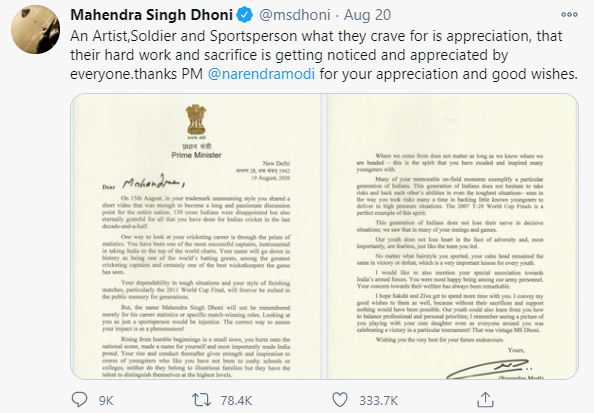 The tweet by former captain of the Indian cricket team Mahendra Singh Dhoni received the highest number of retweets in sports in which he expressed gratitude to PM Modi for his appreciation.
The tweet by Ratan Tata, chairman of Tata Trusts in the business category, received the highest number of retweets in the year 2020, having been retweeted nearly 58,000 times.
The tweet by Indian cricketer Virat Kohli has received the most likes. In this, he made public the news of his wife Anushka Sharma's pregnancy. This tweet by Virat Kohli received more than 6,44,000 likes.

The tweet by Bollywood superstar Amitabh Bachchan of being covid positive was the highest quote in the year 2020.
Also Read: VIVO Y51 Launched In India: Know Price and Specification