In this article we would be listing some of the most popular Android Cricket Games.
Real Cricket 18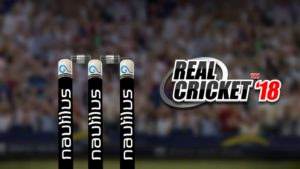 Recently out in the market, it is one of the best cricket games for Android Devices. It is far better than EA's Desktop Version of Cricket Game. It has a variety of game modes:
Quick matches,
20-20,
World cup,
Under 19, and
Many more.
It has features like:
Updated teams,
Shots;
Helicopter,
Sweep,
Uppercut
Cover drive,
On drive,
Flick, and much more.
The battling gameplay mode is very cool and challenging even when in easy mode. It has graphics, gameplay and game modes, which makes it the best game for Android Cricket games on this planet. You will get many choices in:
Batting 2018
Shots,
Bowling deliveries, and
Field Placements.
To be precise, this game gives you a real cricket experience on your mobile screen.
MS Dhoni the Untold Story – Official Cricket Game
It is another one of the Hungama Games offerings from its bouquet of cricket games for Android platform. It has a lot of game modes, some of them work offline too. It has real time multiplayer (PvP-Player Vs Player), a value addition.
When it comes to controls, they are simple. Graphics are eye catching, but gameplay is not that much of attention grabbing. Till date it has crossed 5 million downloads mark on Google Play Store.
RCB Epic Cricket
It is the newest child on block when it comes to Android Cricket Games. It is a Nazara Games product, a gift to RCB fans. It was launched with:
IPL 2018 Season mode
Hot Events
IPL Tournament Championship and
Multiplayer Mode.
You can play it offline too. It has features like cool graphics, full match gameplay. It lets you play any cricket shot you want and lead your team to the victory.
Make the use of reference link on article top, for more of these Cricket Games for Android Devices or Google it.