JBL is a world-renowned brand that is known for providing the best speaker with amazing sound. It is also known for producing speakers of all ranges but it never compromises on the sound quality. Here we have listed down the five JBL speakers which are popular in the market and those who love listening to music in a good sound then they can buy any of these speakers which are available in the price range of Rs 5000.
JBL Wind Portable Bluetooth Speaker
JBL Flip 3 Speaker
It is one of the best speakers by JBL with immersive sound and a stylish look that makes it a good companion. Whether you love traveling or like doing outdoor sports then it may be very helpful for you as is all-weather which means that it is not just waterproof but also splash proof with multiple connectivity options that we will discuss below. Overall, at this price, there is no other speaker in the market that has so many latest features and specs that are only available in this speaker along with a perfect sound and battery life.
It is a wireless type speaker that can easily be paired with any modern devices like android smartphones, iPhones, PCs, Computers, Laptops or any other device that has Bluetooth connectivity available.
You would be surprised by its signature sound and ultra-compact design powered by a massive 3000 mAh Lithium-ion battery that gives you up to 10 hours of music play without facing any problems. One can carry it anywhere outside without worrying about the outside condition as it is IPX7 rated which means that it is not only compact but also produces powerful sound in any weather which is further supported by its durable fabric.
This next-generation Bluetooth speaker could be your best all-weather companion and you can even use it in your office to do conference calls as it also has inbuilt noise cancellation speakerphone that supports crystal clear voice and if you like you can easily connect it with other Bluetooth devices to boost up the sound without any distortion. This is a transducer speaker type with dual external passive bass radiators you get sound of another level with noise reduction of up to 80Db, frequency response range of 85 Hz to 20 Hz, and the output power is 2 x 8W.
Its battery takes up to 3.5 hours to get fully charged up and when we talk about the connectivity part then it is equipped with the 4.1 version. One can also use 3.5 aux cable to listen to crystal clear music with a touch button and echo canceling speakerphone.
It is available for Rs4999 on Amazon and other ecommerce platforms along with a one year warranty.
JBL Tuner Portable Bluetooth Speaker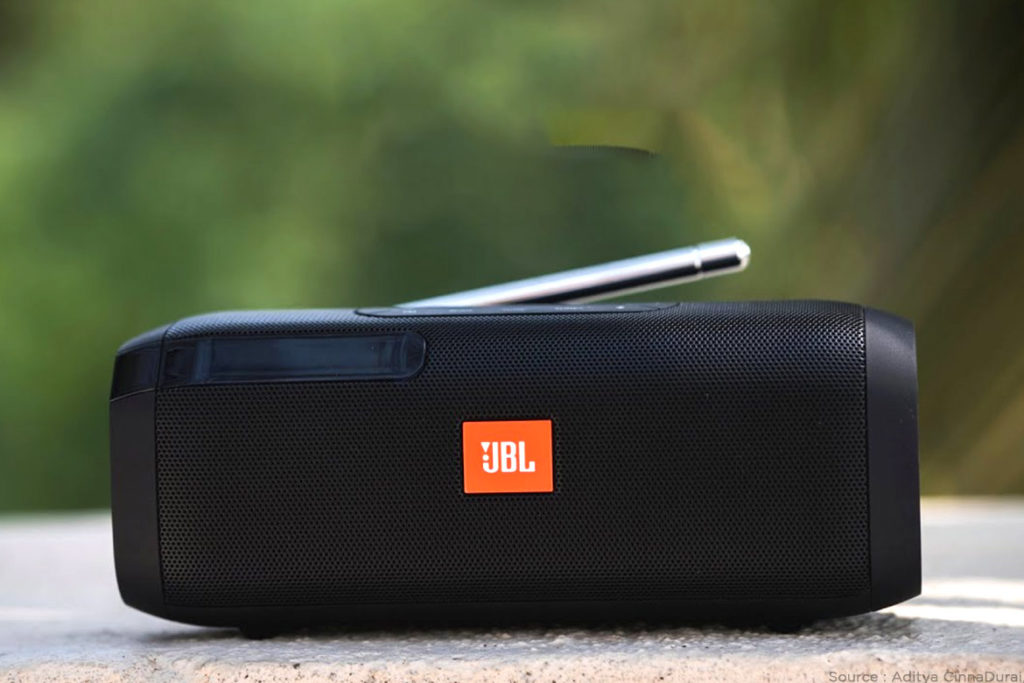 This is another great offering by the JBL brand which is one of the bestselling Bluetooth speakers in an affordable price range of Rs5000.
It is different from other wireless speakers in the market as its compact design yet powerful bass would definitely make you like the sound produced by its speakers. This Bluetooth speaker is for those who enjoy radio FM because it is equipped with traditional FM radio stations that you can tune anytime anywhere.
Its long-lasting 2000 mAh rechargeable battery can continuously provide you the 8 hours of playtime without any problems. Also loaded with LCD display which perfectly displays information about Radio station and track
It has 5 FM preset buttons to help you smoothly select your favorite FM channel with frequency response of 85Hz to 20 KHz, a Bluetooth connectivity of 4.1 V provides smooth pairing with other devices including Android/Apple smartphones, PC, laptop, tablet or any other devices having Bluetooth connection. Its battery takes up to 3.5 hours to get fully charged up.
If you wish to buy this magnificent Bluetooth speaker then it is available on multiple websites at a price of Rs 3999 along with a year warranty, 1 USB cable, 1 x 5V/1A Adaptor, 1 x Quick Start Guide and 1 x Safety sheet.
Another positive is its lightweight as it weighs only 445 grams and measures 16.5 x 6.6 x 6.6 cm that makes it easy to carry anywhere.
Depending on the country you can tune it between 76MHz – 108MHz to tune in to any Radio FM station that is available in this range. To provide the crystal clear sound it automatically reduces the signal noise level by up to 50 dB.
Also Read: What are the Best Speakers for Music at Home?
JBL GO Portable Wireless Bluetooth Speaker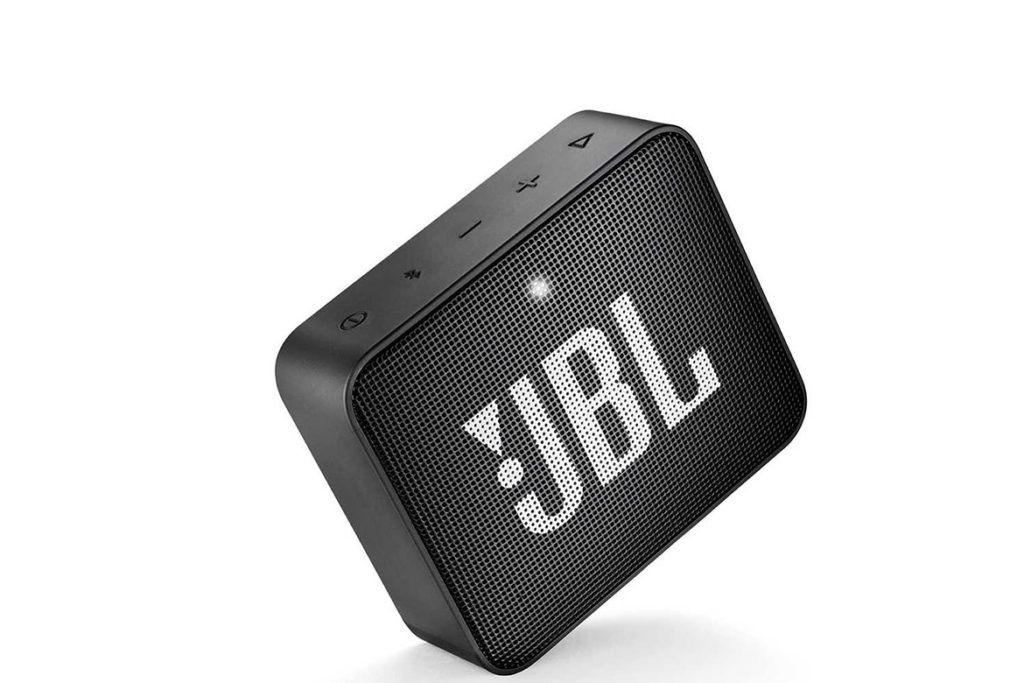 The JBL GO is a compact portable wireless speaker with Bluetooth connectivity. It is easy to pair and you can pair it with any Bluetooth device within a couple of seconds to start listening to your favorite music or making and receiving phone calls.
Its square design with a rugged look gives it a nice and premium look and feel. It is a portable speaker but has a perfect crystal and clear sound because it is all in one speaker that can stream music over Bluetooth with great quality up to 5 hours with a powerful 600 mAh Lithium-ion polymer battery. To further enhance the sound it uses the latest noise cancellation technology that allows you to make clear calls as it also has a microphone.
This wireless speaker has a unique design that is enhanced by a durable double injection finish with a strap that helps you to carry it easily anywhere outside.
Available in 8 colors which makes it an eye-catching Bluetooth speaker with a great sound. Furthermore, it also has inbuilt Google Assistant and Sir for doing voice search over the internet and also makes it possible to connect it with other smart devices to operate them with a voice command without lifting a finger.
It weighs 130 grams and measures 68.3 x 82.7 x 30.8 mm that makes it a lightweight speaker. Its output power is 3 watts and reduces noise levels up to 80dB with 1 x 40mm transducer.
JBL Clip 3 Ultra-Portable Wireless Bluetooth Speaker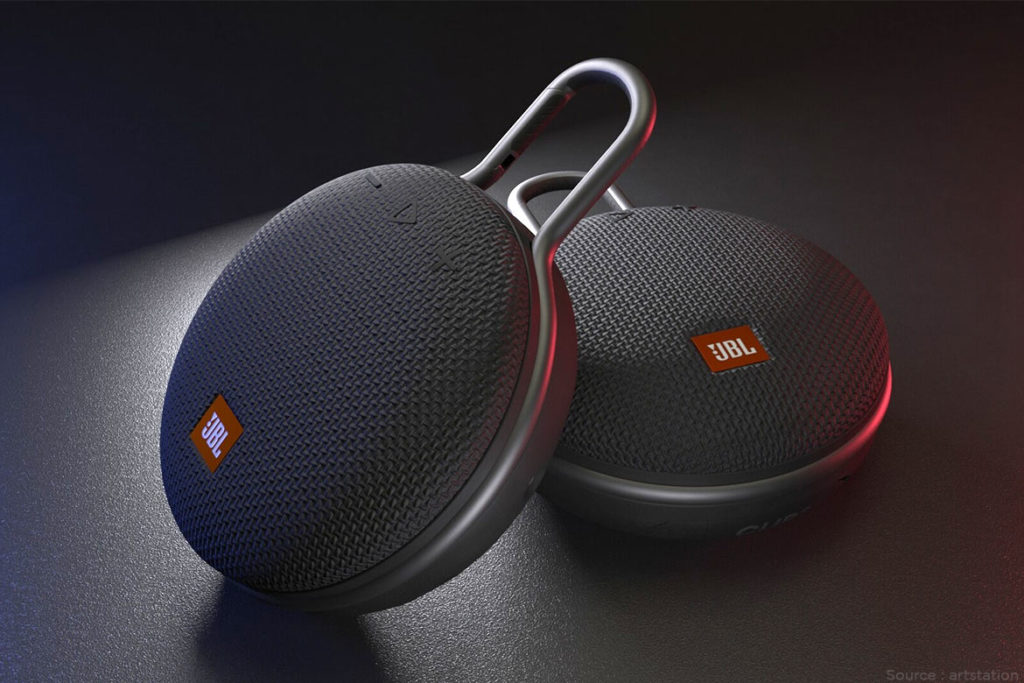 It is a small size speaker which makes it a perfect companion who usually travels a lot but is fed up of listening to music in headphones. It has a portable design but the produced sound is superb and put in a party mood anywhere.
Its circular design with Bluetooth connectivity makes it one of the bestselling wireless speakers in its price range. It has a durable body with a clip that you can use to attach in your belt or even a backpack. The long-lasting 1000 mAh rechargeable Li-ion battery backup lets you play music for up to 10 hours. Its battery takes up to 3 hours to get completely charged up and the magnificent speaker produces 3.3 Watt output sound. This waterproof speaker also has Auto power off feature and comes with a 3.5 mm aux cable to connect devices that do not have Bluetooth in them.
You can carry it anywhere in all-weather conditions, so there is no need to worry because it is IPX7 rated which means it is completely secure from moisture and water. It can be easily connected to any Bluetooth device and only takes a few seconds for pairing for the first time and with its inbuilt microphone, you can even receive or make calls with crystal clear voice with the press of one button.
It also has an inbuilt Google Assistant Siri feature that makes you search for anything on the Internet once connected with your smartphone or any other device.  It weighs 220 grams and measures 1 x 5.5 x 17 cm.
This stunning Bluetooth speaker by JBL is available at the price of Rs 2999 on Amazon with a one year warranty.
Also Read: 5 best speakers under 10,000 available in the market
JBL Wind Portable Bluetooth Speaker
This is a wireless type portable Bluetooth speaker that has a unique design and gives high definition sound. It is available under Rs 5000 with a microphone which means that it is not only a speaker for listening to music but you also connect with any smartphone like Android or Apple iPhone to easily receive and make calls without any distortion due to its noise cancellation technology.
It is made for outdoor and Indoor use as the long-lasting battery lets you listen to music or calls without interruptions for up to 10 hours and if you ever run out of battery then it can be charged again. Another positive of this incredible Bluetooth speaker is that it has inbuilt Radio FM and a micro SD card slot. One can use a micro SD card of up to 32GB for playing MP3 songs.
The sturdy look and splash-proof design with IP45 rating allow it to be used anywhere like a poolside, gym, trekking, cycling, etc. One can also use it for conference calls and enjoy the clear audio with its inbuilt superior quality microphone.
It is designed in such a way so that you can clip it on the bicycle handle or simply clip in the backpack without worrying about little bumps. Easy to carry and operate as it weighs only 185 grams and measures 11.5 x 11.3 x 9.7 cm while the pairing only takes a few seconds for the first time.
It comes with a one year warranty and is available for Rs 3200 on Amazon.