The majority of Bluetooth speakers are used for portable entertainment, such as movies, pool parties, music, and so on. Bluetooth Speakers are portable, inexpensive, and capable of producing high-quality sound. There are many Bluetooth speakers on the market, but when it comes to high-quality sound, our options are limited.
There are many good Bluetooth Speakers available online, which eventually leads to a lot of confusion. When you have a limited budget for Bluetooth Speakers, confusion becomes a challenge. However, today we will discuss some of the Best Bluetooth Speakers under 5000 in India to assist you in making a purchasing decision.
JLB Flip 3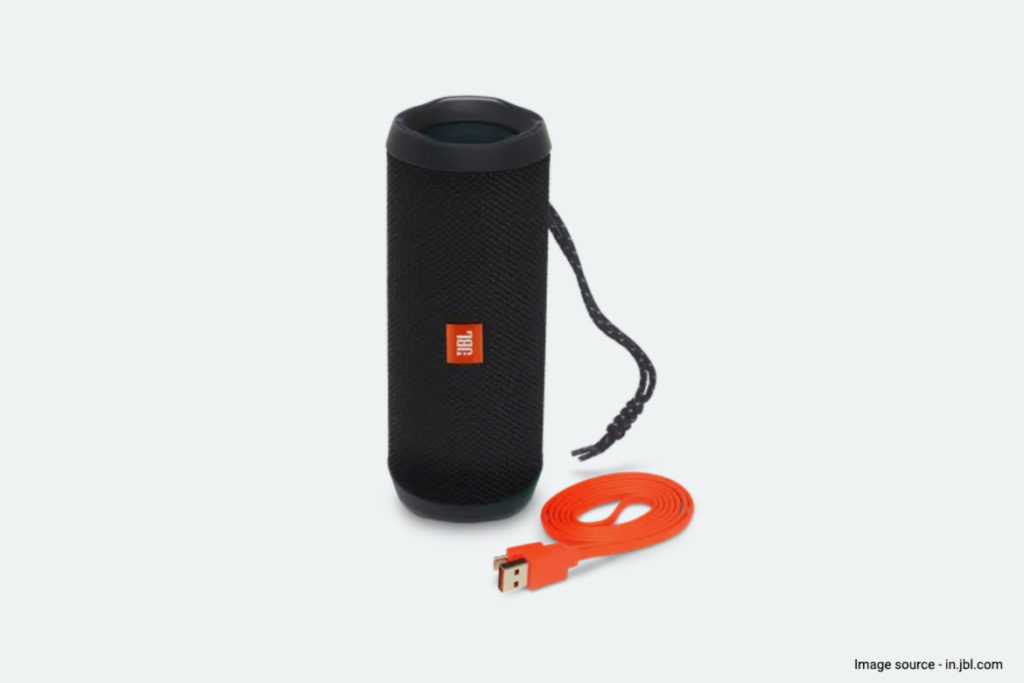 JBL's most popular Bluetooth speaker is the Flip 3. It is portable, durable, and powerful, and it costs less than Rs. 5000 in India. The Flip 3 has a solid build quality and a soft rubberized finish. It is extremely smooth in the hand. The speakers are wrapped in a premium-looking mesh fabric.
The bass radiators at both ends respond to varying levels of bass, and it looks absolutely stunning. The speaker is IPX7 Waterproof and can withstand light rain. It can easily provide a battery backup of 12-15 hours on a full charge. You can charge it with a USB 2.0 to micro USB cable, and it takes 3-4 hours to charge from 0% to 100%. The JBL Flip 3 is without a doubt the best Bluetooth speaker under 5000 rupees in India. Just go for it.
Cambridge SoundWorks Oontz Angle 3
Read more: 9 best Power banks with fast charging support available in India
Cambridge SoundWorks is a consumer audio company based in the United States that was founded in 1988 by Henry Kloss, an audio engineer and businessman. Oontz Angle 3 is a popular Bluetooth Speaker under 5000 in India with a distinctive design. The Oontz Angle 3 is equipped with two precision acoustic drivers that produce excellent stereo sound and enhanced bass.
It has a 2250mAh battery that can provide 12 hours of playback time when fully charged. The Oontz Angle 3 has a unique design that stands out from the crowd of Bluetooth speakers on the market.
Another feature that distinguishes it from other Bluetooth Speakers is the IPX5 rating. Yes, the Oontz has IPX5 certification, which means it is splash-proof, rainproof, dustproof, and sandproof, so you can take it to outdoor showers, beaches, poolside, gym, cycling, and other places. This Bluetooth shower speaker also has a 3.5mm AUX-In jack and an inbuilt microphone for hands-free calling.
DOSS Touch Wireless Bluetooth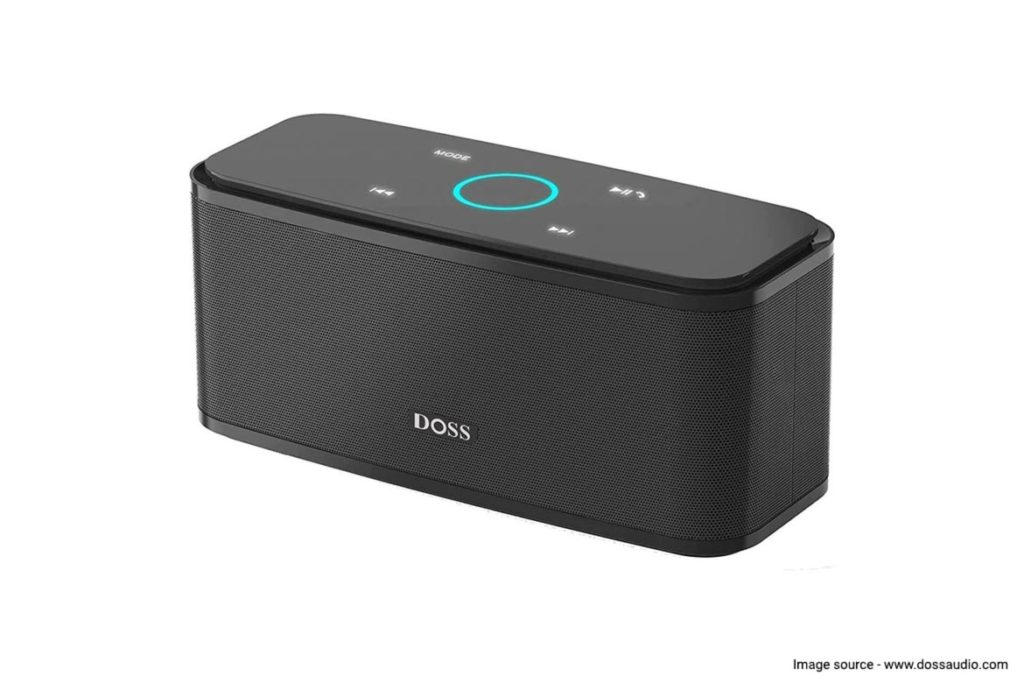 The name of the Bluetooth speaker may have given you an idea. Anyway, allow me to introduce you to the DOSS Bluetooth Speaker. There is no other speaker on the list that has Capacitive Touch controls for Play, Pause, Volume, Next, and Previous like the DOSS Touch Bluetooth Speaker. The capacitive touch control buttons on the large circle in the centre of the speaker have a white LED backlight and a blue backlight for volume control. The LED backlighting makes it easy to find the controls even in the dark, and it also looks nice.
Aside from Touch controls, the DOSS Bluetooth Speaker is a fantastic speaker that offers Stereo Sound with dual high-performance drivers (6W x 2) and a distinctively enhanced bass. Receiving calls via DOSS is also simple. To receive calls, there is a dedicated touch button. Aside from Bluetooth 4.0, you can listen to music via microSD card or AUX. That means Music will continue to play even if your phone's battery dies.
In terms of battery life, the DOSS Bluetooth Speaker has a 2,200 mAh rechargeable lithium-ion battery that provides 12 hours of continuous play time on a full charge.
DOSS Bluetooth Speaker is an elegant-looking and powerful stereo sound Bluetooth speaker. The Bluetooth Speaker's touch controls set it apart from the crowd and make it the best Bluetooth speaker under 5000 in India.
Sony SRS-XB13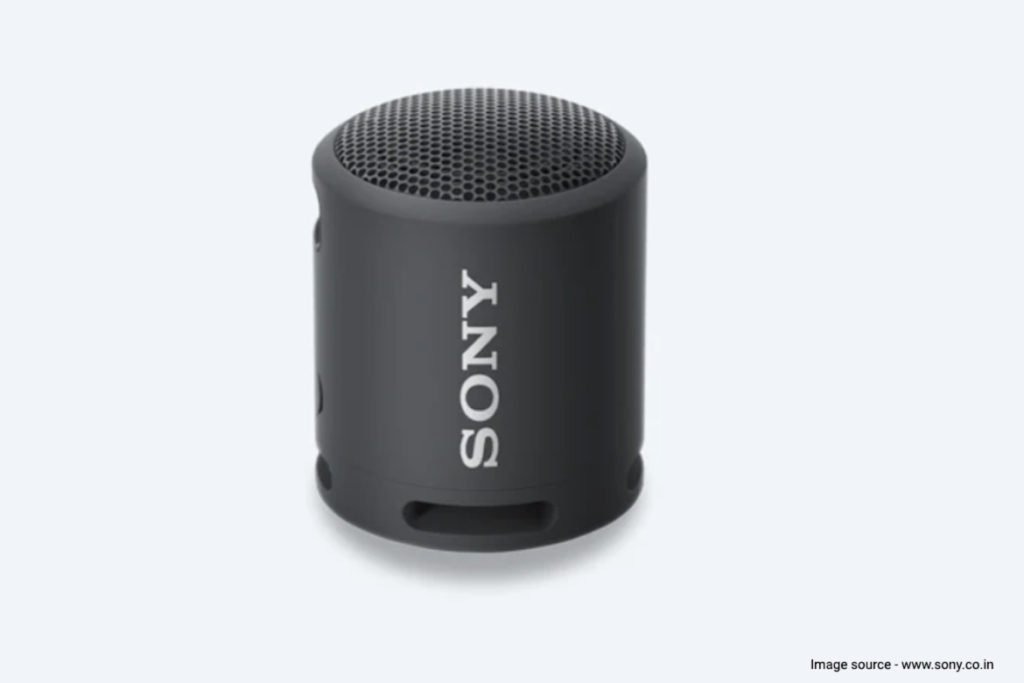 Meet Sony's little monster. Sony dubbed it the SRS-XB13. If you enjoy listening to EDM music, this Bluetooth speaker will be your new favourite on-the-go speaker. Sony claims that the SRS XB-13 is designed for Electronic Dance Music (EDM) fans and includes extra bass. If you have a low-cost laptop with mediocre speakers, this tiny-looking bluetooth speaker will improve your entertainment experience tenfold.
The Bluetooth speaker is IP67 rated and is not affected by water or dust. The Sony SRS XB-13 has an inbuilt microphone for hands-free calling as well as voice assistants. After a full charge, you can listen to your favourite music for up to 16 hours.
The SRS XB13 is designed to be small and portable. This is available in four vibrant colours. The Sony SRS-XB13 is one of the best Bluetooth speakers under 5000 rupees that can be purchased in India.
The Amazon Echo Dot (4th Gen)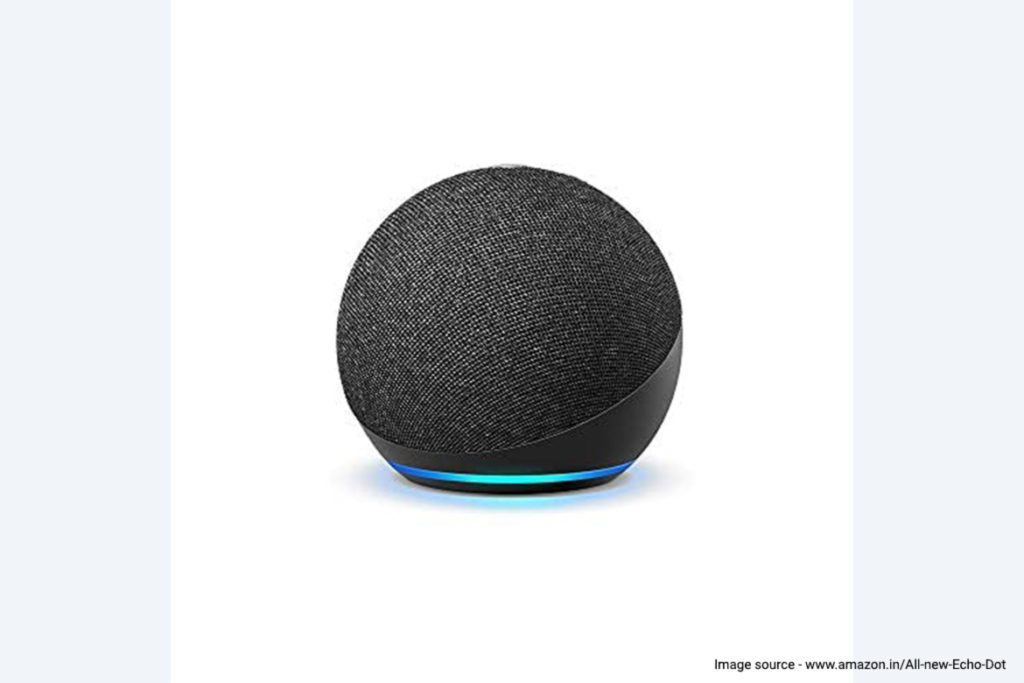 You may be wondering why we included the Echo Dot in our list of the best Bluetooth speakers. The Amazon Echo Dot is a voice-activated smart speaker powered by Alexa. You can ask Alexa to perform a variety of tasks such as playing music, reading news, checking whether lights are on or off (Smart Bulbs are required), and so on.
Aside from that, you can use the Echo Dot 4th Fen as a Bluetooth speaker. Simply ask Alexa to connect Bluetooth, and it will connect your phone automatically. Once connected, the Echo Dot can be used as a Bluetooth speaker. The issue is that you must keep it connected to the internet because Alexa does not work offline yet. If you only need a smart speaker for your home and have wifi access, you should definitely consider purchasing this amazing piece of technology. In addition, this is a fantastic Bluetooth speaker under 5000 rupees in India.