Laptops have become an essential part of life and in this digital age, it is very difficult to imagine a life without a good laptop. If you are a student and looking to buy a laptop but confused by seeing so many options then not to worry as here we will discuss and let you know about some Best high-end laptops which are best for students.
We have carefully checked the specifications and prices of all the laptops and also considered online reviews of the users about them. Hence, you would not require going anywhere else as here you will find the information about the best laptops with the latest specifications and features which are hard to find in other laptops that are available in the price range of below laptops.
Whatever is your budget, when you are looking for a durable and best laptop then there are lots of options available in the market. There are some important features that you should always check before buying any laptop and it should at-least be workable for the next two to three years. Hence, it is very much necessary that the laptop should have a durable body, power battery backup, ample internal storage space, good RAM size to provide smooth and lag-free operations while working in heavy software programs of students.
Acer Swift 3
This is one of the best options for the students as it has all the features and desired specs which will provide a smooth and excellent working experience to the students.
This laptop comes first because it is powerful and easily handles all types of regular and heavy tasks that are performed.
Acer Swift 3 Specs and Features
It is loaded with Intel Core i7- 8565U CPU, Nvidia GeForce MX150, Intel HD Graphics 620 or AMD Radeon Vega 8 graphic card, a powerful 4GB to 8GB RAM, a 14-inch full HD ComfyView IPS LCD screen with a resolution of 1920 x 1080. The Acer color intelligence and Exa color further enhances the color contrast.
You get huge internal space to store data as it comes with 128GB to 1TB HDD options and 16GB Intel Optane Memory. When we talk about the keyboard then the quality is excellent and the trackpad performance is also good.
Also, read: 7 Things You Should Know Before Buying a Laptop!
The strong built quality makes it easy to carry in a backpack without any worries. The slim and lightweight nature lets you carry it anywhere without any hassle and this is also a reason why it makes it one of the best laptops for students. It weighs only 1.19 Kg and 15.95mm thin which is made possible by the Aluminum and Magnesium metal chassis.
It comes with a pre-installed Windows 10 operating system and 11th generation Intel Core processors.
Another positive of Acer Swift 3 is that you do not need to enter the password each time you want to unlock it because it comes with the Cortana feature which can also be used as a smart assistant to answer all your queries.
Furthermore, it also has a fingerprint sensor that provides extra security and only lets the authorized user access it, and instantly unlocks the laptop.
Regarding the connectivity options, it has all the latest connectivity's like USB type -C port, special Thunderbolt 4 feature that allows it to instantly connect with many devices. It also has a USB 3.2 2nd generation port along with display ports.
The dual-band Wi-Fi 6 (GIG+) (802.11ax) supports a download speed of 7001 MBPS with 75% lower latency and advanced security features. The Thunderbolt 4 is a single connector that allows you to transfer data up to 40 GBPS and charges the battery quickly and not just this you can also connect 4K/8K external displays with this.
It is a perfect laptop for students and you can buy it for Rs 65,900 on Amazon.com
Acer Chromebook 314
It is another laptop that is perfect for students who work on heavy software and requires carrying it almost daily. It perfectly swifts into the backpack as the strong and durable body keeps it safe.
It's an especially designed laptop for bright light conditions and the large 14-inch display which is 7.3, thin gives it a premium look that is hard to match with other laptops that are available in its price range. It will not be wrong to call it an ideal student that is loaded with a powerful battery backup and super-efficient CPU with ultimate strong Wi-Fi connectivity.
It uses less power and works well for long hours without any hassle and the latest Intel processor gives it an extra boost. Additionally, its high graphic card gives an ultra-smooth performance in the classroom.
One can easily carry it anywhere as its size is smaller than an A4 size paper and the lightweight nature further makes it the best choice for the students. It weighs only 1Kg and easily fits into a small backpack.
The powerful battery lets it work efficiently for up to 10 hours too with a single charge which means you can use it all day long without any worries of finding the charging point.
The Intel Gigabit Wi-Fi provides consistent signal strength and a Wi-Fi 5 (802.11ac) wireless antenna with 2×2 MU-MIMO (Multi-User Multiple-Input and Multiple-Output) lets you connect more devices with ease.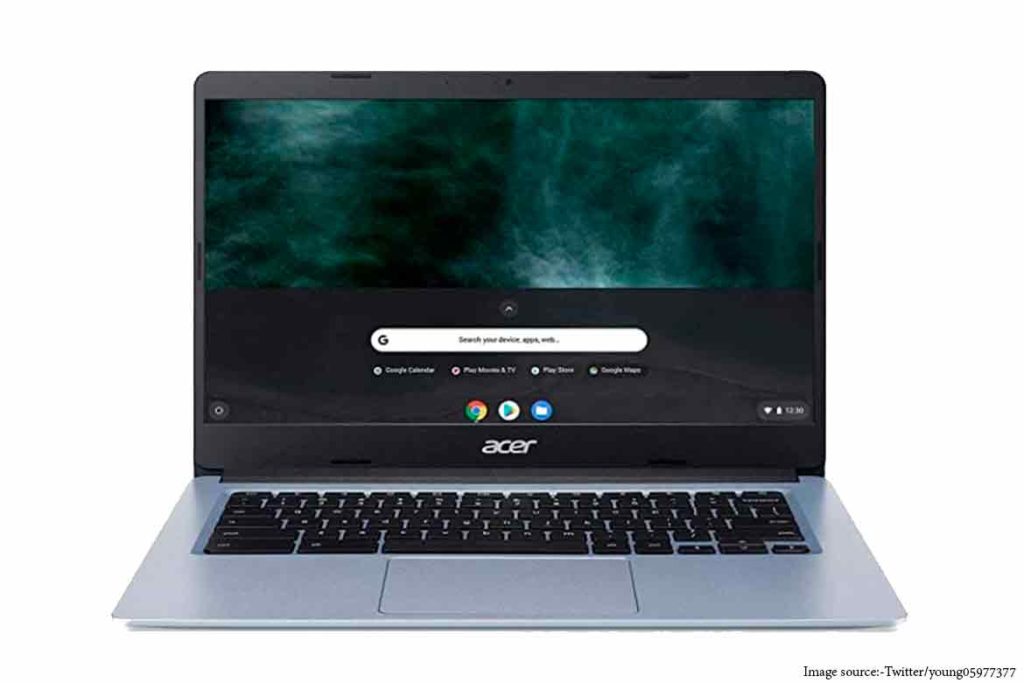 When we talk about more connectivity options then it has a USB type- C connectivity port that helps in fast data transfer and video streaming along with fast battery charging. It also has a USB 3.1 type –C connector that is reversible in nature. Additionally it has two USB 3.1 type –C ports along with two more USB 3.0 type-A ports and a micro SD card slot as additional storage options.
It is a fast-performing laptop because it takes about 8 seconds for it to boot and the simple interface further makes it easy to learn new concepts. It also comes with malware protection that protects your data from virus attacks and the efficient use of power makes it possible to use it for long hours without searching for a laptop charger.
It comes with a 4GB RAM, 14-inch display screen with a resolution of 1366 x 768 pixels, an internal storage of 32GB, Chrome operating system.
You can buy it for about Rs 39,000 on Amazon.
Also, read: How Online Gaming Market Got A Rise in 2020?