In the wake of World Health Day, In Aime, Google has designed and distributed doodles to health workers and researchers around the world fighting the Corona epidemic without a weary. In this doodle, the animated G letter is seen showing love to the last letter e, which is engaged in research work. The company said that the doodle series is being started from the same day, which will be dedicated especially to health workers fighting Corona.
Sundar Pichai wrote a tweet that from today "we are going to start the Google Doodle Series, which will be dedicated especially to fighters fighting to save lives of people by a fighting coronavirus. This includes public health workers and researchers from the Scientific Community, and we would like to thank them on our behalf."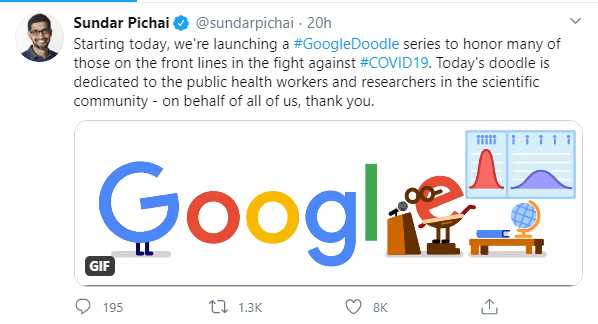 Google said in its statement that, "coronaviruses have hit more than 200 countries worldwide. In such a situation, everyone is working together to help each other. On this occasion, we are going to launch the doodle series, in which people engaged in rescue work will be honored. Today we would like to thank all the doctors, nurses and medical workers."
This coronavirus has killed more than 1,67,000 people all around the world, every day this number is increasing. People are being self-isolated so that they won't get affected by this COVID-19. But what about our doctors and other staff who are working selflessly all around the world to protect everyone. They are not allowed to go their homes for days, giving treatment to the patients affected by this deadly disease COVID-19. They are not demanding anything from us, just doing their work so that they can save our world from this pandemic. sometimes they are getting infected while giving the treatment. This is not easy for them. So to make them happy we can take a small step to give them tribute so that they will feel happy and motivated.
Also Read:https://www.techmobi.in/whatsapp-banned-forwarded-covid-19/