The continuous improvement in the technology world supported by high levels of research and development has ensured that not only the size of the gadgets becomes small but also the usability. 5 best smartwatches under Rs 3000
The latest list of gadgets includes a smartwatch which has slowly become an essential part of our lives and it will not be wrong to call smartwatches the second most liked gadget after mobile that is being used all around the world.
If you also want to buy a smartwatch with the latest features and specs but confused after seeing so many options then not worry as here will discuss the best smartwatches which you can buy for under Rs3000. These smartwatches are available at affordable prices but this does not mean these are of inferior quality or lack the main features.
We would also like to tell you that wearing a smartwatch not only gives you a feeling of smartness but also makes you feel stylish and up to date with the modern world. These smartwatches also act as a bridge between your smartphone and you because you can get access to all the notifications that are received on your smartphone.
Smartwatches are not just showpieces like old analog watches but have gone up because you can stay fit by using various features that are available in the latest smartwatches that help to keep a track of your health activities.
There are thousands of smartwatches that are available in offline and online markets but you should be careful about making your decision to buy them and we would recommend you to thoroughly check the background and features that they claim to have. The easiest way to make your decision about buying a smartwatch under Rs3000 is by reading our article because we have taken care of some important factors which make a smartwatch a true buy for you.
Also, read: Making A Good Gaming PC Under 25000
What features should be considered in a smartwatch before making a decision to buy them?
There are some basic features that any smartwatch should have along with showing you the time and date. These basic features of any smartwatch can be a good touchscreen, high brightness levels, water-resistant, dust resistance, health activity trackers like BP monitor, step counter, sleep tracker, and others.
1.       Lenovo Carme Smartwatch
2.       AQFIT Full Touch Multifunction Smart Watch W10
3.       Gionee Smart Life Smartwatch
4.       Realme Fashion Watch
5.   Gizmore Smartwatch
Lenovo Carme Smartwatch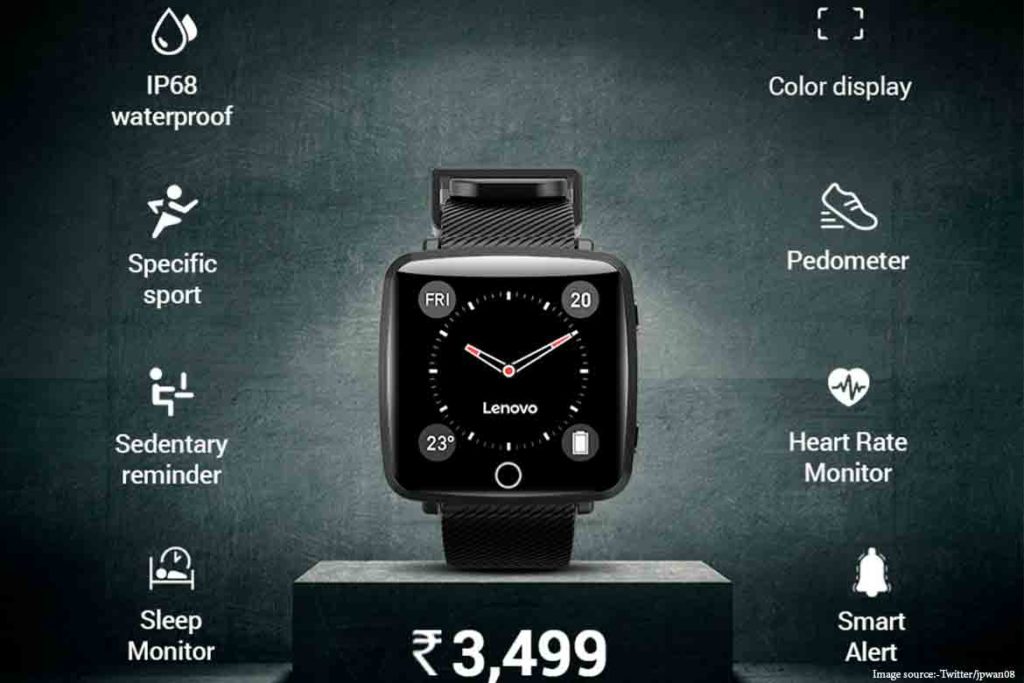 This is a smartwatch by a trusted brand that perfectly knows how to make a good product. For a long time, it has been making exceptional quality products and this time with Lenovo Carme watch that is available under Rs3000 comes first in the list of best smartwatches that are available at an affordable price.
Lenovo Carme Specs and Features
Its excellent features list and specs include a 1.3-inch curved IPS LCD display along with metal casing and one thing that should be noted here is that the screen does not have full touch which means that you need to use the capacitive touch buttons for navigating on its user interface. The Bluetooth 4.2 connectivity ensures that you can connect it with any smartphone with ease and the data is shared smoothly between the two devices.
The other features include an alarm clock reminder that makes the smartwatch vibrate to help you wake up on time, a stopwatch feature and a search for a phone feature that efficiently works to locate your connected smartphone.
Also, read: 7 Things You Should Know Before Buying a Laptop!
It is loaded with a number of tracking features that accurately show you the health data and lets you keep a track of your health. These activity trackers include a pedometer, sleep tracker, health rate monitor, IP58 rating which makes it water and dust resistant so that you can go out and do all sorts of health activities without worrying about anything.
The battery backup is also cool as its long-lasting battery lasts up to 7 days and takes only 1.5 hours to get fully charged up with the help of a cradle charger.
Thanks to its lightweight nature which makes you forget that you are even wearing anything on your wrist. It weighs only 44 grams and measures. The comfortable rubber straps can be replaced once you get bored with the same look.
When we talk about the notification part then you get to see all types of notifications on your smartwatch like calls, text messages, sedentary status, and other notifications along with a special weather forecast feature that gives real-time updates about the weather so that you can plan your outdoor activity accordingly.
You can buy this amazing smartwatch for just Rs 2,599 on Flipkart along with 7 days replacement policy and a 1-year manufacturing warranty.
AQFIT Full Touch Multifunction Smart Watch W10
This is another great smartwatch that you can buy for under Rs3000. It is equipped with loads of features that are hard to find in other smartwatches that are available in its price range.
Its excellent feature list includes a large 1.3-inch full capacitive IPS LCD color screen secured with anti-scratch toughened glass that has a 2.5D curved surface, unibody design gives a unique look to it, the IP68 rating makes it water and dust resistant, Nordic chipset NFR52832 makes it 40% more efficient and it also makes it consume 50% less power, a BOSCH BMA421 sensor.
Also, read: President Trump Blocked By Facebook And Twitter For 24 Hours
This smartwatch has almost all types of sensors and you can track your health activities with accuracy. It efficiently tracks your blood pressure, blood oxygen levels, heart rate for 24 hours, sleeping pattern, calorie burnt, steps, and distance covered.
There are multiple sports modes available in this smartwatch which helps in tracking your steps distance covered, real-time heart rate monitor, running, walking, cycling, swimming, badminton, skipping, basketball and football.
One can also customize the watch faces according to your style and mood by using the smartphone.
With this smartwatch, one can also get many notifications and sedentary reminders like weather, music control, remote shutter, stopwatch, and other notifications like calls, text messages, and social media notifications.
Another positive is the lightweight nature of this smartwatch because it is made of Zinc, magnesium, and silicon material.
Its battery backup is also good as it has a 180 mAh battery which is long-lasting and runs easily for up to 10 days with a single charge of 2 hours.
You can buy it for Rs 2,799 on Amazon along with a one year warranty.
Gionee Smart Life Smartwatch
Gionee is a known brand that has been successfully making excellent smartphones and now it has also entered the smartwatch segment. So, you can completely rely on its smartwatches that are affordable and loaded with all the latest features and specs that are hard to find in other smartwatches.
This is one of the best stylish and affordable smartwatches that are available for under Rs5000 and you can completely rely on it. Its excellent features include a 2.5D corning Glass 3 protection for a display,  stainless steel body that makes it durable, and a comfortable band that further enhances the looks. Its color display is extremely good and makes it easy to read and check notifications even in sunlight without stressing the eyes.
The heart rate tracker accurately monitors the heart rate for 24 hours without and the calorie meter tells you about how many calories have been burnt and the sleep monitor keeps a track of your sleeping pattern. The step counter is accurate and gives perfect results and not just this, the other sports trackers ensure that you never miss any health-related activity tracking and follow your fitness routine.
There are loads of other features that you get in this gadget along with sedentary alerts that keep you updated and never lets you sit idle for a long time so that you keep moving and maintain good blood circulation.
The other features of this amazing Gionee smartwatch include a stopwatch, alarm clock, power saving mode, music controls, flashlight, auto-brightness, and much more. You can also check social media notifications on this watch like Facebook, WhatsApp, text messages along call notifications.
If you connect it with the smartphone then it can auto locate the GS signals and lets you even find the misplaced smartphone that you are unable to find. Furthermore, it is also 5 ATM water-resistant which means that you can use it for outdoor activities like going to the gym, cycling, badminton, and other sports without worrying about anything. You also need not worry about charging it again and again because it has a long-lasting battery of 210 mAh which easily works for up to 15 days when fully charged up. It takes up to 3 hours for a complete charge.
You can buy it for Rs2,499 along with a one year manufacturing warranty on Flipkart.
Realme Fashion Watch
Realme is another smartphone brand that has also been successful in making nice smartwatches with a premium look and updated specs. When we talk about this smartwatch then it looks extremely nice because the design is cool and gives it a premium feel.
When we talk about its features and specs then it has a large 1.4-inch color touchscreen display along with a metallic finish and it has all the features and specs that you get in the expensive smartwatch. In this case, you can get it for under RS 3000.
Its unmatched feature list includes a powerful battery backup of 9 days, 14 types of physical activity trackers, and an IP68 rating that makes it water-resistant.
Another positive of this realme smartwatch is that its screen has a dedicated home button which also serves a multifunction because when you swipe it in left, right, up, or down then it lets you explore many options. There are lots of different watches faces that you can choose and apply according to your mood and you can also sync your health activity data by using the realme link application.
It has all the features and trackers like heart rate monitor, notification alerts, water reminder, idle sitting reminder, sleep tracker, calorie counter and gives other sedentary alerts.
The other unique features of this amazing realme smartwatch include camera control, SpO2 measurement, and 14 types of health trackers. Once connected with the smartphone it uses the mobile GPS and lets you find the mobile in case you are unable to find it.
Loaded with 160 mAh powerful battery lets you use it for up to 10 days when used moderately and you can charge with a magnetic dock that comes along with it.
Gizmore Smartwatch
It is another affordable smartwatch that you can buy and stay fit! It is an Android-based smartwatch with a unique. The price is on the lower side but this does not mean that it lacks the important features. It has all the features that you get in any smartwatch.
It has a large 1.2-inch IPS color display with a resolution of 240 PPI which means you get to see the clear and crisp notification on this screen from a wide-angle. Its Silicone strap makes it comfortable to wear and its lightweight nature makes you feel that you are not wearing anything on your wrist.
Its other extended feature list includes a sleep tracker, calorie tracker, heart rate monitor, oxygen level monitor, and various other fitness trackers. There is also a special feature in this smartwatch that it has an HR sensor that can be used to click photographs by just shaking the hand and you can even make and receive calls once connected with the smartphone.
You can clearly see the social media notifications like Instagram, WhatsApp, text messaging, and other notifications. The special anti-lost feature lets you track your misplaced smartphone with ease. There is no need to worry about the battery backup as it is equipped with a 180 mAh battery that lasts up to 10 days when you use it moderately. Additionally, you can use three different interfaces which give you a fresh feeling.
It weighs 85 grams only and you can buy it for Rs 2,499 along with one year manufacturing warranty.
Also, read: TOP FIVE BEST CHARGERS