Cisco Systems Inc. is the American tech company and the world's top brand in the field of networking equipment designing but it is not very much known to the common household. Cisco designs and markets networking hardware, software, telecommunications equipment, and other high-technology services and products are based in San Jose, California, Silicon Valley of the United States of America.
The products manufactured by cisco are mostly used by other tech manufacturers hence it is not known to most of the common households. In terms of business, cisco is one of the biggest business corporate houses in the USA and worldwide.  Cisco mainly specializes in specific emerging tech markets, such as the Internet of Things (IoT), domain security, and energy management and it has many subsidiaries like such as Open DNS, Webex, Jabber, and Jasper.
FOUNDING OF THE COMPANY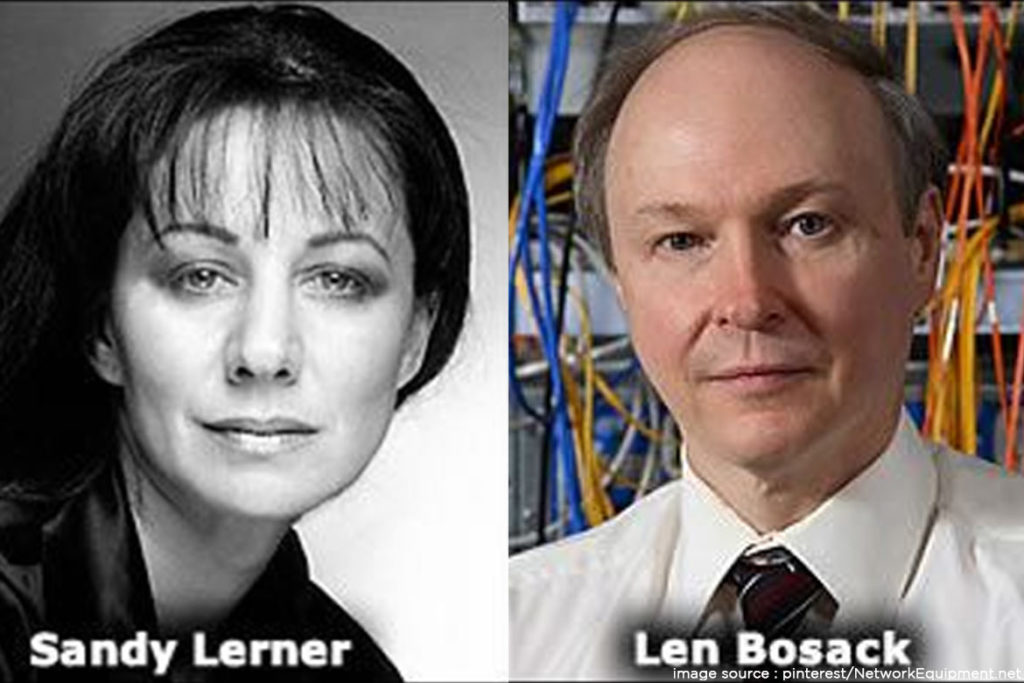 Cisco was founded by two Stanford University computer scientists  Leonard Bosack and Sandy Lerner in December 1984. Leonard and Sandy met at Stanford and they later got married to each other. The duo had played a major role in connecting the computer system at Stanford during their studies there.
Bosack used computer networking technology to link all of the school's computer systems to talk to one another, creating a box that functioned as a multiprotocol router called the "Blue Box". The success of this blue box project inspired the duo to set up a company which they named Cisco Systems, the name of the company was inspired by the city of San Francisco.
THE EARLY BUSINESS AND SUCCESS
Cisco started its business by selling its first product which was a network interface card to  Digital Equipment Corporation's computers in 1985. In the same tables turned for cisco as its router that served multiple network protocols became a big success and gained a wide market for the company. With its routers cisco one of the first companies that designed and marketed commercially successful routers supporting multiple network protocols.
The 1990s was the period for a great expansion for cisco. In 1993 cisco introduced an advanced 7000 model router which was a next-level device when compared to other available in the market at that time. During this time cisco also went for a market grab and acquired many small and big companies like companies in ethernet switching such as Kalpana, Grand Junction, and the biggest one Mario Mazzola's Crescendo Communications, which were amalgamated to form Catalyst business unit  Crescendo Communications. These mergers and acquisitions expanded the market base of cisco. Cisco in 1998 bought Selsius Systems, an Internet telephony expert company that paved the way for cisco to take a dominant position in VoIP technology.
Also Read: ALL YOU NEED TO KNOW ABOUT ANAND MAHINDRA
FLIGHT OF CISCO IN 21 ST CENTURY
By the year 2000 routers designed by cisco had an almost complete grasp of the world market. Cisco introduced products ranging from modem access shelves like AS5200 to core GSR routers, making them a major player in the market computer networking. By 2006 cisco entered into the market of video conferencing by launching  TelePresence that allowed people in different locations to interact face to face. The launch of the new  ASR9000 router consolidated the company's carrier ethernet and subscriber management business around EZChip based hardware and IOS-XR.
Cisco expanded its bases all around the major business centers of the world. In India, cisco established its Globalization Centre East in Bangalore which is valued at more than $ 1 billion, and also acquired mobile specialist Starent Networks for business expansion.
After 2010 cisco has invested heavily in the emerging field of the Internet of Things with its accelerators and startups such as The Alchemist Accelerator, Ayla Networks, and EVRYTHNG. In 2015 cisco invested a big chunk in fog computing and cisco launched a cloud-based secure internet gateway, called Cisco Umbrella, to provide safe internet access to users who do not use their corporate networks or VPNs to connect to remote data centers.
It is the pioneer of the concept of a local area network (LAN) being used to connect geographically disparate computers over a multiprotocol router system. Cisco acquired is an Artificial Intelligence-driven business intelligence startup Accompany in 2018 for $ 270 million. It acquired many companies in 2019 and 2020 like CloudCherry, Voice, VeloCloud.
PRESENT MARKET POSITION OF CISCO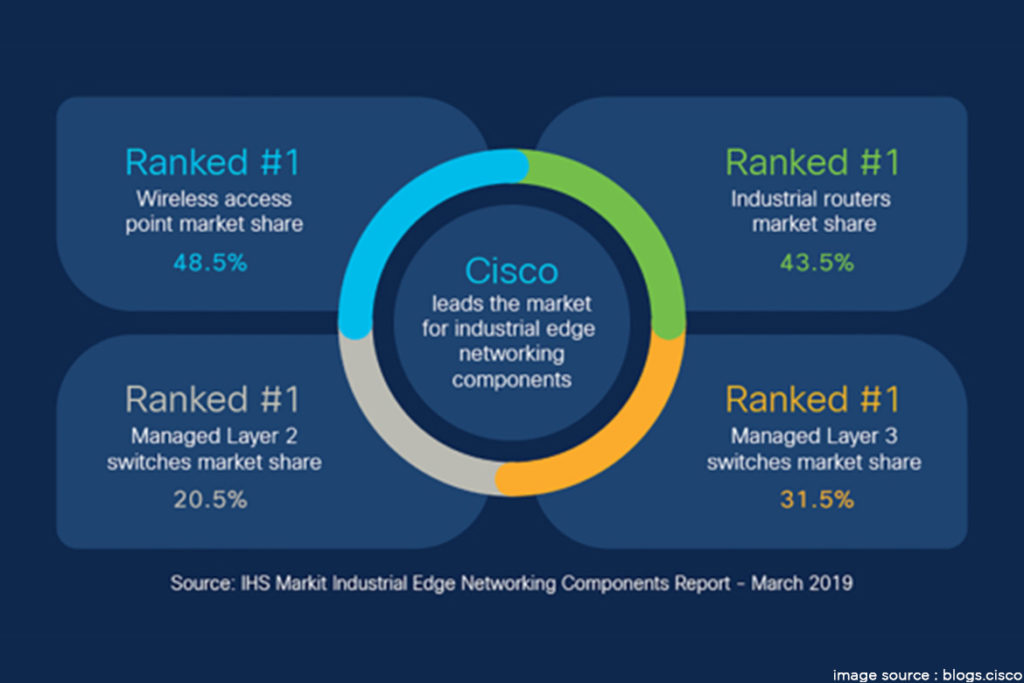 In the fiscal year of  2018, the company reported earnings of US $ 0.1 billion, with annual revenue of US $ 49.3 billion.  Due to the huge surge in the business as of November 2020, cisco has a market of around $ 173 billion. Cisco Systems grabbed 444th position on the Forbes Global 2000 list in the year 2018 with a $ 221.3 billion market cap. In 2020, based on an employee survey of satisfaction, Fortune magazine ranked cisco at 4 th rank on its annual list of the 100 Best Companies to Work For in 2020.
Also Read: HUAWEI – FROM MOBILE SWITCHES TO A GLOBAL ICT GIANT
PRODUCTS AND SERVICES OFFERED BY CISCO
Cisco main business market is among other businesses and manufacturers of computer networking related products. The main fields of business for cisco are networking which includes ethernet, optical, wireless and mobility, security, collaboration like voice, video, and data, data centers, and the Internet of Things.  Cisco holds a dominant place in the markets of Asia, Australia, and the USA.
Its main products and services are.
1 . VoIP Services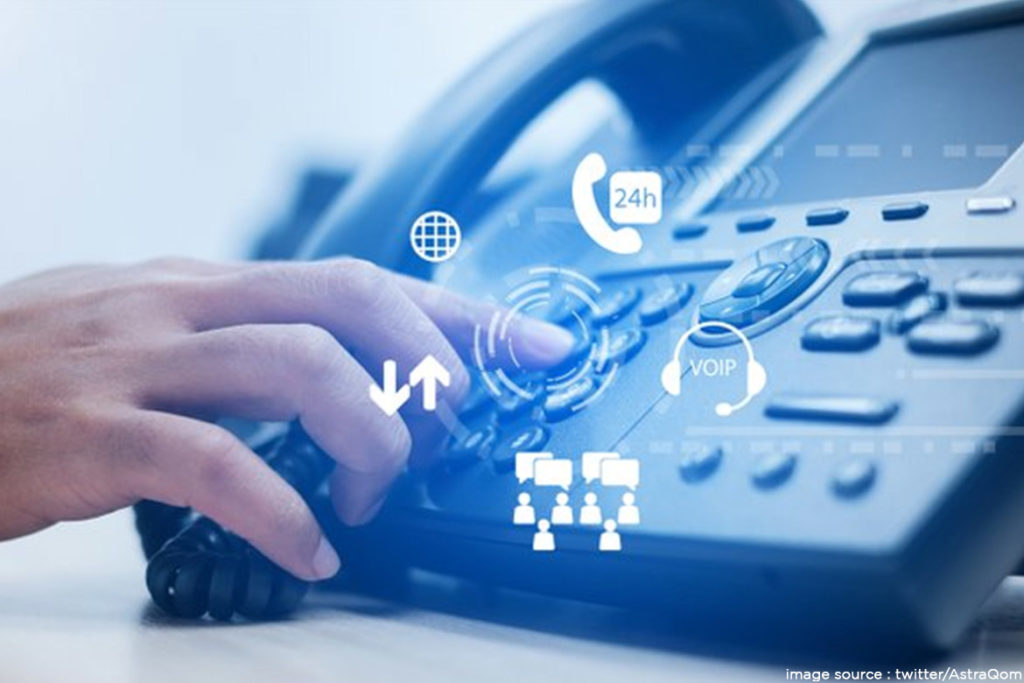 Cisco is a major player in the market of voice over IP services. Cisco designs VoIP equipment through its many subsidiaries like Atlanta and Linksys. The company has collaborated with companies such as Skype, Microsoft, and Yahoo to integrate consumer VoIP services with wireless and cordless phones.
2 . Network Emergency Response Vehicles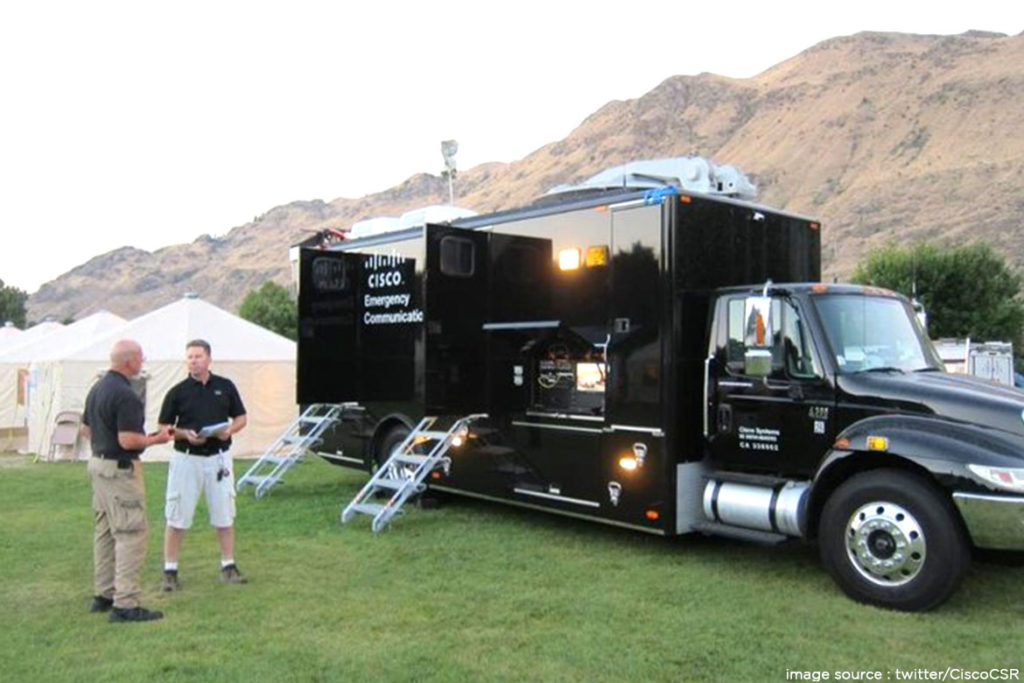 Network Emergency Response Vehicle or NERVs are vehicles maintained and deployed by Cisco employees during natural disasters and other public crises situations. These are equipped with high-tech facilities like wired and wireless services including voice and radio interoperability, VoIP, video surveillance, and secured HD video-conferencing for leaders, administrators, and first responders in crisis areas with up to 3 Mbit/s of bandwidth (up and down) via a 1.8-meter satellite antenna. American Red Cross society has awarded the Innovation Preparedness award to NERVs of cisco in 2011 for their contribution in disaster and crisis situations.
3 . Hosted Collaboration Solutions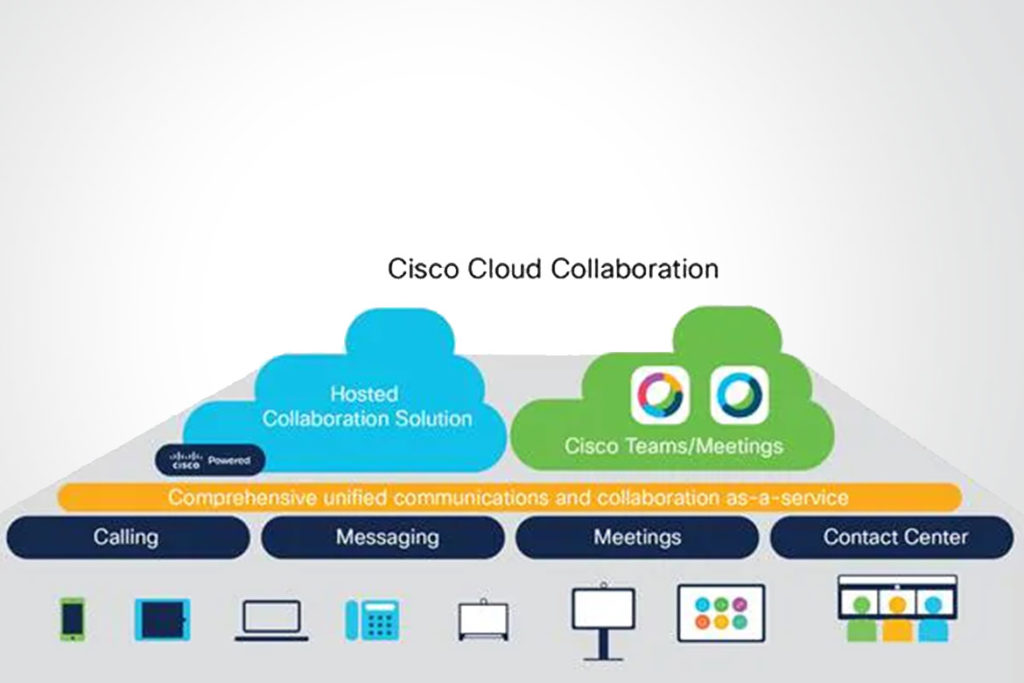 Cisco through its Unified Computing System (UCS)  offers cloud-based services hosted collaboration solutions like cisco unified communications manager (UCM), cisco unified contact center, cisco unified mobility, cisco unified presence, cisco unity connection unified messaging and cisco Webex meeting center.
Also Read: LARRY PAGE AND SERGEY BRIN – FOUNDERS OF THE GOOGLE
4 . Certification
Cisco also offers IT professional certification for various products. Cisco has a full fledged branch for certification with a number of specialist technicians, sales, and data centres around the world. Cisco Networking Academy is the portal developed by the company for providing training in certification. There are various levels of certification such as Entry (CCENT), Associate (CCNA/CCDA), Professional (CCNP/CCDP), Expert (CCIE/CCDE) and recently Architect (CCAr: CCDE previous).