Want to buy good Bluetooth earphones with a clear sound and powerful bass. There are few qualities that a powerful Bluetooth earphone must have like a powerful battery backup with long music hours, stylish design, easy control buttons, automatic pairing, easy setup, lightweight, and much more which makes them the best wireless earphones in their price range.
If you are specifically looking for a Bluetooth earphone under Rs 5000 then here we will tell you about some best earphones which are not just available at an affordable price but also look stylish with high definition sound.
Wings PowerPods
CROSSBEATS Pebble 2020
Bass Evolution V6 True Wireless Earbuds
Sony WI-XB400 Wireless Extra Bass in-Ear Headphones
JBL C105TWS True Wireless in-Ear Headphones
CROSSBEATS Urban
OPPO ENCO W31
Noise Shots X5
PLAYGO T44 Ultralight Wireless Earbuds
Wings PowerPods
This is a stylish wireless earphone with Bluetooth connectivity and unique design which makes it look like a premium earphone. This has a digital display that clearly displays the battery levels and lets you know the exact power level. So that you can charge accordingly if you are going to use it outdoors.
The touch sensor controls are placed well to easily adjust volume levels and also allows them to make and receive phone calls available on the left and right earbuds.
Another positive of this earphone is that it can be used as a power bank because it is equipped with a 2500 mAh battery case that can do the reverse charging that can easily chargeback your mobile and other devices in case you have a low mobile battery. Its powerful battery easily plays music for up to 50 hours.
Both earbuds have an LED light around them which gives it a different look and attracts attention from others. It also has a Google Assistant and Siri voice assistants that enable you to search anything over the internet and allows you to connect with other smart devices like a smart TV, smartphone, smart light, etc.
With stereo calling technology you hear sound in both earbuds with inbuilt HD microphone. It weighs only 220 grams and measures 9.99 x 14.99 x 4.99 cm. This magnificent earphone with IPX5 rating makes waterproof and powerful graphene drivers produce superb bass. The best part is that it automatically gets paired with any device.
Available for Rs4499 on Amazon you also get a one year warranty, a user manual, charging cable and a charging case.
CROSSBEATS Pebble 2020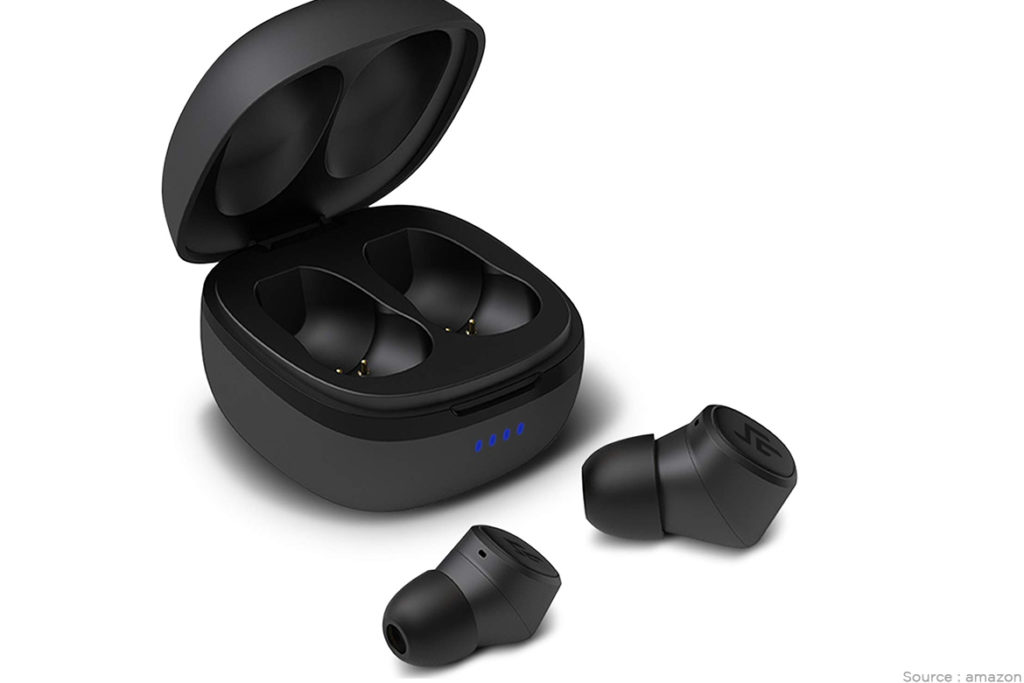 This Bluetooth earphone with an elegant design and superb sound with a powerful bass is one of the bestselling wireless earphones available under Rs5000. This stylish earphone has improved bass effects supported by high-quality graphene drivers which produce double bass effects and give the finest sound clarity.
It can easily play music for 20 hours which is really a nice battery backup that is hardly available in other wireless headphones in this price range. Another positive is that it is IPX6 rated that makes it waterproof and you can wear them anywhere like a swimming pool or a gym without worrying about sweating or getting drenched.
This incredible earphone also supports two different call features that is stereo and mono mode. So, you can easily share music with others over the call in the background. With type –C connectivity you can charge it quickly as the charging case has an LED indicator that lets you know the battery level.
Another excellent feature of this earphone is that you can play, pause, or even music tracks effortlessly with a touch of a multifunctional button. It also has an inbuilt Google Assistant and Siri to give a voice command and search for anything on the internet.
It is a perfect Bluetooth earphone for those who like immersive sound with a stylish look. The balanced and precise graphene drivers are capable of providing real life-like sound along with noise cancelling support and the bass effect feels more deep.
It takes less than 60 minutes to get completely charged up because of the USB type –C charging cable. Loaded with dual microphone and it provides a clear and crisp sound without any noise or distortion. Its lightweight nature and ergonomic design fits perfectly in ears and lets you listen to music for long hours without any strain.
It weighs only 4.8 grams and measures 13 x 10.4 x 4.2 cm with auto-pairing technology one can connect it with new devices within a few seconds. The Bluetooth 5.9 connectivity also lets you listen to music for up to 30 meters.
It is available on e-commerce platforms but on Amazon, you can get it for Rs4499 along with a one-year warranty.
Also Read: Nokia E3200, E3500 True Wireless & E1200 headphones launched
Bass Evolution V6 True Wireless Earbuds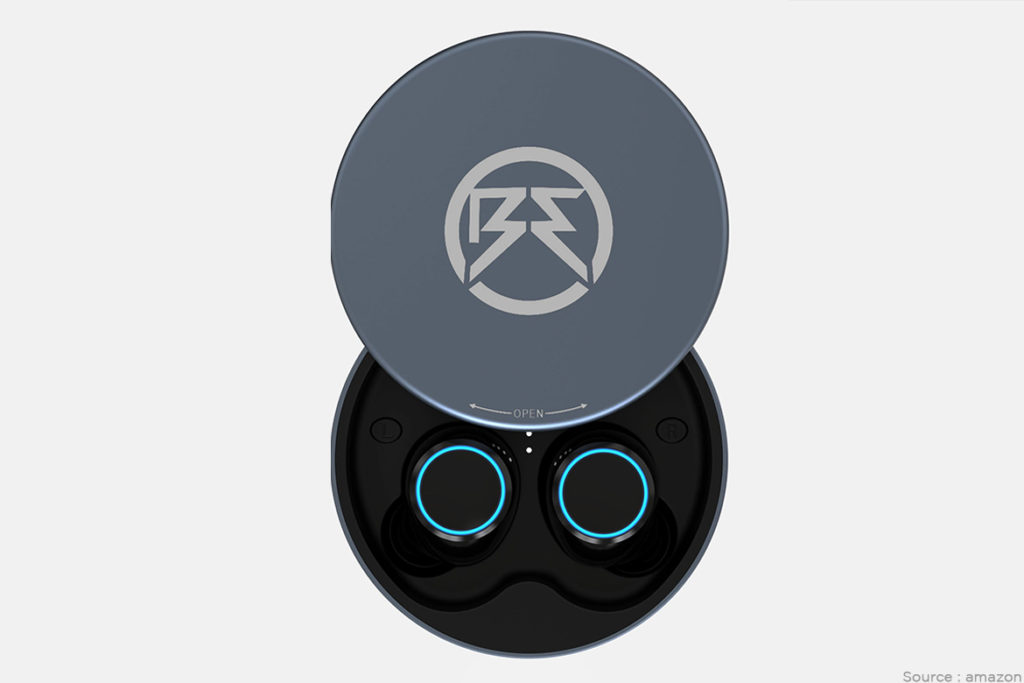 This wireless headphone with Bluetooth connectivity has an incredible design with superb sound quality and immersive powerful bass with wireless charging technology.
It is one of the best Bluetooth wireless earphones under Rs 5000 that is giving tough competition to other earphones that are available in the market. Its latest features include a wireless charging, immersive sound, powerful bass, innovative design, and full touch control.
These earphones are capable of providing crystal clear sound with enhanced DSP level noise cancellation technology that gives a perfect voice while making and receiving phone calls. Furthermore, the Qi wireless charging gives a wire-free charging experience along with type- C charging support.
The innovative swivel design with a metal alloy case makes it one of the most stylish earphones in its segment. Its design also allows it to swivel in 360 degrees that lets you open it from any direction.
IPX 5 rated means that you can use them anywhere outside like a Gym, poolside, jogging, running, etc. because these will be completely safe from water and sweat. The touch buttons are placed in such a way so that you can play, pause or stop the music and even adjust volume levels with ease. These are also lightweight as the weight is only 4 grams and fit comfortably in ears without any hassle.
Google Assistant and Siri voice assistant can also be used with these earphones to give voice command and control other smart devices or simply search over the internet. The long-lasting battery easily plays music for 30 hours without any interruptions.
It comes with a one year warranty and you can buy it for Rs4490 on Amazon.
Sony WI-XB400 Wireless Extra Bass in-Ear Headphones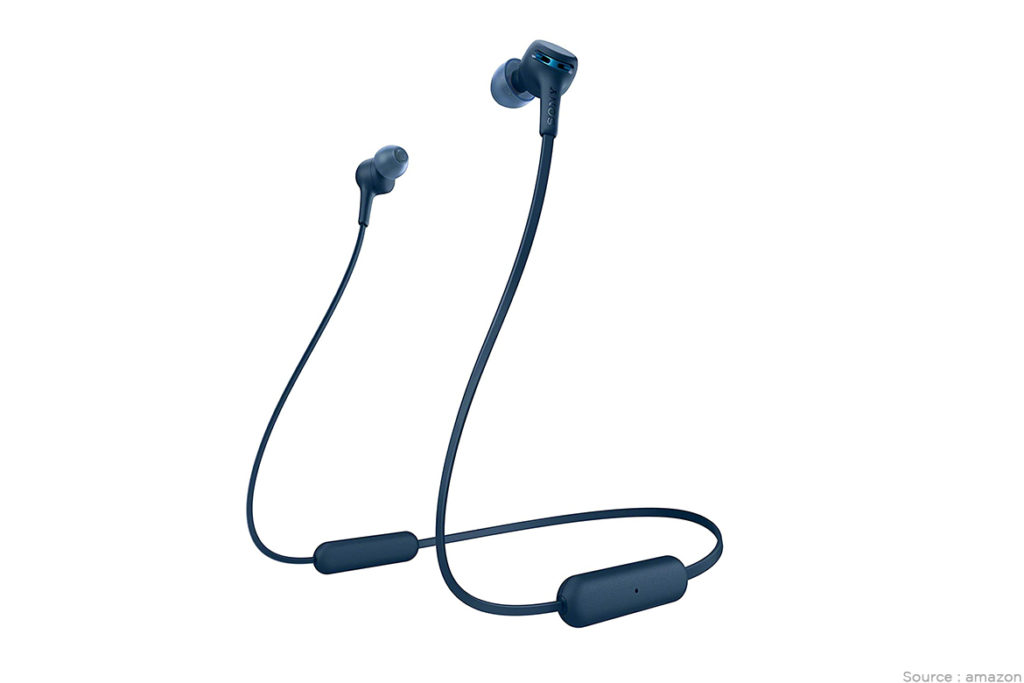 Sony is a renowned brand that is popular for its great sound and this time in these budget earphones it has used the latest technology and amazing features that give tough competition to other brands that are providing earphones under Rs 5000.
These wireless earphones come with a tangle-free neckband with powerful bass. Those who love listening to high bass sound must check out these headphones which are one of the best earphones with immersive sound and crisp voice.
The best part is that these earphones automatically enhance the low frequencies to the higher once for optimum bass levels. It also maintains vocal clarity and gives an amazing sound experience. With 15 hours of music playtime, these earphones let you enjoy music anywhere and in case if you ever run out of battery then quick charge support is also available. With a 10 minute charge, it can play music for one hour without any problems or lags.
The inbuilt Google assistant and Siri lets you search for any information over the internet or you can search for your favorite music track online and listen to it. If connected with other smart devices you can also control them without lifting your fingers.
The neckband with magnetic housing is designed in such a way that it never tangles and is easy to carry anywhere outside. The best microphone allows you to take calls and with complete voice clarity. Its 12mm driver units add a different punch to the sound you listen to. The Type-C charging cable quickly charges these earphones. These lightweight earphones weigh only 21 grams and you will not feel that you are wearing anything in your years because the perfect designed earbuds makes it possible for you to listen to music without any interruptions.
These incredible wireless headphone comes with one year warranty for Rs 3478 along with a charging cable, user manual.
JBL C105TWS True Wireless in-Ear Headphones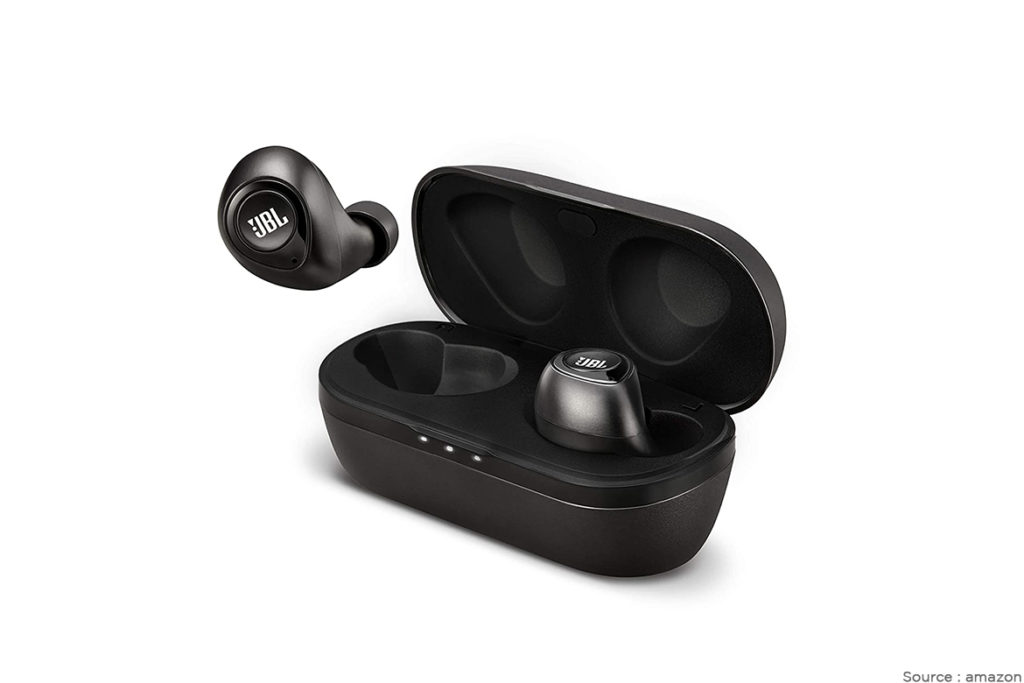 These wireless earphones by JBL with exceptional sound unique design lets you listen to powerful music with noise cancellation. These beautiful earphones are completely cord-free and with its 5.8 mm drivers, you get to listen to pure bass that is hard to find in other earphones that are available in its price range.
These portable earphones with elegant design come with a stylish charging case that provides 17-hour long music play. Its ergonomic earbuds fit perfectly in ears and lets you make calls or listen to music for long hours without any strain or pressure ensuring superior comfort levels.
All control buttons are placed on earbuds to support the easy operation. The Google assistant and Sir further enhance it use by connecting it to the online services where you can search your favorite music or control other smart devices with one command.
These are compatible with all modern devices like Android or Apple smartphones, tablets, PC, computers, or any other Bluetooth devices that have music playing capacity. It takes only a couple of seconds to pair them with any device and use them instantly. These are intelligent enough to pair automatically with the devices which were connected earlier with the help of its auto-sync feature.
The Bluetooth 5.0 connectivity lets you listen to music from 30 meters far and if you ever run low on battery then you can charge them for 15 minutes and again use them for up to 1 hour. These magnificent earphones weigh only 58 grams and measures 16 x 10 x 4.4 cm. If you wish to buy these excellent earphones then these are available for Rs4199 on Amazon along with a year warranty.
Also Read: How do I connect multiple Bluetooth devices to a single Bluetooth device?
CROSSBEATS Urban
These wireless Bluetooth headphones have a unique design and great sound with noise cancellation technology. With enhanced sound drivers these earphones deliver exceptional sound that is hard to match with other earphones that comes in this price range in the market.
If you like to listen to crystal clear music with high bass then these are a must for you as the powerful thumping bass would make you love these incredible earphones.
These are easy to set up and can be paired easily with any modern device like Android smartphone, iPhone, PC, Computer, laptop, or tablet that has Bluetooth connectivity. With its Bluetooth 5.0, you get uninterrupted music play for up to 30 feet range without losing the signal.
It also has inbuilt dual microphones with active noise cancellation support to provide the best voice calling experience. With a lightweight body and comfortable design, you can use them for long hours without any problems. Also, equipped with Google Assistant and Siri that takes the online listening and controlling other smart devices to the next level.
The IPX6 rating further with enhanced battery backup makes it a perfect outdoor companion for you. One can even take a dip in the swimming pool or go to the gym without facing any problems. Its charging can charge them thrice which means you can use them for up to 24 hours. To provide the customized fit you also get additional silicon tips to perfectly fit in your ears for a comfortable experience
The compact and precise design makes them invisible and hardly would be able to notice that you are wearing something on your ears. Especially designed for gamers it provides an undisturbed stable connection to your gaming device without any lag.
The battery is so powerful that you can use these for up to 12 hours and with the low power consumption technology you can always keep a track of its power levels and plan accordingly. The sound is enhanced by its beryllium dynamic sound driver unit that gives true to life crystal clear sound. It weighs only 50 grams and measures 2 x 1 x 3 cm.
If you wish to buy these earphones then these are available in Matte Black, Bay Pink, and Turquoise colors along with a year warranty for Rs 4099 an Amazon and other eCommerce websites.
Also Read: Mobile Earphones Review: Best Earphones Available In The Market Right Now
OPPO ENCO W31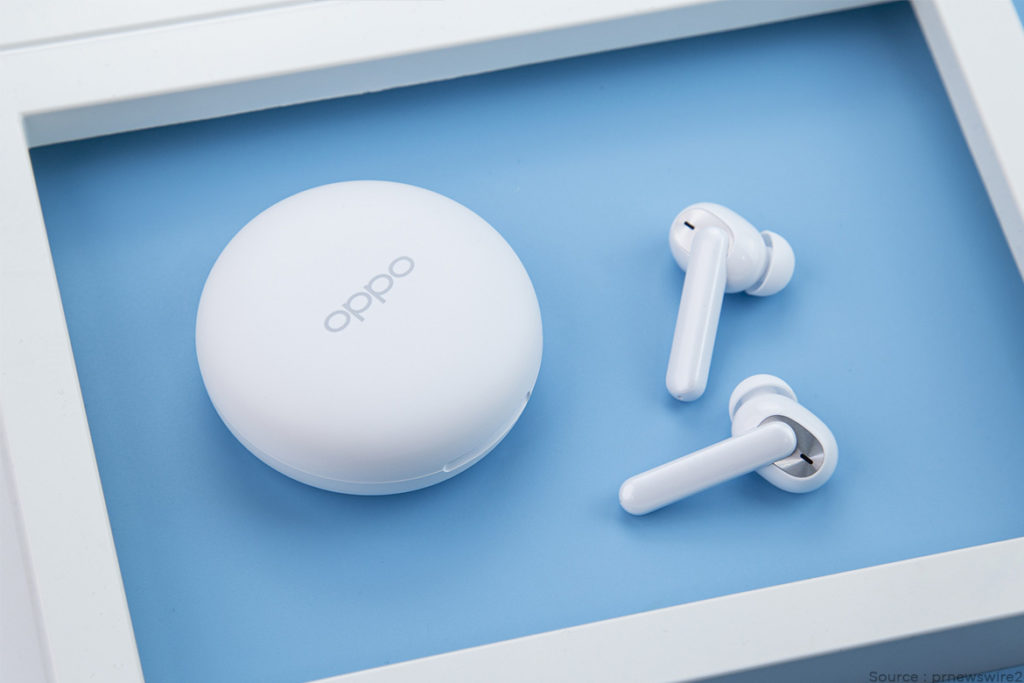 The Oppo earphones are made for those who love listening to music while doing outdoor activities or simply want wireless earphones to make and receive calls with a clear voice. Its powerful Bluetooth 5.0 connectivity lets you listen to music for up to 30 feet without any lag or latency.
Its incredible design with powerful bass and superb sound make it one of the best-liked wireless earphones in the price range of Rs5000. It is easy to set up for the first time and smart enough to automatically pair with any latest devices like android smartphone, Apple iPhone, Windows smartphone, PC, Computer, laptop, tablet, or other smart devices that have Bluetooth connection in them.
The perfect placement of control buttons allows you to easily play, pause, stop and make calls with one touch. Its battery also works well for long hours and lets you listen to music for up to 15 hours with the charging case.
Loaded with dual high sensitive microphones along with noise cancellation technology lets you make calls with complete clarity. It also has two music modes to enhance sound quality. The balanced mode plays soft music and bass mode gives powerful bass for high-level music.
These can be paired with gaming devices because with low latency levels and lag-free gaming experience you will not miss any instruction or game sound.
It also has a special feature of auto pause and plays that pause the music once you remove them from ears and automatically play the music when you put them back. The dual TPU composite graphene drivers support immersive sound with enhanced bass. It can be charged within 2.5 hours to get 15 hours of music play and 15 hours of call time.
Google Assistant, Alexa and Siri integration further enhances it use and you play online music along with control over other smart devices.
It weighs 50 grams and measures 12 x 3.7 x 12 cm. If you are interested in buying these wireless Bluetooth earphone then it is available for Rs 3499 with Headset, Type-C charging Cable, Manual & Warranty booklet.
Noise Shots X5
These wireless earphones with stylish design and compact body make it possible for you to enjoy real music anywhere anytime. Its powerful battery with fast pairing technology and super bass sound makes it one of the best Bluetooth earphones that is available in its price range.
It has the latest Bluetooth 5.0 connectivity that provided uninterrupted connectivity for up to 30 meters without latency and lag. Not just this it also plays music continuously for up to 5 hours and the sleek magnetic case can recharge the earphones for up to 10 times.
The ergonomic design and comfortable earbuds with 3 sizes of silicone ear tips lets you comfortably listen to music for long hours without straining your ears. The powerful 2200 mAh battery keeps the music play all day long.
It is compatible with almost all types of Bluetooth devices with any Bluetooth version. Moreover, you can use it anywhere like a swimming pool, gym, running, cycling, etc. without any worries as it is IPX5 rated and also splash-proof.
Google Assistant and Siri is also supported that allows you to give voice commands and search anything online. It weighs 300 grams and measures 15 x 15 x 3 cm. You can buy it on all major eCommerce platforms for Rs 3999 along with one year warranty.
This Bluetooth earphone with a stylish design and exceptional sound quality provides crystal clear sound without any distortion.
Its powerful battery backup easily plays music for up to 20 hours and it takes only 1.5 hours to get a full charge. It has a compact oval-shaped design but the sound is amazingly good because of its 6mm drivers that perfectly add punch to the bass.
With Bluetooth of 5.0, one can easily connect all the latest devices instantly as it takes only a few seconds for pairing. It is intelligent enough to remember the last paired device and you do not need to pair it again.
To enhance the listening levels it also has a passive noise isolation support that aids in delivering clear sound without any external noise. The neodymium speaker drivers perfectly balanced sound. The Auto on/off and auto-pairing feature gives a smoother operating experience.
Comfortable rubberized tips securely fit on ears which lets you listen to music for long hours without facing any strain on ears.
The multi-function button smoothly lets you play/pause, stop or answer calls without any hassle. With Google Assistant and Siri integration, you can search over the internet and play online music or check weather updates. Compatible with all the latest devices like an Android mobile, Apple iPhone, Laptop, Tablet, Music players, and other Bluetooth devices.
It weighs only 13.6 grams and measures 6.5 x 4.06 x 3.56 cm.
It is available for Rs 4799 on Amazon and comes with a year warranty, charging case, manual, SB charging cable, 3 additional ear tips.
Also Read: Best 5 Bluetooth Headphones that are available under Rs 2000
PLAYGO T44 Ultralight Wireless Earbuds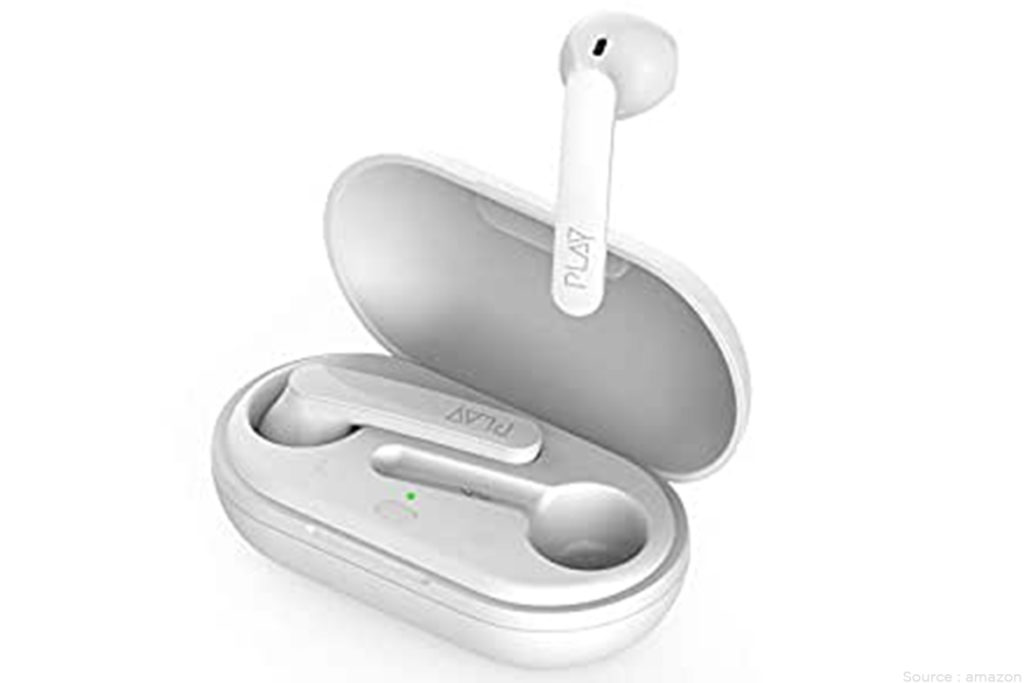 This wireless Bluetooth earphone is one of the lightest earphones in its category with a stylish design and best in class immersive sound supported by 10mm EBEL drivers with enhanced bass.
These earphones are comfortable to wear with half in-ear design. Easy to pair with any device including an Apple iPhone, Android smartphone, Windows PC, iMac, iPad, iPod, Tablet, or any music player with Bluetooth connectivity.
It is also smart enough to remember the last paired device and gets auto connected without any hassle which means you just have a switch on the Bluetooth device and start using these earphones without the need pf pairing them again and again. These are suitable for outdoor activities and completely sweat and splash resistant
Equipped with an inbuilt microphone it delivers HD sound quality with noise and echoes cancellation technology. The perfectly placed intelligent control buttons smoothly let you control the music and make calls. You also get 20 hours of uninterrupted music play. It weighs only and measures 46 grams and measures 7.3 x 2.7 x 3.9 cm.