Watching movies and TV programs on a larger screen takes you to the next level of enjoyment. To enhance the viewing experience of large screens, projectors are the best option that clearly shows the details without any distortion or loss of image quality.
There are hundreds of brands that offer projectors of different price ranges and there is a notion that the expensive projectors are the best which is not true as there are lots of affordable projectors that are of good quality in terms of functionality and image richness.
So, you can watch anything on the Projector by using different connectivity options and devices as there are lots of other benefits also for using projectors that are available according to the requirement.
Here, we will discuss the best portable projectors for watching TV and movies at your home or office without any hassle.
For selecting the best portable projector there are lots of functionalities and factors that play a major role. Many brands have now started saying that their projectors can play high definition videos and photos but very few of them actually support HD quality because they can take the high definition resolution but reduce them to the lower version which is not at all HD. You also need to check whether the portable printer is capable of showing a large image from a short distance and whether it is too heavy to carry, which connectivity options it supports, battery backup, etc.
However, we will tell you about all these above-mentioned features that a good portable projector must have and you can choose any of them according to your budget.
Another important feature that needs to be considered before buying a portable projector is the image throws distance. It is a simple concept of the distance between the projector and the wall distance. It should be noted that if the distance between a projector and the wall is good then the image size would be large. Similarly, if the distance is short then the image size would be small.
However, there are some advanced projectors that can throw large images and videos from a short distance.
The third important point that plays a big role in making a portable projector best is the brightness level. Projectors throw the image through light, so it is very necessary that the environment is clean so that the light does not become dull or if the projector has high brightness levels then this shortcoming can be sorted out.
However, if you choose to buy a high projector with high brightness then it means that it will consume battery quickly. It will be good if you could use a dim light in the room to watch movies and TV shows as it will help you to use a projector with lower brightness levels.
The weight of the projector also plays a crucial role because a portable projector means that it should be handled with ease. To carry a projector anywhere, weight needs to be lower and the design should be small.
After weight, brightness and image throw distance is the fourth feature that a good portable projector should have is multiple connectivity options. Before buying a portable projector you should check whether it can be connected to smartphones, game consoles, tablets either through wires or wirelessly.
If a projector has inbuilt speakers then it would be an added advantage as it will save from the trouble of carrying a separate speaker set.
The last important factor that needs to be considered at the time of buying a portable speaker is the battery backup. If a projector has a good power backup then it means you can carry it anywhere without worrying about charging it again and again but remember that high brightness and speakers will also consume more battery. But, you can adjust the battery consumption by making adjustments in the brightness levels and sound volume.
Boss S14A Android WiFi 6000 Lumens
BenQ MS535P SVGA projector
Optoma ML750e
ViewSonic M1+ Portable Smart Wi-Fi Projector
Acer C200 LED Projector
Anker Nebula Mars II Pro
Kodak Luma 350 Portable Smart Projector
Magnasonic LED Pocket Pico Video Projector
Epson PowerLite 1795F Wireless Full HD 1080p 3LCD Projector
Boss S14A Android WiFi 6000 Lumens
This is an all-rounder lightweight portable projector with high resolution and brightness. Thanks to its lightweight nature and design you can carry it easily anywhere without any hassle.
Whether you use it outside or in a room, it works flawlessly.
Its unmatched feature includes a short-throw projection range that eliminates the shadow problem. Hence, you can even use it in a small room without placing it far. It also limits the amount of light that counters the presenter's eyes.
With multiple connecting options, one can use this projector wirelessly or with a connecting cable, USB pen drive. It has inbuilt Wi-Fi, HDMI port, VGA cable port, USB port, SD card port, AV connectivity options.
Another special feature of this portable projector is that it can do the keystone correction that will skew the output image and make them rectangular without placing them in a perpendicular direction.
It supports HD images and videos that are made possible by the high resolution of 3840 x 2160 pixels and video resolution output of 1080 pixels. The 6000 lumens bulb with a 7000:1 contrast ratio produces exquisite image quality with high brightness levels.
It adjusts the pixel density proportionally and rectifies images automatically which ultimately impacts the image quality.
It measures 40 x 32 x 15 cm and weighs 2.6 Kilograms.
One can also connect an audio connection to play the sound from the device and with remote mounting, anyone can easily operate this easy to set up the projector.  With the minimum projection distance of 1 to 3.55 meters, you can see clear and crisp HD images and videos without any ultraviolet rays. The life of this projector is as long as it can run for about 60,000 hours.
Not just this, you can also watch 3D movies by using red-blue glasses and have a 3D realistic experience. If you like playing games then it could be better than playing on a big screen as it also smoothly connects with Sony Playstation 3, Sony Playstation 4, X-box 3.
It efficiently supports PSD, TIFF, GIF, PNG, RAW, and  JPEG  image formats with AVI, Blu-ray, DVD, MPEG, WAV media formats.
You can buy it on Amazon for Rs 29,873 along with Main Unit Projector, Power Adapter, Power Cable, Remote Control, Manual, HDMI cable, audio-video cable.
Also Read: Mi TV Stick: Xiaomi Introduces New Amazon Fire TV Stick Rival
2. BenQ MS535P SVGA projector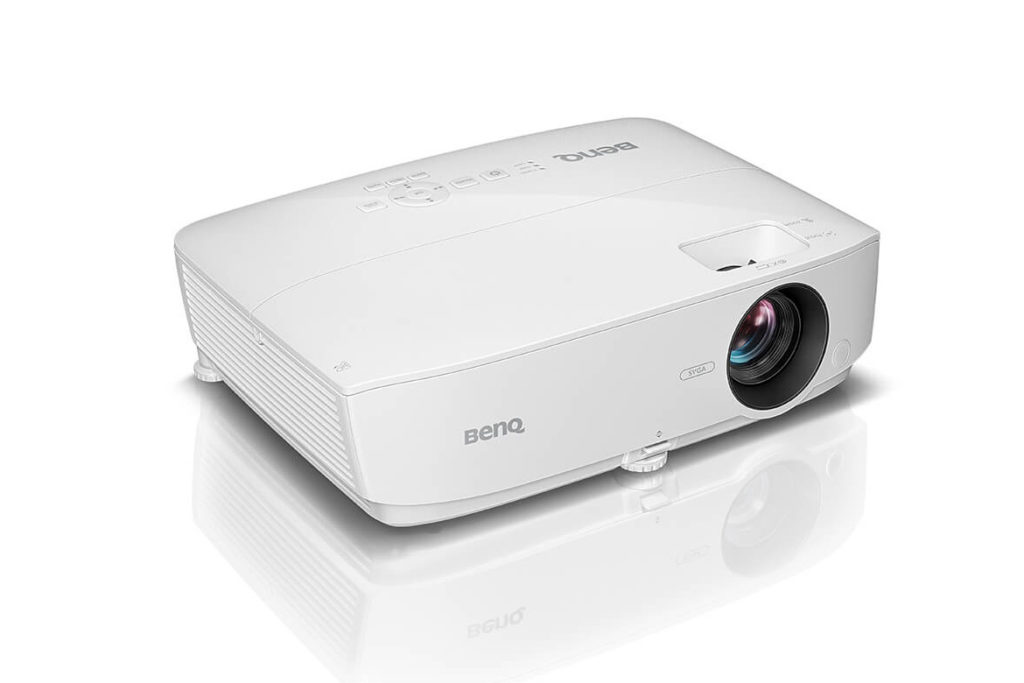 This is the second-best portable projector that is suitable for an office, classroom, or home that comes with a bright light and high pixel resolution. This easy to set up projector comes with high brightness, an inbuilt speaker, a high powered lamp, keystone correction, and high resolution along with smart eco-technology.
Its brilliant feature list includes a 3600 ANSI lumens brightness that makes it easy to watch movies and TV shows in a brighter environment, a 15000:1 contrast ratio further enhances the image quality and provides clean and crisp images on the wall.
With multiple connectivity options, one can connect different devices without facing any kind of problem. This portable projector is one of the best options in its price range because at this price there is hardly any branded portable projector that has so many features and quality.
This powerful projector comes with an HDMI port along with other connectivity options to connect your smart TV and other devices such as gaming console, laptop, and computer. Installing this projector is very easy and does not require any technical expertise because the alignment can also be done without any hassle which is made possible by its ergonomic retractable foot and vertical keystone.
BenQ portable projector also supports smart eco mode that saves power consumption by up to 70%. The maximum operating distance for using this projector is about 10 feet that is enough for a small room or office floor.
The other key features of this portable projector include a VGA cable connectivity, 3600 Lumens brightness, an inbuilt speaker, keystone correction that adjusts the images on the wall in a rectangle shape, and an ergonomic body.
Its compact design and lightweight nature make it possible to carry and place it anywhere without worrying about the space. It measures 24.1 x 33.2 x 9.9 cm and weighs 2.38 kilograms.
One can buy it on Amazon for Rs along with Remote Control with Battery, Warranty Card, Power Cord, VGA cable, Quick Start Guide.
3. Optoma ML750e projector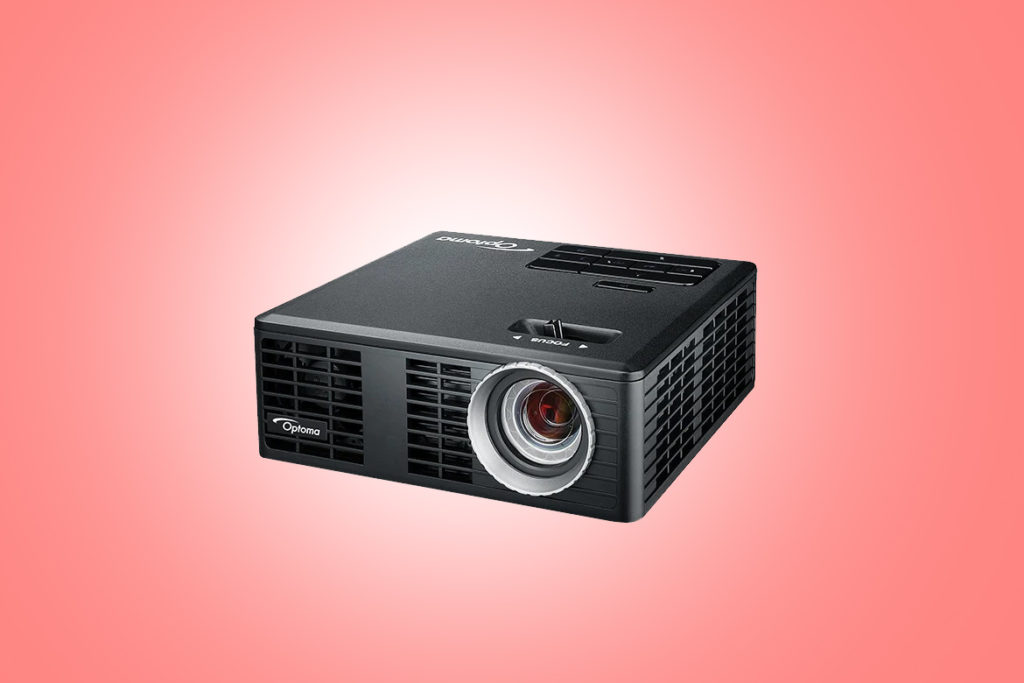 This is one of the best in class portable projector with a stylish design and compact design that makes it possible to carry it anywhere easily. This is an LED projector type that weighs only 0.38 kg that allows you to watch HD movies, TV shows, play games, and shows high definition presentations with an aspect ratio of 16:9.
It has an inbuilt media player, an inbuilt speaker, and an office viewer that keeps it ahead of many other portable projectors that are available in this price range. It can easily connect to a smartphone, laptop, gaming console, computer, and tablet with multiple connectivity options like MHL connection, SD card port, 3.5 mm audio jack, USB type- A card reader
Equipped with a 700 lumens lamp with a 1280 x 800-pixel resolution provides high definition images and videos with a lifetime of 20,000 hours.
The multiple connectivity options include HDMI connectivity, USB 2.0 port, universal Input/output slot, micro SD card slot. It measures 106 x 105 x 39mm and weighs only 0.38 kg.
Its efficient LED illumination technology aids in high brightness along with superb color quality and not just this high level of contrast provides bright and crisp images.
It supports almost all types of devices and operating platforms such as Windows, iOS, Android, and Mac OS. With a special MHL cable connection, you can connect to any tablet or smartphone and directly show their content on the large screen.
Additionally, it is compatible to show 2D and 3D images and videos. When we talk about the security part then it comes with Kingston Lock, password protected interface and a security bar.
Moreover, it also supports 13 multiple languages including Dutch, Turkish, English, French, Swedish, German, Greek, Italian, Polish, Portuguese, Russian, and Spanish.
You can buy it on Amazon for Rs 1,05,541 along with a carry bag, universal I/O cable, AC power cord, remote control, battery, basic user manual.
Also Read: Can A Sony TV Be Connected To A Bluetooth Device Through Bluetooth?
4. ViewSonic M1+ Portable Smart Wi-Fi Projector
This is an incredible portable projector that is suitable for both small as well as large rooms. It works perfectly in a bright environment because its powerful lamp makes it possible to view images and videos in a clear format on the wall.
With this projector, you can do mobile or TV screen mirroring by using Wi-Fi/USB connectivity from the App store and its 360-degree projection stand makes it possible to view content in any direction.
It is equipped with an LED lamp and produces images in a pixel resolution of 854 x 480 pixels. Another positive of this portable projector is that it is easy to set up and capable of projecting up to 100 inches from a short distance of 8 feet.
The other features of this projector include inbuilt dual Harman Kardon Bluetooth speakers that provide a theatre-like experience. With inbuilt Wi-Fi, one can enjoy online content directly like YouTube, Amazon Prime, etc. once connected with a smart TV.
The battery backup is also powerful because it works smoothly for up to 6 hours by using a mobile wall charger with a USB Type-C cable. You can also carry it anywhere with ease as it weighs only 771.11 grams and measures 14.48 x 12.6 x 3.99 cm.
This powerful ultraportable projector has a lamp of 300 LED lumens with a native resolution of 854 x 480 pixels along with 1.07 billion colors and a lamp life of 30,000 hours that can throw images ranging from 24 inches to 100 inches with a contrast ratio of 120000:1.
You can buy this portable projector to watch your favorite TV content for Rs 40,999 along with Projector, Power Cord: 1, USB-C Cable: 1 (1m), QSG: 1, Remote Control: 1 and three years warranty.
5.  Acer C200 LED Projector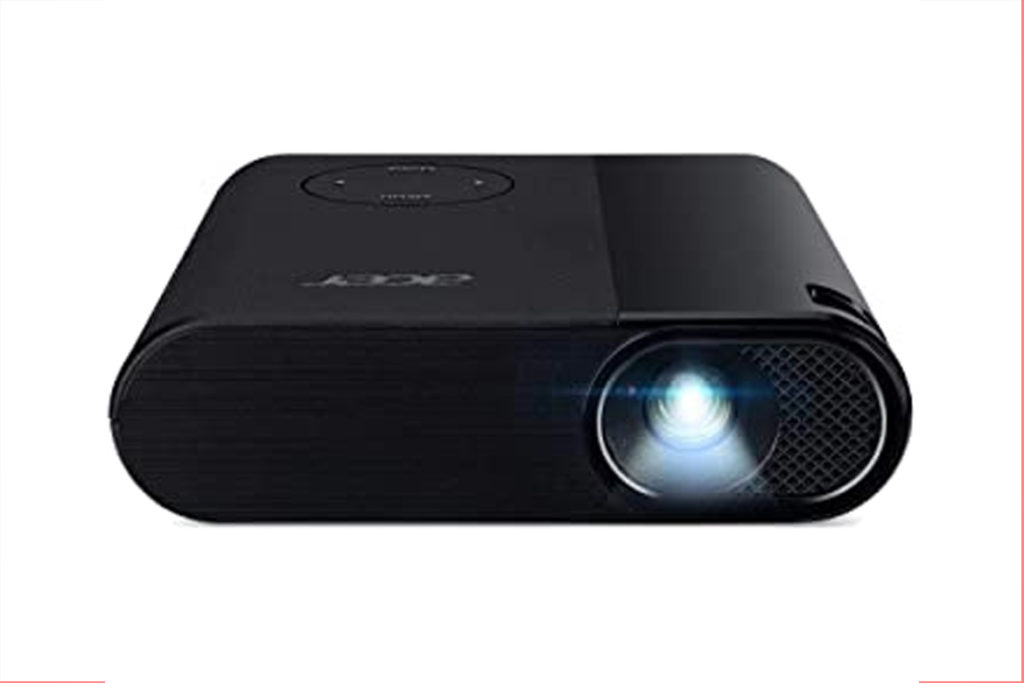 Acer is a popular brand and its Acer C200 portable projector is one of the best projectors in its price range. With 30,000 hours of lamp life and 200 lumens LED lamps along with a resolution of 854 x 480, one can enjoy online and offline content by using various connectivity options.
Its unmatched feature list includes an inbuilt powerful rechargeable 67,00 mAh Lithium-ion battery that works well for up to 4 hours, a 200 ANSI lumens lamp with an aspect ratio of 16:9 perfectly produces FWVGA resolution of 854 x 480 pixels. It is also easy to set up and can be carried anywhere as it weighs only 350 grams and measures 11 x 12 x 3 cm
Regarding the connectivity options, it has one HDMI port, one headphone jack. If you do not wish to use a cable connection then a wireless dongle can be used to connect smart TV, PC, laptop, and other devices by downloading the eSDisplayPRO app. It easily fits in your pocket that makes it an ultra-portable projector. One can instantly switch it on/off which ultimately results in saving the battery. Also, its compact design makes it possible to place it in a small room or anywhere else.
The LED lamp means that it no longer requires you to wait because projector cooling or warmth is not required. Whether you use it for commercial purposes or play games, watch TV shows and videos there is nothing to worry about. It is economical because it saves up to 70% power consumption which results in longer lamp life of 30,000 hours. However, the actual depends on other factors too like brightness settings, sound volume, etc.
You can buy this exceptional quality portable projector for Rs 17,500 on Amazon along with a warranty.
6. Anker Nebula Mars II Pro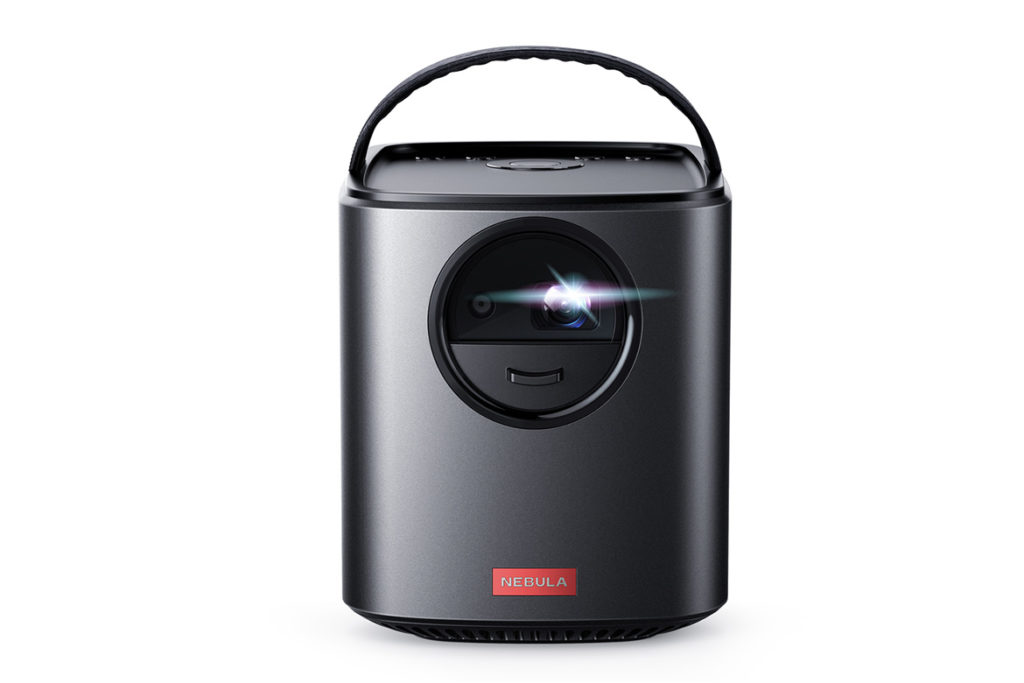 This is a quality portable projector with a unique design and superb looks. It uses DLP IntelliBright technology along with 500 ANSI lumen lamps that project crisp and clear 720 Pixel video clarity on the wall.
The native resolution of 1280 x 720 pixels and 720 pixels further enhances the picture quality and clarity. It can be used with a minimum distance of 150 inches that makes it one of the best short throw portable projectors and not just this it can project images from 30 inches to 150 inches according to the placed distance. The inbuilt carry belt makes it easy to carry anywhere and the installation is also very easy.
With dual 10 Watt audio drivers, you can experience theatre-like feeling because the sound is crystal clear and creates an immersive effect along with resonance which makes it possible to use this excellent projector to watch TV shows anytime anywhere?
The other excellent features of this awesome projector include a powerful 12,500 mAh battery that works effortlessly for up to 3 hours that is enough to watch a full-length movie or back to back TV content or play console games. It also comes with an Android 7.1 operating system that allows you to download thousands of apps and enjoy online or TV shows.
There is another positive of this projector that you can handle with your smartphone that can be turned into a remote by downloading the Nebula connect App. When we talk about the connectivity options then it can easily be connected with different devices like laptops,
PlayStation 4, Xbox One, and Nintendo Switch by using Wi-Fi, Bluetooth, HDMI cable, USB pen drive, mirror content with the help of Chromecast.
Also Read: Top 5 LED TVs Under 10,000
7. Kodak Luma 350 Portable Smart Projector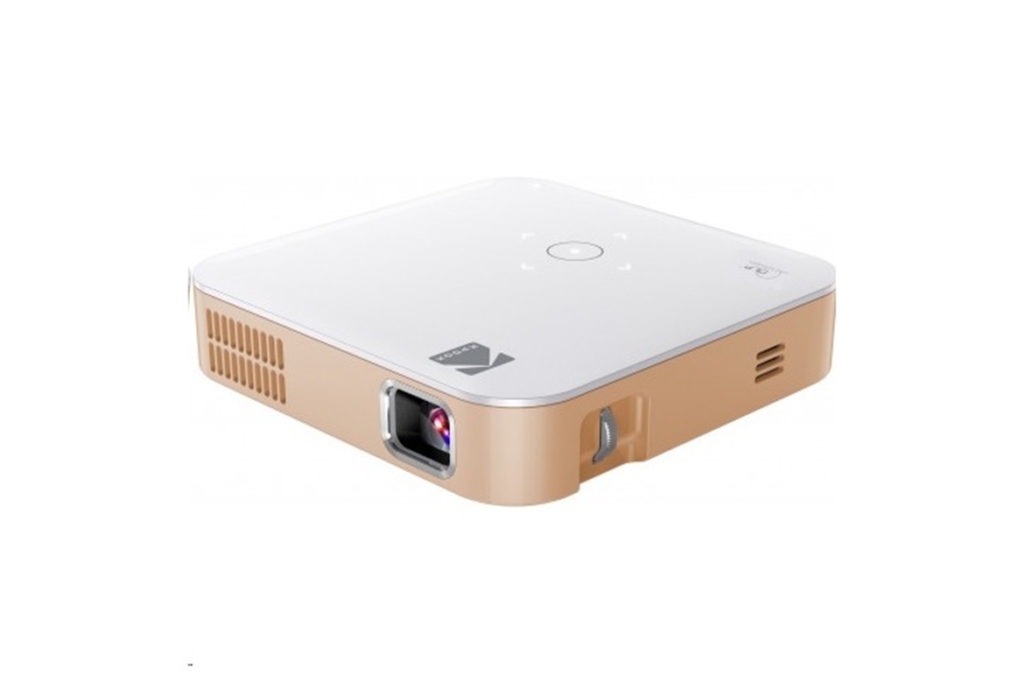 This is another great portable projector that easily comes in a palm but this does not mean that its picture quality is low. With 1080p HD LED lamp it shows crystal clear images and videos and the inbuilt speaker produces exceptional sound quality.
It is compatible with multiple devices and platforms that make it easy to use and one of the best portable projector to watch TV content and play games. This is all one portable projector that has multiple connectivity options including Bluetooth connectivity, Wi-Fi connectivity, HDMI cable connectivity, and USB connection.
One can directly open files and folders using this portable projector by using USB, HDMI connections. It also smoothly streams videos by using Android Apps. With Miracast option one can mirror screen and cast TV and movie content by using DLNA.
The other unmatched features of this lightweight projector include a screen display up to 150 inches, an Android operating system, 200 ANSI lumen lamp with brilliant brightness, simple installation, DLP technology, dual 1.5 Watts speakers, 3.5 mm audio jack for using headphones and external speakers, powerful battery backup.
It is also capable of auto vertical keystone correction that makes sure that the projection screen is always at the right angle and correctly shows the videos and images. It perfectly shows images with the help of 1920 x 1080 pixel resolution along with a 30 Db noise level which gives noiseless operation.
It weighs only 150 grams and measures 7.87 x 7.87 x 2.01 cm. With an 80 inch display, it can be connected with Android, iPad, iPhone, PC, laptop, and other devices.
You can buy this portable projector for Rs 34, 211 along with a USB Charging Cable, Remote Control, Quick Start Guide, and limited warranty.
8. Magnasonic LED Pocket Pico Video Projector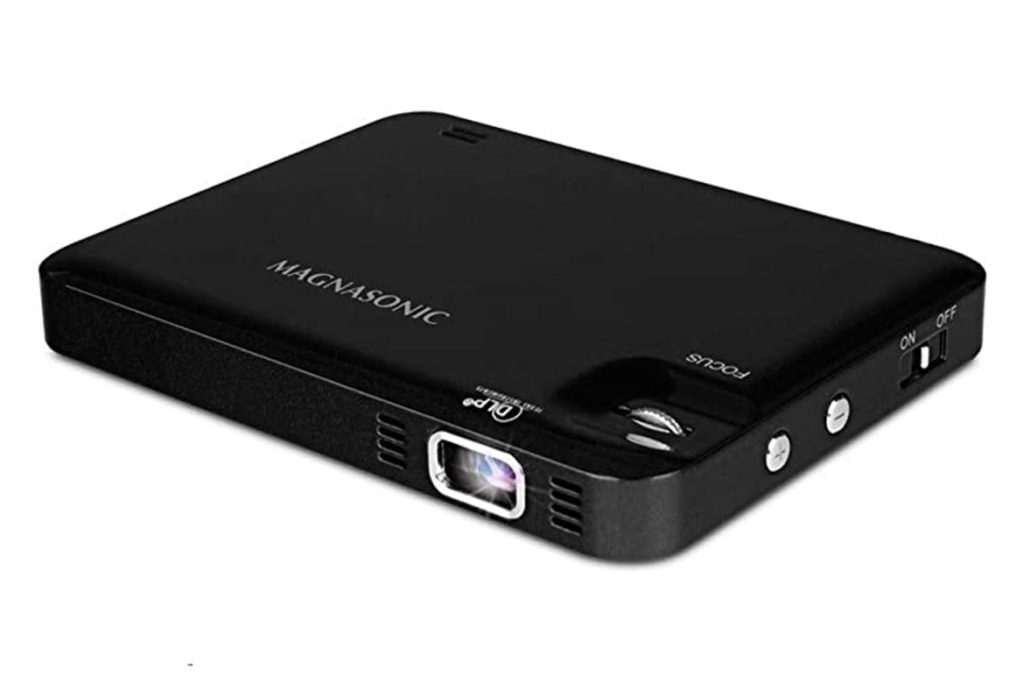 It is an advanced portable projector with an LED lamp that not only saves power consumption but also efficiently plays clear and crisp TV content on the big screen. This is the World's smallest DLP projector that is compatible with almost all the devices and platforms such as laptops, PC, smartphones, tablets of different operating systems.
With multiple connectivity options, it becomes easy and comfortable to connect the above-mentioned devices. It has HDMI cable connectivity with a massive battery backup that runs it for up to 2 hours without facing any issue. There is also a 1 Watt inbuilt speaker system that makes it a perfect portable projector.
The display quality is exceptional and produces crystal clear pictures up to 60 inches which is made possible by the 25 lumens LED lamp that also saves power consumption. Additionally, it also has a digital light processing technology that further makes images sharper and clear. This is much better than so many big projectors because it produces a resolution of 640 x 360 pixels along with a contrast ratio of 1100:1 and easily accepts 1080p.
The compact design and stylish body enhances its looks and the easy installation allows you to watch TV and online content. Whether you want to binge inside a room or somewhere outside the appropriate brightness is enough for all types of environment.
Its plug and play feature and instant HDMI connection make it possible to connect a laptop, media players, and gaming consoles.
The buttons are placed well on its body to allow easy operation and an inbuilt rechargeable battery of 2100 mAh makes it a perfect travel companion for anyone. Also, equipped with a 3.5 mm audio jack means that you can connect either headphones or external speakers to get a theatre-like feeling. The lamp has a life of 20,000 hours which makes a more efficient projector.
With a distance of 2 to 10 feet, one can watch TV content or view files, images, and and1080 pixel videos at the size of 10 inches to 60 inches along with an aspect ratio of 16:9.
It weighs only and measures 3.0 x 3.9 x 0.5 inches. You can buy it for Rs 44,524 with Micro-HDMI Adapter, HDMI Cable, Micro-HDMI Adapter, Protection Bag, Tripod, User's Manual, and one year warranty.
Also Read: Chromecast With Google TV Featuring 4K HDR Support Launched
9. Epson PowerLite 1795F Wireless Full HD 1080p 3LCD Projector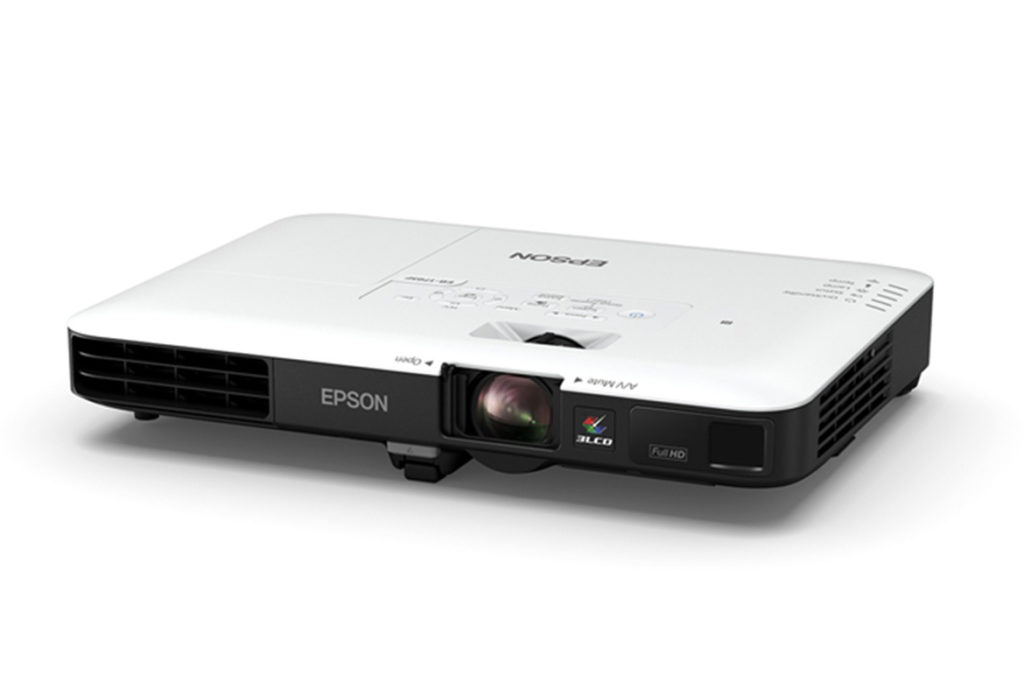 Epson is a renowned brand that does not need any introduction and its wireless portable projector is of exceptional quality.
It is specifically built for business travelers and for those who like to watch TV content on a bigger screen. You can also play games by connecting gaming consoles like Xbox and Nintendo. This is a full HD projector that shows videos and images at 1080 pixels.
The color brightness is of exceptional quality as it is supported by a 3200-lumen lamp and the image resolution is also 1080p which is ideal for viewing quality HD content. With Miracast you can wirelessly watch TV content and online content directly on the big screen by using your smartphone or any other compatible streaming device. Not just Miracast it also supports Chromecast, Roku, and other MHL devices. The automatic keystone correction gives quick and fast image horizontal and vertical adjustments.
Its projection system has high aperture Epson 3 chip 3 LCD technologies along with the native resolution of 1920 x 1080 pixels and video resolution of 1080 pixels. The good contrast ratio is 10,000:1 and it also has a Wi-Fi connection.
Thin design and lightweight nature let you carry it anywhere with ease. You can buy this portable projector for Rs 86,000 on Amazon along with a power cable, computer cable (VGA), USB cable, projector remote control, soft carrying case, user manual CD, EasyMP software CD, Quick Setup Sheet and registration card.