With the right printer for your new startup, you will not just save time but would also be able to work more efficiently. There are lots of brands and models of printers suitable for big and small offices or even for home.
Most of the people are doing work for home. Thus, when it comes to finding the best suitable printer, then it might become hard to find the best one. Not to worry as here we'll discuss the best all-in-one printer suitable for startups & available at an affordable price.
We understand that in the startup there are lots of factors that put pressure on you. So a best quality printer could suit your needs and help change the way you work with your old printer.
If you have a medium setup and got all the wiring done, then a wired printer is suitable. However, if you are looking for wireless connectivity then also there are lots of printers that would serve the purpose. The only difference between a wireless printer and wired printer is Speed.
Wired vs Wireless Printers
In wired printers, you can do the task quickly which means it is easy and fast to give commands. On the other hand, the wireless printers would take little more time for commands. However, you would require lots of setup in order to install wired printers which is not required. On the other hand, wireless printers are easy to set up and are multi-function printers. This means these can be used for not just printing but also for scanning and as fax.
In an attempt to make them high end printers, companies are now providing multiple connectivity options so that you can give printing, scanning and fax commands even from your smartphone that too while sitting anywhere else or any part of the world.
Here, we will discuss the best 10 printers of 2021 with a decent price tag but have all in one functions.
1. Xerox VersaLink C400
2. Kyocera Taskalfa 1800
3. Brother DCP-L2520D
4. HP LaserJet Enterprise M554dn
5. Ricoh SP C261DNw
6. HP Ink Tank 419
7. Canon MF244DW Laser Printer
8. Brother HL-L2321D
9. Oki C844dnw
Xerox VersaLink C400 Printers
This is a revolutionising printer product by Xerox with all the latest features and amazing specs. These are hard to find in other printers that are available in this price range. It has an excellent quality body and looks premium. It comes at the first position on our list because it's just perfect for small businesses or startups. Moreover, even if your team size and workload increase it would serve you well.
With all types of flexibility and connectivity options, you can rely on this printer without requiring any IT support. It is easy to set up and anyone can arrange it and start using it. This efficient printer is powerful and works flawlessly with smooth performance and high speed.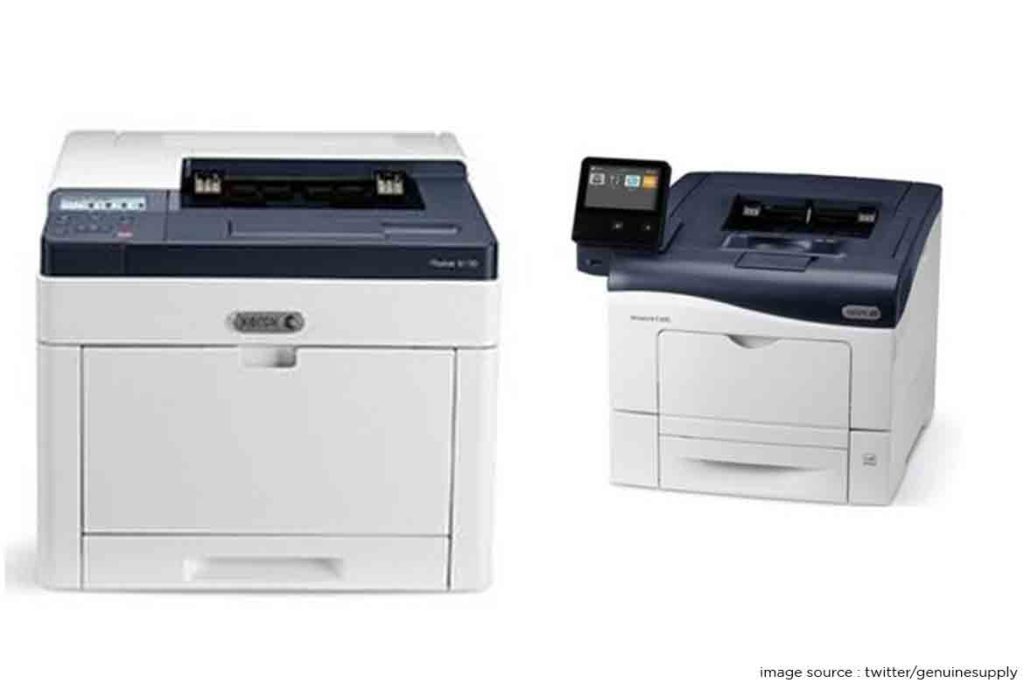 There are lots of time saving features that you will get along with this printer. What these do is that these also speed up the processing and reduce the time lag. It provides accurate scanning, printing and fax preview of what you see on the screen, you get the same quality.
The scanning quality is exceptional because of the inbuilt Optical Character Recognition technology. It appropriately reads the matter of the document and efficiently scans in a high resolution scanned document.
There's also no need to worry about the security part because its stringent security features ensures secure printing. Additionally, card authentication for access is always there. Hence, whatever documents you print, fax or scan them they are always safe. The preloaded Xerox connectKey application automatically optimises the efficiency.
One can also work on its screen and access the gallery to use other apps which might be useful for working efficiently
Its feature list includes
Customizable 5-inch touchscreen: It allows the tapping, pinching and even swiping to allow easy tasking even with the mobile
2048MB RAM
Monochrome printing speed of 36ppm, a 36ppm color printing speed.
It works silently because the noise level is just 53.1 dB
It is also power efficient because it requires only 705Watts.
Another positive is the lightweight nature of this printer as it weighs 35.85 kilograms and measures 48.77 x 49.02 x 39.88 cm.
Its connectivity options includes
Wi-Fi- 802.11a
USB
Ethernet
This laser type easily does 600 x 600 dpi Printing on plain paper/ envelope and capable of doing automatic Duplex Printing with 700 Sheets Input in a tray.
Kyocera Taskalfa 1800
This is another powerful laser printer suitable for startups. It's efficient, multi-purpose and also not expensive. It is easy to set up and adjust in any corner of the office without taking much space. Yet, it works perfectly all time.
This is a multi-function printer, which means that you can scan, print and fax without any hassle.
It uses the A3 format technology with a Mono component engine that easily speeds up to 18/8 pages per minute on A4/A3 sheets with a resolution of 600 x 600 dpi along with 256 greyscales.
The warm up time is also very less because it takes just 17.2 seconds. It could get you the first copy in just 5.7 seconds.
It is also a power efficient laser printer and requires 75W on standby time and 1.54W in sleep mode.
It works silently without making much noise as it produces only 50/60 Hz Noise and 62dB while printing 40 Db on a standby. Furthermore it is ISO 9001 certified and ISO 14001 environmental.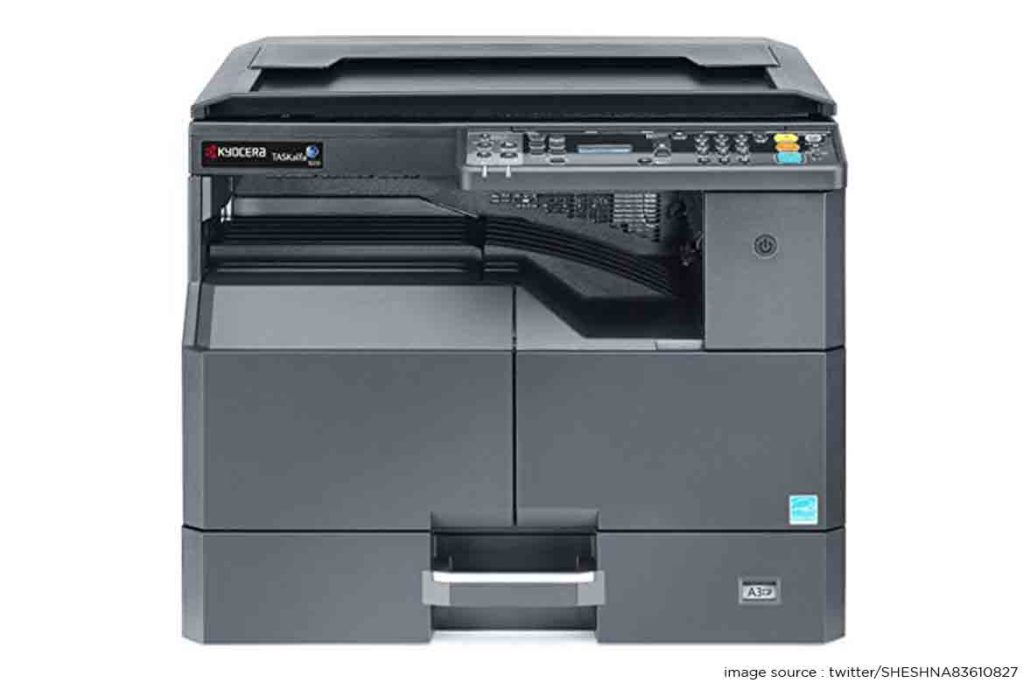 At one time it can accomodate 300 universal sheets of A3, A4, A5, A6 letter, legal max and 1300 A4 max sheets option. When we talk about its other specifications then: –
It is loaded with ARM v5 base core equivalent processor
Additionally, it has a 500 MHz memory with 256MB emulations that support all versions of Windows operating systems.
Can also print on both sides of the paper
It comes with many features like you can scan documents and take any number of printouts too by making adjustments like sorting, rotating and layout selection.
It weighs 26kg and measures 56.5 x 52.7 x 48.5 cm and easily gives 22 prints per minute in mono and 18 pages colour printout per minute.
Brother DCP-L2520D Printers
This is at the third position in the list because of its superb functions and premium look. It can do multi-function like scanning, printing and fax operations. Another positive about this printer is that it can print on both sides of the paper with complete clarity.
This powerful machine can print up to 30 pages per minute with a resolution of 2400 x 600 dpi which makes it completely suitable for startup as the per page printing cost is low and the results are excellent.
It makes printing and other jobs convenient as you can put 250 legal size sheets and paper in its tray that is designed in such a way so that neither dust nor moisture damage the papers.
The all in one Monochrome laser printer has a USB connectivity for connecting desktop, laptop and ecen mobile phones and it uses 220 – 240V. The LCD screen perfectly lets you give commands to do the work efficiently. With one cartridge you can about 2600 pages according to the ISO standards.
Compatible with almost all the latest operating systems like Windows, Mac and Linux with a duty cycle of 10,000 pages per month.
It is designed in such a way so that the toner and the drum are placed separately. The toner has the capacity of 2600 pages with 12000 page life. This placement of toner and drum is beneficial because when the toner ink is used up then you do not need to change the drum.
You can place it in any corner of your office as it does not require much space and it can be set up with ease without any hassle. It measures 40.9 x 39.9 x 26.7 cm and weighs only 9.7 Kilograms.
HP LaserJet Enterprise M554dn
HP printers have always been in high demand because you can rely on them completely. The reason is that they work for years smoothly. It's the number one choice for small office setups and if establishing a startup, then it's a must buy. It can consistently print on both sides of the paper which could either black and white or colour.
It is completely safe and secured along with high printing speed and more paper capacity. Thus, it not only saves time of printing but also increases productivity. According to the HP company it provides the World's most secured printing security that is supported by its multilayered security protection that also saves the machine from various types of malware on a continuous basis.
It automatically keeps updating its features according to the new guidelines and updates to build an efficient environment.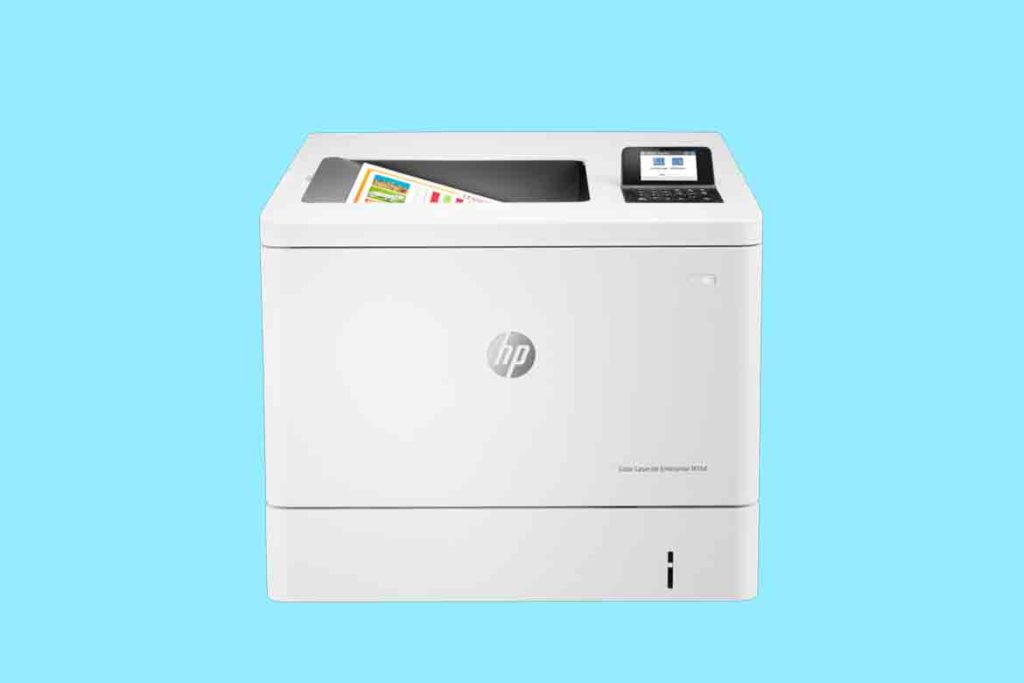 With 650 sheet input capacity, duplex printing and high speed of 35 pages per minute means that you just have to relax after giving the command as there is no need to worry about the quality and paper feeding.
Additionally it is also energy efficient because the auto on/off feature automatically turns it on and off when it is not in use.
The 2.7-inch color touchscreen along with automatic paper adjustment settings makes it further comfortable even for the novice to give print command and get the job done immediately.
5500 page yield makes it cost efficient and the easy setup with premium design lets you keep it anywhere in the office as it blends with the environment without occupying too much space.
It measures 29.5 x 23.6 x 23.6 inches and weighs only 60.6 pounds.
When we talk about the connectivity options then it has multiple connectivities like Wi-Fi, Bluetooth which means that you can give print commands from anywhere by using any device and operating system like Mac, Windows and Linux with ease.
Ricoh SP C261DNw Printers
If you are looking for an affordable multifunction printer with NFC and multiple connectivity options that has high printing speed along with low power consumption and high duty then it is the first choice on which you can depend completely.
It has the ability to print 20 pages per minute which is very high for such a small printer that is suitable for startups and it only takes 14 seconds to give the first print that means that the wake time is very less. With the duty cycle of 3000 print supported by 256RAM makes the printing operation very fast and efficient.
By using the Ricoh app you can even give print commands by using the smartphone which has become an essential need of today's businesses.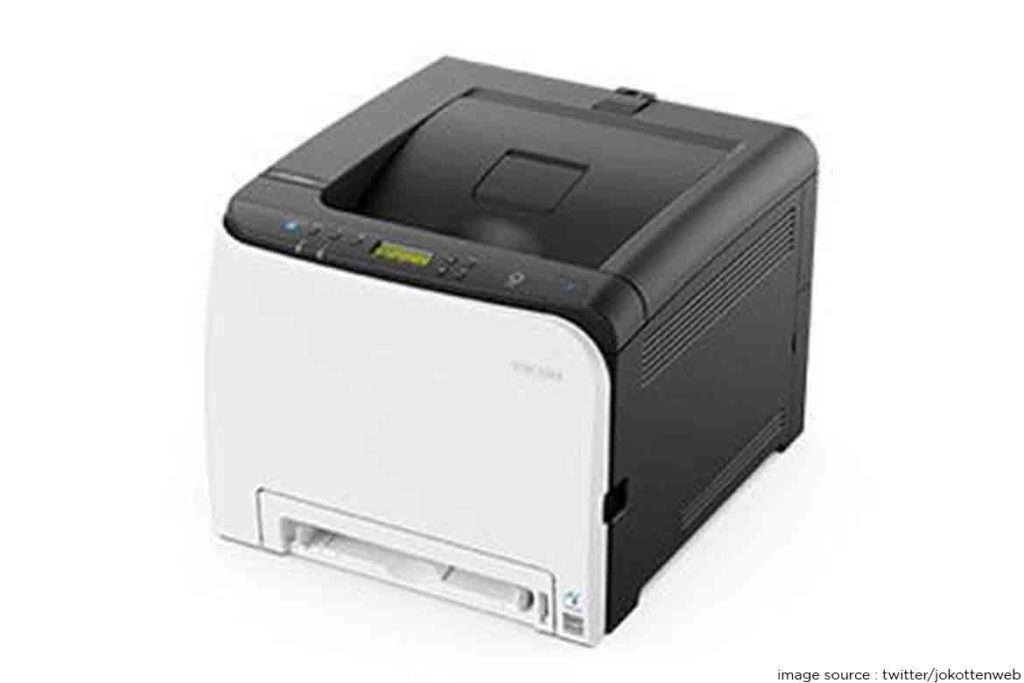 This 2.0 energy star rated colour printer gives you low cost prints with ease and the duplex printing support also saves the paper wastage which means. The easy setup and LCD screen clearly shows you the information on lets you give commands to do setup.
Lightweight nature and medium size lets it adjust in any part of the room and blend with the office environment.
It measures 400 x 450 x 320 mm and weighs only 23.8 kg. You can give print commands from multiple devices like desktop, laptop, computer of different operating systems like Windows, Mac and Linux.
To make working you need to have: –
220-240V socket
1300W maximum power
321W for giving black and white prints
384W for giving color prints and 58.3W in a ready mode.
The warmup time is 30 seconds.
HP Color Laser 179Fnw
This all-in -one wireless printer model by HP is very much popular in the market and you can place it on your startup because its durable body parts work for a long time.
With this printer you can instantly give the print command and get the best quality of print. Thanks to the laser technology it efficiently provides the best results. When we talk about the performance then it can easily print 1500 pages per month which is a good number of prints.
Moreover, the print quality is exceptional and it does not matter whether you want to take black and white print or color print it is a perfect solution for your office.
It can do multiple functions along with print like scanning, copying and fax and that is why it is the worlds smallest in class laser printer.
Multiple devices and operating platforms are supported by this printer like Windows, Mac, Linux and OS devices like laptop, tablet, mobile and desktop. The connectivity options include Wi-Fi, Bluetooth, USB and Ethernet port.
The lightweight nature and compact design further makes it suitable for startup and small offices. It measures 36.3 x 40.59 x 34.42 cm and weighs only 17.15 Kilograms.
The maximum black and white printing speed is 19ppm and he 4ppm for color prints. Furthermore, it supports envelope, plain paper, glossy photo paper, high resolution paper and labels with the maximum paper size of A4.
HP Ink Tank 419
This HP printer can perform multiple functions including scanning, printing, fax and copying with simplicity and ease. The durable body and amazing body gives it a premium look. It is ideal for small offices, homes or a startup.
The best part about this printer is that the per page printing cost is just 10 paise and the comfort you get by using this excellent printer cum scanner cannot be compared. It also offers borderless printing which you get more area to cover and expand the picture or text or whatever you have on the documents.
A spill free refill ensures it is simple and you never get your hands dirty supported by a unique tank system. You can also monitor the ink levels as the ink tank is transparent.
The ink tank is of high capacity which easily gives around 15000 black and 8000 color print.
So, this is a flatbed type printer by HP which offers multiple functions along with colour and black print options.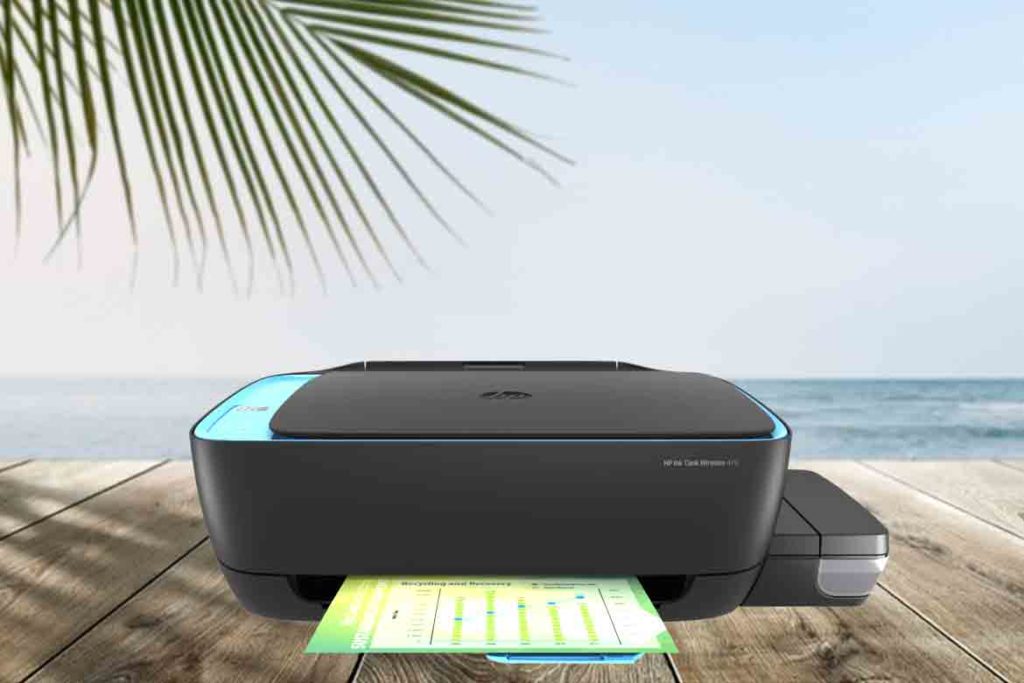 Regarding the connectivity options, it has inbuilt Wi-Fi, USB and HP smart App that allows you to even get the print from your smartphone. All you have to do is download the App and give the print command from anywhere.
When we discuss its printing speed then it can give 19 print per page on an A4 size paper and 15 page per minute in case of color print.
It supports A4, B5, A6, DL, envelope and is also capable of duplex print but you have to do it manually. The print resolution is up to 4800 x 1200 dpi for color prints and 1200 x 1200 for black and white prints. With this printer you can easily take 1000 prints in a month.
This stylish all in one printer can be set up easily and does require any technical knowledge. Another positive is the lightweight nature as it measures 52.5 x 31 x 15.8 cm and weighs only 4.67 Kilograms.
Canon MF244DW Laser Printer
This is a monochrome laser printer that efficiently lets you do scanning, printing, fax and copying without any hassle. With exceptional design hi speed printing you can use it in a small office or home as it offers multiple connectivity options such as USB 2.0, Wi-Fi along with several Apps like Google cloud, Canon Print Service, Canon Print business, Apple Airprint.
It supports multiple operating systems and devices such as smartphone, laptop, desktop and other devices. You can use Windows, Linux and Apple Mac operating systems smoothly. The 6.9-inch black and white LCD lets you operate on this efficiently.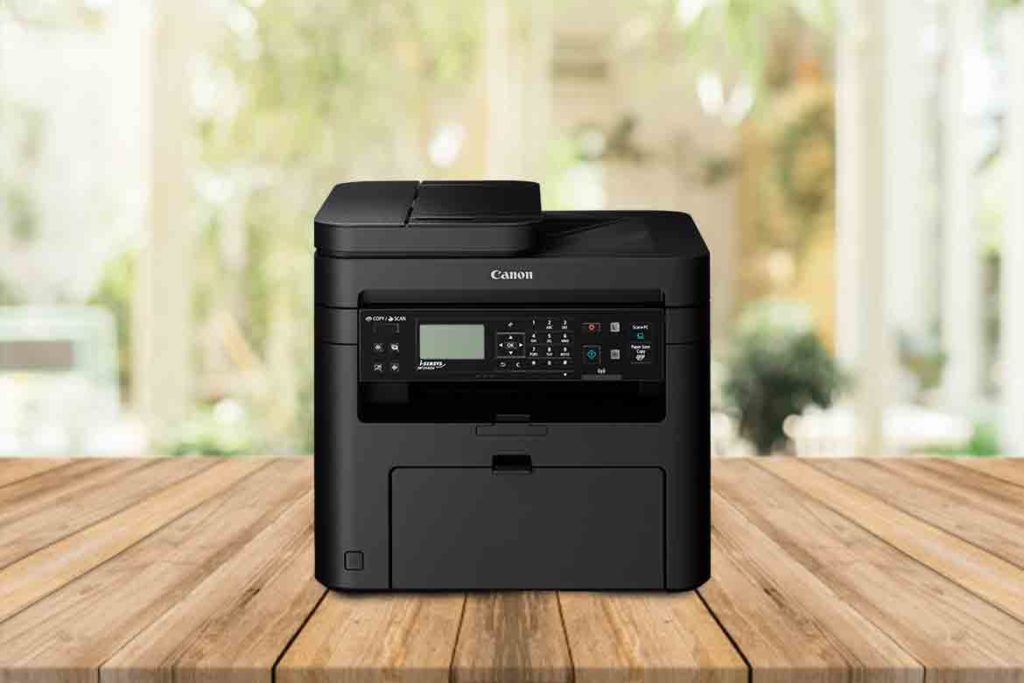 The unmatched high print speed keeps it ahead of many printers that are available in its price range. It can very well print 27 pages per minute and has 512MB RAM size. Additionally it can print on A4, B5, A5, letter, legal, executives, statements, government letters, and other papers with a resolution of 600 x 600 dpi.
The page yield is 2400 and it can do automatic duplex printing. So, if your startup business has a requirement of 500 – 2500 pages auto duplex then it is a must buy.
Furthermore, it has a 35 sheet auto document feeder that automatically makes batch scanning that too with a multi-page document.
It is easy to set up and support multiple business applications. You can place it easily anywhere as it measures 39 x 37.1 x 36 cm and 12.1 Kilograms.
Brother HL-L2321D
This is a single function monochrome laser printer that is not just affordable but also gives high quality print almost instantly. This super-efficient printer is capable of printing 30 pages per minute without any hiccups.
It can also do automatic duplex printing and consumes very low power which makes it an energy efficient printer. Compatible with multiple operating systems like Windows, Linux and Mac along with different devices such as desktop, laptop, tablet and smartphone.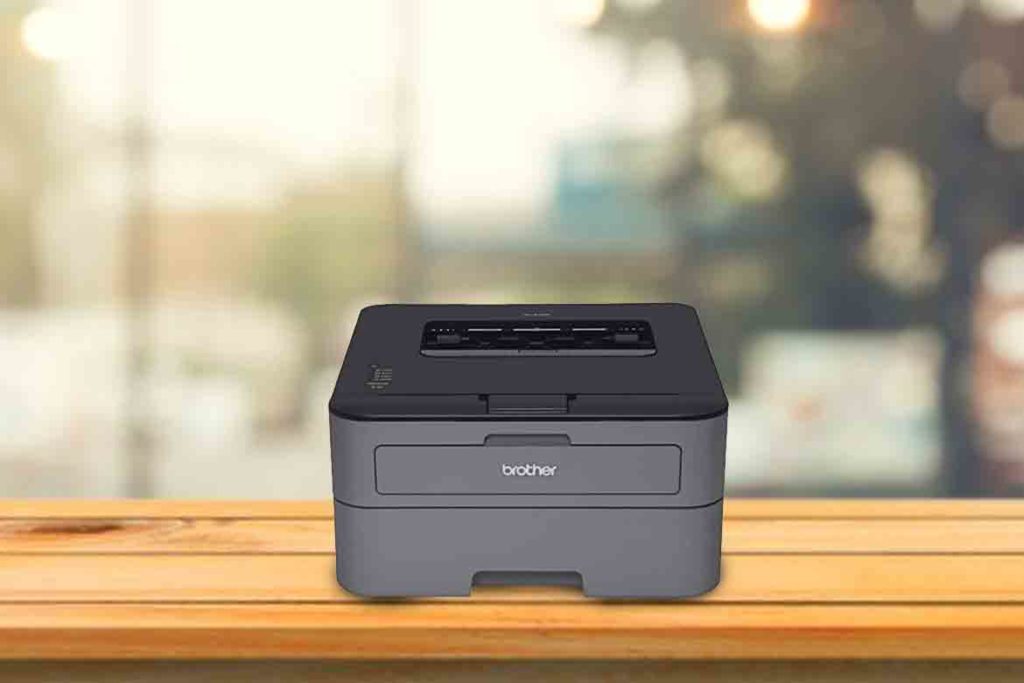 The high print resolution of 2400 x 600 pixels combined with 30ppm saves lots of time and the 250 sheet capacity adjustable tray further saves time. Furthermore it can easily print on A4, Letter, A5, A5 Long Edge, A6, Executive, Legal and Folio.
Easy to set up and place in any corner of the office. It does not require much space and even looks nice when placed in the office. So, it is basically a normal printer with a high printing speed and affordable price that works well in a long run. It measures 35.6 x 36 x 18.3 cm and weighs 6.8 Kilograms.
Oki C844dnw
It is a high quality digital color printer that gives crisp and sharp print with ease. The multiple connectivity options lets you easily give command by using multiple devices including a mobile phone. The high print resolution of 1200 x 1200 dpi further makes it one of the best printers that is available in its price range.
Furthermore the low printing cost makes it useful for small offices and startups. The compact design and unique design makes it look premium. Additionally it is energy efficient fuse technology saves lots of power. It can automatically do duplex printing and uses award winning LED technology to high end results.
You can print on A3, A6, banners and other types of printing paper. Moreover, its tray can easily accommodate 400 sheets which increase the printing capacity up to 2540 sheets. The warm time is just 9.9 seconds which is very low which again plays an important role in energy saving. However, deep sleep mode along with Auto on/off mode reduces the power consumption