A 360 camera is also known as an omnidirectional camera. It has a 360-degree field of view so it captures just about everything around the sphere. 360-degree cameras are needed when large visual fields need to be covered. These eyeball-shapes cameras record all 360 degrees of a scene and that is due to the presence of multiple lenses which are often to wide-angled lenses.
The camera automatically joins the two images from different lenses together to bring you one spherical image. The technology has matured to a point where these 360 cameras are no longer just toys. In fact, 360 cameras are now so good that there are some serious benefits to carrying a camera that can see more than you do.
The Go Pro Max 360 camera is an example of a 360 camera. It has the dimensions of 64x69x25mm It has a built-in touchscreen of 16.9. The Go Pro max is a waterproof type of camera which includes lens covers for underwater use. As an added bonus, the camera also comes with a soft microfiber bag which is more like a pouch to make it easy to carry around.
Looking at the exterior, the Go Pro Max might be seen as a miniature version of the Go Pro Fusion. It has the two cameras, one on either side of the body, stuck in the right corner. As you should expect from a 360 camera, the lenses are domed and they are shipped with lens covers to keep them protected.
Also Read: Best Portable Projectors For Watching TV And Movies Any Time
GO PRO MAX PROPERTIES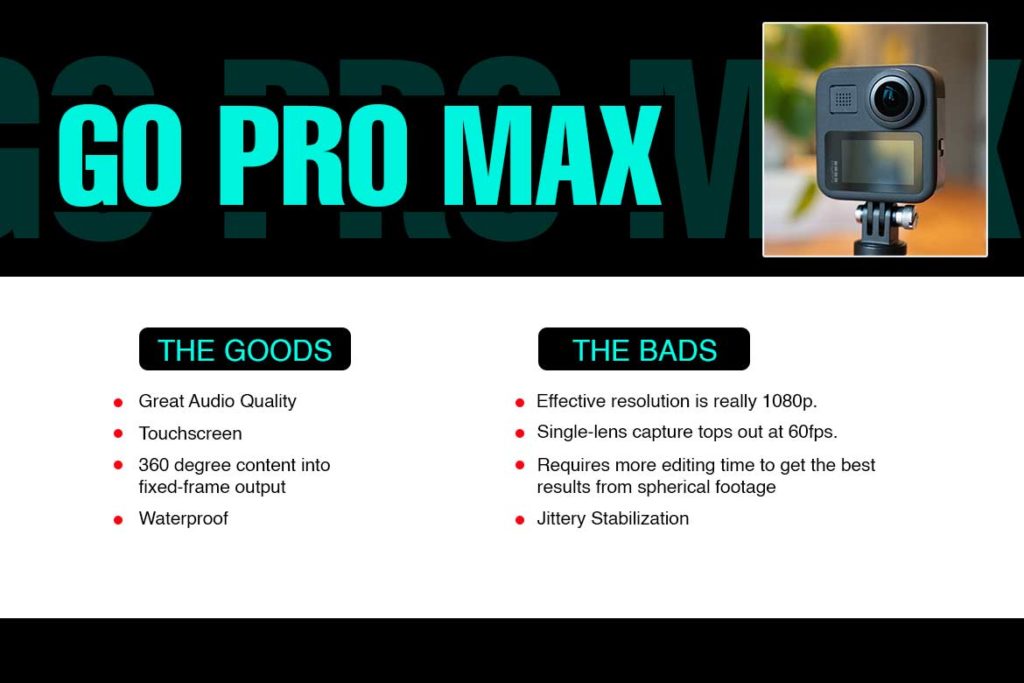 The Go Pro max has a built-in flip-out frame on the underside of the camera, so you don't need to attach any frames or additional accessories just to mount it. The Go Pro Max also has a small touch screen on the bottom of its front and this touch screen is very responsive.
You can switch between lenses by tapping a button on the screen, but this only works before you start recording, because once you start recording, the screen no longer functions. It also possesses an advanced microphone system and this brings professional audio quality. It also cancels noises and focuses only on your voice. I've seen and heard of many 360 cameras such as Insta 360 One X, Go Pro Max, Insta 360 Evo, Insta 360 One R etc. But of all these, the Go Pro Max has the best audio capture so far. It reduces the sound of the wind and adds lots of compressions and it also keeps voices intact.
Also Read: Fujifilm Launches X-T4 Mirrorless Digital Camera In India
However, the Go Pro Max has three specific modes and these are:
Power Pano
Max Super view
Max Time Warp
The Power Pano: It shoots at 270 degrees. It uses both lenses to capture extra-wide panoramic views. The pictures are clear and it offers a panoramic photo in an instant.  Because it produces a panoramic photo, hence the name "Power Pano".
Max Super View: The Max Super View is the widest angle that Go Pro has to offer. It shots 1440p60 video using one of Max's 180-degree lenses. It offers max hyper smooth and Go Pro claims it is the most stable form of video stabilization
Time Warp: The time warp provides time-lapse video on 360, although it is really cool, it kills the batter very faster.
The Go Pro Max uses a type C USB to charge and it uses a slightly larger battery than the Hero 8. The Go Pro has a 360 desktop app and it is called GoPro player. It mirrors the mobile app experience.
The Go Pro is the household name for its durable, portable little action cameras and the Go Pro max is no different. So with these, I can say that the Go Pro Max is the best 360 camera so far.