There are numerous computer speakers available in the market with different price ranges and sometimes it becomes difficult to make the right choice about them. It all depends on your requirement because if you are looking for a speaker with a decent sound but also want it to be compact then a portable speaker might be the best computer speaker for you but if you are looking for multiple connectivity options with a great design then the choice would be different.
So, finding the best computer speaker is totally your choice but here we would be discussing some computer speakers which you would definitely love to own and enjoy the best sound along with great design in an affordable price range.
There are a few important features that you should consider before buying a computer speaker like stereo sound, surround sound, powerful bass, and wireless connectivity or wired.
Usually, in stereo speakers you get two speakers which but for surround sound you get multiple speakers along with a subwoofer that adds high definition thumping to the music or sound you play with the connected computer or laptop. Nowadays, people prefer wireless computer speakers over traditional wired ones.
Here we have listed the top five best computer speakers of 2020
Logitech Z625 Powerful THX PC Speaker
Harman Kardon Sound Sticks 2.1 Channel Wireless Speaker System
Sony SA-D20 C E12 2.1 Channel
Philips MMS8085B/94 2.1 Channel
Creative SBS-E2800 2.1
Logitech Z625 Powerful THX PC Speaker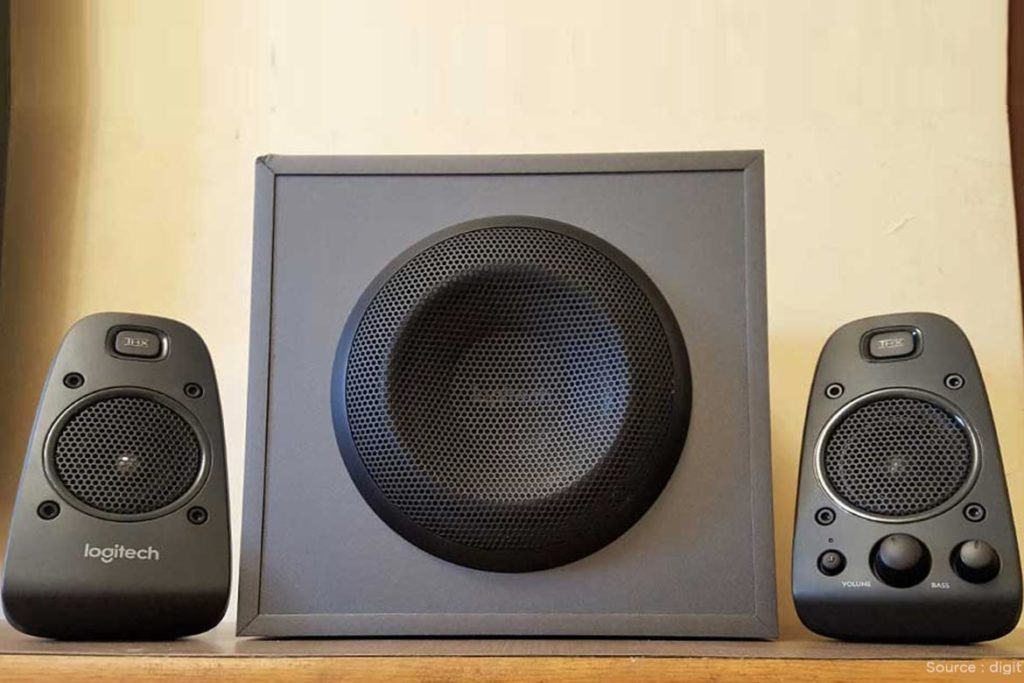 Logitech is a reputed brand that has been making reliable computer accessories in the market for a long time. The Logitech Z625 is a powerful surround sound computer speaker that is also THX certified. It is perfect for those looking for the best sound as it rightly produces the crystal clear sound when you play a movie, game, or music on your computer.
It produces a total of 400 Watts at the peak level with 200 Watts RMS, Subwoofer of 260 Watts at peak with 130 Watts RMS, two satellites with 70 Watts at peak. Its excellent sound gives a theatrical experience. Here are some more features of this magnificent computer speaker.
It is a wireless Bluetooth computer speaker that can be paired easily with two devices at the same time. All you have to do is plug and play these excellent speakers which not only connect to PC but also to TV, PlayStation, Xbox, smartphones, tablets, and other latest devices with different operating systems with 3.5mm and RCA input methods.
These speakers are easy to set up and hardly take a few minutes to install with perfectly placed control buttons. It is very easy to use a headphone jack, auxiliary cable, power on/off placed on the right speaker.
It weighs 8.21 kg and measures 19.6 x 11.7 x 13.5 cm. You can buy it for Rs 11299 on Amazon along with a one year warranty.
Also Read: Best Portable Bluetooth speaker of 2020
Harman Kardon Sound Sticks 2.1 Channel Wireless Speaker System
This is one of the most liked computer speakers with a unique design and transparent body with LED lights that gives it a superb look along with powerful speakers.
It is a wireless type speaker that can be easily connected to any laptop or computer with Bluetooth connection. Whether you connect it with Bluetooth or aux cable the sound quality you would get the same sound quality. It has a 6-inch subwoofer that provides high bass and eight transducers that further elevate the clear sound. Its elegant touch control lets you smoothly operate it and you can conveniently power on/off or adjust the volume.
The minimum wattage of 20 watts with a maximum wattage of 80 watts you can hear a pleasant sound with this energy-efficient sound stick. You can buy it for superb design and amazing sound. Another positive of this computer speaker is that it can be placed anywhere in the house or office within 30 feet to play music. It weighs only322 grams and measures 39.9 x 27.7 x 29 cm. If you wish to buy this amazing computer speaker then it is available on all major eCommerce websites in the price range of Rs 7500 to Rs 8000 along with a one year warranty.
Sony SA-D20 C E12 2.1 Channel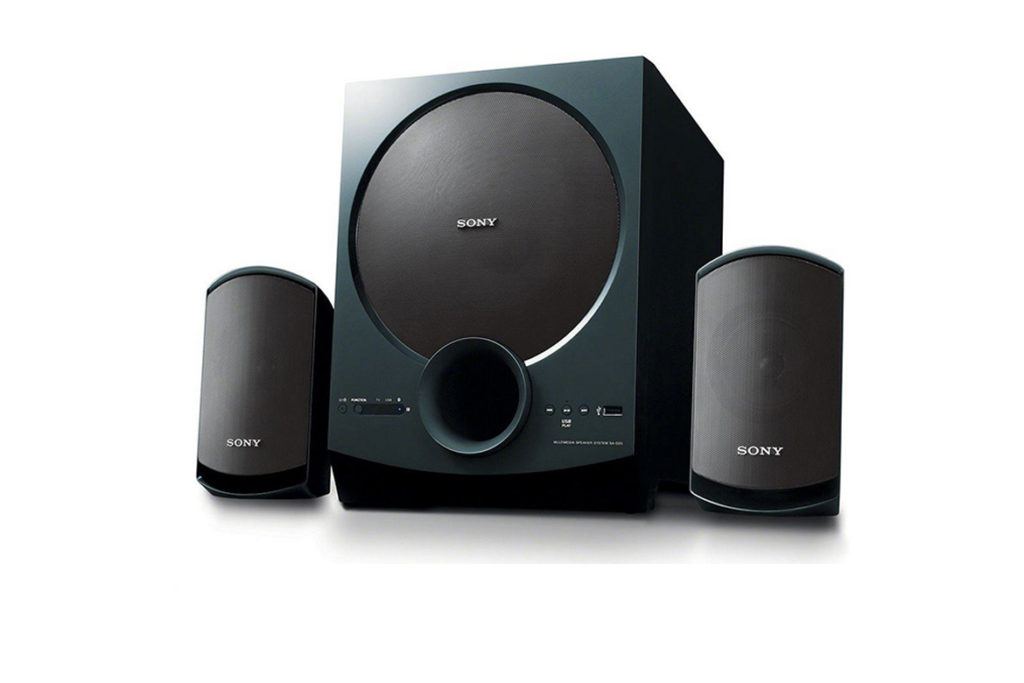 Sony is a brand that does not require any introduction and is best known for its superb devices that are known for superb sound. The company has taken forward this legacy with the introduction of Sony SA-D20 C E12 2.1 Channel that is one of the best computer speakers available in the market in its price range.
With an incredible look and powerful bass, it produces 60 Watt sound that cannot be compared with other computer speakers that are available in its price range. The Bluetooth connectivity ensures that you easily stay connected up to 30 feet and play sound or music without any lag or hiccups. The multi-connectivity feature like aux cable support and USB connectivity is an additional advantage of this gorgeous speaker.
One can feel the surround sound when connected to any latest device like computer, smartphone, tablet, laptop or other devices.  It also comes with a remote control so you do not have to leave your space and could adjust volume, power on/off.
The compact design makes it easy for you to place anywhere in your home or office as it perfectly blends with your interiors that also saves space. It weighs 5 kg and measures 40.5 x 26 x 34 cm. If you wish to buy this amazing computer speaker then it comes with a one year warranty for Rs 6999.
Philips MMS8085B/94 2.1 Channel
Philips has been making speakers for decades and perfectly understands the minute details of the best sound. These speakers are best for playing music when connected to the computer and other devices. The high powerful bass with deep sound is what you get at an affordable price. Specially designed for producing surround sound these can easily be placed anywhere in an office or house.
The total sound output of 80Watts along with deep bass takes music listening and gaming experience to another level.
Sleek and unique body design takes less space and allows you to place it even on the computer table or bookshelves.
With this speaker set, you get 2 satellite speakers along with a subwoofer and remote control that lets you adjust volume, power off/on without moving. It also has multi-connectivity options available like you can connect any device by using Bluetooth connection, USB pen drive, and SD card.
If you wish to buy this 80 Watt computer speaker then it is available for Rs 6990 on Amazon along with Remote control, User Manual, Warranty Card, 2 RCA to stereo-1 number cable with one year warranty.
Also Read: 5 best speakers under 10,000 available in the market
Creative SBS-E2800 2.1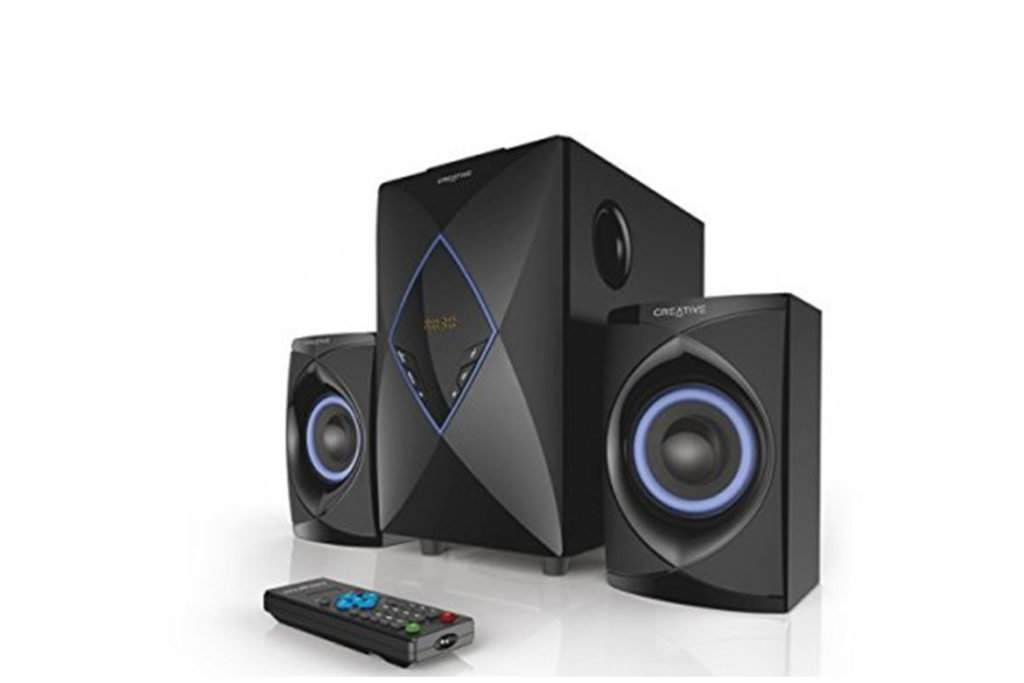 Creative is another popular brand known for its exceptional sound and with Creative SBS-E2800 2.1 it has once again proved that it gives a tough competition to them in its price range. You can get it for Rs 3500 on any eCommerce website.
Its sleek and stylish design perfectly accommodates 50-watt speakers that produce high definition sound without compromising the quality. The wooden cabinet further enhances sound clarity. With this speaker you get Impedance of 4 Ohms from Subwoofer, 6 Ohms from Satellite with Power Input of 220-230V~ 50Hz along with Sound Noise Ratio: ≥70dB.
Another positive is that it also has an inbuilt mp3 player with USB and pen drive ports at the backside which plays music with Frequency Response of 45Hz ~ 20kHz, Frequencies: 87.5mHz – 108mHz. It also has an FM receiver with an automatic tuning system with which you get clear sound from your favorite FM station. You can also RC cable and 3.5 mm aux cable to connect and play your music.
With different equalizer presets you can easily adjust the sound with volume adjustment. There is also a remote control that you get along with these computer speakers. You can buy this speaker along with a one year warranty, remote control, and aux cable.