Apple's new iPhone 14 series is now official. In a major event that was concluded earlier this month, 4 devices of the 14 series were launched by the company. Apple brings this year: iPhone 14, iPhone 14 Plus, iPhone 14 Pro, and iPhone 14 Pro Max. The company's latest operating system, iOS16, will be included in the new iPhone 14 series.
Apple has done everything in its power to introduce its new phones that are feature-rich and revolutionary, just like every other phone manufacturer that is always trying to promote its new phone model. This time Apple took some inspiration from Android phones. Let's have a look at such features.
Here are the 5 new iPhone features that Android users are used to:
Always-on display:
Apple iPhone 14 Pro and Pro Max come with some features that are exclusive to them, such as the Always-On Display feature. It allows you to see the time and other useful widgets even when the phone is in sleep mode. This is the first time Apple has introduced this feature on its iPhone. On the other hand, Android users have had this feature for a long time. Samsung introduced an always-on display on its Galaxy S7 series of phones in 2016. AOD feature is now common to almost all AMOLED display Android phones, even in the phones under 20000 range. However, Apple's always-on display has an edge over the competition because it's more customizable. It will continue to show the lock screen wallpaper, colors and all, just dimmer.
Car accident detection:
Another key feature highlighted at Apple's Far Out event was its auto-detection of issues. Apple introduced the feature on the iPhone 14 and Apple Watch Series 8 models. Apple says the feature uses a new accelerometer, barometer, and other dual-core sensors to detect collisions. In the event of a car accident, it will automatically call emergency services if the user does not answer after 10 seconds of countdown. Google was the first to roll out this feature on Pixel 3 and later phones. This feature, however, is also not new to Android users. Like the iPhone 14, the Pixel phone also uses various motion sensors and a microphone to detect car crashes and automatically call emergency services if there's no response.
Shared photo library:
This is also something  which is common for Android users, the new operating system – iOS16 – will allow iPhone 14 users to create photo galleries based on the date or subject of a photo. iPhone users can share these libraries with up to five people, which is better than Android users. Google Photo allows users to share an entire library based on the start date or the person in the photo, but only with one person.
Selfie camera autofocus:
Apple first introduced autofocus on its selfie camera. This feature will focus on the person in front and help provide a sharper image. However, Apple is late because Android has had it for many years now. This feature has been available on many mid range camera centric Android smartphones for a long time.
Fitness apps:
Apple has made Apple Fitness+ available to iPhone 14 device owners. Previously only available for Apple Watches, the health and wellness app is now fully compatible with iOS16 and can be used by iPhone users. There's always a Google fitness app for watch owners and non-watch owners. Every Pixel phone comes with a feature that allows users to track fitness-related stats like exercise time, calorie data, and more.
What's new in iPhone 14 series?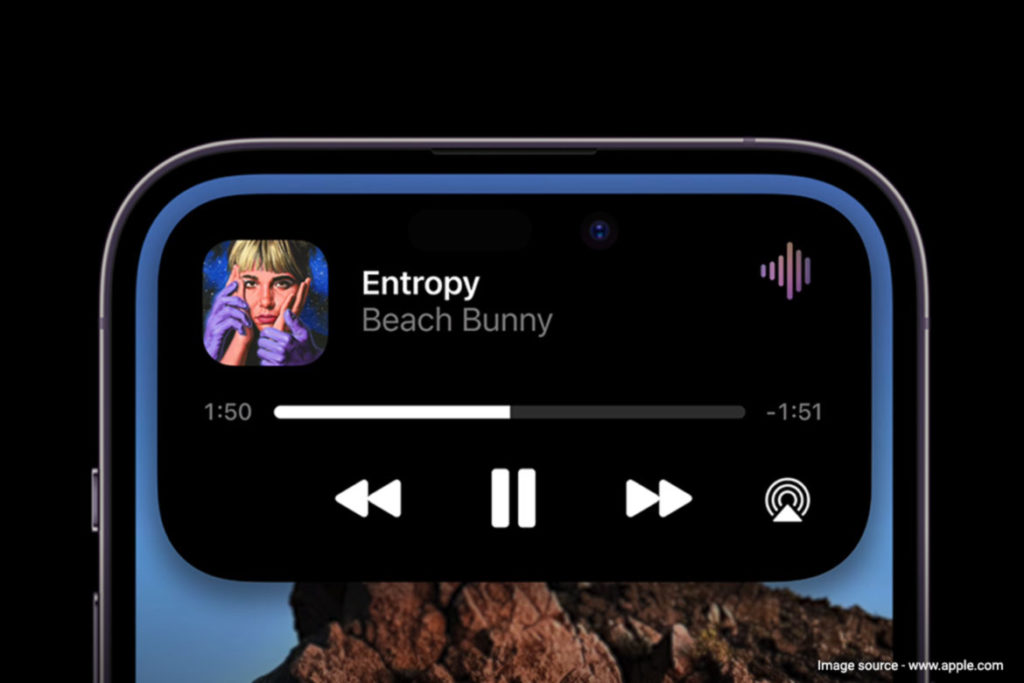 Read more: Top 5 budget 5G smartphones under 15000 in India
Apple has improved the camera and added safety features like collision detection. It also removes the SIM tray from the US iPhone 14 models, and yes, Apple is bringing emergency SOS over a satellite connection. But this is only for the US and Canada for now.
While the iPhone 14 and iPhone 14 Plus continue with the old A15 Bionic chipset, the iPhone 14 Pro and iPhone 14 Pro Max come with the powerful new A16 chipset. The new A16 Bionic chipset, is built on a 4nm design and comes with six cores, GPU and more advanced ISP and neural engine. Apple has limited the A16 to high-end Pro options this time around.
Meanwhile, the iPhone 14 Pro has a new "dynamic island" notch. The pill-shaped notch will display animations and notifications based on the open application. Apple relies on both hardware and software to achieve this effect on the iPhone 14 Pro display. For example, when the music app is open, the notch shows a different kind of animation.
A 48MP main camera and upgrades to the telephoto and ultra-wide cameras are added to the iPhone 14 Pro. Among other things, the camera offers superior video recording, 48MP ProRaw shooting, and better low-light photography. Additionally, Apple has improved the Pro series' battery life.
The starting price for the iPhone 14 is Rs 79,900, and the pricing for the iPhone 14 Plus is Rs 89,900. Starting at Rs. 1,29,900 for the iPhone 14 Pro and Rs. 1,39,900 for the iPhone 14 Pro Max.