Laptops have multiple connectivity options such as Wi-Fi, Ethernet port, USB port, Inbuilt Bluetooth. One can connect the phone with a laptop by using any of the above-mentioned connections either to transfer data or share an internet connection.
Whether you use Windows/Linux based laptop or Apple laptop, almost all models irrespective of configuration and operating system have almost the same types of connectivity that you can use according to your choice and resource availability. Like if you do not have a USB cable or internet connectivity then obviously you cannot connect by using these two options. Hence, you will have to use other options that will help you to connect your phone with your laptop.
So, you can choose any of the options to connect your Android or iPhone to either Windows or Apple laptop with wire or wirelessly. Once you successfully connect with the laptop you can transfer data files from either side that laptop to phone or phone to laptop.
USB Cable Connection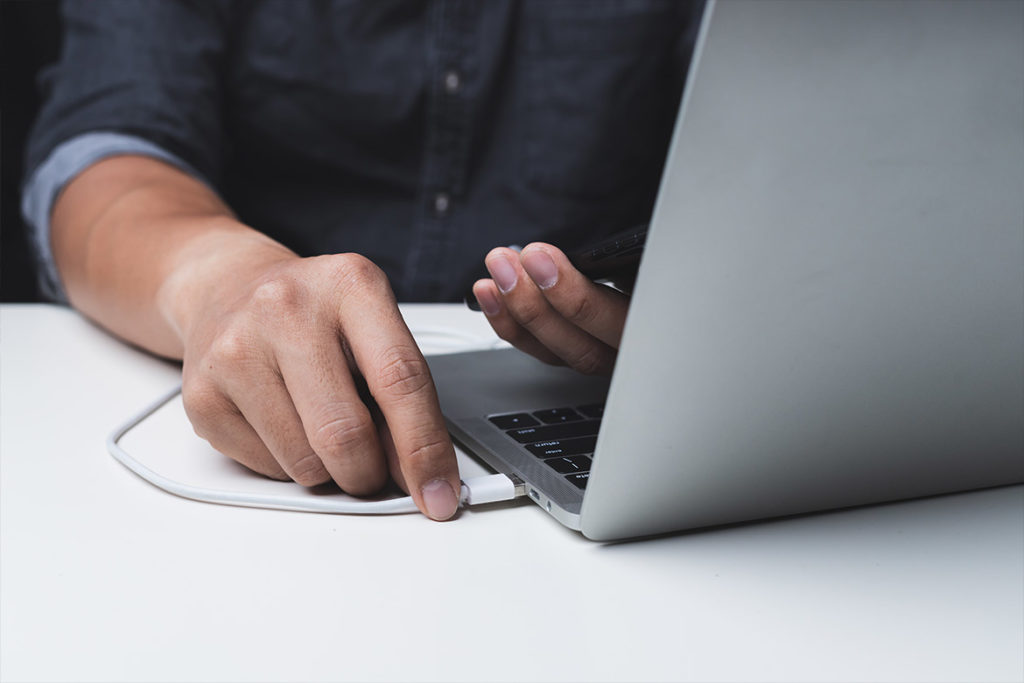 This is the best and fastest way to connect your phone with a laptop to transfer files and even share an internet connection. If you will use a USB cable for connecting the phone to the laptop then it takes the shortest time for data transfer as compared to using any other connectivity option.
Nowadays, almost all smartphones and phones have USB ports to connect and charge them, so all you have to do is insert the USB cable in the phone and the other end to the laptop which could be a Windows or MacOS.
Once connected you will see the notification on the laptop as if you want to transfer the data or charge the phone. You can choose accordingly and in the case of transferring the files you can choose the data transfer option which will allow you to quickly send data like photos, videos, images,  movies, music files, documents even apk files that are available in the internal or external memory of the mobile.
As mentioned above, using this method is recommended if you are carrying a USB cable with you and leave the rest of the things on the phone. Whatever option you choose to connect your phone by using a USB cable for either charging it or exchanging data, the Windows and MacOS will automatically install the required drivers without causing any trouble to you.
It was not simple earlier because a few years back if you needed to connect your phone with a laptop then a PC suite was needed. That is not the case now with almost all types of phones. One can freely connect any phone directly by inserting the USB cable in the ports.
After transferring the data, you need to safely remove it by using the eject option that would be available in the notifications of your phone. All you have to do is use the option "safely remove" to ensure that there is no data loss.
So, this was the only wired connection type that you can use to connect your phone with a laptop. The other options that we would be discussing are completely wireless connection.
Wi-Fi Hotspot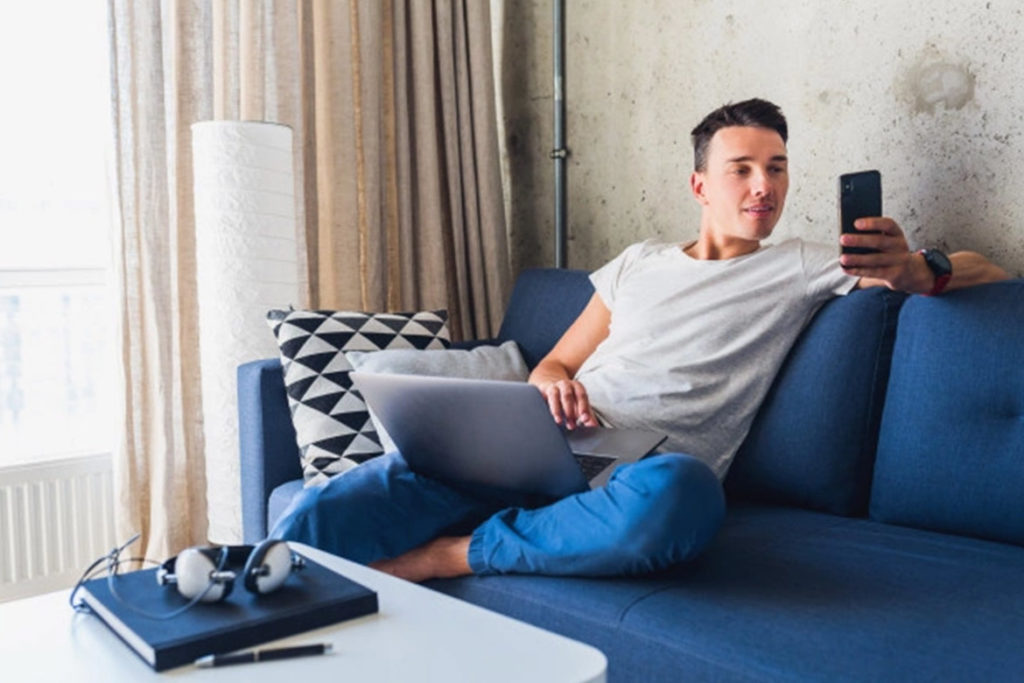 This is another preferred way of connecting a phone with a laptop. You can create a Wi-Fi hotspot to use the internet on your laptop so this indirectly connects these two devices. Hence, if you have small data files to send like images, music files, videos or documents that are not too heavy then you can use email and other messaging apps to upload them and send them to your laptop.
However, you can also use cloud storage such as Dropbox, Google Drive, Microsoft OneDrive, etc. to upload data from your phone then open the cloud storage and open them for downloading all the content.
You can use messaging apps like WhatsApp which lets you upload and send not just messages but also documents, photos, videos, and other types of files. To use this feature you need to open https://web.whatsapp.com/ on any web browser of your laptop which could be Safari, Opera, Mozilla Firefox, Chrome, etc. It will open the web version of your WhatsApp account from which you can download your data.
Also Read: How To Charge Your Phone Battery Faster?
Wi-Fi tethering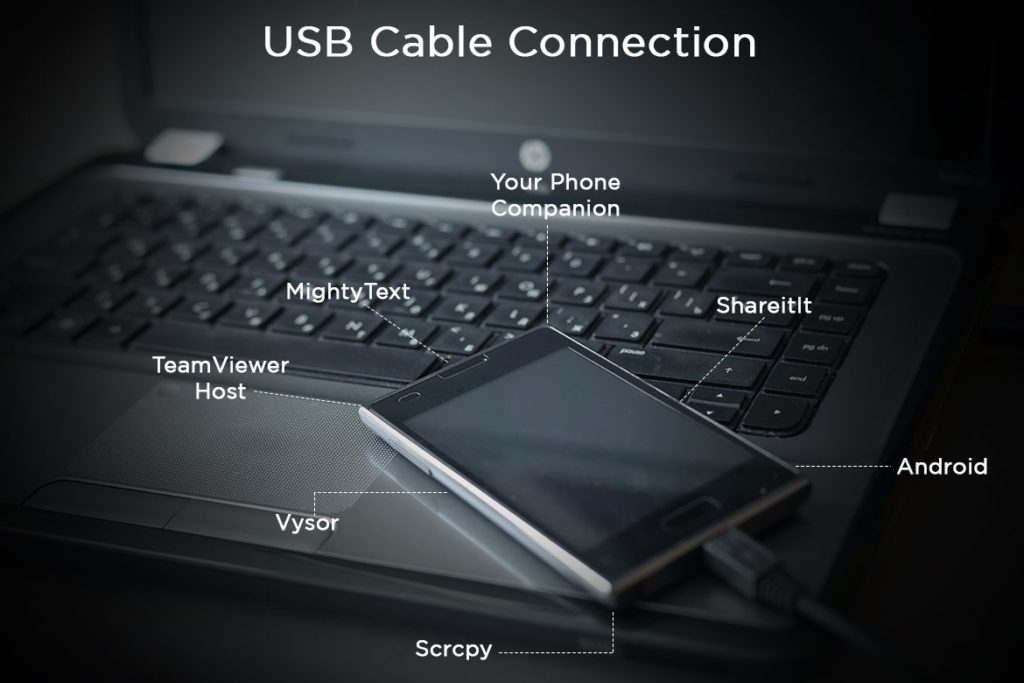 In case you have limited internet then the above method is not viable for sending heavy files and data. So, you can use third-party apps that can connect phones with laptops by using a Wi-Fi connection, but without using the Internet.
To send heavy data files to your laptop you can use apps like Shareit, Xender, Airdroid, etc. that use Wi-Fi direct features that are preinstalled in the phone. Hence, these types of apps do not use the internet package instead of transfer data by using only the Wi-Fi connection.
All these third party Wi-Fi file transfer apps are free to use and easily available on Google Playstore and Apple store. You also need not worry about the configuration as these are mostly light apps that do not require much space to get installed and are of universal nature which means that these support all types of modern phones and other devices that you need to connect with the laptop.
The features of all Wi-Fi file transfer apps are almost the same as you. These allow you to connect with Wi-Fi directly and send heavy files like movies, software programs, or whatever you wish to send from your phone to the PC. However, you need to open the same app on both devices to send and receive the data which could be zipped or unzipped files and folders.
It is a popular app that easily connects your phone to a laptop without internet as mentioned above it uses Wi-Fi connectivity to transfer data. One can connect it with Windows as well as Apple Mac laptops.
Once the phone is connected to the laptop, it allows you to make and receive calls on the laptop along with message notifications, etc. Thus, it also allows you to directly send and receive messages right from the laptop screen.
It is another app developed by Lenovo that is known for instantly connecting a phone to a laptop and quickly transferring the data without any hassle. Its installation is easy and simple, all you have to do is go to the app store and download the app on your phone. Similarly, you need to install the app on your laptop thus it will get connected by using the WiFi tethering feature of the phone. With this app, you can connect your phone to both Windows and Apple Mac laptops.
It is purely a phone connecting app that does not allow you to make or receive calls, so use it for only transferring data without any internet package.
It is another great app for connecting phones to any laptop with easy installation and setup. This app is developed by Microsoft which means that you can trust and rely on this app to share your content between the two devices.
It even makes it possible to make and receive calls along with messages directly from the laptop screen.
You can also use this app to connect your phone with your laptop, just like YourPhoneCompanion it also lets you see messages and make calls from the laptop which could either be Windows or Apple Mac.
This is one of the best and safest phone connecting apps that not just cast your phone screen on the laptop but also lets you control it. It supports both Windows and Apple Mac laptops, so there is no need to give a second thought before downloading and using this app.
With this app you cannot make or receive calls without mirroring but this does not mean that you can control the phone from the laptop. One can make file transfer, clipboard sharing, and much more.
It is also a renowned phone connecting app that works perfectly for both Apple Mac and Windows laptops. It also functions as the above apps and once you connect your phone with a laptop it allows the user to share data without using a wire.
One can also receive and make calls from the laptop by using the mirror function. Hence, if you want to streamline any movie from the phone or use any other app then it is very easy and simple if you use this amazing app.
This is another free third party app that can be used to instantly connect any phone with a laptop without consuming Internet data. With this app, one can quickly send and receive large data files and folders along with software programs between the two devices.
The best thing about this is that it supports dual connectivity options which means you can connect your phone with a USB cable or wirelessly that too with a phone screening feature.
It does not matter whether you want to connect your phone with a Windows laptop or Apple laptop. This app is compatible with both and works seamlessly because this lightweight app is known for working smoothly without any lag and one of the best high performing phone connecting apps.
Also Read: How To Easily Remove Laptop Battery?
Bluetooth Connection
This is also one of the most used methods to connect your phone and laptop. Almost all the laptops have inbuilt Bluetooth connectivity as you have the same connectivity on your phone. With a Bluetooth connection, you can send any type of data file and content or play music.
There is no extra app or software required to connect your phone to a laptop by using Bluetooth. It is very simple and easy to make the connection between the two devices. All you have to do is switch on the Bluetooth on your phone as well as on the laptop then do the pairing.
Pairing a phone with a laptop is simple, just open the Bluetooth connectivity option either on the phone or on the laptop then search for the other device, once you see the device in the list it will ask for the passcode that you can enter pairing will be done.
This process needs to be followed for the first time and until you use the forget device option it will automatically connect the phone and laptop next time if you wish to do so.
Connect iPhone to laptop
If you use iPhone and want to connect your phone to a laptop with Windows operating system, then you will need third-party apps that you can get from iTunes which will let you connect, manage data and create a backup of various types of files.
For downloading iTunes on Windows laptop, you need to open web browser by visiting www.apple.com/itunes
After visiting the iTunes store click on "Download iTunes" and download then open your download folder and launch the iTunes6464setup file and it will install iTunes.
For the first time, you need to use the cable and connect your iPhone to the laptop, which will prompt some messages. Just click ok and continue.
The moment you click on the continue button, it will get connected and ready to share data between the two devices.
As mentioned above one can also use the Airdroid app for connecting to a Windows laptop wirelessly with an Android phone. In this case, also the Airdroid app needs to be installed on the Windows laptop.
Which method is best for connecting phone to laptop?
We have listed above the best apps and methods that can be used to connect your phone with a laptop easily. All connectivity options are good but among all of the USB cable connection is the fastest that takes minimum to make a connection and transfer data between the two devices.
Another positive of connecting a phone to a laptop is that you do not need to install any kind of app or third party software programs. It also consumes less power as compared to other connecting methods like Wi-Fi tethering consumes the maximum power and Bluetooth connection also consumes a good amount of power. However, Bluetooth takes a bit more time to transfer data especially if the data is heavy.
If you are not carrying a cable then Bluetooth and W-Fi tethering or using Wi-Fi hotspot are best options.
Also Read: How To Easily Fix Your Laptop If The Screen Is Black?