WhatsApp is a popular messaging app that allows you to send and receive documents, photos, music files, videos, video calls, and even send or receive money by just using the Internet.
This free messaging app can be found in almost all modern mobiles and has become an important part of our daily lives. It requires a mobile number to create a WhatsApp account and in case you change your mobile number then you will have to create a new account but if you are worried about the chat history or data backup then not to worry.
Here, we will discuss how you can change your WhatsApp number without deleting the previously downloaded one.
If you have changed your mobile number and do not wish to download Whatsapp again then it has now become very easy because WhatsApp has launched a new feature that allows you to add a new mobile number without deleting the previous one.
This updated feature is called "Change Number" that you can see only if you are using the latest and updated WhatsApp. So, it is recommended to first of all update your existing app then think about changing the number.
The process of changing WhatsApp is very simple, all you have to do is follow the below steps that will quickly change the number.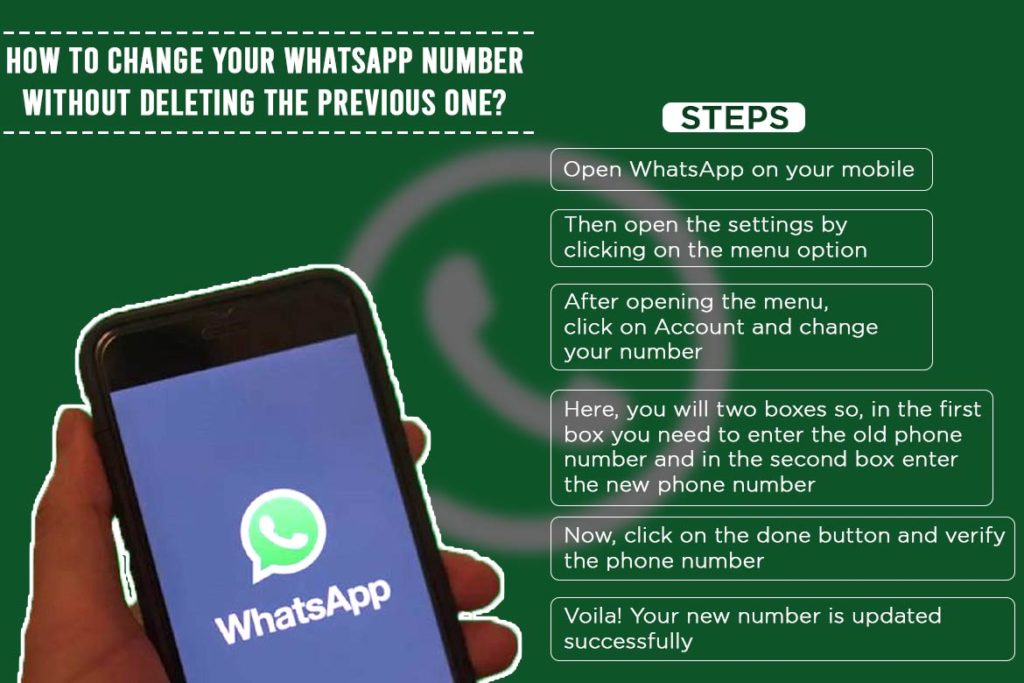 Step 1: Open WhatsApp on your mobile
Step 2: Then open the settings by clicking on the menu option
Step 3:  After opening the menu, click on Account and change your number
Step 4: Here, you will two boxes so, in the first box you need to enter the old phone number and in the second box enter the new phone number
Step 5: Now, click on the done button and verify the phone number
Step 6: Voila! Your new number is updated successfully
If you will follow the above-mentioned steps carefully then it will not take much time to get your new number updated. You also need not worry about the chat history and data backups as they will remain as it is and you can use them at any time.
Also Read: How To Download Videos From Instagram?