Data loss can be stressful and most of the PC users must have experienced this problem sometimes. Sometimes the data is mistakenly deleted or the hard drive gets corrupted or in the worst scenario gets crashes.
If your PC or laptop hard drive crashed and you want to recover the data without losing any important stored information then here we will tell you about several ways to retrieve data from a hard drive.
There are tons of free and paid software that can recover your data from the hard drive but you should wisely choose the best option as there are high chances that while recovering the hard drive data it may also get copied and leaked.
What is Hard drive?
 Hard drives are often called hard disks or fixed disks that use magnetic storage to store digital data. T means that whatever information you store on your pc or laptop gets stored in the hard drive.
Scenarios in which data loss happens
Usually, data loss happens by two ways i.e. physical damage to the hard drive which is difficult to recover if the parts are damaged extensively and the second scenario is logical data loss
Logical data loss: If you have mistakenly deleted the file or formatted the hard drive but it does not mean that the data is completely lost as it is still there. The other mistake we sometimes do is by clearing the recycle bin that completely removes the data reference place where it was present earlier.
However, a lot depends on the type of hard drive file system you are having on your computer where the deleted or lost data is stored. As in this case you might need a specific software program that can recover data from the hard drive.
Generally when you delete the file from the recycle bin the data path is removed and the operating system also does not know the place where it is saved but it does mean that it is not available in the hard drive. It all requires a professional tool that can find the location where it is still available.
Anyways if you have mistakenly deleted the data or it has happened due to the hardware/software failure then you can take the help of professional software tools which are readily available online and offline as paid and free.
Here we will discuss various paid as well as free data recovery programs that will not only help you to recover data but also limits the negative impacts of losing your precious data that might cause huge financial loss.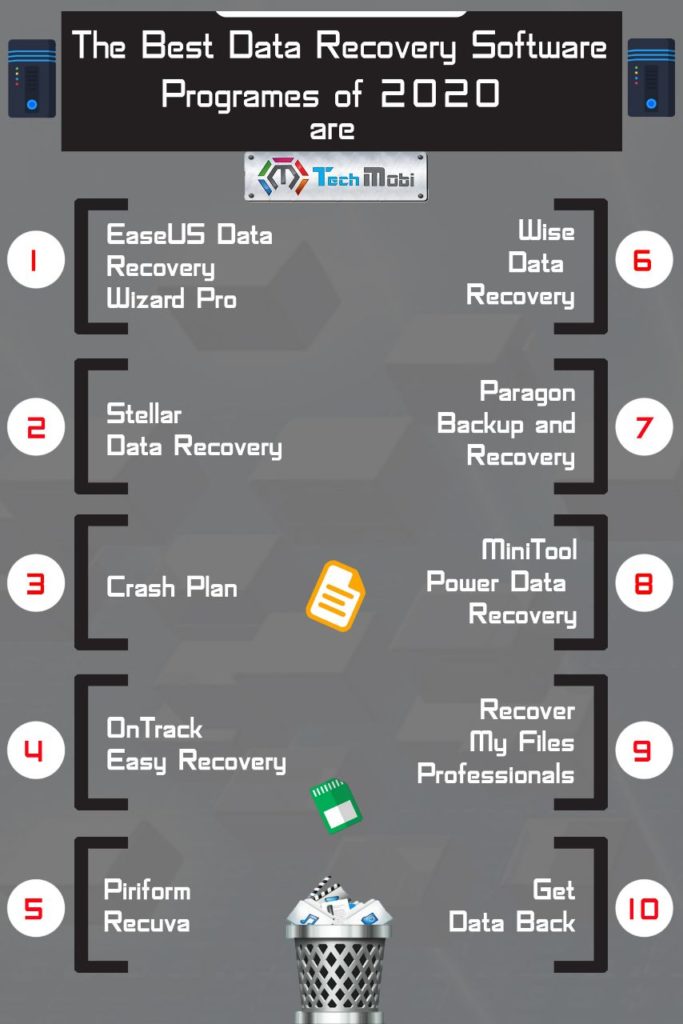 The best data recovery software programs of 2020 are
1.   EaseUS Data Recovery Wizard Pro
2.   Stellar Data Recovery
3.   CrashPlan
4.   OnTrack EasyRecovery
5.   Piriform Recuva
6.   Wise Data Recovery
7.   Paragon Backup and Recovery
8.   MiniTool Power Data Recovery
9.   Recover My Files Professional
10.   GetDataBack
EaseUS Data Recovery Wizard Pro
It is an excellent data recovery software program that is fast and uses advanced data recovery algorithms. It deeply scans the hard drive to locate the data and make it available for you for both Windows and iMac PC and computers.
This advanced data recovery has a simple user interface and guides you step by step to recover the lost data from the hard drive. There are three versions available and the basic version cost around 69.95 dollars for a one-year subscription.
The basic version lets you recover unlimited data which has been deleted, formatted, or inaccessible. It can also recover data from deleted, raw partition, hidden and lost data easily without any hassle.
It keeps updating the technology to retrieve data and also lets you preview the lost data for free so that you know whether it will work or not during the free trial.
Stellar Data Recovery
This is the second-best data recovery tool that has also earned awards for recovering data not just from the crashed hard drives but also from the SD card and unbootable drives along with windows partitions.
It is available for both Apple and Windows laptops and desktops and its fast speed makes it one of the best Indian data recovery software that is easy to download and quickly gets installed.
The seamless interface helps you recover your lost data and files from almost all kinds of data loss situations.
With some advanced features like a powerful scan engine, turn off preview mode, resume recovery, RAW recovery, and remote access mode keeps it ahead of much other data recovery software.
If you want to find out whether it will recover your data from the hard drive then there is an option to download it for free then it will preview your lost or deleted data so that you can find out whether it will work for you or not.
So, if you can see in the preview that it can recover the data, you can buy its subscription. With the lowest price and Multi-Language support and 24*7 local support centers, you can trust this software to get back your data.
The reasons it can be bought for are lowest price, deep scanning ability, fast data recovery, multiple device support.
CrashPlan
This is another great data recovery tool that offers its data recovery services not just for individuals but also for enterprises and firms. This is a powerful and secure data recovery tool that uses the SSL encryption method to find your lost data from the crashed hard drive. It also ensures data backup along with recovery.
However, it is best suited for small business firms and enterprises but if you like to use it for your personal use and not worried about the price then it is one of the best options to recover your lost data.
There are no file size restrictions and there will be no additional cost involved apart from the monthly plan that they charge per computer. With cloud backup you can also control for how long you need to have the recovered file stored.
It also keeps a copy of your data without charging any additional money and with a dedicated support staff, you can connect with them over the call anytime.
Another positive of this tool is that it can restore your data from desktop and browser.
OnTrack EasyRecovery
Just like its name you can precisely recover the lost data from a hard drive without following any complex steps. It is capable of recovering data lost from deletion, reformatting, and other data loss scenarios.
In case your lost data size is less than 1GB then it can find that for FREE without charging any money and if the data size is more than 1GB then you will have to buy its paid version.
You do not need to be a professional person to use this data recovery tool because it is simple and easy to use but the interface is very powerful and has a wide range of features that makes it a one-stop solution for data recovery needs for multiple devices such as CD, SSD, memory cards and even USB hard drive along with flash drives.
It not only supports both Windows and Mac laptops and computers but it is also capable of repairing damaged and corrupt images/videos.
There are many versions available that you can use according to your requirement but for personal use, you can take the basic subscription.
Also Read: Which Are The Best External Hard Drives Of 2020?
 Piriform Recuva
This is the simplest data recovery tool that easily recovers your lost documents, music files, videos, images, emails and other types of files that were lost mistakenly. This is an affordable tool that supports both Windows, Mac, USB, external hard drive, memory card, and other storage devices.
It uses advanced algorithms and deep scanning methods to find out the traces that increase the data recovery chances of newly formatted data.
Recuva also uses military standard deletion techniques along with secure overwrite features to ensure that your files remain erased.
There are three versions of this data recovery tool available and the basic version is completely FREE to use and for professionals, there are two more plans starting from $19.95 dollars.
Wise Data Recovery
This is a professional data recovery tool that quickly recovers the lost hard drive data. It is capable of recovering the lost document, images, photos, videos, text, tools, programs and other file types from hard drive, external hard drive, USB stick, SD card, mobile phone, local drive, and other storage drives.
Whether you mistakenly deleted the data or did permanent deletion or formatted the disk, then no problem as they can even recover data from the crashed windows and MAC operating system by using its advanced WinPE bootable media technology.
It can recover the below documents and 100 plus other formats easily
Documents: DOC/DOCX, HTML/HTM, INDD, EPS, PDF, CWK, HTML/HTM, INDD, EPS, XLS/XLSX, PPT/PPTX, etc.
Graphics: BMP, GIF, PSD, CRW, CR2, NEF, ORF, SR2, MRW, DCR, WMF, RAW, SWF, SVG, RAF, DNG, JPG/JPEG, TIFF/TIF, PNG, etc.
Videos: AVI, MOV, WMV, MKV, ASF, FLV, SWF, MPG, RM/RMVB, MP4, M4V, 3GP, 3G2, MPEG, etc.
Audios: AIF/AIFF, M4A, MP3, WAV, WMA, APE, MID/MIDI, RealAudio, VQF, FLV, MKV, MPG, M4V, RM/RMVB, OGG, AAC, WMV, APE, etc.
E-Mail: PST, DBX, EMLX, etc. from Outlook and Outlook Express
Other file types: Archives, ZIP, RAR, SIT, ISO etc. exe, html, SITX, etc.
It can be bought for fast data recovery, easy user interface, multiple filter options and data quality indicators.
Paragon Backup and Recovery
This is one of the most advanced data recovery tools that can be used by anyone and you do need to be an IT expert for using it. The user interface is simple and its advanced algorithm provides dual recovery and backup options.
It is best suited for individual users and if your computer hard drive has crashed then this could be a good option as it can protect your data with manual and auto-backup modes.
So, with this software, you not only recover your hard drive data but also create a backup for Windows and Mac operating systems.
MiniTool Power Data Recovery
It is easy to use and multipurpose data recovery software that is suitable for home users. It supports multiple storage devices such as hard drive, external hard drive, CD, DVD, memory card, USB, flash drive, etc.
With a simple user interface and easy to easy recovery steps anyone can use this online tool without being an IT expert. In a few clicks, you can recover the lost data from the hard drive. Unlike other data recovery tools, it is much more powerful and helps in retrieving formatted, damaged, reformatted data in no time.
There are five recovery modules with dedicated and focused data loss condition applications
1.Undelete Recovery
2.Damaged Partition Recovery
3.Lost Partition Recovery
4.Digital Media Recovery
5.CD/DVD Recovery
Another positive of this tool is that you can use it for FREE to recover data of up to 1GB without any problems and if it crosses the limit then you will have to use its paid subscription. It supports both Windows and iMac computers and laptops.
Recover My Files Professional
This is a professional and very good data recovery tool with decent features and capable of doing selective data scanning.  It not only supports Windows and Mac computers but also seamlessly does data recovery from a USB pen drive, Zio, floppy disk, iPod, camera, external hard drive, flash drive, and much more.
It can easily recover formatted, reformatted, emptied recycle bin deleted data with ease. There is also an option to only recover specific data or the entire hard drive data quickly with deep scanning features.
It is best suited for individual users who usually partition the data. It supports all types of file formats such as email, image, photos, videos, software, documents, archives, NTFS, FAT-12/16/32, exFAT, HFS, HFS+, and different types of databases recovery by using a thorough search mechanism, and it can also recover data of external hard drives once connected with the PC.
You can also try it for free and see how it finds out the lost data without any hassle.
GetDataBack
Whether you have mistakenly formatted the hard drive or emptied the recycle bin and lost your important data than not to worry as this is a professional easy to use the best data recovery tool.
This powerful and fast recovery tool can recover your lost data in three simple steps that make it one of the easiest online tools.
It only supports Windows PC and laptops which means you cannot use it for Mac but it supports external hard drive, SSD, flashcards, USB stick.
You can even try it for free including all versions and if you like it then go for the paid subscription after previewing your lost data. You also get a free lifetime update promise if you buy the paid version of this data recovery tool.
If you do not want to face the data loss problem in the future then it is better to follow the below tips which will help you to avoid the data loss from the hard drive of your computer.
Do not use your computer
If you notice some unfamiliar sound or strange noise from the system or hard drive then immediately stop its use and try to take backup with an external hard drive or another storage device
Use paid Antivirus software
Usually, the free antivirus is not capable of saving your system from the new viruses and it is always better to get the pro version of antivirus which keeps on updating itself with the most advanced viruses that try to attack your computer system which will eventually result in data loss or data theft.
Regular data backup
If you regularly backup your data on the cloud or on other device storage then it would be better as you will always have a copy of the data and never have to worry about data loss.
Do not use your computer in extreme weather conditions
Too much heat or a humid environment can harm your PC as well as the hard drive, so it is always beneficial if you keep your machine away from the extreme heat and humid conditions.
If the hard drive is physically damaged and you have tried at least one of the above data recovery too and still not able to view your data in the preview trial mode then you should show the hard drive or computer to a professional technician who would give you the better picture about whether he could restore the data or not.
Still, it is usually seen that in most cases the data can be recovered from the physically damaged hard drive if it is not drowned and has all the pieces connected. Moreover, you can try some more free data recovery tools that may be able to retrieve full data or partial data from the hard drive. A professional technician can also recover data from failed hard drives which these recovery tools cannot recover.
Also Read: A Laptop Computer : Laptop Size, Portability & Other Peripherals