Samsung's Galaxy S22 Ultra was and continues to be an excellent smartphone. However, the merger of the Note and Galaxy lines was more important than anything else. We finally had a well-integrated S Pen in a Galaxy S series smartphone with a camera. It was the ultimate Samsung smartphone, with nothing missing, starting at Rs. 1,09,999. Rather than a complete redesign with the Galaxy S23 Ultra this year, Samsung has created a device that will feel very familiar to Galaxy S22 Ultra users, but with a twist.
The Samsung Galaxy S23 Ultra features a brand-new primary camera sensor for improved imaging and a Qualcomm SoC that has been tweaked to (hopefully) deliver better performance. . All of this, however, comes at a higher asking price, which I'm sure fans would gladly pay. Should you get the latest Ultra or stick with the one you already have?
Price of the Samsung Galaxy S23 Ultra in India
The Samsung Galaxy S23 Ultra is significantly more expensive than last year's Galaxy S22 Ultra. It costs Rs. 1,24,999 for the 12GB RAM and 256GB storage variant, which is approximately Rs. 15,000 more than the phone it replaces. The next variant, with 12GB of RAM and 512GB storage, costs Rs. 1,34,999, while the top-of-the-line 12GB RAM and 1TB storage variant costs an eye-watering Rs. 1,54,999.
Design of the Samsung Galaxy S23 Ultra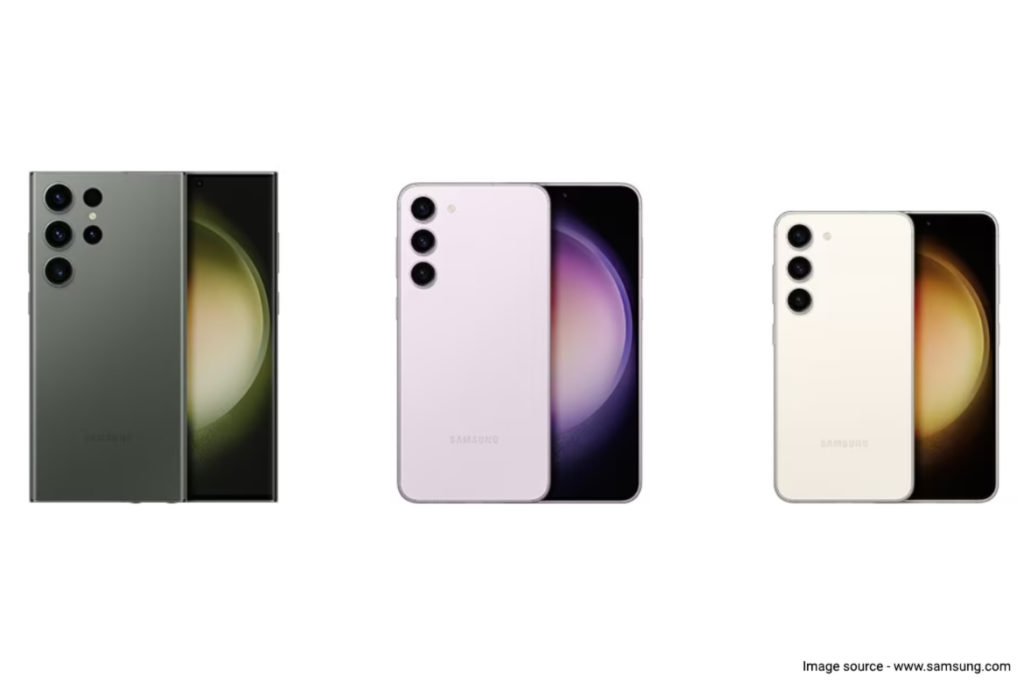 The Samsung Galaxy S23 Ultra retains its 'Ultra' status in terms of size. The phone still looks and feels expensive, but it has gained a few grams (234g vs 228g) over last year's model, albeit not noticeably.
Samsung accomplished this by widening the metal frame and reducing the curvature of the edges. When viewed from the top or bottom, it appears more like a rectangle with rounded corners rather than the pill-shaped profile. Despite its increased thickness over the previous model, the Galaxy S23 Ultra is still quite comfortable to hold, thanks to a broader, flatter surface on all sides for improved grip.
Specifications and software for the Samsung Galaxy S23 Ultra
The Samsung Galaxy S23 Ultra, like the previous model, is all about bragging rights when it comes to specifications. There's a massive 6.8-inch WQHD+ Super AMOLED panel with a refresh rate of 120Hz and a touch sampling rate of 240Hz.
The 'Qualcomm Snapdragon 8 Gen 2 Mobile Platform for Galaxy,' which is Samsung's branding for a customised Snapdragon 8 Gen 2 SoC, is new on the inside. The phone is available with up to 12GB of RAM and 1TB of storage. The SIM card tray supports dual 5G standby and can hold two nano-SIM cards, but the phone does not support expandable storage.
There is support for several 5G bands, Wi-Fi ac, Bluetooth 5.3, NFC, Ultra Wideband (UWB), and a USB 3.2 Gen 1 Type-C port when it comes to communication standards. The phone has a 5,000mAh battery and supports 45W fast wired charging as well as 15W wireless charging, but it does not come with a charger.
Samsung's One UI 5.1 provides a slick user interface (UI) with smooth animations and transitions. Expert RAW is now included in the camera app, making it more accessible to those who require it. Like iOS 16, the Gallery app allows users to lift objects, people, and pets from photos and save them as PNG files for sharing. There are two new battery widgets, as well as an improved dynamic weather widget. More recent updates also allow Samsung Galaxy Book laptop owners to use their phones' trackpad and keyboard.
The S Pen continues to function normally. Handwritten notes can be jotted down or converted to characters in real time. However, palm rejection when using the S Pen is an issue.
Bloatware and third-party apps are still a problem on a smartphone this expensive. The phone comes preloaded with Microsoft 365, OneDrive, LinkedIn, Outlook, Facebook, Spotify, and Netflix apps. OneDrive cannot be uninstalled from any of these locations. There are also many Samsung-branded apps, some of which have Google alternatives, such as Samsung Internet and Google Chrome (or Samsung's Messages app and Google's Messages app).
Performance of the Samsung Galaxy S23 Ultra
The display on the Galaxy S23 Ultra hasn't changed much in terms of proportions or resolution, but Samsung claims it has worked to deliver better colours through an improved adaptive 'Vision Booster' technology. It claims to improve the display's colour and contrast when viewed under bright lights or outside.
The company also claims that the screen's brightness has been increased to up to 1,200 nits with a peak brightness of 1,750 nits. Whether you're taking photos in bright sunlight or watching HDR10 content, everything will look great on this large display.
While the standard Qualcomm Snapdragon 8 Gen 2 SoC has a maximum clock speed of 3.2GHz, Samsung's modifications increase this to 3.36GHz. In terms of benchmarks, the Galaxy S23 Ultra scored 11,79,528 in AnTuTu and 1,513 and 4,626 in Geekbench 5's single-core and multi-core tests, respectively.
Battery life
Given that it has a large display to power, the battery life on the Samsung Galaxy S23 Ultra was quite impressive. With display to its maximum WQHD+ resolution and the refresh rate to 'Adaptive,' which automatically cycles between 1Hz and 120Hz, in HD video loop battery test, the phone lasted 21 hours and 7 minutes, which is quite impressive.
Even with heavy camera use, the Samsung Galaxy S23 Ultra easily lasted a full day, with about 30% of the battery remaining on average. You should be able to use this phone for a day and a half without breaking a sweat. Dropping the display's resolution to full-HD+ extends the phone's battery life by a few hours.
Cameras on the Samsung Galaxy S23 Ultra
Read more: OnePlus 11 series: Check specifications, Pricing and availability of OnePlus 11 and 11R in India
Another highlight of this year's Samsung Galaxy S23 Ultra is the new 200-megapixel primary camera sensor made by Samsung. The sensor is the same size as a 108-megapixel sensor, so the S23 Ultra has similar dimensions to its predecessor. The ISOCELL HP2 is slightly smaller than the HP1 (also manufactured by Samsung) found on the Motorola Edge 30 Ultra, but it features a 16-to-1 pixel binning system that captures 12-megapixel images by default.
The new autofocus system, dubbed "Super QPD" by Samsung, is a more significant upgrade. According to Samsung, it essentially allows the camera to use all 200 million pixels as focussing agents (grouped by four adjacent pixels). Unlike the HP1 sensor, which could only detect changes in the horizontal direction, the HP2 sensor can detect phase changes in the vertical direction as well.
The Night mode provides slightly superior imagery with less noise, but requires you to wait a few seconds before saving the image, so it should only be used in extremely dark conditions. Autofocus performed admirably, even in low-light situations, demonstrating that the upgrade to the new sensor was well worth it. Despite its excellent performance in well-lit environments, Samsung's S23 Ultra cannot handle extremely dark scenes accurately, resulting in a dreamy HDR effect.
When not using Portrait mode, self-portraits appeared crisp and clear, with good subject separation. Portrait mode produces similar results, with excellent edge detection. In low light, the new camera captured some high-quality selfies with good details and edge detection.
The camera configuration includes an intriguing 100X hybrid zoom capability. Images are razor sharp up to 10X zoom, the S23 Ultra's optical limit, but still deliver impressive quality up to 30X zoom. The photos appear fine as thumbnails at 100X but lack detail.
This time around, Samsung has significantly improved the video quality of the Galaxy S23 Ultra. 4K videos appear very detailed and have a very consistent bitrate. The new, more comprehensive OIS system also ensures that recordings are very stable while maintaining sharpness and quality.