Outdoor activities mean a tough environment and there are very few portable wireless speakers that can resist the outside weather and temperature. Many brands claim that they make the best portable speakers for almost all types of weather conditions but very are able to maintain their strength and good sound outside.
Moreover, if you could grab a stylish, punky portable speaker at an affordable price then nothing could be better than this.
Here we will tell you about the best 9 portable wireless speakers that have good reviews and you would be excited to own them as all of the below-mentioned speakers would be appropriate for all occasions. Whether you like soft music or music with high bass, you will find that the speakers mentioned in this article would match your listening taste and never let you down.
Do you like camping, trekking or bike riding then having a good portable speaker could prove to be a good companion? Few important features that you can consider before buying a portable speaker for outdoor activities are weight, battery backup, sound quality and output, connectivity, water and dustproof.
There are lots of branded options that you can consider to buy the best portable outdoor speaker that too at an affordable price. Most of the tech companies have also started making speakers that are not just suitable for indoor but also suitable for outdoor activities with the tough body design and immersive clear sound.
Features of good portable wireless speakers
Connectivity
Bluetooth, USB, SD card slot, and aux port are the connectivity options that is required makes any portable outdoor speaker. So, if any portable speaker is having all these connectivity options along with Wi-Fi features then it can be considered because it allows you to instantly play music from different sources.
Battery backup
This is the most important feature that plays a major role because for outdoor activities you might not get a charging source so, having a powerful battery backup saves you from frustration of charging the speaker again. Always choose that portable speaker that can play for long hours without the need for charging.
Water/Dust resistant
The outdoor environment is different so the speaker needs to have a tough body along with water and dust resistance. If the speaker has a rugged or tough body then it can be carried anywhere without any worries. So, a strong body and water IPS rating makes the portable outdoor speaker durable and saves them from accidental bumps.
Sound Quality/Output
Sound quality and output are one of the most important points because if the sound is not clear or the output is not low for an outdoor environment then that speaker is of no use. Hence, always keep the sound output in mind before buying any portable speaker.
Weight
If the speaker is lightweight then it can be carried with ease else, you will not feel to take it outside especially if you are going for tracking or camping as the bulkiness would not tempt you to carry it in spite of having all the above features.
Ultimate Ears Wonderboom 2
Bose SoundLink Micro Bluetooth Speaker
DOSS SoundBox Portable Wireless Speaker
Sony XB12 EXTRA BASS
JBL CLIP 3JBL Flip 5
Tribit Storm box Micro
Ultimate Ears Blast
Bose SoundLink Mini Bluetooth Speaker II
Ultimate Ears Woderboom 2 Speakers
It is a wireless type stylish portable Bluetooth speaker that is available at an affordable price that will not burn holes in your pockets. Its sound is crisp and clear and you would love to hear the rich bass that makes it a perfect companion for all types of epic outdoor activities.
Surprisingly the sound is extremely good. Thanks to its unique design that gives 360 degrees sound.
The battery backup lets you continuously listen to t music for up to 13 hours which means that you can take it anywhere and listen to loud music or even throw a mini poolside party as it is also IP67 rated which means complete protection from water, splash and dust. Not just this it can also float on water.
Another positive of this gorgeous portable speaker is that you can easily pair it with another Bluetooth Wonderboom 2 speaker and enhance the sound output. Furthermore, it is also drop-proof and comes along with a loop band that can be used to clip on your backpack or anywhere else. So, if you accidentally drop it then there is nothing to worry about as it is waterproof, dustproof, drop-proof as well it can float on water.
Its power, volume, play, pause, and skip buttons are well placed outside for easy operations. This speaker has a 2 tone knit fabric design available in different colors. When we talk about the connectivity options then it is compatible with Android as well as iPhone smartphone along with the tablet, music players, and other Bluetooth supporting devices with any operating system.
The advanced audio distribution automatically enhances the sound by using two different modes including stereo and mono.
The Bluetooth is exceptionally good as it stays connected up to 100 feet. At a standard level, it can play music at 86 dBC and 87dBC with special outdoor mode. The frequency range is 75 Hz to 20 kHz which is made possible by its two 40 mm active drivers along with two 46.1mm x 65.2 mm passive radiators.
Thanks to its lightweight nature that makes it easy to carry. It measures 3.68 x 3.68 x 4.02 inches and weighs only 420 grams.
Bose SoundLink Micro Bluetooth Speaker
Bose is a renowned brand name that has been consistently providing premium sound products. With this portable speaker, it has again proved that its worth. This is a smart portable speaker which means that you can connect online and play music with the help of Wi-Fi and there may be many brands that claim of long-lasting battery but if you are a music lover and enjoy more bass then this is a good option for carrying out and enjoy the outdoor adventures.
The rugged body is capable of resisting scratches, dents, and cracks and the powerful rechargeable battery can play music for up to 6 hours. When we talk about the connectivity options then it has inbuilt Bluetooth, a 3.5 mm audio jack, and a micro USB port for charging the battery. You can pair it with almost all kinds of music players and Bluetooth devices along with other Bluetooth Bose speakers.
It is equipped with both Siri and Google Assistant which means that you do need to carry your phone nearby and simply give voice commands to listen to your favorite online music. It also lets you make and receive calls.
When we talk about its other excellent features then it comes with an IPX7 rating which means that it can be carried anywhere because the silicone material keeps it safe from inside and outside both.
Basically, this is suitable for all kinds of outdoor activities and fun like biking, a swimming poolside party, etc. Its special strap lets you easily attach it to your backpack, cycle, and clothes with complete safety.
The inside and outside body is protected in such a way so that you can play it even in a swimming pool as rigorous testing has been done on this speaker. In case you accidentally drop it then also it keeps playing as there is nothing to panic about.
It is recommended to download the Bose connect app for using all its features and get access to many services such as playlist creation. With a unique swipe feature, one can easily connect Android, iPhone or Bluetooth devices with a distance of up to 100 feet and play music by using either the party mode or stereo mode with dedicated left and right buttons.
It is designed in such a way so that you never feel it heavy in fact it is easy to carry and lightweight. It measures 9.83 cm H x 9.83 cm W x 3.48 cm D and weighs only 290 grams.
You can buy Bose SoundLink Micro on Amazon.in for Rs 8,990.
Also Read: Top Five Computer Speakers Of 2020 Available In Market
DOSS SoundBox Portable Wireless Speaker
If you are looking to buy an affordable portable Bluetooth speaker with great sound then this is a perfect portable speaker for you. It has a long-lasting battery backup, dynamic sound, multiple device compatibility, high bass, and loud sound with smart features.
This wireless Bluetooth portable speaker has a sleek design and a stylish body along with 12W dynamic sound output supported by high definition stereo that takes music listening to another level. The ultra-compact design makes it possible to carry it anywhere easily like a backpack.
Its design is compact but it does mean that any compromise is done with the sound quality as it provides 360-degree surround sound along with super-rich bass and less 1% harmonic distortion that increases the clarity of the sound. The massive rechargeable battery of 22,00 mAh plays music for up to 12 hours. It measures 16.76 x 7.37 x 6.86 cm and weighs 557.92 grams.
The connectivity options are also multiple as you can connect different devices irrespective of operating systems such as Android, iPhone, echo dot, and music players easily by pairing with Bluetooth 4.0 connection up to 33 ft. One can also use an audio cable with a 3.5mm jack, a micro SD card, and a micro USB port for charging the battery.
The other excellent feature of this portable outdoor speaker includes a sensitive touch button placement for easy music playing operations. One can single touch buttons allows you to play, stop, pause, skip, and answer your phone calls when connected with a smartphone.
The stylish volume increases the volume when rotated in the clockwise direction and decreases the volume when rotated in the anti-clockwise direction.
It can be bought on Amazon for Rs 6497.
Sony XB12 Extra Bass Portable Wireless Speaker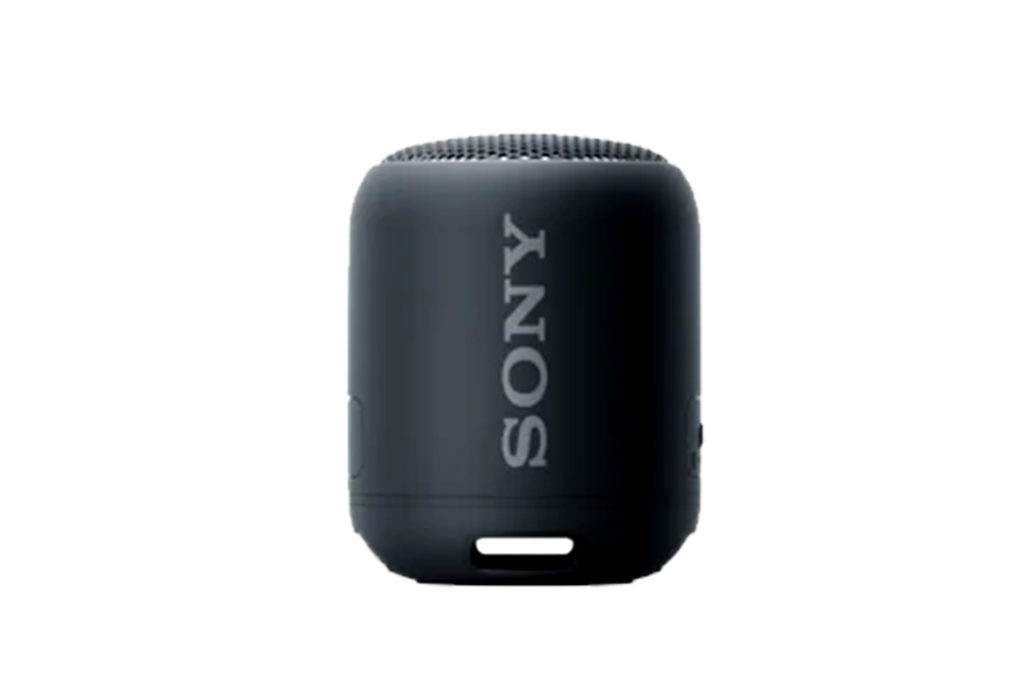 Sony XB12 is another compact portable wireless speaker with fantastic looks and immersive sound that is perfect for outdoor activities. This is a waterproof portable speaker with deep and extra bass that provides a unique punch to the music especially when you are outside.
It has a powerful battery that plays music for up to 16 hours and it is completely dustproof because of the IP67 rating. You can carry it anywhere like hiking, biking, swimming, desert or forest for endless music playing.
It measures 44.5 x 35.7 x 13.3 cm and weighs only 270 grams.
The compact design and detachable strap make it easy to take it anywhere with complete ease. Not just this you can also pair another Sony Bluetooth speaker to further increase the sound.
The passive radiators and mono speakers play music clearly and even enhance the low-end notes with immersive bass with the frequency range of 2.4 GHz. The 10W speakers give you rich bass and clear sound along with dual music playing modes including Mono and Stereo modes.
With an inbuilt microphone, you can also make and receive calls with complete clarity. It can also do voice search to play online music which is another advantage of this compact Bluetooth speaker. Its battery is charged with a micro USB cable.
If you wish to purchase Sony XB12 then this gorgeous speaker is available on the Sony website on Amazon for Rs 3989 along with a USB cable, instruction manual, and a reference guide.
Also Read: Best 10 PC Speakers of 2020
JBL CLIP 3
JBL is a popular brand name that is known for its exceptional sound quality. It is a tabletop as well as a wall mount portable wireless speaker that is perfect for outdoor activities.
Its excellent feature list includes Bluetooth connectivity, water and dust resistance, noise cancellation speakerphone, massive battery with long music playing hours. Unlike other portable speakers, its size is small but the sound out output is excellent.
It volume, play, pause and start buttons are placed over the body for easy operation.
It measures 9.7 x 4.6 x 13.7 cm and weighs only 210 grams.
The special clip band lets it attach to a backpack, belt, or clothes which keeps it safe from falling while you are doing your outdoor activity. The IPX7 rating ensures security from water and dust, and the powerful 1000 mAh Li-Polymer battery plays music for up to 10 hours.
With an inbuilt microphone and echo noise cancellation speakerphone, one can make and receive phone calls with clarity. It is also compatible with almost all types of Bluetooth devices and music players like PC, laptop, Android smartphone or iPhone from a distance of 33 ft.
Its other excellent specs include a 3.3 power output, 4 Ohms impedance, on-device control buttons, less than 80dB noise ratio, 3.4 mm audio jack, USB type 1 charging port.
If you are interested in buying this portable speaker then it is available on Amazon, Croma, and other major eCommerce websites for Rs2500 along with a one-year manufacturer warranty.
JBL Flip 5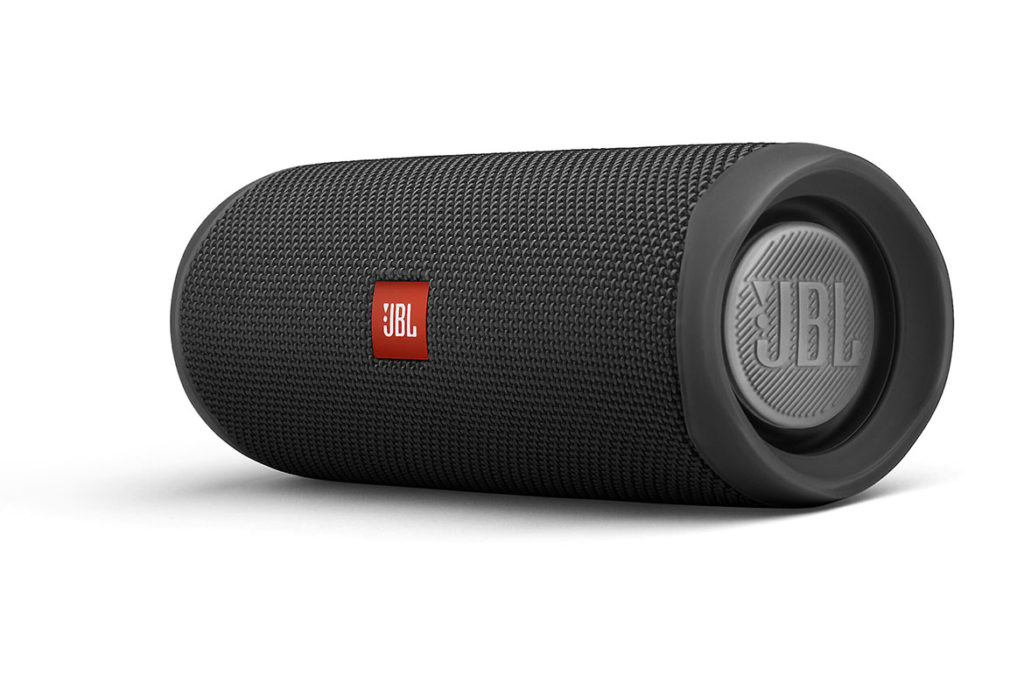 This is another wireless speaker that has all the functionalities along with powerful bass and dynamic sound. This is also IPX7 waterproof, dustproof, lightweight, and has a tough body that saves it from bad weather.
One can easily with different types of devices that have Bluetooth connections like Android mobile, iPhone, laptop, music players, and tablets irrespective of the operating system. It can also be paired with another Bluetooth speaker to further increase the sound level and quality.
It is readily available on all major eCommerce platforms and you can enjoy its 20W sound anywhere without any hassle. This is also easy to handle and setup is very easy so, you can take it along with you while going for trekking, biking, swimming, walking or any other epic outdoor activity.
The powerful battery of 4800 mAh gets fully charged in 2.5 hours and works well for 12 long hours. Along with Bluetooth 4.2 connection, you can also play music directly by using the 3.5 mm aux cable
Furthermore, you can also use it to make and receive calls when connected to the smartphone as it also has an inbuilt microphone along with noise cancellation technology.
It measures 18.1 x 6.9 x 7.4 cm and weighs 540 grams.
This compact tabletop portable Bluetooth speaker has extraordinary bass that is made possible by its dual passive radiators which deliver superb clear sound with rich bass.
You can buy it on Amazon in more than 10 colors for a price of Rs 7999 along with one year warranty and Type C USB cable, Quick Start Guide, Warranty Card, Safety Sheet.
Also Read: Best 5 JBL speakers that you can buy under 5,000
Tribit Stormbox Micro
This is also one of the most liked portable wireless speakers that can prove to be a good outdoor activity companion. Its unmatched sound quality and tough body with a stylish design would tempt you to own it.
With an inbuilt smart Xbass feature you can listen to deep and immersive bass along with a waterproof and dustproof body design. One can easily carry it anywhere because of its lightweight and tear-resistant strap that is suitable for biking, hiking, camping, trekking, swimming poolside.
Easy to pair with any Bluetooth device and music player irrespective of OS as it can be connected to a laptop, PC, tablet, iPhone, MP3 player, and Android smartphone with a simple pairing option.
The powerful battery works well for long hours even if you continuously listen to music on high volume.
Its excellent feature list includes a powerful battery that works for up to 8 hours, a USB type- C charging port, a Bluetooth 5.0 connectivity, a multipoint technology that can pair it with another Bluetooth speaker that further increases the sound level and gives a surround sound experience.
The volume and power buttons are placed over the rugged body so that you do not face problems in finding the buttons and instantly change the track or volume.
It measures 10 x 3.88 x 9.6 cm and weighs 280 Grams.
The other excellent features of this portable outdoor speaker include an inbuilt microphone that makes it possible to make and receive phone calls with a distance of up to 100 feet, TWS mode allows you to pair it with other Bluetooth speakers, the IP67 rating makes it water-resistant, dust resistant, drop proof, advanced TI amplifier for enhanced clarity and sound.
If you like to buy this excellent portable Bluetooth speaker then it can be bought for Rs 3698 on Amazon.
Ultimate Ears Blast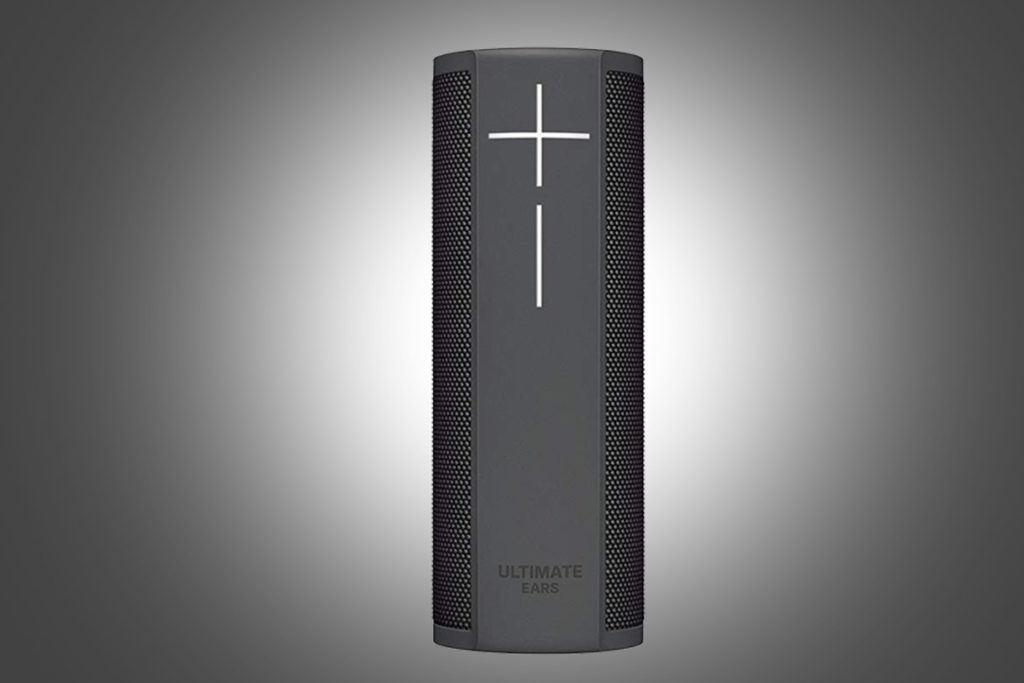 It is one of the best portable speakers with excellent sound quality and incredible sound that is hard to find in other portable wireless speakers. It is a premium portable speaker with a rugged body design and reliable sound along with different connectivity options and almost all types of functionalities.
It has a different punch and deep bass that keeps it ahead of many other branded portable speakers.
This is suitable for indoor as well as outdoor environments; its multiple connectivity options include Bluetooth, Wi-Fi, voice control, inbuilt Alexa for playing online and offline music.
It is easy to pair and setup does not take much time to start performing no matter you want to take it along for biking, swimming, trekking, walking, running, or any other outdoor activity because it is completely waterproof, dustproof, and even drop-proof.
The tough body makes it literally indestructible and reliable and the deep immersive bass makes you fall in love with it. Its powerful radiators along powerful battery let you play music on a high level without any interruption for up to 12 hours.
Additionally, it also supports wireless charging which means that you can play music while charging at the same time that is simply great. Not just this it automatically gets updated when connected to Wi-Fi and you can also control it by using the BLAST app for an easy and quick setup. With its app, you can do enable/disable Alex or do customize your equalizer, and even check battery levels.
It is specifically designed to perform best in an outdoor environment as the maximum sound level is 90 dB with a frequency level of 90 Hz to 20 kHz. The high-level sound with clarity is supported by two 35mm drivers and two 81mm x 39 mm passive radiators.
Another positive of this portable speaker is that it has multiple inbuilt microphones that use far-field voice recognition technology and gives noise cancellation support for clarity in making and receiving phone calls along with voice commands.
Furthermore, it supports Dual-band Wi-Fi supports 802.11 a/b/g/n (2.4 and 5 GHz) with a connection range of 330 feet, and with its Bluetooth connection you can connect up to 8 devices with a range of 150 feet.
This is IP67 rated which means you can keep it 1 meter underwater for up to 30 minutes and nothing will happen to it.
The volume control buttons are placed over its tough body for easy control. It measures 14.22 x 25.65 x 13.97 cm and weighs 1.03 kilograms.
If you like to buy this premium wireless speaker then it can be bought for Rs 18,750 on Amazon along with a 2-year manufacturer warranty.
Also Read: Best 10 PC Speakers of 2020
Bose SoundLink Mini Bluetooth Speaker II
This portable speaker is for those who love deep bass and excellent sound quality. It is designed in such a way so that you can take it for outdoor activities or even throw a poolside party. Loaded with all types of connectivity options and features that make it one of the best portable speakers for outdoor fun.
This is not just a speaker but a smart speaker because you can pair it easily with any Bluetooth device and use voice commands to play touchless music. The sound quality is extremely good and its lightweight design lets you carry it easily in your palm.
The wireless connection and powerful battery backup and easy control buttons placement make it one of the most liked wireless speakers. One can pair it with Android/iPhone smartphones, music players, iPad, tablet or any other device that can play music and have Bluetooth connectivity available.
Its inbuilt rechargeable battery can play music for up to 10 hours.
The immersive sound is supported by dual passive radiators that perfectly deliver even the low notes with utmost clarity along with high-efficiency transducers that further enhances the sound power.
A sleek body yet simple design makes it look like a premium portable speaker that is made of an Aluminum casing which makes it durable and stronger. The ultra-compact design does not mean that the sound is less. With an inbuilt microphone, you can take calls and give voice commands to Siri and Google assistant.
It measures 5.1 cm H x 18 cm W x 5.8 cm D and weighs only 0.68 kg. You can connect it with Bluetooth, 3.5mm aux cable and charge by using a micro USB type B port. The Bluetooth Wireless range is 30 feet and it uses the power of 100 to 240 V.
It is smart enough to remember the last 8 paired devices and it is easier for you to reconnect them to play your favorite songs without wasting too much time.
You can buy it for Rs 12,960 on Amazon along with a charging cradle, Wall charger Cable.