UPI or Unified Payments Interface has almost become the necessity to make digital payments because it lets you instantly make financial transactions.
Here we will discuss all the aspects of UPI and how it is created so that you can securely send money or make payments.
It is one of the highly secured to transfer money by using apps or websites and the best of UPI is that you can use it in multiple bank accounts by using a single mobile App or any participating bank App.
All major banks have enrolled for UPI transactions to provide smooth and seamless banking features to their customers. Basically, you can make payments to the merchants by using the UPI ID from a single App.
Not just this it also lets you do the peer-to-peer collection of money which can also be scheduled according to the requirement.
Initially it a pilot project was launched in April 2016 by the NPCI which 21 banks participated and Dr.Raghuram Rajan was the RBI governor at that time at Mumbai. So, the banks provided their support and started uploading their UPI enabled App on the Google Play Store from August 2016.
Also Read: How Do You Connect To Multiple JBL Speakers?
What are the benefits of using UPI for making online transactions?
UPI has many benefits and the first one is that it lets you immediately transfer money through a mobile phone anytime which means that there is no dependency on banking hours like NEFT and you can do the transaction 24*7 round the year. The second benefit of using UPI is that it can be accessed with one mobile application for different bank accounts.
The third benefit of making UPI transactions is that it needs only single click 2-factor authentications which are aligned smoothly with the regulatory guidelines but it does not mean that using 2-factor authentications is not safe instead it is much more secure to use this method that gives a seamless payment option.
The fourth benefit of using the UPI method is that it automatically pulls and pushes the virtual address of the customer but at the same hand it gives incremental security without entering the account details like account number, card number, IFSC code, etc.
The other important benefit of this facility is that it allows you to share the bills with others and it is one of the best ways to pay cash on delivery without the need to taking out money from the ATM machine and it also renders the exact amount for the payment. Additionally, merchant payments, in App payments, utility payments, barcode-based payments, and over-the-counter payments can be done without any hassle.
In case you find any issue then without wasting time you can raise the complaint through the App directly.
There are many participants who play an active role in UPI payments which includes NPCL, Payer PSP, Payee PSP, Remitter Bank, Beneficiary Bank, Bank Account holders, Merchants, and Beneficiary Bank.
So, there are different benefits for all like a merchant will have different benefits as compared to the user.
Any merchant who integrates UPI is able to collect fund from different customers with single identifiers, there is no need to store customer banking information like IFSC code, account number, or card details, users need not use net banking including the use of debit and credit card. It is also suitable for eCommerce merchants because along with online payment a user can do the payment by using the cash on delivery payment method with UPI. Moreover, there is an in-App payment and a single click with two-factor authentication further makes it one of the most secure ways to pay money to the merchant.
The steps to register UPI are very simple and hardly take a few minutes.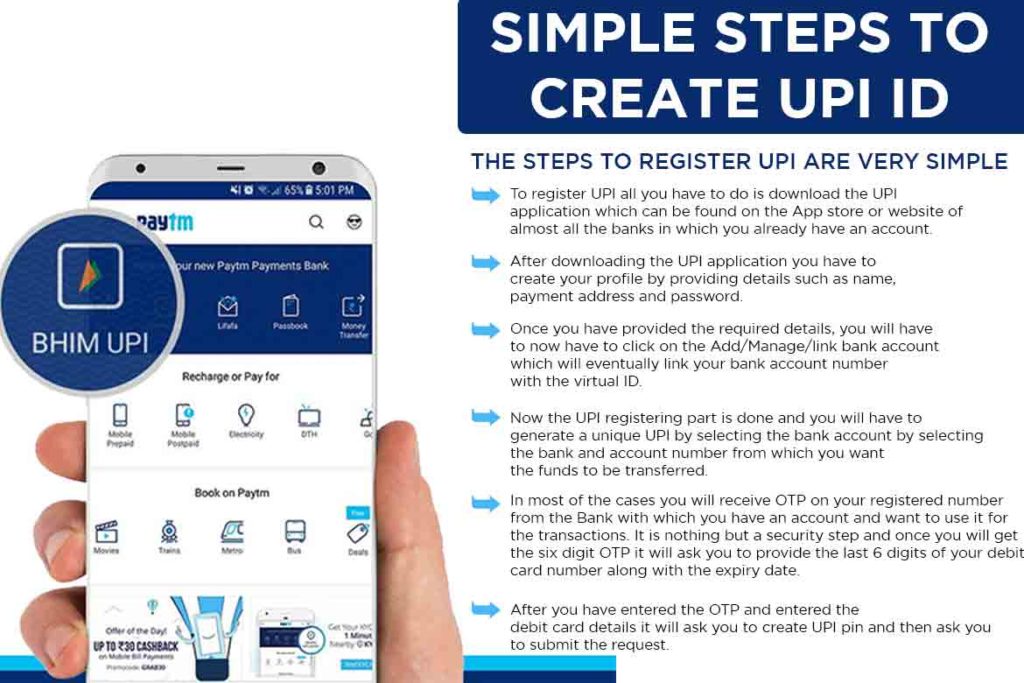 To register UPI all you have to do is download the UPI application which can be found on the App store or website of almost all the banks in which you already have an account.
After downloading the UPI application you have to create your profile by providing details such as name, payment address, and password.
Once you have provided the required details, you will have to now have to click on the Add/Manage/Link bank account which will eventually link your bank account number with the virtual ID.
Now the UPI registering part is done and you will have to generate a unique UPI by selecting the bank account by selecting the bank and account number from which you want the funds to be transferred.
In most cases, you will receive OTP on your registered number from the Bank with which you have an account and want to use it for the transactions. It is nothing but a security step and once you will get the six-digit OTP it will ask you to provide the last 6 digits of your debit card number along with the expiry date.
After you have entered the OTP and entered the debit card details it will ask you to create a UPI pin and then ask you to submit the request.
This is the final step after which your UPI pin will be successfully created.
Also Read: Learn To Use Multiple Apps On Your Windows
How to make UPI transactions?
Making transactions using the UPI pin is also a very easy process because you only need to login into the UPI application and once the login is done correctly, you can select the option to pay the money or send it by entering the beneficiary details or by using payee virtual ID and amount which needs to be debited from your linked bank account. Next, you just have to enter the UPI pin that you created in the above steps.
In case you want someone to pay you then you can also request for money by login into the UPI application and after the successful login, you can select the collect money option that is generally under the option of "request for payment". Now, you will have to provide the payer's details such as virtual ID, amount, and account to be credited.
After following the above steps, the user will receive a notification for making payment and if he agrees to pay then he will click on the confirm button and the money will be deducted from his account and the transaction will be completed. But, if he declines the transaction then it will not complete.